Consuming sweet treats seems to be a rite of passage for holiday revelers. It isn't officially the season of cheer if you aren't experiencing a sugar crash at least once a week.
At a certain point, though, that sugar overload seems to dampen the taste buds. It's time to wake them up with some new variations! Even just taking your favorite cookie and using a new recipe or throwing in an extra spice can help add some excitement to your holiday baking.
Another way to alleviate the monotony – make cookies with friends or extended family! Everyone can bring their favorite recipes along, and maybe a spare stand mixer, and you can make a party of it. Split up and exchange the spoils of your baking toils at the end of the day for greater variety. Adding some music – and maybe some wassail – makes this holiday tradition seem like less of a chore.
Listen, I like cookies as much as the next gal, but I do get sick of being offered cookies upon cookies around the holidays. My palette desires more variety of flavors, and that's how one of my favorite holiday baking traditions started. I had a wonderful elementary school that encouraged the celebration of a variety of cultures and their holidays. One of those was Santa Lucia Day (sometimes called Saint Lucy's Day) that's recognized primarily in Scandinavian countries on December 13. Their traditional Lucia Bun served on this day is not too sweet, delicious right out of the oven and lovely to look at! Here's the recipe I use from www.ingebretsens.com:
Lucia Buns (Lussekatter)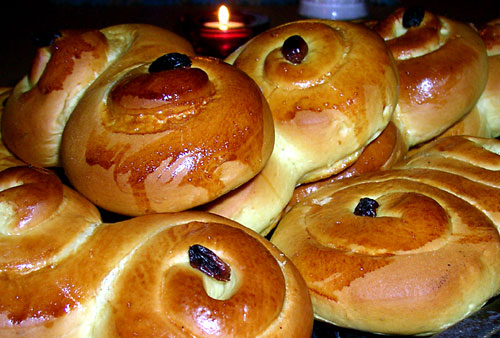 Reprinted from the Var Så God cookbook with permission from the American Swedish Institute 
(Makes 4 dozen rolls)
1 pkg active dry yeast
2 eggs
1/4 c water, warm
1/4 tsp salt
3/4 c milk
1/4 tsp powdered saffron
1/2 c butter or margarine
1/2 c sugar
4 c flour
For brushing: 1 egg and 2 T water
Dissolve yeast in warm water and set aside. Warm milk, add butter to melt. Place all above ingredients in a mixing bowl using 2 cups of the flour. Mix for 3 minutes using mixer. Add rest of flour and beat with wooden spoon. Work dough on board adding a little flour for easy handling. When smooth and shiny put in a bowl and let rise to double in bulk. Turn out on floured board and shape into Lussekatter. Let rise in cookie sheet and brush with egg and water mixture before baking. Put a raisin in each curl and bake at 450' for 10 minutes.  – Gunhild Anderson
Heart Still Set On Cookies and confections?
We can help with that, too. Check out our recipe below for authentic made-from-scratch gingerbread, complete with all the spices.
Pro tip: buy your spices in small quantities from our bulk department. You can buy just as much as you need and the flavors will pack more of a punch when the spices are fresh (as opposed to that one bottle of allspice you've had in your cabinet for 10 years now…)
Gingerbread Cookies
Makes 48 3-inch cookies. Prep time: 1 hour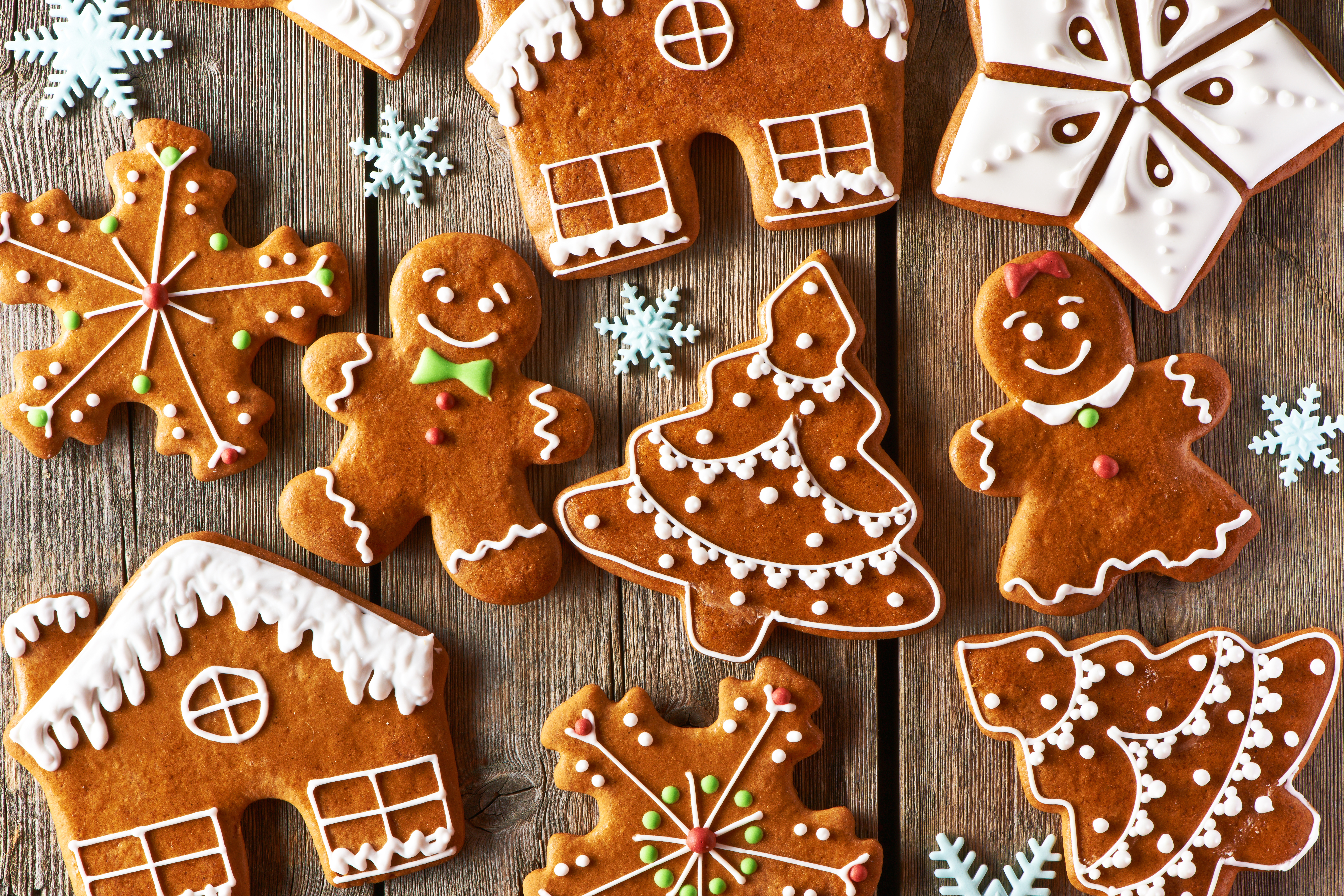 1 1⁄2 cups unbleached flour
1 cup whole wheat pastry flour
1⁄2 teaspoon baking soda
1⁄4 teaspoon baking powder
1⁄2 teaspoon salt
1 teaspoon ground ginger
1 teaspoon ground cinnamon
1⁄4 teaspoon ground nutmeg
1⁄4 teaspoon ground cloves
1 stick unsalted butter, softened
1⁄4 cup light brown sugar
1⁄2 cup molasses
1 large egg
Royal Icing
2 cups powdered sugar, approximately
1 large pasteurized egg white or
2 1⁄2 tablespoons meringue powder
1⁄4 teaspoon lemon juice
2 tablespoons water, approximately
In a large bowl, mix together flours, baking soda, baking powder, salt and spices. Using a stand mixer or an electric beater, cream butter until soft, then add brown sugar and beat until well-mixed. Add molasses and beat, scrape down and add egg, beat again until combined. Stir in the flour mixture. Divide dough into four rectangular pieces, place between sheets of parchment and roll out ¼" thick. Stack sheets of dough on a baking pan and chill for 3 hours.
Preheat oven to 350ºF. Lay sheets of dough on counter, remove top layer of parchment and use a cookie cutter to cut into shapes. Using a thin spatula, transfer cookies to parchment-lined baking sheets. Repeat process with scraps.
Bake 12 minutes, switching the pans between oven racks halfway through. When cookies are puffed and look dry, remove and cool on the
pan for five minutes, then move cookies to a cooling rack.
Using a stand mixer or electric beater, mix powdered sugar with egg white or meringue powder. Mix in lemon juice and water, a tablespoon
at a time, to reach desired consistency. Transfer icing to a piping bag with a small round tip and use to draw outlines on the cookies.
Or try a Jewish favorite, rugelach. You can alter the filling to your personal tastes (try chocolate chips, walnuts, marzipan or fruit preserves).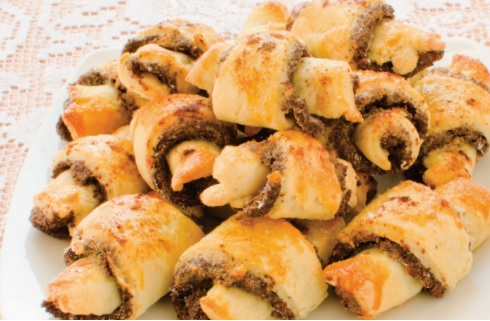 Poppy Seed Rugelach
Makes 24 cookies. Prep time: 6 hours (includes chilling); 1 hour active
11⁄2 sticks butter, room temperature
8 ounces cream cheese, room temperature
2 cups flour
1⁄2 cup sugar
1/4 teaspoon salt
1⁄2 cup poppy seeds
1⁄4 cup milk
3 tablespoons honey
2 tablespoons raisins, chopped
1⁄2 teaspoon lemon zest
Cream butter and cream cheese together until fluffy. Add flour, sugar, salt and beat to combine. Form 2 disks, wrap in plastic wrap; chill 4 hours.
In a coffee grinder, grind poppy seeds coarsely then heat in a pan with milk, honey, raisins and zest. Stir over medium-low until thickened, approx. 20 minutes, then cool completely.
Preheat oven to 325ºF and line two sheet pans with parchment. Roll out dough to make two 12″ rounds about 1 ⁄8″ thick, then spread each with half the filling. Use a pizza cutter to cut each round in 12 wedges. Roll up each piece from the wide end, bend in tips to make a crescent. Place on pan, chill 1 hour.
Bake for 40 minutes, switching the pans between oven racks halfway through. When done, cool cookies on pan for 10 minutes, then transfer to cooling racks.
Maybe you want to try a confection for the first time? The peanut brittle below is easy and delicious. This decadent candy makes wonderful gifts, and a little goes a long way! Portion and package festively for teachers, coworkers and friends.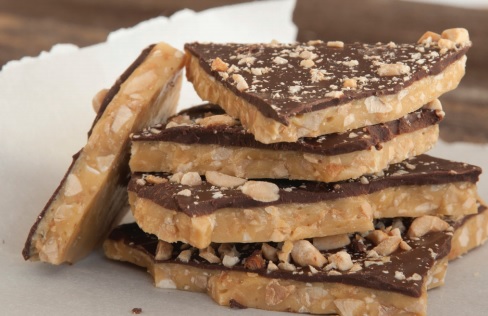 Chocolate Glazed Nut Brittle
Servings: Makes 2 1⁄2 lbs. (approx. 27 servings). Prep time: 1 hour; 20 minutes active
2 cups sugar
1⁄2 cup water
1 stick unsalted butter
1⁄3 cup light corn syrup
1⁄2 teaspoon baking soda
2 1⁄2 cups roasted salted peanuts or cashews
plus an optional 1⁄4 cup, finely chopped
8 ounces dark chocolate, melted
Line a large sheet pan with a rim with parchment paper.
In a 2-quart saucepan, combine the sugar, water, butter and corn syrup and bring to a boil to create caramel. Cook over moderately high heat, stirring occasionally, until the caramel is light brown and registers 300°F on a candy thermometer, about 10 minutes. Remove from the heat and carefully stir in the baking soda. The mixture will bubble. Stir in the nuts, then immediately scrape the brittle onto the prepared baking sheet. Using the back of a large spoon (oil it lightly if it sticks), spread the brittle into a thin, even layer. Let cool completely, about 30 minutes.
Spread melted chocolate over the brittle sprinkle with the finely chopped nuts, if using, then chill. Break the brittle into large shards. Store in airtight containers for up to two weeks.