The short answers is yes. The real question, though, is do you really want to?
My questions started with a social media post a couple days ago where a friend was showing off her new sous vide setup and how she planned to cook a relatively tough, fibrous London Broil steak with it, expecting tender and tasty results. Another friend commented "just use your dishwasher", and down the Google rabbit hole I dove.
Apparently, dishwasher sous vide has been around for decades, but reemerged a couple years ago when the sous vide method started popping up in every hip restaurant, even at Starbucks. Dishwashers offer the same environment – low temperatures that slowly cook foods without shocking them, thus creating tender meats, crisp veggies and perfectly soft-boiled eggs. In a dishwasher, you're replacing the warm bath of sous vide with the shower and steam of the wash cycle.
So, what are the benefits of cooking your dinner in a dishwasher? Well, it's certainly energy efficient since you won't have to fire up your oven or stove, you simply use the heat your dishwasher is already creating. BONUS: this also keeps your kitchen cooler in the summer. Also, by using the "set it and forget it" mantra, you can be doing other things with your time instead of tending to food that's cooking at a higher temperature. Presumably, the low heat of the dishwasher should cook every food that usually poaches well to perfection.
After a bit of research and a careful study of dishwasher cooking fails, I decided my dinner menu was set. CULINARY CHALLENGE ACCEPTED! I got to work on five dishes utilizing a variety of containers for cooking (as well as a Fill It Fresh bag full of produce).
RECIPE #1: Cinnamon Apples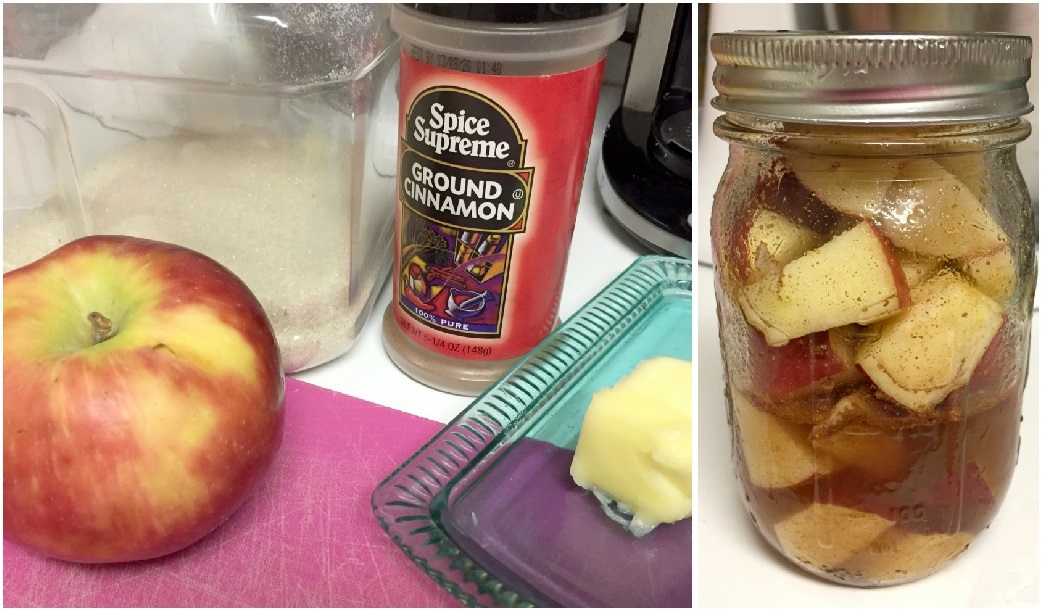 Let's start with dessert (always a good rule of thumb)! For my first dish, I simply diced up a Red Delicious apple and put it in a mason jar with some water, sugar, cinnamon and a pat of butter for good measure. Give it a shake and you're done. Easy peasy!
RECIPE #2: Couscous
The next recipe is just as easy. I picked up a box of small pearl couscous from the Co-op. I assumed a smaller shape would give the couscous its best shot of cooking completely in the low temperatures. I followed the instructions on the box and added a little extra flavor with a teaspoon full of one of my favorite flavor infuser, Better Than Bouillion. I topped it off with a little olive oil and stirred everything together inside of my microwave safe Corningware bowl that comes with a snug-fitting lid. I just hoped it would stay snug while in the dishwasher.
RECIPE #3: Summer Squash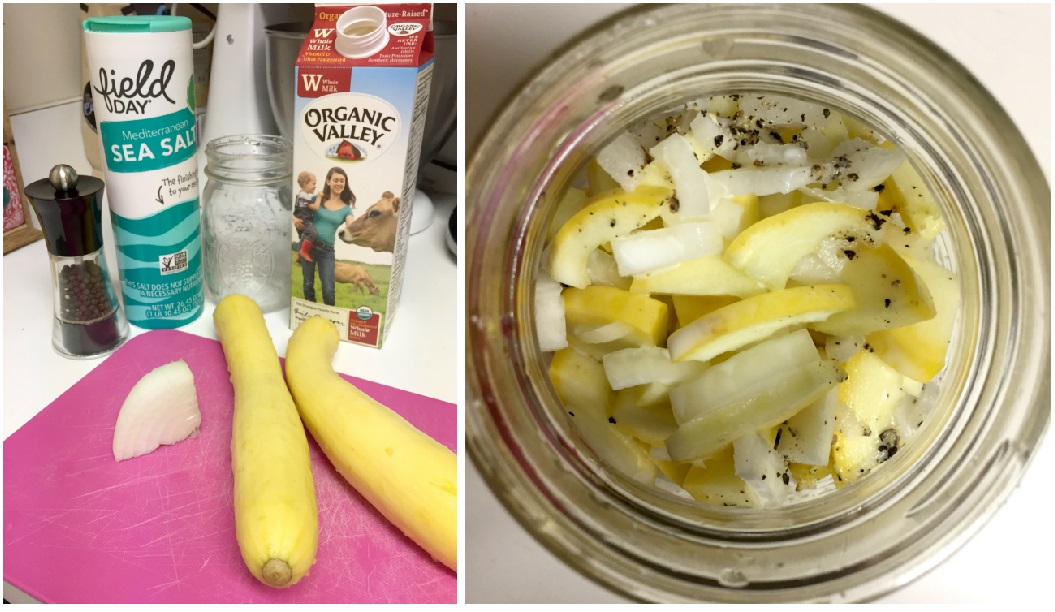 If you've ever been to Lexington's legendary "meat & three", Ramsey's, you may be familiar with this next recipe. It's one of my go-to's when I get my beloved Ramsey's veggie plate. With local summer squash now part of our Fill It Fresh selection, I figured it'd be worth trying this recipe. It's five simple ingredients: chopped yellow squash, chopped onion, fresh cracked pepper, salt to taste and enough milk to create a kind of sauce/broth around the veggies. I cut the squash up smaller than usual hoping it would help the dish cook more quickly and evenly. I used a mason jar for this recipe, too.
RECIPE #4: Slivered Potatoes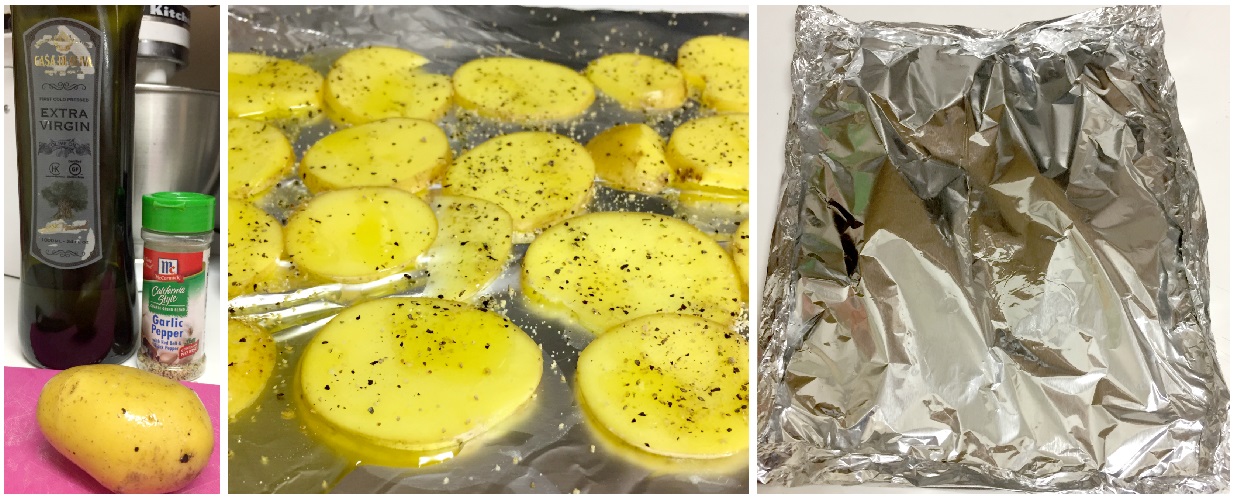 During my research, I found one blogger who made potatoes via dishwasher sous vide. I was quite skeptical that 1) the potatoes would actually cook through and 2) that you could run a full wash cycle without getting any soap between the layers of aluminum foil. I only sacrificed one yukon gold potato for these reasons. Also, once you slice it thin enough, you're taking up quite a bit of surface area if you are to arrange the slices in one layer, as the blogger instructed. I seasoned the potatoes with olive oil and some garlic pepper seasoning. I carefully crimped the edges of the foil to try and create as tight of a seal as possible.
RECIPE #5: Barbecue-Seasoned Shrimp

When I was in New Orleans a couple months ago, I enjoyed a delicious lunch at Mr. B's Bistro in the French Quarter. It is there that I fell in love with their butter-laden "Barbecue Shrimp", a dish they are known for. I made the dish at home once since then. Thank goodness they share their recipe online, because I was jonesing pretty hard for it. Because this recipe deals with shrimp that can be easily overcooked and a butter sauce that can easily break, I thought sous vide would be a perfect preparation method. I put all the ingredients from the recipe (with slightly less butter) in a reusable food storage bag. We carry them at the Co-op, they come in fun designs, and they're BPA-free and top rack dishwasher safe, so I thought it'd be worth trying it out to replicate cooking with a vacuum sealed bag.
Set It and Forget It

With all my food prepped and sealed tightly, it was time to find empty spots in my dishwasher and get dinner going. In the picture above on the left you can see my top rack filled to the brim with my dirty dishes and my apples, potatoes, couscous and shrimp. I tried one dish out on the bottom rack, too, since there was room and I wanted to see if it would cook any differently. In the center photo you can see where my squash popped a squat.
Most dishwasher cooking tutorials talk about picking the correct dishwasher setting to cook your meals, but guess what; my dishwasher is probably about as old as I am and basically has one setting (because who wants to risk cooking with the "light wash"?). I did flip on my "hot dry" option. I usually keep it cool to conserve energy #savetheplanet.
I set it on normal wash and went on with my chores, all the while hoping and praying that SOMETHING would turn out so I wouldn't have to scramble together a second dinner. The entire cycle took about 90 minutes, and I left the food in there for an extra 10 minutes or so, hoping some carryover cooking might happen while everything cooled down.
Here's how my dinner spread looked when I finally got brave and broke open the dishwasher door and started to investigate my experimental edibles.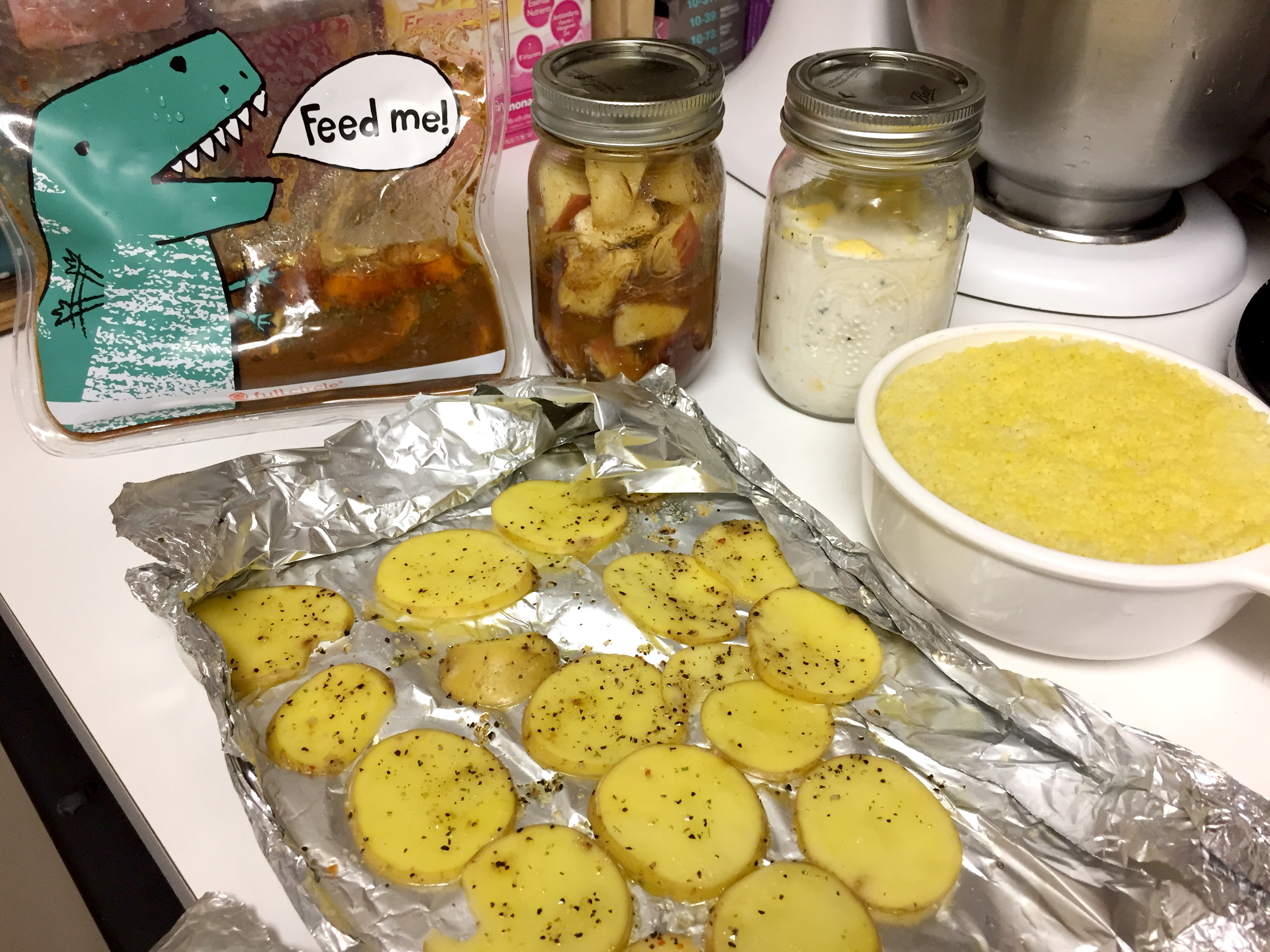 So, nothing was destroyed, that's the good news. The bad news is the potatoes were not even close to cooked through. The plus side is absolutely no dish soap seemed to penetrate my airtight foil folds. And hey, they were already on a sheet of foil so I just popped them in the oven til they got nice and brown around the edges. No food waste!
The Winners (Kinda)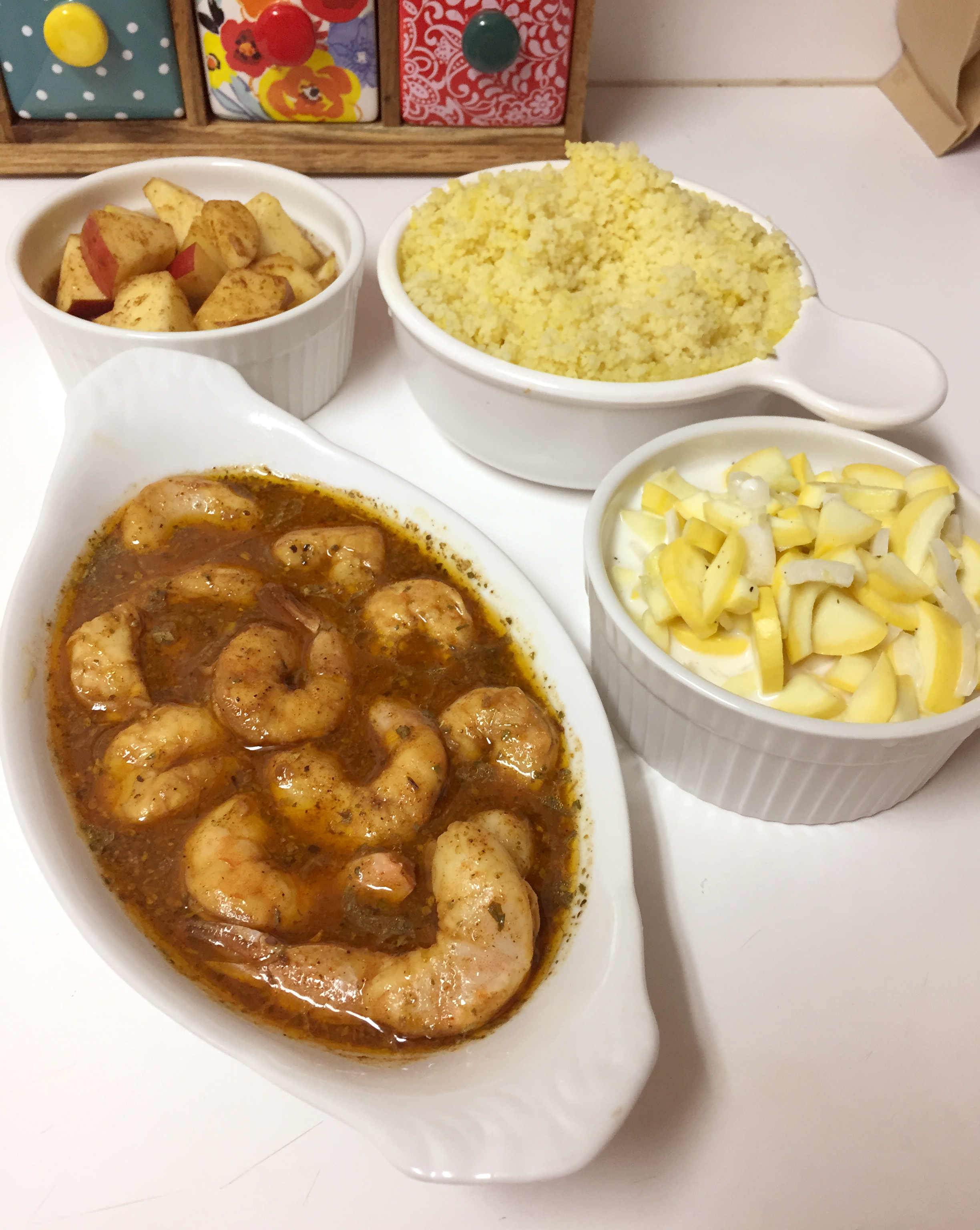 The apples were fine. Not amazing, not inedible. Just fine. Slightly softer than they would have been raw with the cinnamon flavor fused throughout, you could still tell these apples were cooked in water, as the flavor was, well, watered down. With the steam unable to escape from the jar (obviously), there's no way the sugar, water and apple juices could reduce down to create a nice, syrupy sauce. I should have known!
The squash and onions were similar; still had a bite to them, but came out warm and with the full rawness of the onion subdued. They were totally edible, but might have benefited from cooking just a little longer.
The shrimp were pink and tender when they came out. This recipe actually worked great for sous vide. The sauce was still delicious for dipping some baguette slices in. Overall a hit. The shrimp was very, very slightly undercooked. I popped it in the microwave for a few seconds and they were perfect. I think if my dishwasher had a higher setting (like pots and pans) the shrimp, squash and probably even the apples would have turned out better.
The couscous was the true star of the dishwasher. It was perfectly fluffy with all the liquid absorbed. It could not have been any better.
Conclusion
The dishwasher is basically the poor man's sous vide, and as such offers many more limitations for the types of things you can cook (this varies by the dishwasher you have and its selection of settings, as well). One thing I do like about the dishwasher method, though, is that you don't need to buy extra appliances. True sous vide requires an actual sous vide wand or entire sous vide "bath" in addition to the recommended vacuum sealer and vacuum sealer bags. That's just a lot of investment for something you most likely won't use that often.
Is the dishwasher worth another try? For me, probably not. I tend to cook one pan dinners most of the time anyway, so it's not saving me a ton of cleanup or energy usage to cook my dinner in a dishwasher. If I had more settings on my dishwasher perhaps I'd use it as a cooking apparatus more frequently. I'm still intrigued at the prospect of a dishwasher steak, but I'll save that experiment for another day and another set of dirty dishes.