As we get back into the swing of school and the rush of fall, having these easy lunchbox ideas in your arsenal can save you time trying to figure out healthy meals that your kids (and you!) will actually want to eat.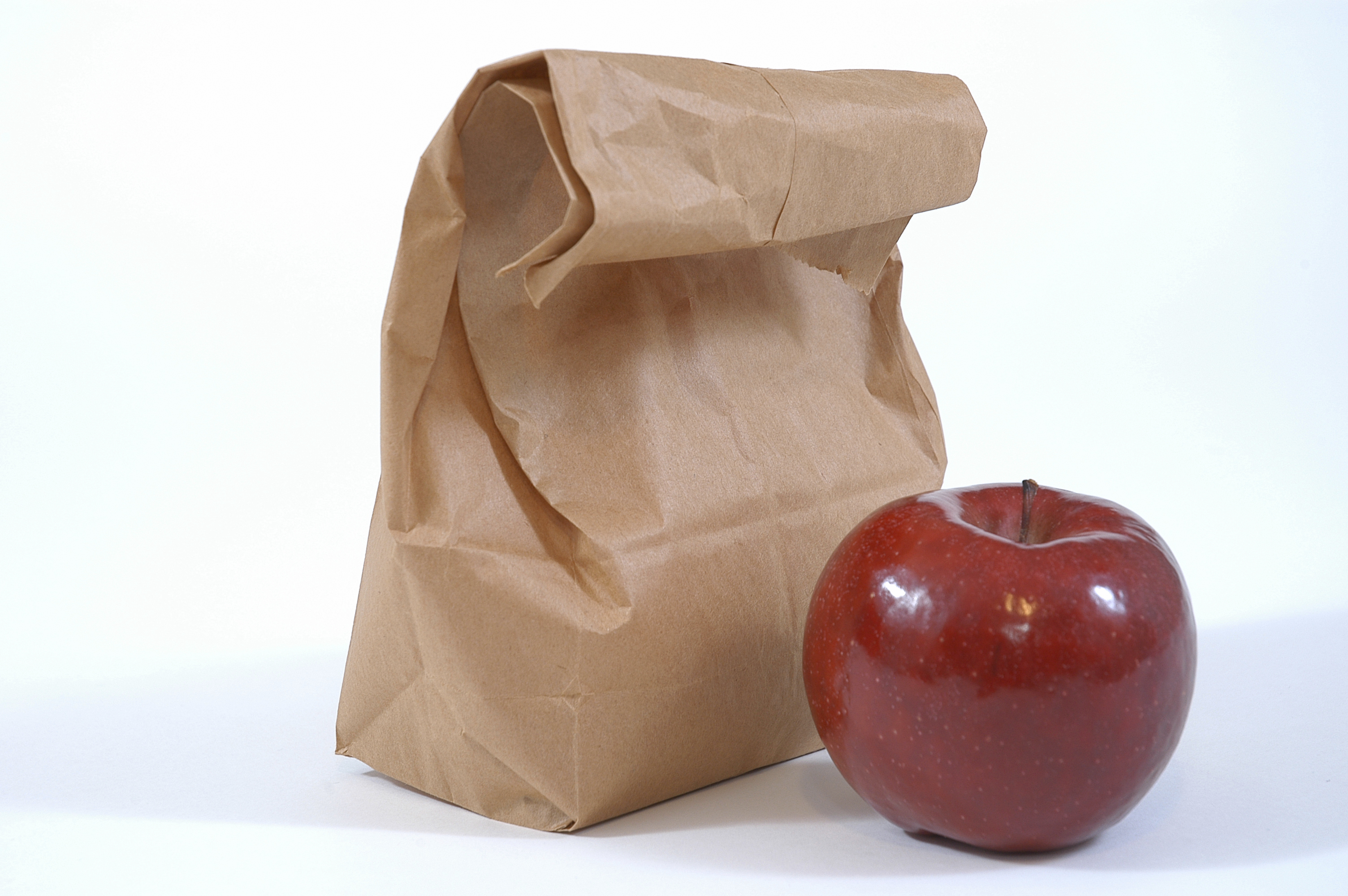 Brown Bag Lunches can get boring if they are the same old thing over and over again. Kids may trade to get a lunch that they find more fun to eat. For adults, boredom can lead to a trip to the vending machine or convenience store- difficult places to find healthful choices. The solution is to mix it up with nutritious and fun choices from Choose My Plate's Healthy Eating Tips.
Think outside the bag
To start thinking "outside the bag," use the ideas outlined below to put together a fun lunch that brown-baggers of all ages will enjoy. Be sure to add your favorites to the list!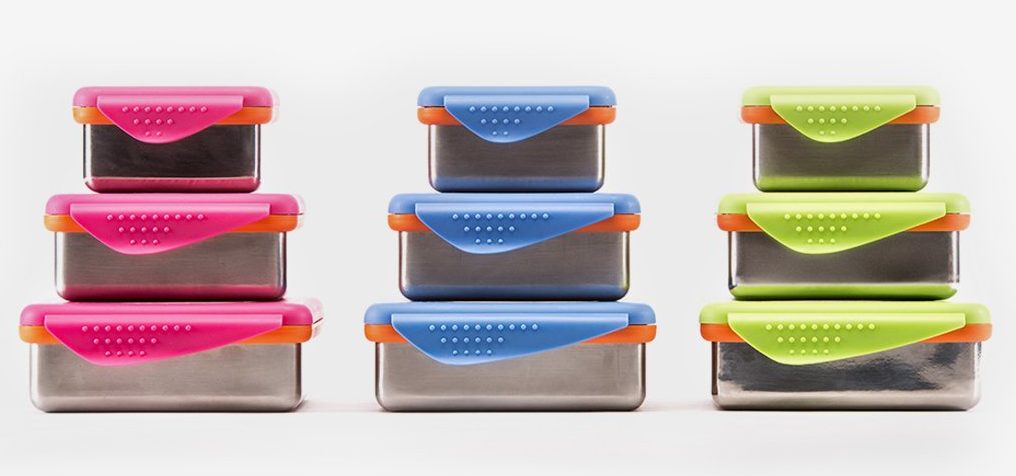 Note: Add a freezer pack and insulated bag to keep foods safe until lunchtime. (We have sweat-free ice packs and lunch bags on sale right now!) Also, bento boxes and other storage solutions can help eliminate waste while also controlling portions. Good Foods currently has a variety of containers from Kid Basix, including ones with attached lids (pictured to the right) that are harder for little ones to lose.
Pick from these whole grains choices—pick one or two:
Whole grain crackers
Whole grain mini-bagel or pita bread
Toasted whole grain English muffin
Low-fat granola in a one-quarter cup container
Low fat bran muffin
Whole grain rice or pasta salad
Vegetable choices—pick two or more 1/2-cup servings: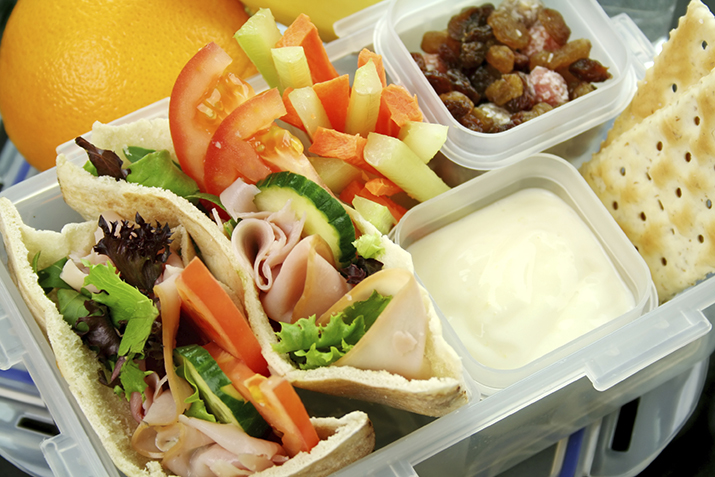 Three bean salad, with added beets and olives, dressed with balsamic vinegar and olive oil
Hummus (garbanzo bean spread)
Vegetable soup (1-cup) in a thermos or microwave safe container
Baby carrots
Celery sticks
Cherry or grape tomatoes
Cooked okra pods
Cooked green beans
Sweet pepper strips
Cooked corn the cob (6"ear = ½ cup; 8-9" ear =1 cup)
Salad (1-cup) with one tablespoon of dressing
Fruit choices—pick one:
Favorite fall apples
Dried fruit packed in a one-quarter cup container
Frozen berries packed in a one-half cup container (they thaw by lunchtime)
One cup of 100% juice
Dairy/high calcium choices—pick one:
Chocolate milk or calcium-fortified soy milk
Yogurt
String cheese
Light cheese rounds or triangle wedges
High calcium hot cocoa packet or already made up in a thermos
Pudding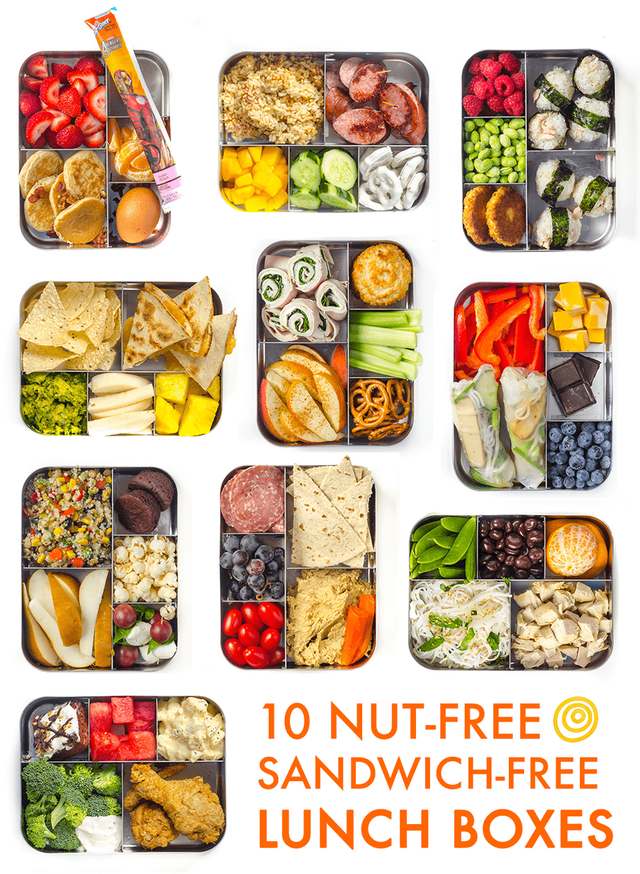 Protein choices—pick one:
Turkey or chicken breast or roast beef slices
Canned tuna, salmon or other fish
Bean salad or spread from above (beans count as protein AND vegetable)
Flavored baked tofu or tempeh chunks
Chunky peanut butter, sunflower seed or almond butter
You can mix and match these delicious and easy lunchbox ideas, for example:
Whole grain crackers and cheese, chicken and vegetable soup in a thermos, a serving of celery sticks, chocolate milk to drink and a Ginger Gold apple.
Three-bean salad with grape tomatoes, low-fat bran muffin and thawed frozen fruit topped with yogurt.
Toasted whole grain English muffin with tomato, turkey, and low-fat cheese with 100% grape juice to drink.
Want more ideas like the ones pictured to the right? Check out this article from The Kitchn for a full menu of easy lunchbox ideas that will keep your midday meals interesting for months.
Need an easy lunchbox idea you can use tomorrow? Try this:
Super-Duper Sandwich Faces
Recipe by: Mighty Media; Total time: 45 minutes; Serving: 3.
Put smiles on your children's faces with fun and healthy egg-cellent sandwiches! Sub the egg salad for hummus for even more easy lunchbox ideas.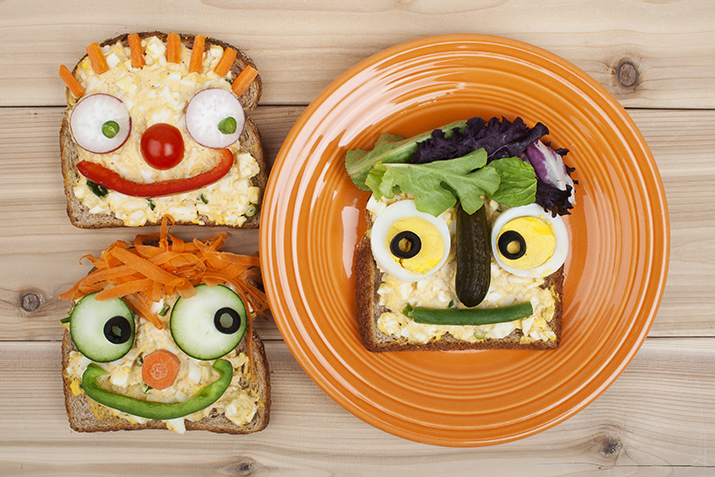 Ingredients
6 eggs
1/4 cup low-fat mayonnaise
1/2 teaspoon mustard
2 tablespoons chopped green onion
1/4 teaspoon paprika
3 slices whole wheat bread
1 radish, sliced
1 cucumber, sliced
4 black olives, sliced
2 green beans
1 baby pickle
1 cherry tomato
3 carrots
1 green pepper, sliced
1 red pepper, sliced
1 cup mixed salad greens
Preparation
Put the eggs in a large saucepan and cover them with cold water. Bring the water to a boil. Boil the eggs for 3 minutes, uncovered. Cover the pan and remove it from the heat. Let it sit for 8 minutes. Remove the eggs from the pan. Cool them in the refrigerator for 30 minutes. Peel the eggs.
Chop eight of the eggs into small pieces. Place the chopped eggs in a large bowl. Add the mayonnaise, mustard, green onion, and paprika. Mix together. Spread the egg salad on the slices of bread.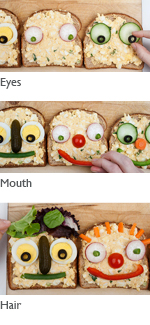 Eyes
Add eyes. Slice the remaining egg. Place two egg slices on the first bread slice, arrange two radish slices on the second bread slice and place two cucumber slices on the last bread slice. Put olive slices on top of egg and cucumber slices. Cut two slices of green bean. Put one on top of each radish slice.
Nose and Mouth
Add noses. Put a pickle on the first bread slice. Put half of a cherry tomato on the second bread slice. Cut a slice of carrot for the nose on the third bread slice.
Add mouths. Use a green bean on the first bread slice. Use slices of green and red pepper on the second and third bread slices.
Hair
Add hair. Use mixed salad greens on the first bread slice. Cut a carrot into short slices and place them on the second bread slice. Use a peeler to peel long, thin strips of carrot. Use it for hair on the third bread slice.
Serving Suggestion
Serve with replacement ingredients for eyes, nose, mouth and hair so that once kids eat the green pepper mouth, for example, they can replace it with a red pepper mouth, then a green bean mouth, etc.
Nutritional Information
300 calories, 15 g. fat, 385 mg. cholesterol, 430 mg. sodium, 24 g. carbohydrate, 4 g. fiber, 17 g. protein
_________________________________________________________________________________________________
Even if you aren't heading back to school this month, try out these easy lunchbox ideas and we guarantee that brown bag lunches won't be boring anymore!
Some content was provided by Co+op Stronger Together, which printed this article with permission from the Hanover Consumer Cooperative Society, Inc and author Mary Choate, RND. Copyright 2010.