Article provided by Alive Publishing Group. You can find more great articles anytime on alive Connect, or grab a copy of the latest printed issue of alive Magazine next time you're in Good Foods Co-op. It's free!
Whether it's certain nutrients in particular foods, or comfort food dishes that make you feel all cozy inside as temperatures outside begin to dip, how we choose to eat can help turn our mood around. So think of these recipes as your own personal happiness remedy!
Cozy Chili Mac and Cheese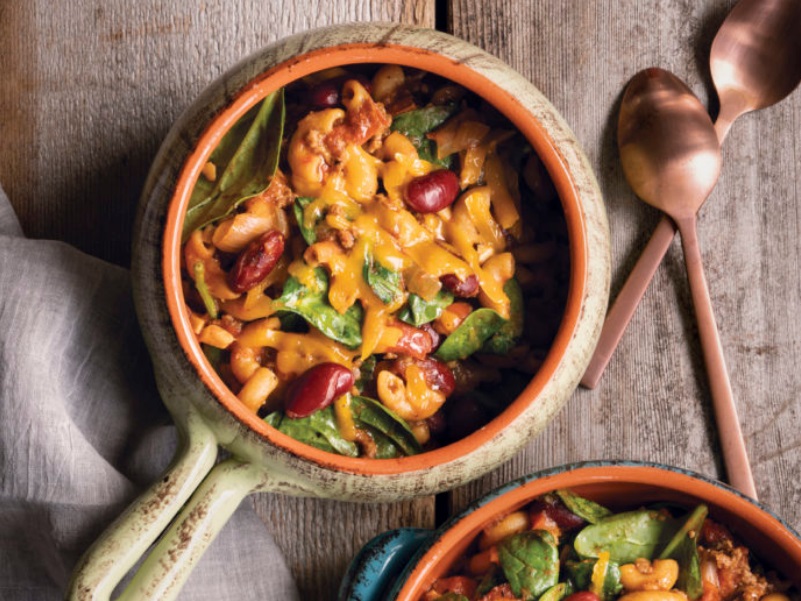 SERVES 6
This hybrid of two classic comfort dishes—chili and mac 'n' cheese—is sure to make you feel all cozy inside and turn any frowns upside down.
1 Tbsp (15 mL) grapeseed oil or sunflower oil
1 lb (450 g) ground beef
1 large onion, chopped
1/2 tsp (2 mL) salt
1 red bell pepper, chopped
3 garlic cloves, minced
2 Tbsp (30 mL) tomato paste
2 tsp (10 mL) chili powder
1 tsp (5 mL) ground cumin
1 tsp (5 mL) dried oregano
1/2 tsp (2 mL) black pepper
540 mL (19 oz) can diced tomatoes
1 1/2 cups (350 mL) low-sodium beef or vegetable broth
2 cups (500 mL) whole grain macaroni
1 tsp (5 mL) Worcestershire sauce
540 mL (19 oz) can red kidney beans
4 cups (1 L) spinach, tough ends trimmed
2 cups (500 mL) shredded sharp cheddar cheese
In large saucepan, heat oil over medium heat. Add beef and heat until brown, breaking up meat as it cooks, about 5 minutes. Remove meat from pan and set aside.
Add onion and salt to pan, and heat until onion softens and begins to darken, about 5 minutes. Add bell pepper and garlic; heat for 3 minutes. Stir in tomato paste, chili powder, cumin, oregano, and black pepper; heat for 1 minute. Place tomatoes, broth, macaroni, and Worcestershire sauce in pan and bring to a boil, then reduce heat to medium-low and simmer covered until pasta is cooked to al dente, about 12 minutes, stirring occasionally. Stir in beef and kidney beans; heat for 3 minutes. Stir in spinach and heat until wilted.
Divide among serving bowls and top with cheese.
Each serving contains: 582 calories; 36 g protein; 27 g total fat (13 g sat. fat, 1 g trans fat); 52 g total carbohydrates (3 g sugars, 10 g fiber); 633 mg sodium
Chocolate Chunk Cookie Pie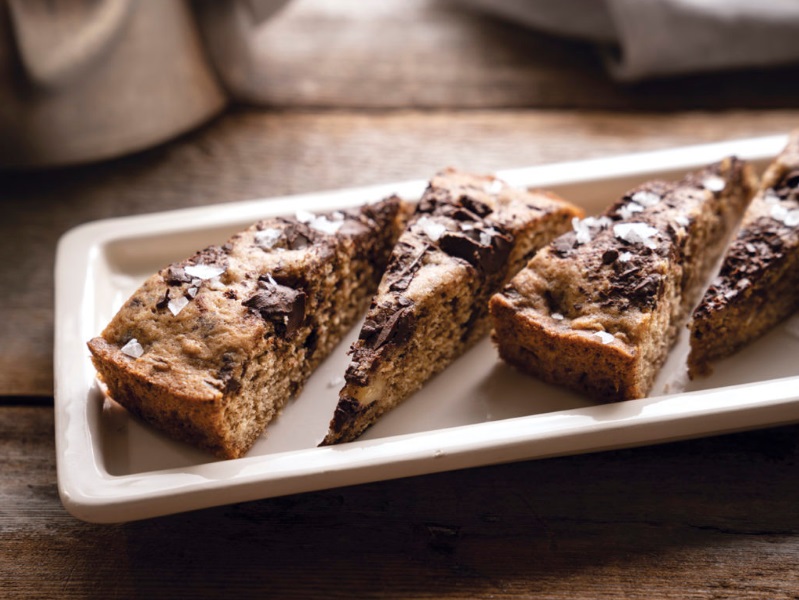 SERVES 8
Cut this Zen-like pie into wedges and feel good about serving it with a scoop of vanilla ice cream.
1/4 cup (60 mL) melted unsalted butter or melted coconut oil
1/2 cup (125 mL) demerara or other raw-style sugar
1 large egg
1 tsp (5 mL) vanilla extract
1/4 tsp (1 mL) salt
1 cup (250 mL) spelt flour
1 tsp (5 mL) cinnamon
1/4 tsp (1 mL) baking soda
3 oz (about 2/3 cup/160 mL) chopped dark chocolate, at least 70% cocoa, divided
1/3 cup (80 mL) chopped walnuts
Flaky salt (optional)
Place rack in bottom third of oven and preheat to 375 F (190 C). Line bottom of 8 in (20 cm) round cake pan or springform pan with parchment paper and lightly grease sides of pan.
In large bowl, whisk together butter and sugar. Whisk in egg, vanilla, and salt until smooth. Stir in spelt flour, cinnamon, and baking soda, and mix until no dry flour remains. Reserve 1/4 cup (60 mL) chocolate and fold remaining chocolate and walnuts into batter.
Add mixture to prepared pan and spread out into even layer, using spatula. Scatter remaining chocolate over cookie and sprinkle with flaky salt, if using.
Bake for 15 minutes, or until center is just barely set and edge is darkened. Let cookie pie cool for 5 minutes before removing from pan and cooling further on wire rack. Cut into 8 wedges.
Each serving contains: 239 calories; 5 g protein; 14 g total fat (7 g sat. fat, 0 g trans fat); 25 g total carbohydrates (12 g sugars, 3 g fiber); 126 mg sodium
Roasted Beet, Apple, and Lentil Salad with Warm Maple Dressing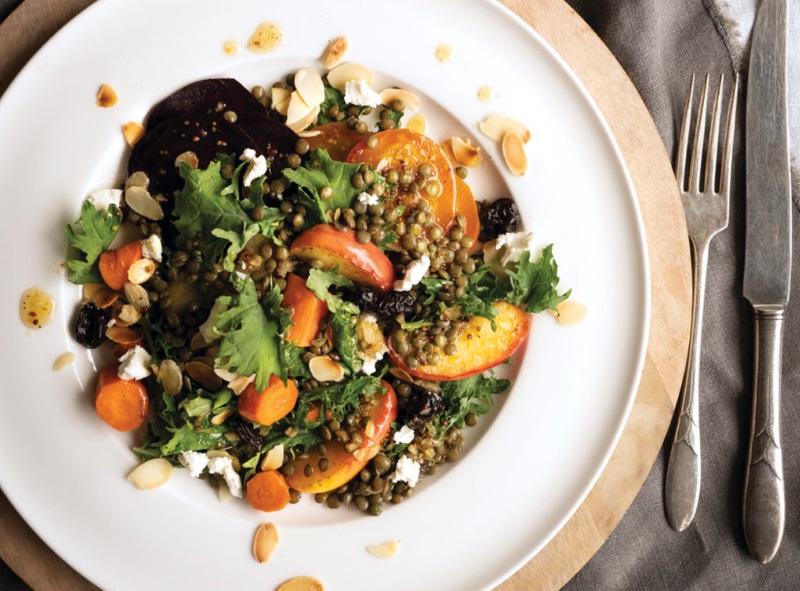 SERVES 4
When it starts getting depressingly cold and dark outside, warm up to this next-level main dish salad that offers up a bounty of nutritional bell-ringers.
3 medium-sized red or golden beetroots, peeled, ends trimmed and thinly sliced
2 large carrots, cut into 1/2 in (125 cm) pieces
3 Tbsp (45 mL) grapeseed oil or sunflower oil, divided
1/2 tsp (2 mL) salt, divided
2 red apples, sliced into 1/2 in (1.25 cm) wedges
3/4 cup (180 mL) dry green or black (beluga) lentils (or canned)
4 cups (1 L) baby kale
2 oz (56 g) crumbled soft goat cheese
1/3 cup (80 mL) sliced unsalted roasted almonds
1/4 cup (60 mL) dried cherries
3 Tbsp (45 mL) pure maple syrup
2 Tbsp (30 mL) cider vinegar
1 Tbsp (15 mL) finely chopped shallot
2 tsp (10 mL) coarse grain Dijon mustard
2 tsp (10 mL) chopped fresh thyme
1/4 tsp (1 mL) black pepper
Preheat oven to 425 F (220 C) and place rimmed baking sheet in oven as it heats.
In bowl, toss beets and carrots with 1 Tbsp (15 mL) oil and 1/4 tsp (1 mL) salt. Roast on heated baking sheet in preheated oven for 20 minutes. Stir vegetables and then add apples to baking sheet. Roast for another 10 minutes, or until vegetables are tender.
As vegetables cook, in saucepan, place lentils, 3 cups (750 mL) water, and a couple pinches of salt. Bring to a boil, reduce heat to medium-low, and simmer, covered, until lentils are tender but not too soft, about 20 minutes. Drain and set aside. (If using canned lentils, no need to cook them.)
To assemble salad, divide baby kale, lentils, and roasted vegetables among 4 serving plates. Scatter on goat cheese, almonds, and dried cherries.
In microwave-safe bowl, whisk together remaining 2 Tbsp (30 mL) oil, maple syrup, cider vinegar, shallot, mustard, thyme, 1/4 tsp (1 mL) salt, and pepper. Heat in microwave for 1 minute, or until warmed. You can also warm dressing in a small saucepan on stovetop. Drizzle warm dressing over salad before serving.
Each serving contains: 529 calories; 18 g protein; 19 g total fat (4 g sat. fat, 0 g trans fat); 76 g total carbohydrates (35 g sugars, 15 g fiber); 528 mg sodium