When you get a group together to eat these days, it seems you need three versions of every dish to satisfy everyone's dietary needs. One of the fastest-growing diet trends is the plant-based movement, and after discovering a few solid meat-free holiday recipes for the various gatherings I've been to while a vegetarian (dishes that were gobbled up by veg folks and omnivores alike), I figured I'd share the love and the deliciousness so your menu planning over the holidays can be a little less stressful!
First, The Secret Ingredients for Meat-Free Holiday Recipes
A few ingredient swaps can work for a variety of meat-free holiday recipes, and once you have these swaps down, you're pretty much unstoppable!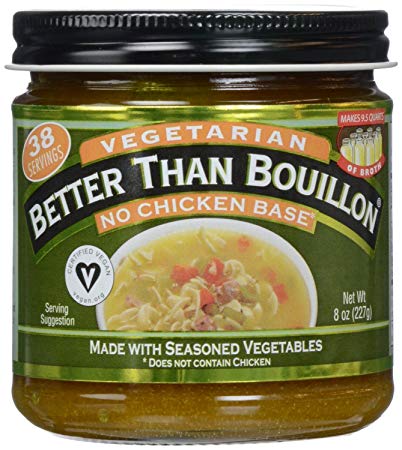 Better Than Boullion No Chicken Base – I use this for everything from soup broth to making the "cream of chicken/mushroom/celery" component that is the base for so many casseroles. To make the equivalent to a can of condensed "cream of" soup, I start with a roux of some butter and flour in a small pot (about a tablespoon of each), cook them off for just a minute or so, then whisk in a cup of the Silk milk mentioned below, let it thicken slightly, then add a teaspoon of the Better Than Boullion.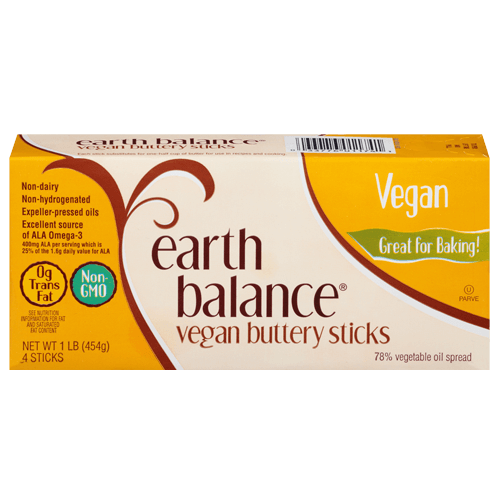 Earth Balance Sticks – These are great to make an easy substitution for any of your baking needs.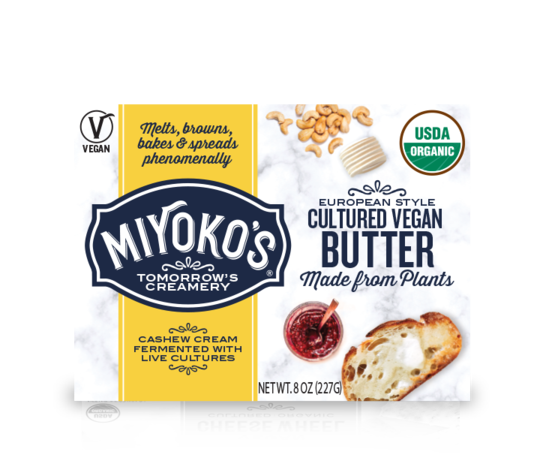 Miyoko's European Style Cultured Vegan Butter –  If you're looking for a vegan butter for use as a condiment only, I highly recommend this one. It's as delightful as it's dairy counterparts and melts beautifully on a warm roll or steaming baguette.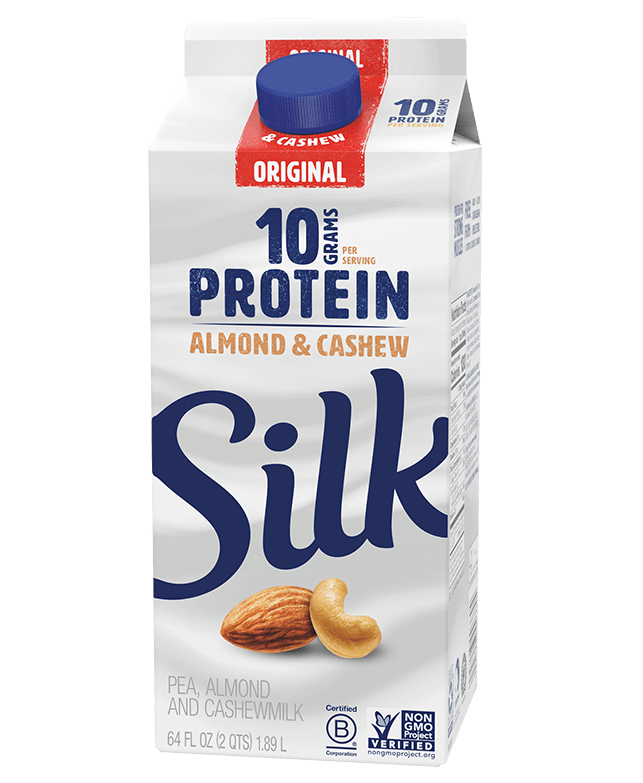 Silk Protein Almond & Cashew Milk – This stuff is thick and tasty! It works great in baking applications as well as savory (just make sure you get the unflavored version). The vanilla flavor would be a great substitute in cocktails that call for dairy (think eggnog).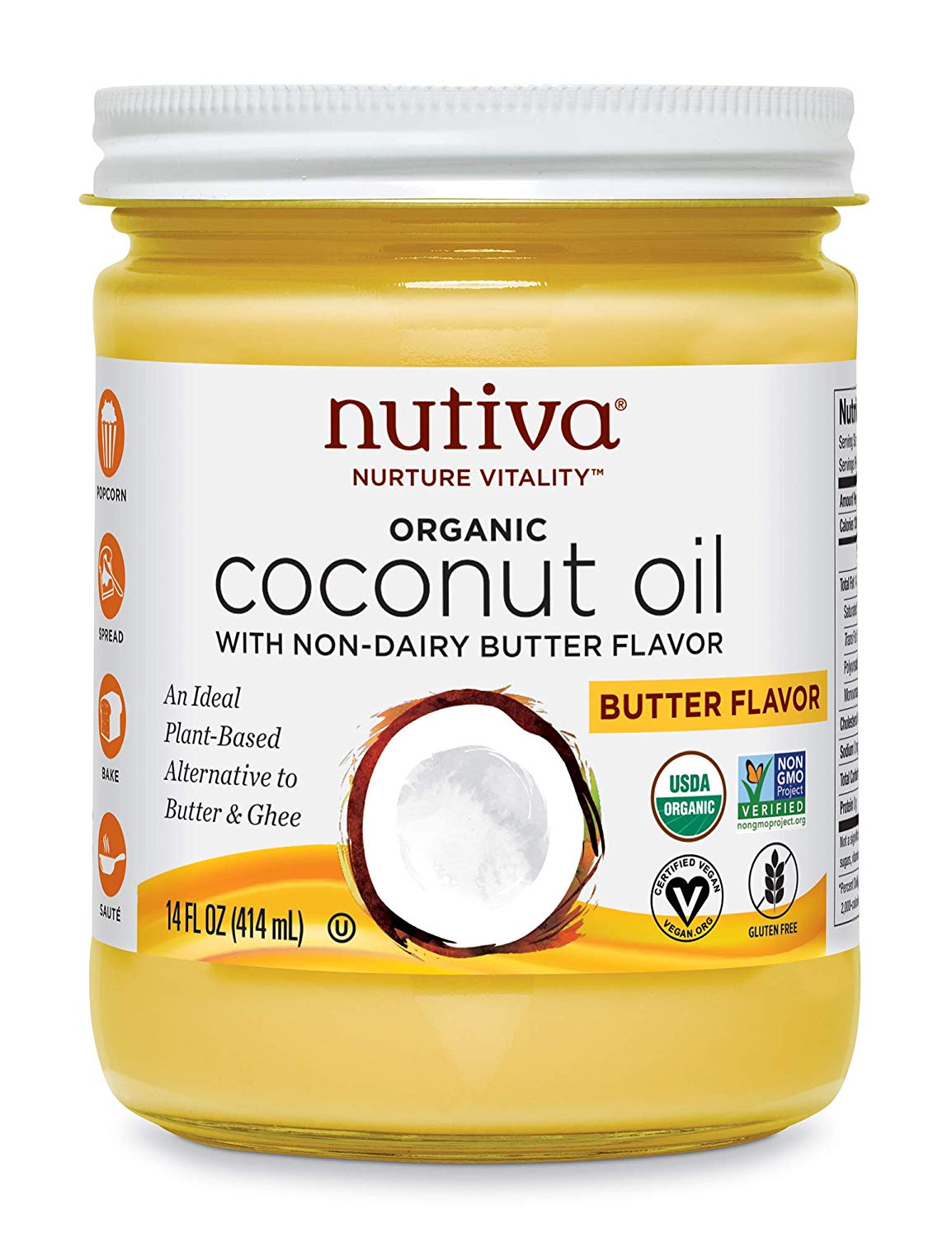 Coconut oil (butter flavor or original) – Coconut oil is another great fat alternative to use in baking, or any type of cooking, really. I like it in pie crusts, biscuits and the butter flavor is delicious for popping stovetop popcorn that tastes just like the theater!
Flax seeds – Grind them up for the easiest plant-based egg replacement option for your baking. The general rule is 1 tablespoon of ground flaxseed and 3 tablespoons of water to replace 1 egg. Combine and let sit for a few minutes to thicken and then you're good to go! You can find plenty of other egg replacement options for baking here.
Satisfying Plant-Based Sides
The Best Vegan Stuffing Recipe
This stuffing was brought to my first Friendsgiving of the season by my friend Thad and was quickly devoured. Vegans and meat-eaters alike were asking for the recipe, so here it is. You'll want to keep it archived for future reference when you need meat-free holiday recipes.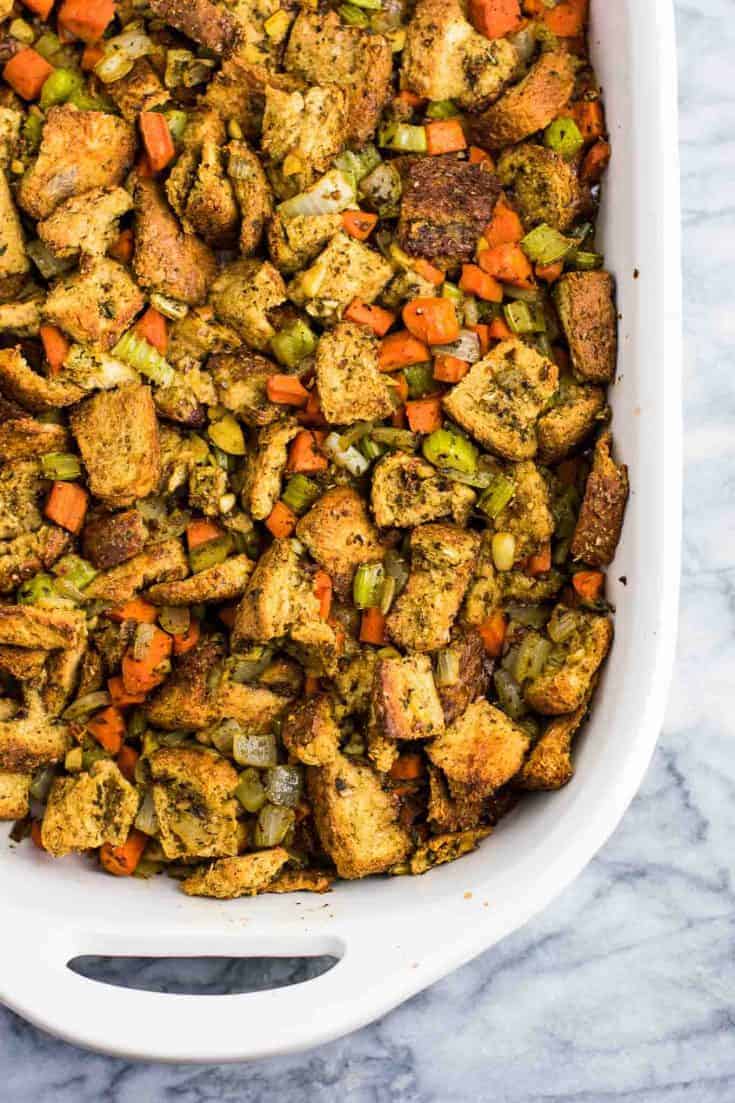 INGREDIENTS
1 loaf of bread (14-16 slices)
1 heart of celery, diced (about 5 stalks)
1 medium onion, diced
3 carrots, peeled and diced
10 cloves of garlic, finely diced or minced
1 1/2 teaspoons sea salt
3 tablespoons ground sage
1 1/2 teaspoons thyme
1 1/2 teaspoons oregano
2 tablespoons vegan butter
1/2 teaspoon pepper
2 cups veggie stock
2 tablespoons vegan butter for topping
INSTRUCTIONS
Cut bread into cubes and crisp in the oven until slightly crunchy, about 10-15 minutes on 400 degrees (roast dry on a baking sheet). Combine diced celery, onion, carrots, garlic, 2 tablespoons of vegan butter, salt, sage, thyme, oregano, and pepper in a skillet. Sautee until cooked through (about 10 minutes on medium heat). Add bread to skillet and stir well, add in veggie stock. Taste to adjust seasonings if necessary. Pour stuffing into a large glass baking dish (grease with vegan butter first). Dot the top of the stuffing with 2 tablespoons of vegan butter, cut into small cubes. Bake at 400 degrees for 30-40 minutes, or until desired texture (we prefer it more dry, but you could cook less for a more soft stuffing).
NOTES
To make this recipe gluten-free, simply substitute your favorite gluten-free bread!
VEGAN GREEN BEAN CASSEROLE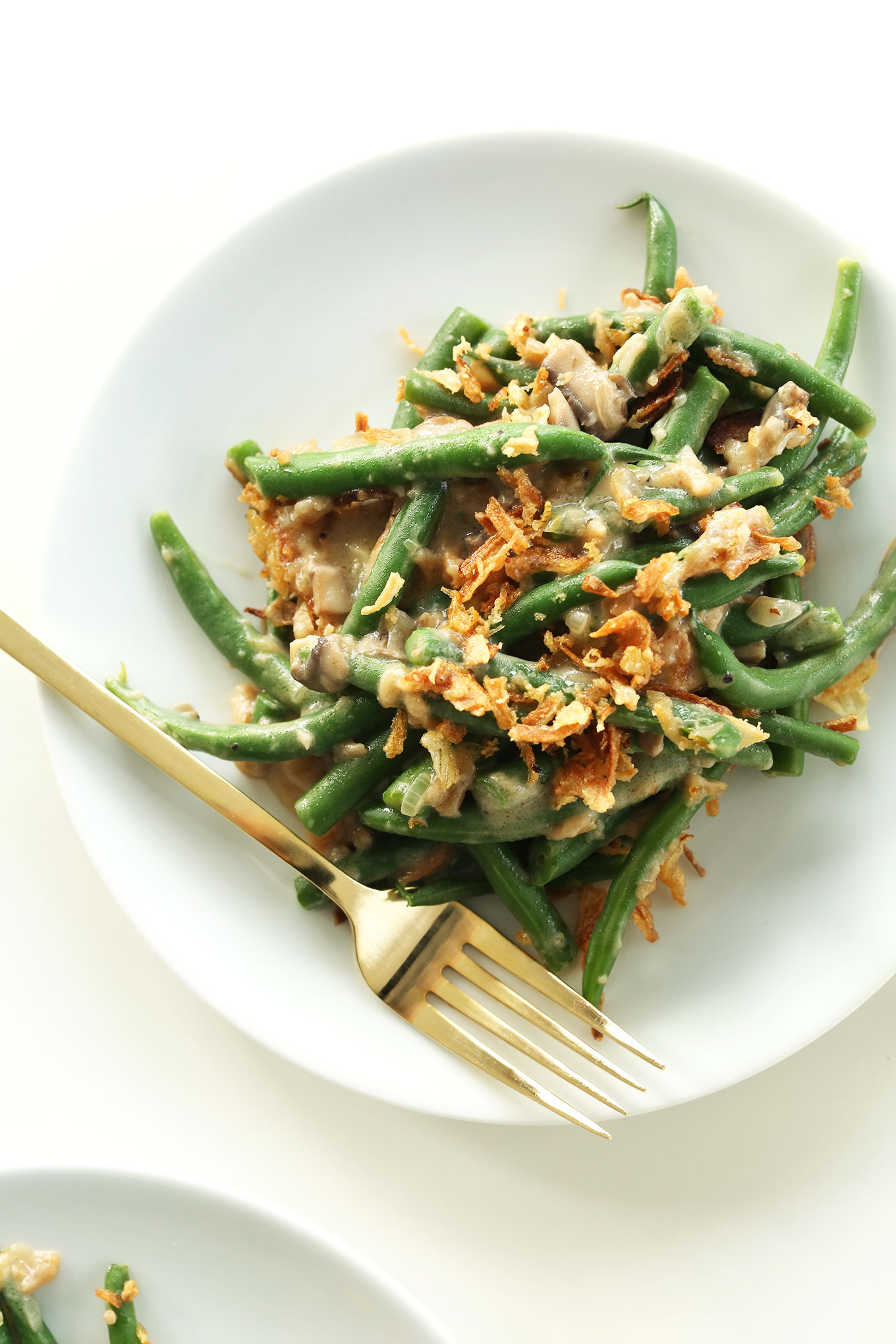 Double-check your fried onion package to make sure all the ingredients are vegan. The Better Than Bouillon is great for the broth needed here, and I used my Silk Almond-Cashew blend mentioned above to make the dish really creamy. When Hen of the Woods mushrooms were in season, I used those for the mushroom component, but feel free to use whatever mushroom you love or that looks good. My vegan friends asked if they could take these leftovers home with them, so I know I did something right! I used canned beans instead of fresh (just skip the blanching step) and it still tasted great.
Ingredients
1 pound green beans (rinsed, trimmed and cut in half)
Sea salt and black pepper
2 Tbsp vegan butter or olive oil
1 medium shallot (minced)
2 cloves garlic (minced)
1 cup finely chopped mushrooms (button, baby bella, or cremini)
2 Tbsp all-purpose flour
3/4 cup vegetable broth (DIY or store-bought)
1 cup unsweetened plain almond milk
1 1/2 cups crispy fried onions
Instructions
Preheat oven to 400 degrees F (204 C). Bring a large pot of water to a boil and salt well – it will help season the green beans. Add green beans and cook for 5 minutes, then drain and place in an ice water bath to stop cooking. Drain and set aside.
In the meantime, start preparing sauce. In a large oven-safe skillet over medium heat, add vegan butter or olive oil and shallots and garlic. Season with salt and pepper and stir. Cook for 2-3 minutes, then add mushrooms and season with a bit more salt and pepper. Cook for 3-4 minutes more or until lightly browned.
Sprinkle in flour and whisk to stir and coat the veggies. Cook for 1 minute, then slowly add in veggie stock, whisking to incorporate. Add almond milk next and whisk to stir again. Season with a touch more salt and pepper and bring to a simmer, then reduce heat to low to thicken. Cook for 5-7 minutes more, or until thick and bubbly. Taste and adjust seasonings as needed.
Remove from heat and add 1/3 of the fried onions (1/2 cup as original recipe is written // adjust if altering batch size) and all of the cooked green beans. Toss to coat well, and top with remaining fried onions.
Bake for 15 minutes, or until warmed through and bubbly and slightly browned on top. Serve immediately (handle pan carefully). Leftovers store well in the fridge for up to a few days.
Vegan Pecan Pie
This recipe is yet another example of making something vegan, but no one can tell the difference. When I made this pie for a holiday gathering, everyone was asking for the recipe. As with the fried onions in the recipe above, make sure you check the ingredients list on your saltine crackers — sometimes they sneak in milk!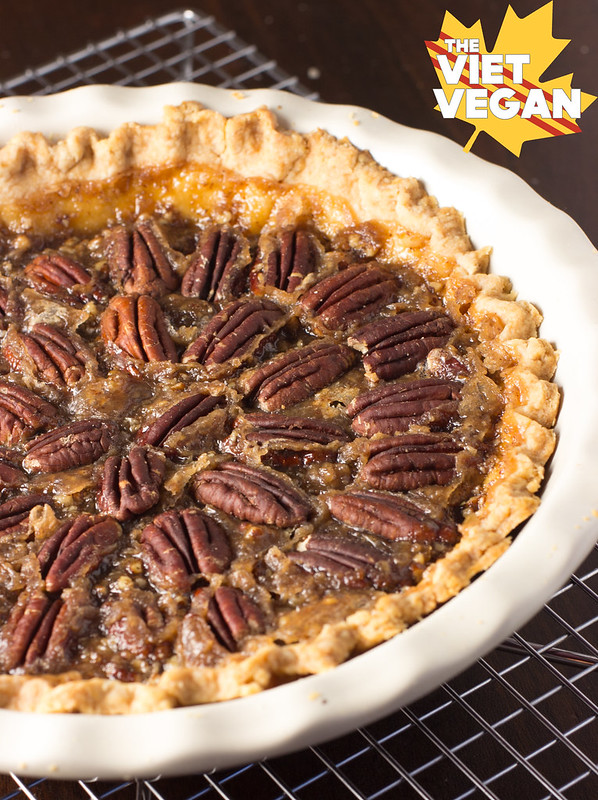 Ingredients
For the pie crust:
1 stick (1/2 cup) vegan buttery sticks, cold and cut into cubes
1 stick (1/2 cup) vegan shortening, cold and cut into cubes
3 cups all-purpose flour + flour for rolling
1 tsp salt
2 tbsp white sugar
10 tbsp (150 mL) ice water
For the filling:
1 tbsp coconut oil
1/2 cup pecan halves
1 cup pecans pieces (Or you can have all halves, toast together and then separate later to chop)
1/2 tsp ground cinnamon
1 cup white sugar
1/2 cup maple syrup
1/4 cup vegan butter
2 tbsp flax meal + 6 tbsp warm water
10 salted top crackers, crushed
1 heaping tbsp flour
1 1/2 tbsp vanilla extract
Instructions
For the pie crust:
In a food processor (or if you don't have one of those, a large mixing bowl and a pastry knife), blitz butter, shortening, sugar, flour, and salt until the butter and shortening are about pea-sized. Pour in ice water and mix until just combined. Transfer to a clean countertop and divide into two equal pieces. Shape into discs and wrap with plastic wrap. Let chill in the fridge for at least an hour.*
Once chilled, remove from the fridge and roll out until 1/4 inch thick and it fits your pie pan. Wrap your rolling pin with the pie crust to easily roll it out over the pie pan.
Gently shape the pie crust to meet the crevices of the pie pan. Use a knife to trim the edges of the pie crust, then crimp the sides or leave as is. Use a fork to poke holes all along the bottom to prevent bubbles. Cover the edges of the crust with aluminum foil to prevent burning the edges. Bake at 325ºF for about 10 minutes. The crust will shrink a little bit, depending on your pan, so give it about 1/2 inch to an inch to shrink down to. Remove from oven and set aside.
To make the filling:
Preheat oven to 325ºF.
In a skillet, melt coconut oil over medium heat. Toss pecans into the pan and stir until lightly coated in oil. Sprinkle cinnamon on top and continue stirring until pecans are fragrant and lightly toasted (about 3-4 minutes). Watch carefully and stir constantly because they burn really quickly. Remove from pan and set aside to cool. Roughly chop pecans once cooled. You can reserve about 1/2 cup of them whole to leave on top for decoration.
In a small bowl, mix flax meal and warm water and let sit until thickened and gelled (about 5 minutes).
In a small pot, combine white sugar, maple syrup, butter, flax mixture, crackers, flour, and pecan pieces and stir over medium-low heat until sugar is dissolved and mixture is fairly thick (about 5 minutes). Turn off heat, stir in vanilla extract, and transfer to par-baked pie shell. Arrange pecan halves on top as desired. If you can, submerge them in the sugar syrup a little bit so that the pecan halves are protected from burning.
Keep edge of pie protected with aluminum foil, and bake for about 30-40 minutes. Remove aluminum foil from edges and continue to bake until edges are golden and the pie filling is mostly set but a little jiggly in the middle when you gently shake the pie—about another 10-15 minutes.
Remove from oven and let cool on a wire rack. It's best to let it sit until slightly warmed or completely cool before serving. Cut and enjoy!
Notes
This recipe makes two pie crusts (or a top and a bottom), so you have another pie crust for later, or you can double the filling recipe and make two pecan pies.
No-Fuss Meat-Free Entrees
Now that you have your sides and dessert figured out, what do you offer your veg guests when it comes to a meat-free entree? Here are a couple options that are tried and true—no meat-free holiday recipes needed—just heat and eat!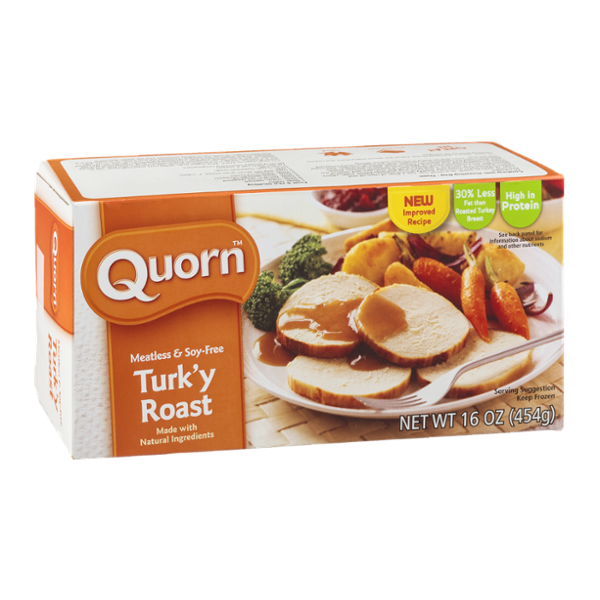 Quorn Turk'y Roast with Imagine Mushroom Gravy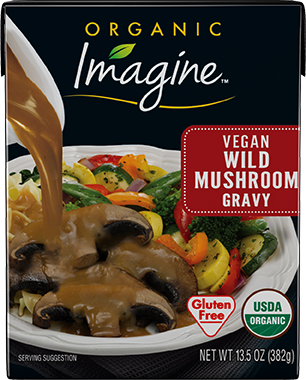 The Quorn Turk'y Roast is a favorite of mine (and many of the diners who join us for our Thanksgiving Day Holiday Hot Bar). It's as flavorful and moist as the best turkey I've had, and only gets better with a little mushroom gravy on top. I want leftovers of this stuff so I can make some "turkey" tetrazzini, but there's usually none left! Note: this roast does contain milk and eggs, so it should satisfy vegetarians, but it is not vegan.
Field Roast Hazelnut Cranberry Roast En Croute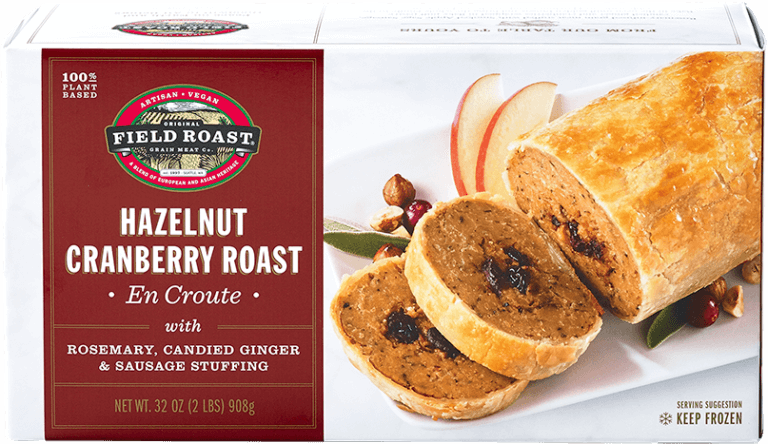 This option is vegan and is a favorite choice of the Lexington Vegan Society Facebook group. It presents beautifully and is a great option for plant-based eaters who do not want something closely mimicking the flavor of meat. The cranberry and hazelnut notes are delightfully festive, while the pastry crust makes it feel extra fancy!
If all of these tips and recipes seem like a lot to consider, never fear! Feel free to stop by the Co-op anytime and our staff will help you shop for what you need. We have plenty of house-made-from-scratch, plant-based dishes from our kitchen, too, plus plenty of meat-free holiday recipes on cards for you to take home. We even have a dietitian on staff who can help you find the best food for you, no matter what your restrictions are. For even more recipe ideas, visit our Plant-Based Living Support Group page on Facebook. Happy holiday eating!