Father's Day shopping… we all have dreaded looking for the perfect presents for pop. Will he like it? Would he actually use it? Will this end up in a donation pile in two years?
Like many parents, there are the fathers out there who won't tell you what they want, putting the needs of the family before their own. This makes shopping especially hard. Perfect example? I asked some of the dads from the Co-op to tell me what their all-time favorite Father's Day gift was. I got ONE, count 'em O-N-E, answer: "liquor". No lie.
I love giving gifts that can be consumed (not just liquor) because there's less of a risk of it not being used and also you can give dad something that he might not otherwise splurge on for himself. Indulge dad, and make him feel special — that's what Father's Day is all about! Let's flesh out the presents for pop shopping list with some curated collections of gifts, featuring lots of Kentucky Proud products, and all available for purchase at your Co-op (many of them on sale).
Presents for Pop Idea 1: The Grill Master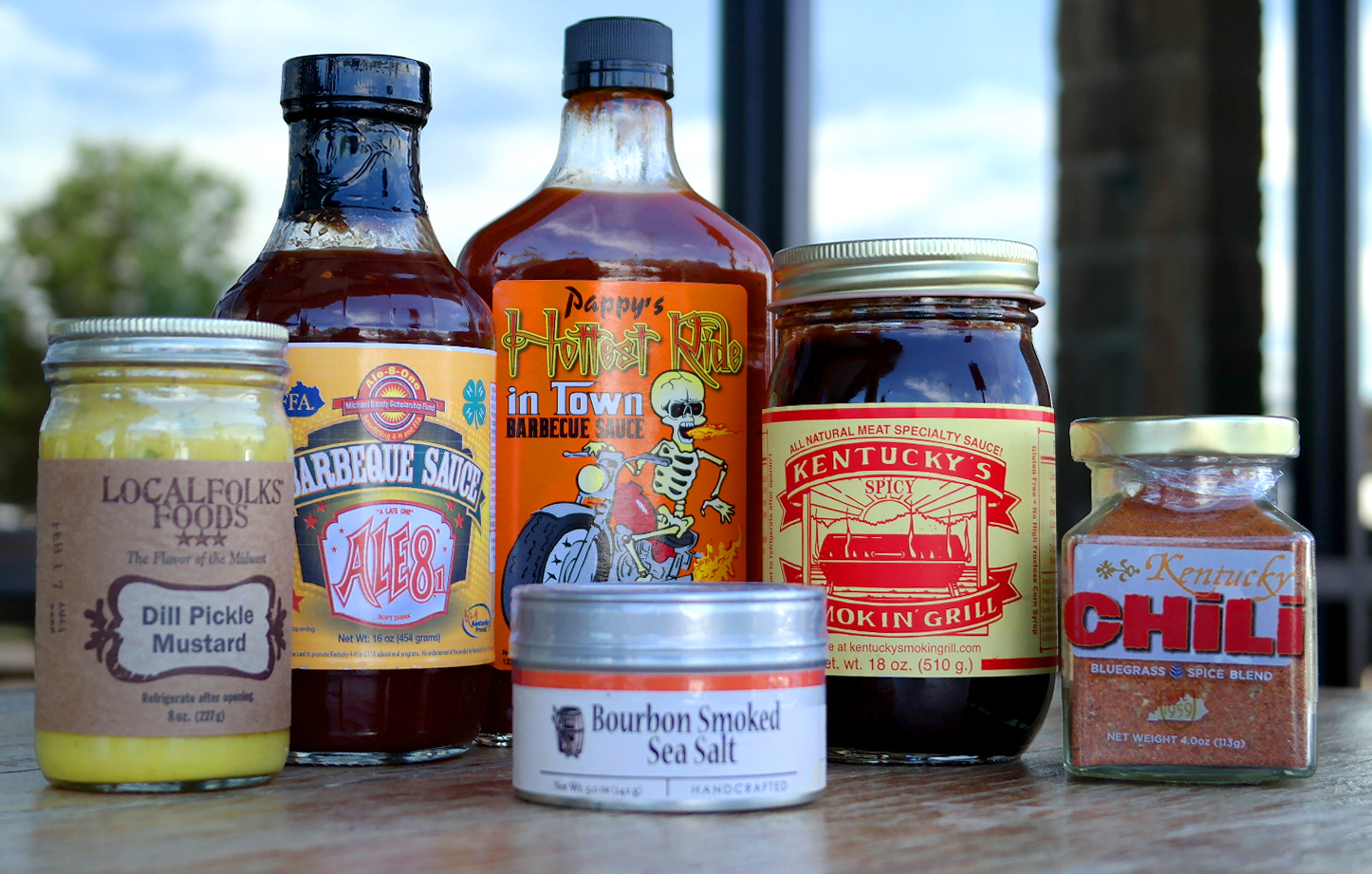 If dad loves to spend his downtime gathering his friends and family around the grill, get him some of these essentials that will easily up his barbecue game, including lots of local products!
Local Folks Foods dill pickle mustard, ON SALE $4.49, OWNER DEAL $3.99
Ale-8-One Barbeque Sauce, $5.69
Kentucky Bourbon Q Pappy's Hottest Ride in Town barbecue sauce, $6.49
Kentucky's Smokin' Grill spicy sauce, $4.99
Kentucky Chili Bluegrass spice blend, $7.49
Bourbon Barrel Foods bourbon smoked sea salt, $10.99
Presents for Pop Idea 2: The Culinarian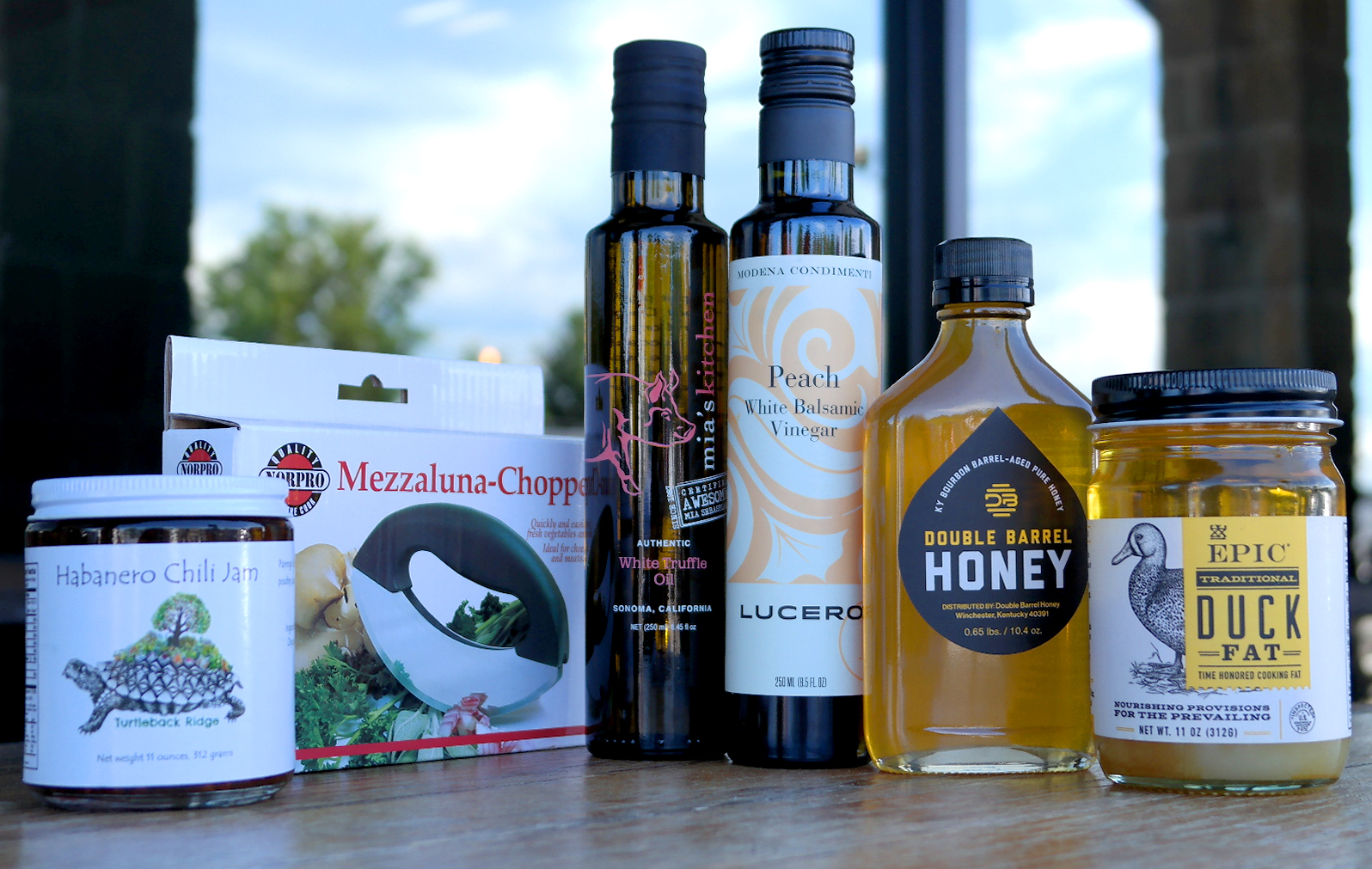 For pops who prefer their time spent in the kitchen coming up with Michelin-star-worthy dishes, they know that the quality of the ingredients used is the biggest influence on the quality of the final product. These gourmet goodies will help provide lots of inspiration!
Turtleback Ridge habanero chili jam, $9.99
Mezzaluna chopper, $8.49
Mia's Kitchen white truffle oil, $11.99
Lucero peach white balsamic vinegar, $15.99
Kentucky Double Barrel honey, $12.99
Epic duck fat, $8.99
Presents for Pop Idea 3: The Coffee Lover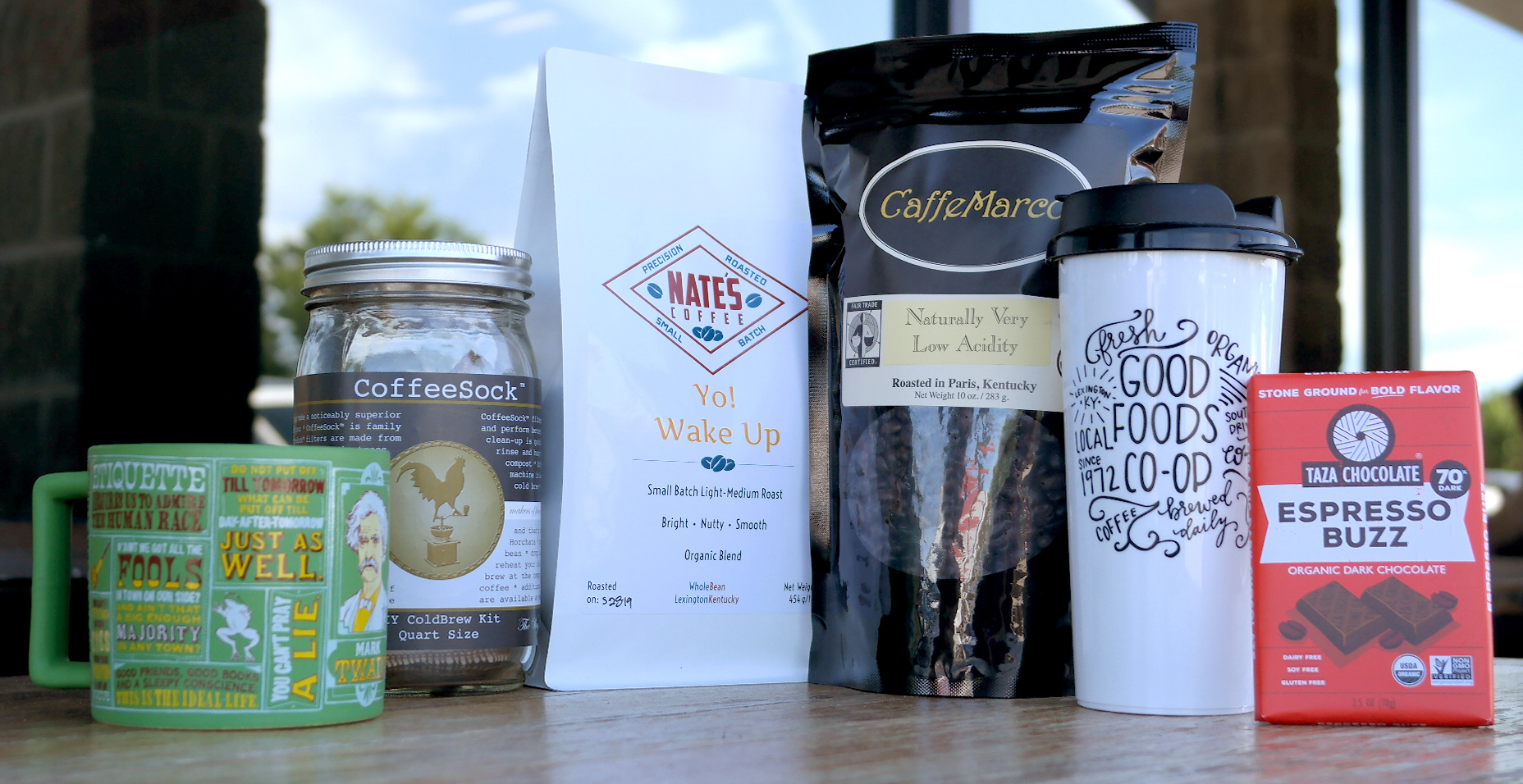 If coffee is more than just a morning ritual for your dad, and more of an obsession, these gifts are perfect for him. From locally-roasted beans, fun mugs, cold brew supplies and even espresso-infused chocolate, any coffee lover would enjoy these selections.
Unemployed Philosopher's Guild Mark Twain mug (plenty of other fun options in-store), $10.99
CoffeeSock cold brew kit, $16.99
Nate's Coffee Yo! Wake Up coffee beans, $13.99
Caffe Marco dark roast beans, $10.99
Good Foods travel mug (comes with a free fill-up and 25¢ off every fill-up thereafter), $4.99
Taza Chocolate espresso buzz bar, $3.89
Presents for Pop Idea 4: The Sweet Tooth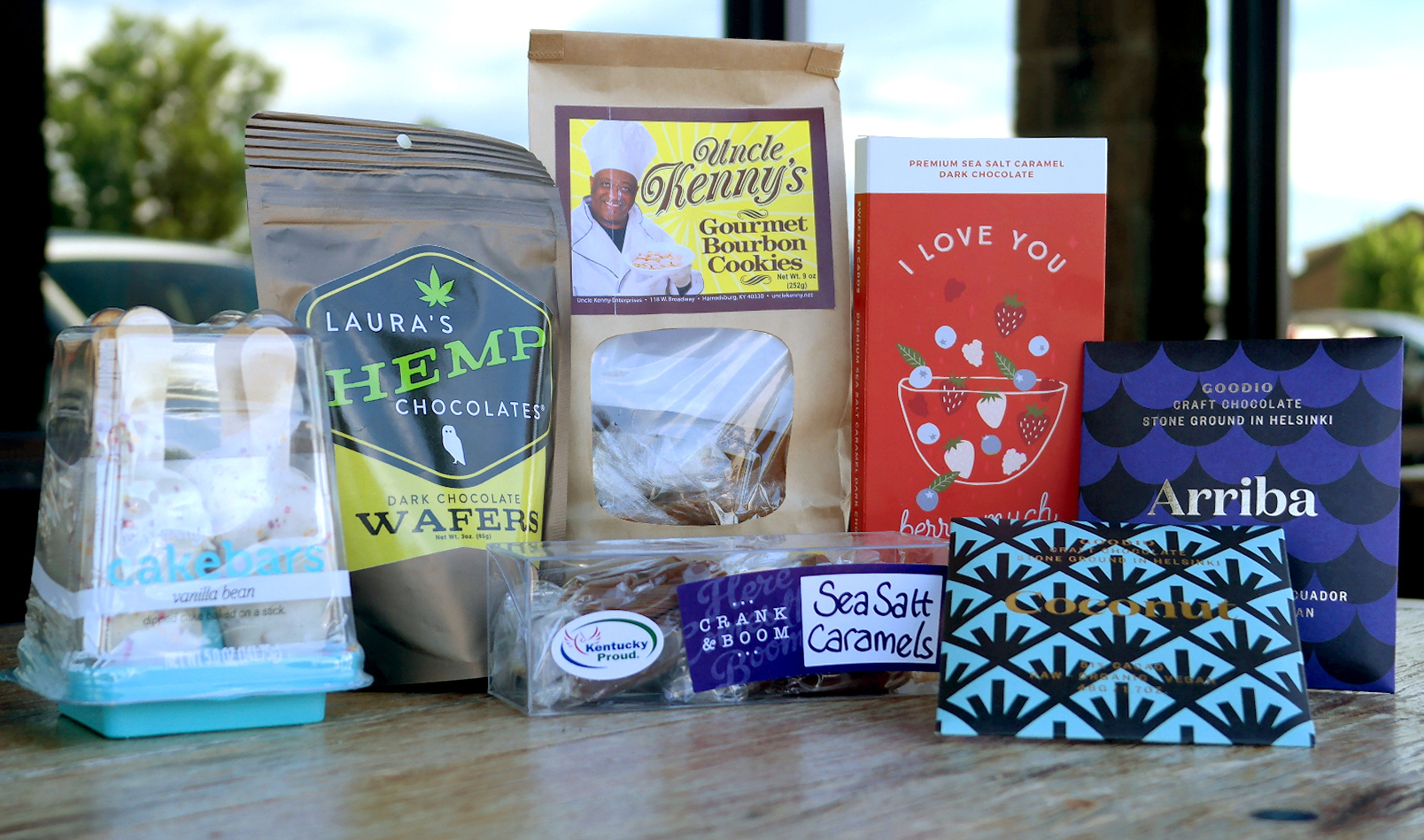 Dads love sweets, too, they just might stash their confections better than anyone else in the family. Satisfy the sweet tooth and turn him on to some new sweet selections, including a chocolate bar and greeting card in one!
Ticklebelly cake bars, ON SALE $4.99, OWNER DEAL $3.99
Laura's Hemp Chocolates dark chocolate wafers, $7.69
Crank & Boom sea salt caramels, $5.99
Uncle Kenny's gourmet bourbon cookies, $7.99
Sweeter Cards premium sea salt caramel dark chocolate bar and card, ON SALE $7.99, OWNER DEAL $5.99
Goodio craft chocolate in coconut and arriba, $5.59 each
Presents for Pop Idea 5: The Snacker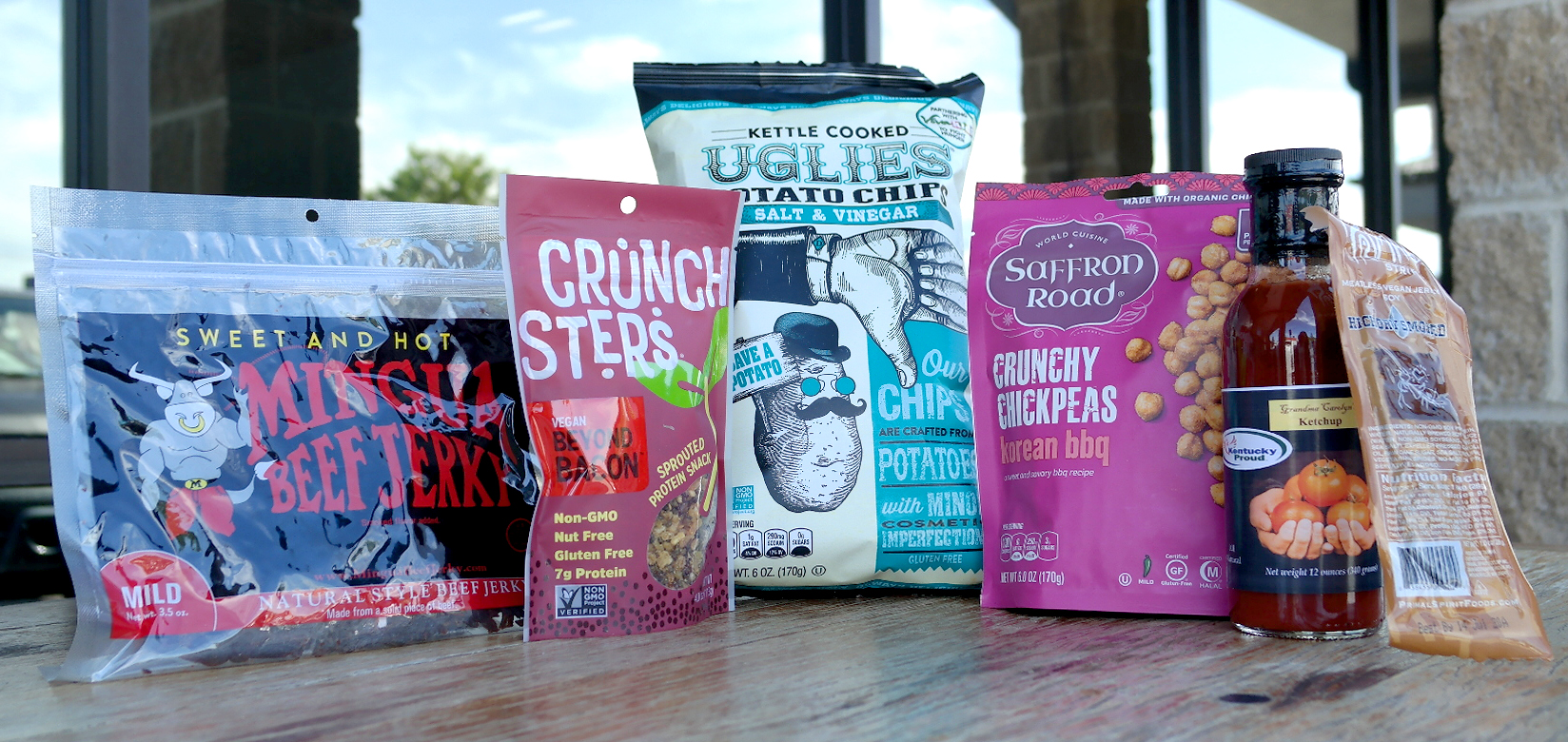 If dad doesn't sit down without a snack nearby, he may be in the market to try some new munchies. This selection includes jerky of the meat and plant-based variety along with some curiously addictive chickpeas, a special-recipe ketchup, surprisingly healthy bacon-flavored sprouted snacks and chips made out of imperfect potatoes.
Mingua sweet and hot beef jerky, $7.99 (plus get 30% off Friday-Sunday)
Crunchsters (vegan) beyond bacon sprouted protein snack, $4.69
Uglies salt and vinegar potato chips, $2.99
Saffron Road crunchy chickpeas Korean bbq, ON SALE $2.99
Grandma Carolyn's ketchup, $6.99
Primal Strips hickory smoked vegan jerky, $1.49 (plus get 30% off Friday-Sunday)
Presents for Pop Idea 6: The Self-Care Slacker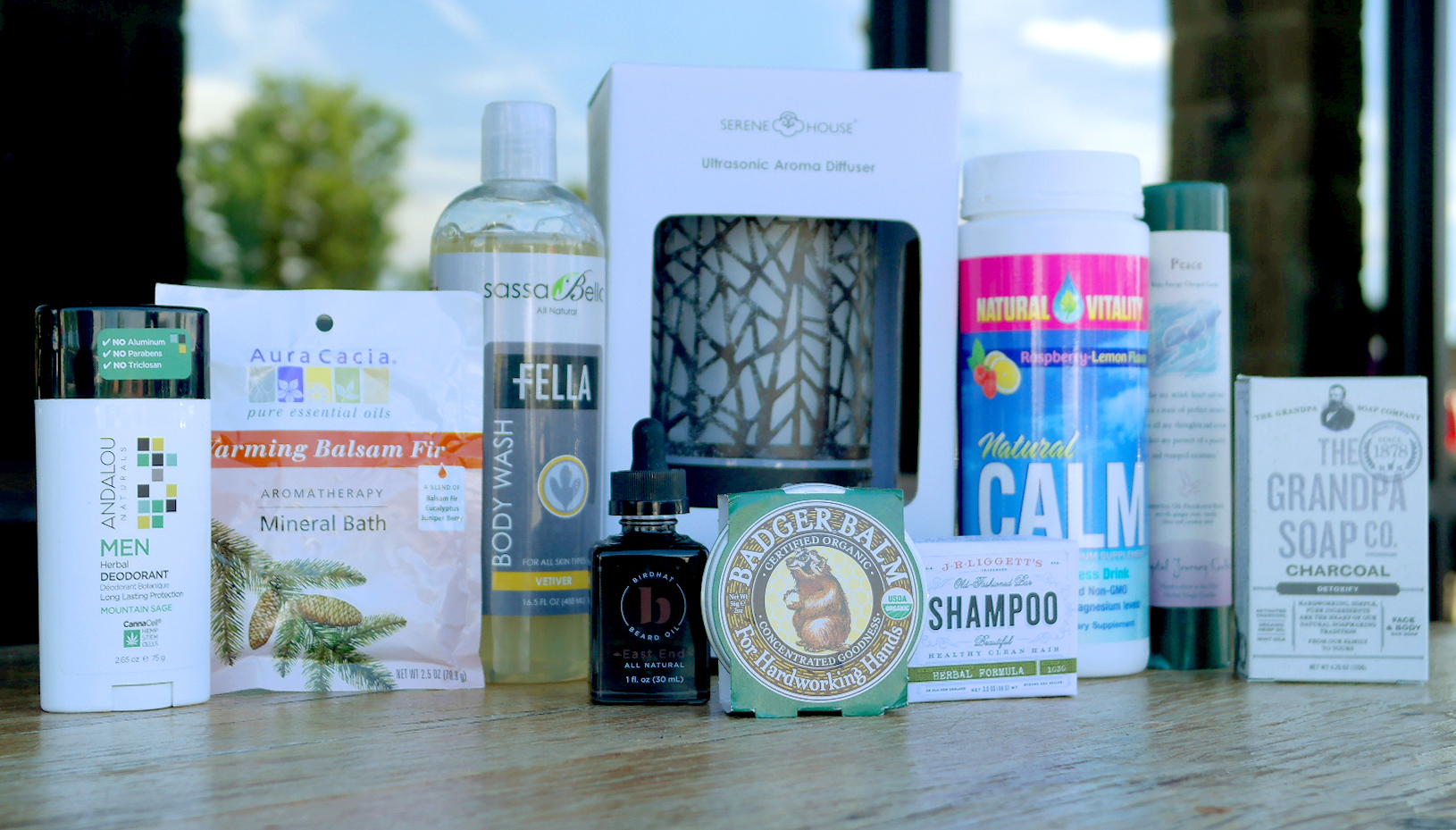 Busy dads may often skip the self care they need (if you question this, please watch the Netflix reboot of Queer Eye). Whether their grooming has taken a back seat or they feel overwhelmed by work/life stress, these gifts made with good-for-you ingredients will invite pop to take a second to pamper himself, or simply add some indulgence to his daily routine.
Andalou Naturals Men herbal deodorant in mountain sage, ON SALE $5.99
Aura Cacia warming balsam fir mineral bath, $3.39
Sassa Bella Fella body wash in vetiver, $14.49
Birdhat beard oil in East End, $16.69
Serene House ultrasonic aroma diffuser, $33.39
Badger Balm for hardworking hands, $8.49
J.R. Liggett's herbal shampoo bar, $6.39
Natural Vitality natural calm anti-stress drink in raspberry-lemon flavor, $20.39
Crystal Journey Candle in peace, $6.99
The Grandpa Soap Co. charcoal detoxifying bar soap, $5.99
We hope you find some inspiration in the presents for pop ideas above — and feel free to mix and match from the different themes to create a personalized mix of goodies for your dad. If dad prefers quality time over everything else, stop by the Co-op for the perfect picnic picks, on sale Friday-Sunday (details below). Pack up a basket and spend your Father's Day making more memories with your unique-to-you, totally awesome, incredibly and perfectly imperfect dad. Happy Father's Day!