July in Kentucky is a magical time for those who focus on eating seasonally and locally. Farms all across the Bluegrass are brimming with fresh fruits and vegetables and are sharing their bounty with us though the Co-op's produce department, at the farmers markets and in CSA shares.
For those who pick up their farm CSAs with us, we've been trying to provide some recipe inspiration based on what they're getting each week in the form of recipe cards. But you don't have to be part of a CSA to take advantage of all the farm fresh veggies and berries currently on our shelves, so here are some of our top recipes for eating seasonally in Kentucky right now.
1. Fresh Summer Corn and Zucchini Chowder
I know what you're thinking⁠—CHOWDER in the SUMMER? But believe me, it's light, fresh and deliciously savory. It's a great way to use the sweet corn that is just now starting to come in season, and it keeps really well in the fridge or even the freezer. The zucchini adds even more freshness to the soup. Pair with a salad or some sliced up baguette from Bluegrass Bakery (available with our other fresh bakery offerings).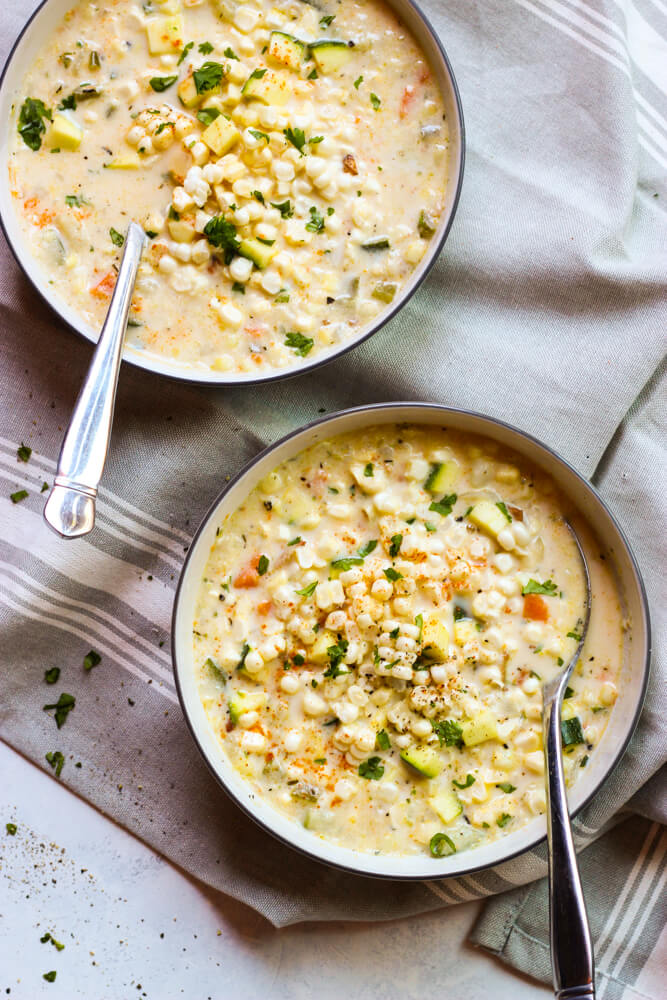 Ingredients
1 Tbsp

. butter

2

strips bacon, chopped

1 cup

chopped yellow onion, (about

1/2

large onion)

2

celery ribs, chopped (

1/3 cup

)

1

medium carrot, peeled + chopped (

1/2 cup

)

2

garlic cloves, minced

1/2 tsp

. dried thyme

2

medium (1 lb.) russet potatoes, peeled, diced into

1/2

-inch cubes

4 cup

s water (or veggie stock)

1

bay leaf

4

ears of sweet fresh corn, husk + silk removed and kernels cut from cob (

2 3/4 cup

corn)

1

medium zucchini, diced into 1/2-inch cubes, (

1 1/2 cup

s)

1 cup

half and half
salt and fresh ground black pepper
chopped fresh parsley, to garnish
cayenne pepper, to serve, optional
Instructions
In a large heavy-duty bottom stockpot or dutch oven, melt butter over medium heat. Add bacon and cook until bacon renders its fat and begins to brown, about 3-4 minutes.
Add onion, celery, carrots, garlic, and thyme; cook until vegetables begin to soften, stirring couple times, about 5 minutes.
Add potatoes, water, and bay leaf. Raise the heat to medium-high and bring to a simmer, then lower the heat back to medium and simmer for 8-10 minutes or until the potatoes are halfway cooked.
Add zucchini and corn; season with salt and pepper, to taste, and simmer for additional 8-12 minutes or until the vegetables are completely tender.
Discard the bay leaf and then transfer 2 cups of chowder to a food processor or blender; puree until smooth. Stir the mixture back into the pot. Add half and half and cook just until heated through. Taste for salt and pepper.
Serve garnished with fresh chopped parsley and a sprinkle of cayenne pepper, optional.
2. Strawberry Fattoush Salad

Eating seasonally doesn't get much more crave-worthy than this recipe. I made this salad three times in one week. I love Middle Eastern cuisine, and this is a creative and slightly sweet take on it. I go heavy on the za'atar (available in our bulk herbs and spices) and sub the molasses for local honey (you could also use sorghum). If you can't get your hands on local strawberries, feel free to swap out with local blueberries or peaches. You can also use some local mint from our produce department. To incorporate some whole grains, I use whole wheat pitas (available in our grab & go cooler) which I brush with olive oil and throw under the broiler for a minute or so on each side until they're toasty-delicious, then crumble into the salad right before serving (and not one second before as they'll get soggy).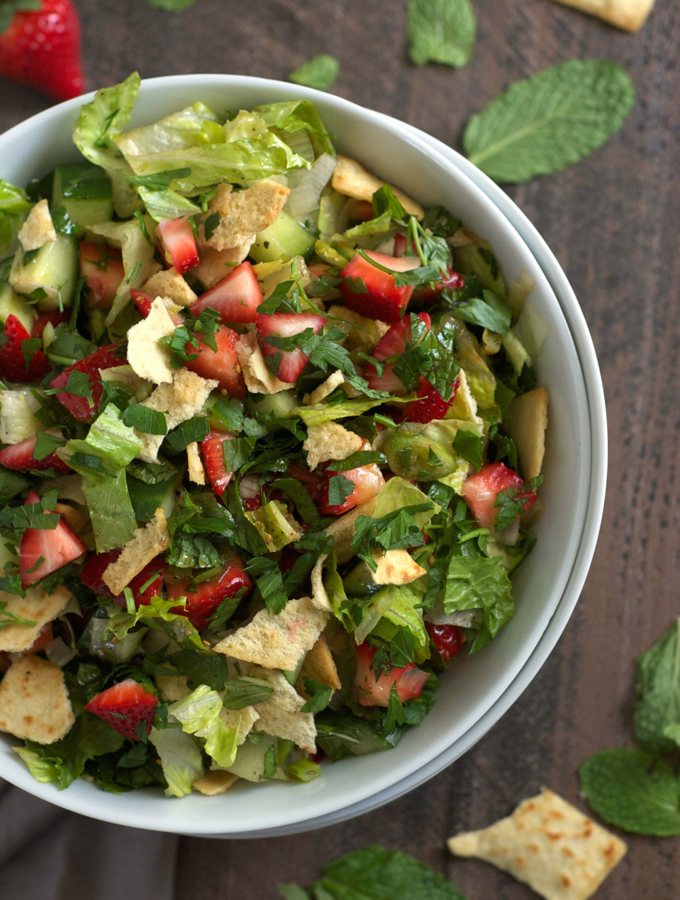 Ingredients
For the dressing
1/3 cup extra virgin olive oil
2 tablespoons freshly squeezed lemon juice
1 tablespoon pomegranate molasses
1 teaspoon za'atar (optional)
Kosher salt and freshly ground black pepper
For the salad
1/2 small head romaine lettuce, chopped (3 cups)
1 small English cucumber, quartered lengthwise and cut crosswise into chunks (2 cups)
2 cups chopped strawberries
4 scallions, chopped
1 cup chopped fresh parsley
1 cup chopped fresh mint
2 cups lightly crushed pita chips
Instructions
To make the dressing, combine the olive oil, lemon juice, pomegranate molasses, za'atar, and a pinch of salt and pepper in a jar with a tight-fitting lid (like an old jam jar). Seal the jar and shake until well blended.
To make the salad, combine the lettuce, cucumber, strawberries, scallions, parsley, and mint in a large bowl. Pour half the dressing over and toss to coat. Add the pita chips and toss again. Taste and add more dressing as needed.
3. Kale and Garlic Scape Frittata
If you haven't cooked with garlic scapes before, this is your perfect gateway recipe⁠—and it's ideal to try for weekend brunch! Somewhere between a scallion and garlic, the flavor of the scapes lends itself to any dish where you'd use these staples. We're approaching the end of garlic scape season, so get them soon! Local kale is also easy to come by this time of year, and eating seasonally and locally can be amped up by using local eggs from one of our many outstanding producers.
Ingredients
1 tablespoon extra-virgin olive oil
2 cups packed kale, rinsed, drained, and finely chopped
3 garlic scapes (or 2 scallions + 1 garlic clove), chopped
8 eggs
¼ cup whole milk
½ teaspoon salt
Freshly ground pepper to taste
¼ cup feta cheese
Instructions
In a 9-inch cast iron pan, heat 1 tablespoon extra-virgin olive oil over medium to medium-high heat. Add the kale and cook 3-4 minutes, until wilted cooked down quite a bit. Add the scallions and continue to cook for another couple of minutes.
In a large bowl, whisk together eggs, milk, salt, and pepper. Pour over the greens. Cook on medium heat for 2-5 minutes, until starting to set. Sprinkle with feta.
Broil for 1-2 minutes, until golden. Watch carefully as it can cook quickly and you don't want to overcook it.
4. Carrot and Kohlrabi Slaw
by Molly Watson for The Spruce Eats
Kohlrabis come in green and red varieties and look like what would happen if a beet and a radish had a baby. Their crisp and peppery interior are perfect for a slaw (just make sure you remove the tough outer skin before shredding). The first peak for kohlrabi season is just ending but its second peak starts in September, when you could start subbing local apples for the carrot in this recipe to add some sweetness and tartness⁠—just cut them like matchsticks⁠—and you'll be eating seasonally in the fall, too!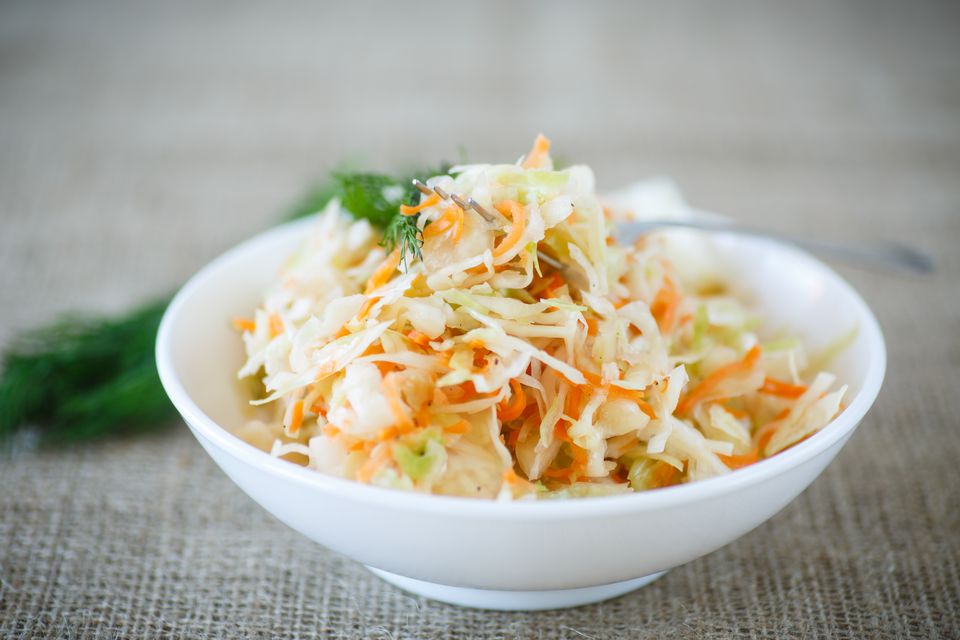 2 bulbs kohlrabi
4 carrots
3 tablespoons vegetable oil
2 tablespoons cider vinegar
1 tablespoon whole grain mustard (or Dijon-style mustard)
1/2 teaspoon fine sea salt
Freshly ground black pepper (to taste)
Trim and peel the kohlrabi and the carrots. You can use a vegetable peeler on the carrots, but to properly peel kohlrabi, you'll have better luck with a paring knife. Trim the tops and bottoms of the kohlrabi and set the flat bottoms on a cutting surface; use a sharp paring knife to cut down from top to bottom, removing the thick, tough peel (with this method you'll easily be able to see where the tender white-ish inside ends and the green or purple peel begins, working around the vegetable until all the peel is removed). Set the peeled vegetables aside.
In a salad bowl or large mixing bowl, whisk together the oil, vinegar, mustard, and salt until well blended. Add pepper, if you like.
Using the large holes on a standing box grater or a mandoline set up for fine julienne, grate the kohlrabis and the carrots into the salad bowl.
Toss everything together until the kohlrabi and carrot are evenly coated with the dressing. Taste and add more salt or pepper, if you'd like.
Serve immediately or know that this salad holds up quite well to be made a few hours ahead of time and kept covered and chilled.
5. Ultimate Kale Salad
Adapted from the Add A Pinch blog
Local kale is easy to come by and can effortlessly be incorporated into many recipes for a nutritional boost as you're eating seasonally. This salad is easy to adapt as different veggies come into season. For instance, I prefer roasted beets over the roasted radishes the original recipes calls for. Beets are in season now as is the okra. Whenever you're using kale in its fresh form, remember to massage it a bit first. I like to chop it into bite-sized pieces and then use my clean hands, along with a little bit of olive oil and salt, to rub the kale between my palms and fingers to make sure it's tenderized.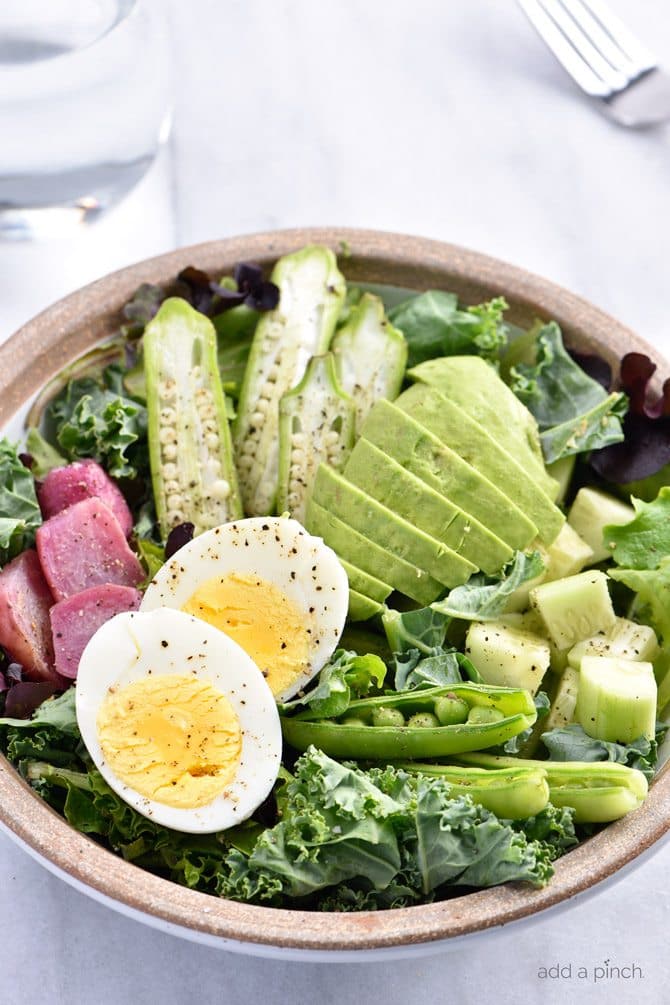 Ingredients
4

cups

kale greens

trimmed, chopped and massaged

2

cups

spring lettuce mix

4

roasted beets

2

medium cucumbers

peeled and chopped

8

okra pods

halved lengthwise

4

boiled eggs

halved

2

avocados

halved

salt and freshly ground black pepper

to taste

dressing of choice
Instructions
Add kale and spring lettuce mix salad bowl or individual bowls. Arrange the beets, cucumber, okra, egg and avocado on the greens. Sprinkle with salt and pepper and serve with dressing of choice.
Whatever bounty you find, make sure our produce department is your first stop for eating seasonally and eating locally. Our knowledgeable staff is always happy to answer questions, offer cooking suggestions and break out a sample if you encounter something you haven't tried before.
All of these recipes are also available on cards at our Hospitality Desk, which will keep rotating with new ideas as the seasons change. Happy eating!