Article provided by Alive Publishing Group. You can find more great articles anytime on alive Connect, or grab a copy of the latest printed issue of alive Magazine next time you're in Good Foods Co-op. It's free!
Think of the last time you elevated the flavor of a bowl of pasta with a dusting of Parmesan or deepened the flavor of soup with a couple of spoonfuls of tomato paste. You can give a high-five to umami, a.k.a. the "fifth taste."
In many ways, umami is a more complex flavor than its counterparts: sweet, sour, salt, and bitter. Roughly translating to "delicious taste" in Japanese parlance, it's really just that: a flavor that generates a hedonistic rich, meaty sensation and can make other foods, like somewhat basic vegetables and legumes, taste more enticing. Read on for smart ways to capture umami's savory depth in recipes.
Umami Dusted Popcorn
Once you taste it, you're going to want to sprinkle this mushroom powder on everything, including roasted or steamed vegetables, baked potato, grilled fish, soups, pasta, and avocado toast.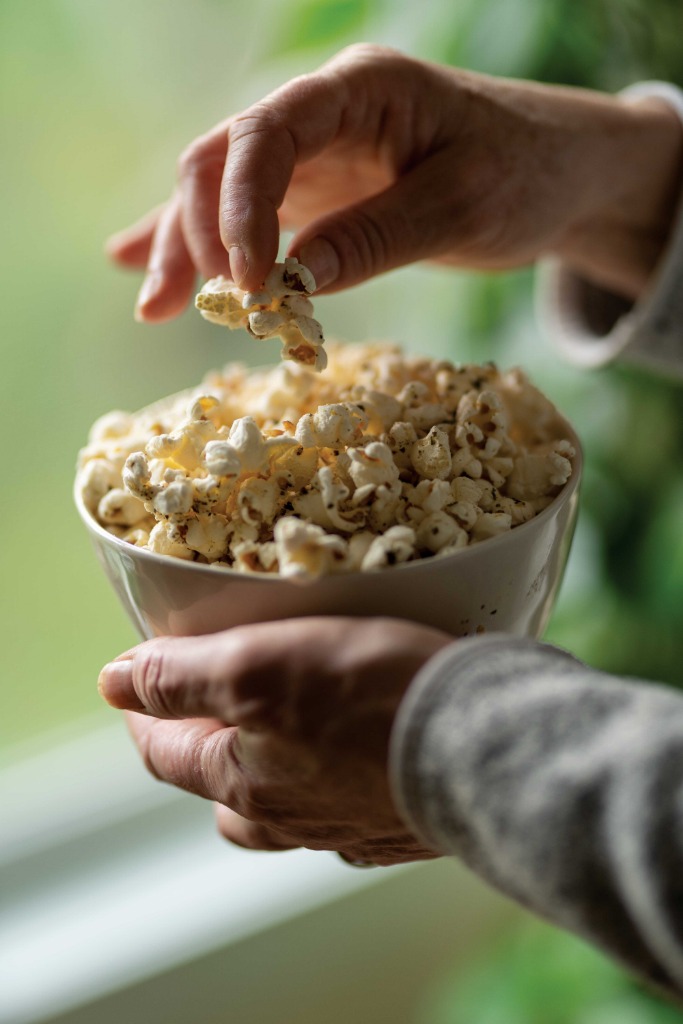 3 nori sheets
1 oz (30 mL) dried shiitake mushrooms, caps snapped off
1/4 cup (60 mL) nutritional yeast
1/2 tsp (2 mL) dried garlic powder
1/2 tsp (2 mL) dried onion powder
1/2 tsp (2 mL) salt
1/2 tsp (2 mL) dried thyme
1/2 tsp (2 mL) crushed red pepper flakes
1/4 tsp (1 mL) black pepper
2 Tbsp (30 mL) sesame seeds
2 Tbsp (30 mL) grapeseed oil or sunflower oil, divided
1/2 cup (125 mL) popcorn kernels
Crumble nori sheets into spice grinder, food processor, or blender and then add mushrooms, nutritional yeast, garlic powder, onion powder, salt, thyme, red pepper flakes, and black pepper. Process until mixture has turned into a powder. Transfer to bowl and stir in sesame seeds.
In large, heavy-bottomed saucepan over medium, heat 1 Tbsp (15 mL) oil. Put 4 popcorn kernels in pan and cover pan. When kernels pop, pour in remaining kernels in an even layer. Cover pan, lift it off the heat, and count 30 seconds. Return pan to heat, with lid slightly ajar to release some steam, and once popping is rapid, gently shake pan back and forth on the burner. Once popping slows to a crawl, remove pan from heat and pour popcorn into large bowl. Immediately toss with 1 Tbsp (15 mL) oil and then season with 1/4 cup (60 mL) mushroom powder mix.
Serves 4.
Each serving contains: 147 calories; 4 g protein; 9 g total fat (1 g sat. fat, 0 g trans fat); 15 g total carbohydrates (0 g sugars, 3 g fiber); 147 mg sodium
Chicken Toast with Savory Miso-Mushroom Gravy
Toast for dinner? Certainly, when it's the base for a dish reminiscent of comforting chicken pot pie that comes with an umami-laced gravy of your dreams.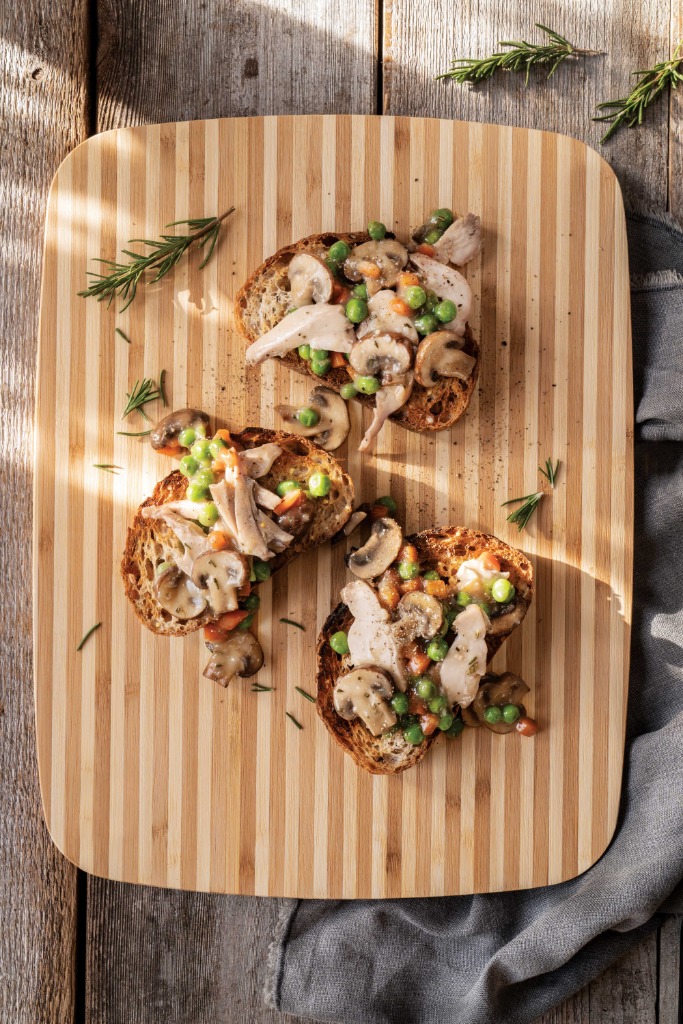 1 lb (450 g) boneless chicken thighs
2 Tbsp (30 mL) white miso
1 Tbsp (15 mL) unsalted butter
3 cups (750 mL) sliced cremini (brown) mushroom caps
1 medium carrot, chopped
1 cup (250 mL) frozen green peas
1 Tbsp (15 mL) finely chopped rosemary
1/4 tsp (1 mL) black pepper
3 Tbsp (45 mL) cornstarch
4 slices whole-grain bread, toasted
Preheat oven to 400°F (200°C). On a lightly greased baking sheet, place chicken and season with salt and pepper. Place in oven and heat for 25 minutes, or until chicken is cooked to an internal temperature of 165°F (75 C). When cool enough to handle, slice chicken.
In bowl, place miso, add 2 cups (500 mL) hot water, and stir well.
In heavy-bottomed saucepan, heat butter. Place mushrooms and carrot in pan and heat until softened, about 4 minutes. Add miso broth, peas, rosemary, and black pepper to pan; bring to a very gentle simmer and heat for 3 minutes. Dissolve cornstarch in 1/4 cup (60 mL) water and stir into pan; continue to heat until sauce has thickened. Stir in cooked chicken.
To serve, place toast slices on each of 4 plates and top evenly with chicken mixture.
Serves 4.
Each serving contains: 368 calories; 32 g protein; 14 g total fat (5 g sat. fat, 0 g trans fat); 30 g total carbohydrates (5 g sugars, 5 g fiber); 231 mg sodium
Roasted Tomato Soup with Parmesan Crisps
A basic tomato soup has plenty of umami, but when you use roasted tomatoes, dried tomatoes, a whisper of soy sauce, and a crispy Parmesan accompaniment, each spoonful delivers considerably more.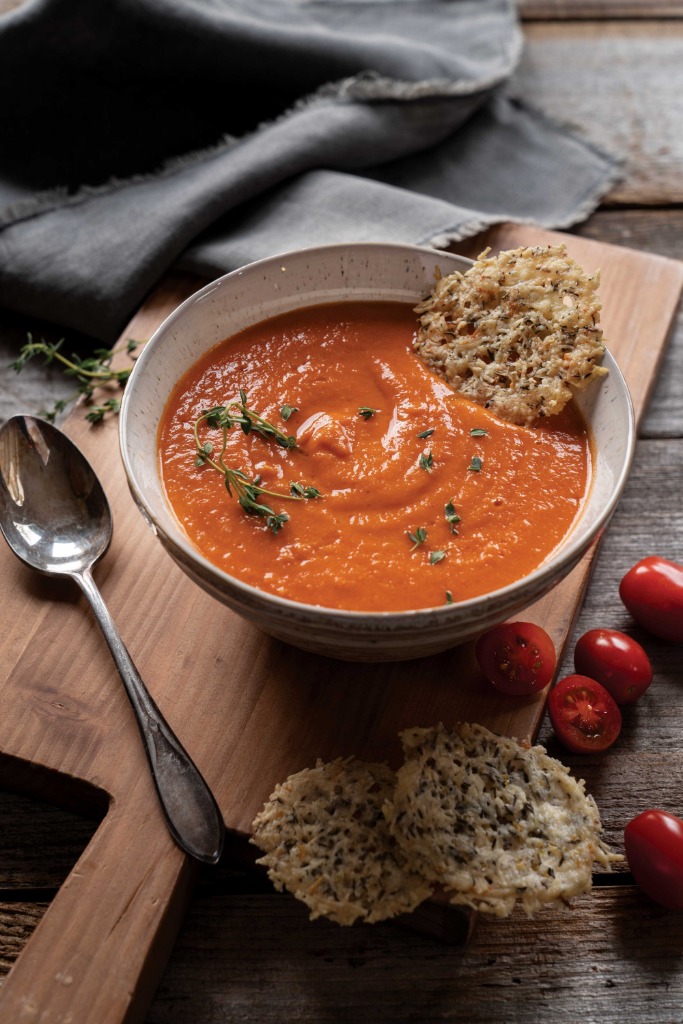 1/2 cup (125 mL) sun-dried tomatoes (not oil packed)
1 large red bell pepper, quartered
1 medium yellow onion, peeled and sliced into 1 in (2.5 cm) wedges
2 cups (500 mL) grape tomatoes
3 whole garlic cloves, peeled
2 tsp (10 mL) grapeseed oil or sunflower oil
Juice of 1/2 lemon
1 Tbsp (15 mL) low-sodium soy sauce
1/2 tsp (2 mL) paprika
3/4 cup (180 mL) grated Parmesan cheese
Zest of 1 lemon
2 tsp (10 mL) fresh thyme
In bowl, place sun-dried tomatoes and cover with 2 cups (500 mL) hot water; let soak for 30 minutes.
Heat oven to 400°F (200°C). Toss bell pepper, onion, grape tomatoes, and garlic cloves with oil. Spread out on rimmed baking sheet and roast until bell pepper and tomatoes are softened and onion has darkened, about 25 minutes. In blender container, place roasted vegetables, sun-dried tomatoes, soaking liquid, 2 cups (500 mL) water, lemon juice, soy sauce, and paprika; blend until smooth.
Lower oven temperature to 350°F (180 mL). In small bowl, stir together Parmesan, lemon zest, and thyme. Line baking sheet with parchment paper or a silicone baking mat. Mound tablespoonfuls of cheese at least 2 in (5 cm) apart onto baking sheet and gently flatten out mounds with the back of a spoon, making sure rounds are not touching each other. Bake until cheese looks melted and golden around edges, about 5 minutes. Be careful not to burn cheese. Remove from oven; do not disturb until completely cooled and firm to the touch, about 20 minutes. Using thin spatula or knife, carefully lift crisps from baking sheet.
Serves 4.
Each serving contains: 166 calories; 11 g protein; 9 g total fat (4 g sat. fat, 0 g trans fat); 14 g total carbohydrates (8 g sugars, 3 g fiber); 642 mg sodium