NOTICE: Community Room availability is subject to current COVID-19 levels in our area. Reservations are subject to change.
We have a versatile Community Room that the public can rent. Use the form below to request a day and time.
The Good Foods Co-op Community Room is available to non-profit groups, community groups or Co-op owners to hold meetings, parties or other events. One-time events, as well as ongoing events, may be booked. We do not book the room during the week from 11 am – 2 pm and 5 – 7 pm to allow overflow seating for our café. This room may not be used for political or religious gatherings or for anything that conflicts or competes with Good Foods' business including but not limited to direct marketing, multi-level marketing, wellness products sales or catering. 
For more Community Room use guidelines and specs, and to reserve your spot, check out the form HERE. To book the Community Room, fill out the form and email it to kathrynd@goodfoods.coop or drop off a paper copy at our Hospitality Desk.
You can see what times have already been reserved here:
Programs
Good Foods is involved in the Lexington community in many ways:
Classes at the Co-op
On most Wednesday evenings we offer classes in our Community Room. We're proud to partner with local experts and enthusiasts to offer instruction on a wide range of topics including cooking, nutrition, aromatherapy, gardening and more! Check out our events page for details on upcoming classes.
If you'd be interested in offering a class at the Co-op, please read over our Class Guidelines first, which you can find HERE. You can then fill out a Class Proposal form HERE and email it to kathrynd@goodfoods.coop.
Good Foods Charitable Foundation
The Good Foods Charitable Foundation exists to financially support non-profit groups in our community. Charitable organizations, schools and other tax-exempt organizations serving central Kentucky are eligible to apply for mini-grants.
The grant-making area of focus should be:
● Development of the local food system and the local foodshed serving the central Kentucky region
● Promotion of food citizenship
● Increasing access to healthy food for all
● Promoting the cooperative business model
The awards will range from $500-$2000.
To find the full description and application instructions, click HERE. The deadline to apply for our 2022 grant cycle has passed, but please check back here in February 2023 when the next cycle is set to begin.
If you have any questions, please e-mail goodfoodsfoundation@gmail.com.
Give Where You Live Program

Our owners voted and nominated different local non-profit organizations for our Give Where You Live program, and we're very proud to announce our recipients for May 2022 – April 2023: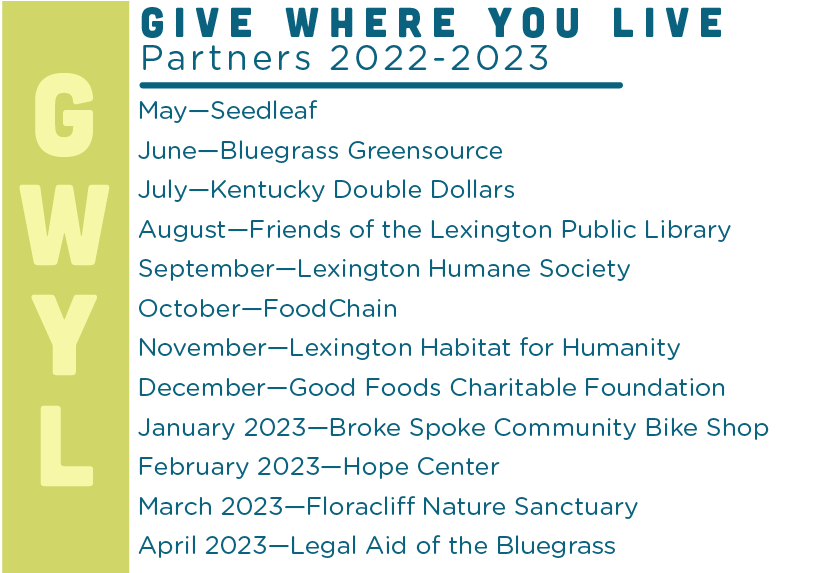 Each time you shop, you have the option to round up to the nearest dollar to donate that amount! You can also choose to donate any amount that you wish.
Non-profit organizations hoping to make it on the Give Where You Live ballot for the next annual cycle should fill out this application and this agreement and email them to kathrynd@goodfoods.coop or drop paper copies off at our Hospitality Desk. The deadline for submissions for the following year is December 31st.