Good Foods Co-op is at the forefront of a vibrant cooperative economy and is engaged in community partnerships to nourish:
An equitable and sustainable local food system,

Education that cultivates food citizenship, and

Access to healthy food for all.
YOUR CO-OP
Good Foods Co-op, founded in 1972 and located in Lexington, is central Kentucky's only locally owned and operated cooperative grocery – something our 9,000+ owners are extremely proud of! We focus on local, natural, organic, non-GMO products and wholesome foods while supporting over 250 Kentucky farmers and producers. We offer fresh, local and organic produce; natural and local meats; fresh, sustainably-fished seafood; grab & go entrees; fresh sushi made with organic ingredients; gourmet cheese; olive bar; made-from-scratch baked goods; bulk dry goods, baking needs, and snacks; bulk herbs & spices; body care with ingredient lists you can feel good about; vitamins and supplements; gluten-free foods; and vegetarian/vegan products.
Everyone is always welcome to shop and eat here; just be sure to try the Good Foods kale on the hot bar… it's world-famous!
Open and Voluntary Membership
Democratic Member Control
Members' Economic Participation
Autonomy and Independence
Education, Training, and Information
Cooperation Among Cooperatives
Concern for Community
Self-Help
Self-Responsibility
Democracy
Equality
Equity
Solidarity
Honesty
Openness
Social Responsibility
Caring for Others
Our Principles, Values & Being Actively Anti-Racist
Cooperatives, by their nature, are collaborative and inclusive spaces that welcome all members of the community. While inclusion involving food is clearly referenced in our Ends Policy, Good Foods Co-op also strives to create and foster a community that's fair, diverse and offers a safe space for everyone. Our Ends, Principles and Values outlined above illustrate our commitment to all of our neighbors.
Part of our responsibilities to educate, inform and support all community members includes efforts to be actively anti-racist.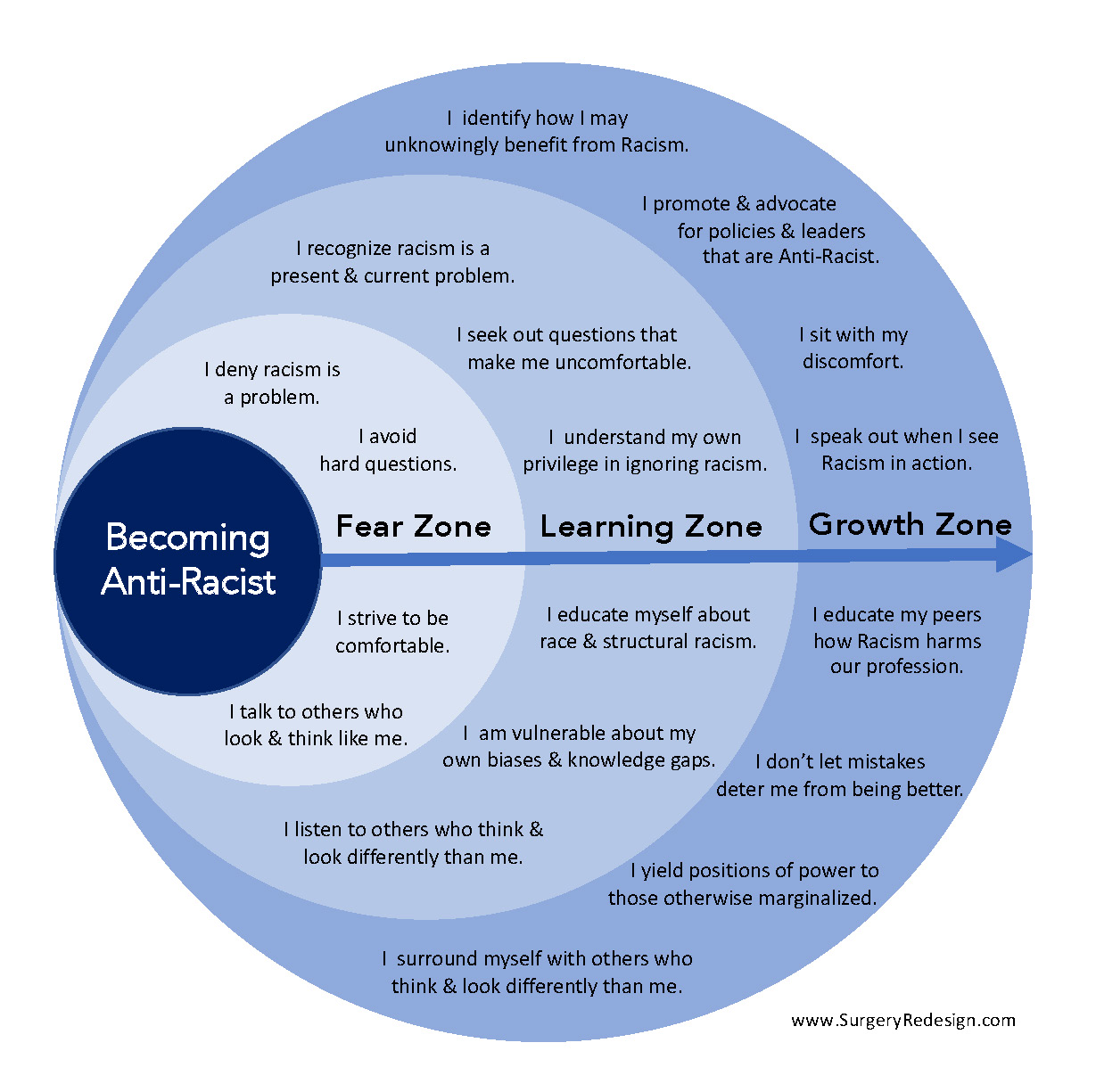 Graphic by Andrew M. Ibrahim MD, MSc for surgeryredesign.com.
We take complaints of racial bias very seriously and are committed to addressing them quickly and thoroughly. Please email robert@goodfoods.coop to report an incident of bias or racial profiling and harassment in our store.
A Statement from Your Board of Directors 
The Cooperative Principles and Values we subscribe to dictate a  need for acceptance and inclusion. Of particular note are "Concern for Community" and  "Social Responsibility"  which underscore the  importance of the Co-op being a champion for community well-being and safety.  
We oppose actions that disenfranchise any member of our society at any level.  We stand in solidarity with Black and Brown members of our community against systemic racism. We acknowledge and bear witness to the pain, sadness and anger that comes from these inequities.
The following reflects our unified beliefs:
• We acknowledge that there is systemic racism and bias in our society.
• While there is inherent worth in every life, we attest to the need for a distinct call to action for those marginalized and targeted.
• We affirm the importance of supporting those who work to uncover and face up to biases and systemic policies and practices that create racial oppression.
• We encourage all who are non-Black/Brown to become educated about how to be effective, respectful allies, and how to speak up and not speak over.
Equity, Diversity, and Inclusion (EDI) Goals in Our Strategic Plan
We commit to maintaining our implementation of the cooperative principles and values in our internal governance policies and daily operations and, annually, we will:
1. Continue to actively recruit diverse board candidates.
2. Work as a board to educate ourselves more deeply and broadly on the history and consequences of racial injustice and to question our own biases, assumptions and privileges.
3. Lead or support initiatives in our community that break down barriers that disenfranchise members of our community and report our progress at the Annual Owners Meeting.