UK College of Pharmacy Presents: Food-Drug Interactions
Read More
April 5, 2023 @ 6:00 pm - April 5, 2023 @ 7:30 pm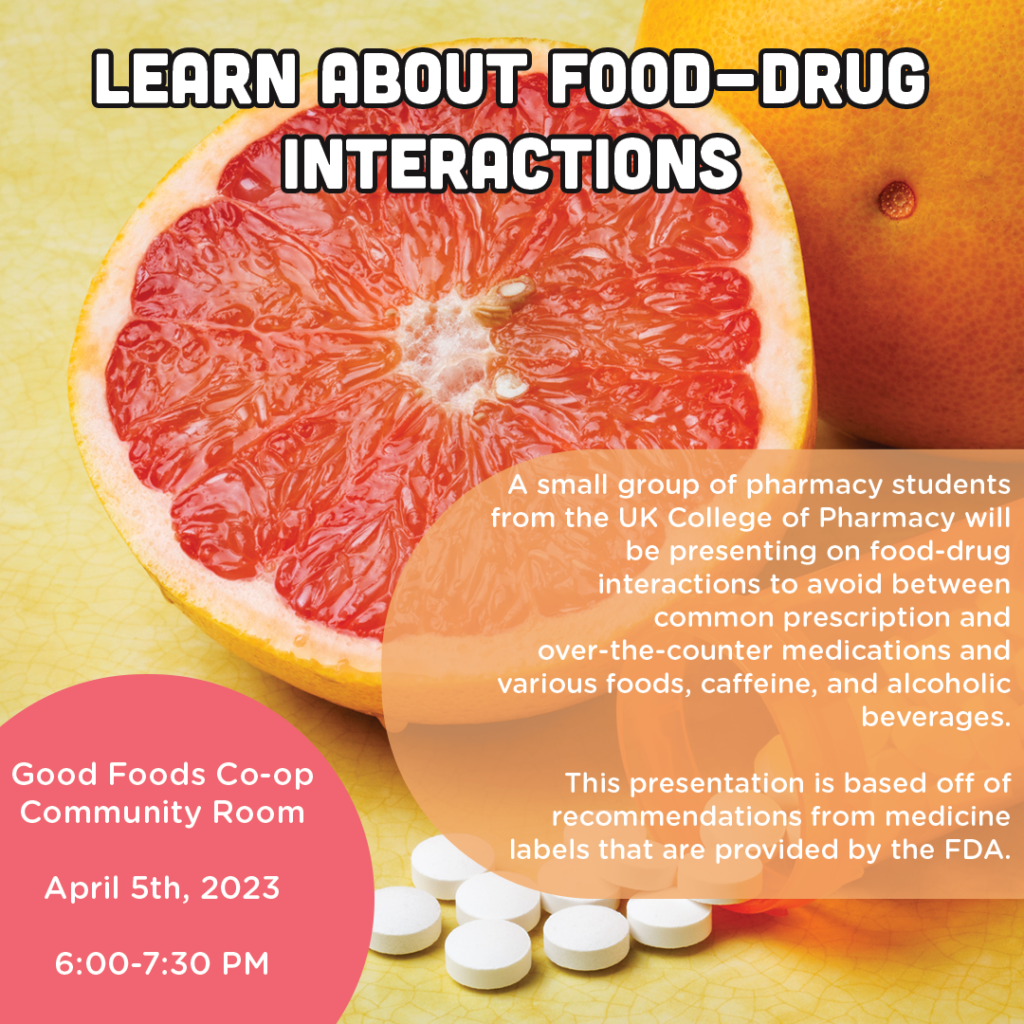 A small group of pharmacy students from the UK College of Pharmacy will be presenting on food-drug interactions to avoid between common prescription and over-the-counter medications and various foods, caffeine, and alcoholic beverages. This presentation is based off recommendations from medicine labels that are provided by the FDA.
Electric Vehicle Ride/Drive
Read More
April 22, 2023 @ 10:00 am - April 22, 2023 @ 2:00 pm
On Earth Day 2023, come out and see the future of personal transportation.  Owners of several makes and models of electric vehicles will be on hand to answer your questions about the future of EVs.  Some will even be on hand to give you a ride in their car, either as a passenger or behind the wheel!  We will be at the 
Good Foods Coop
 on 
Saturday, April 22nd
, from 
10am to 2pm
.  New owners of EVs are encouraged to come out and be a part of the festivities and share their enthusiasm about their vehicle.
The Event is being organized by Kentucky's non-profit EV advocacy group, EVOLVE KY and by the members of the Tesla Owners of Kentucky.  We hope to see you there.  Visit our Facebook pages and our websites for more information about Electric Vehicles in Kentucky.
Our host, Good Foods Coop is planning on providing vouchers that provide a discount to visitors who decide to visit inside while EV info and experiences are going on outside !
We encourage you to register as an attendee or even as a volunteer is that suits your time and schedule !
For more information, contact us at info@evolveky.org
Writing the Stories of Your Life
Read More
April 26, 2023 @ 6:00 pm - April 26, 2023 @ 8:00 pm
"To Be a Person is to Have a Story to Tell," Isak Denison
Join me on two Wednesdays, April 26th and May 10th, for "Writing the Stories of Your Life" from 6:00 p.m. until 8:00 p.m. From beginners to experienced writers, we are like the old-fashioned one-room schoolhouse as we share our writings and provide tips and support for each other in our writing journeys.
The world is and has always been a bewildering place. Humankind evolved to seek out one another through the unique gift of sharing our stories. As children, we found comfort – from the never-give-up spirit of "The Little Engine That Could," to the restored belief in things we cannot see in "The Polar Express." Today, in an age where our ties to one another are frayed and incivility is pervasive, we can turn to each other and embrace a growing movement to restore the art of story writing, telling and sharing to its rightful place in building connection and community.
Based on the experience of past classes, you will have the time of your life as you laugh, cry and stand in awe of the shared experiences of interesting lives and different perspectives. As one student observed,
"Each participant is gently nudged … to explore one's own place in the world through his or her writing. Whether one seeks to be a published author or simply aspires to write in a journal for enjoyment, Sylvia's expertise and her zest for storytelling are sure to inspire." (Meredith Plant)
Join me and get hooked on the power of stories to improve your life and those of others.
This class is offered in partnership with our friends at Good Foods Co-op and is appropriate for ALL LEVELS.
This is a two-part series and will take place on April 26th and May 10th from 6:00 to 8:00 pm in-person. Tickets are $39 for general admission, $33 for Co-op owners and can be purchased here.
Ticket sales close 1 hour before the class time.
Annual Owners Meeting 2023
Read More
April 30, 2023 @ 3:00 pm - April 30, 2023 @ 5:00 pm