Sweet 16 of Cheese
Read More
March 21, 2019 @ 8:00 am - March 28, 2019 @ 10:00 pm
In honor of Kentucky's favorite time of year, we're inviting you to take part in our Sweet 16 of Cheese tournament! For 8 days our top 16 cheeses will go head-to-head on the sampling table. The people will taste and then vote with their toothpicks!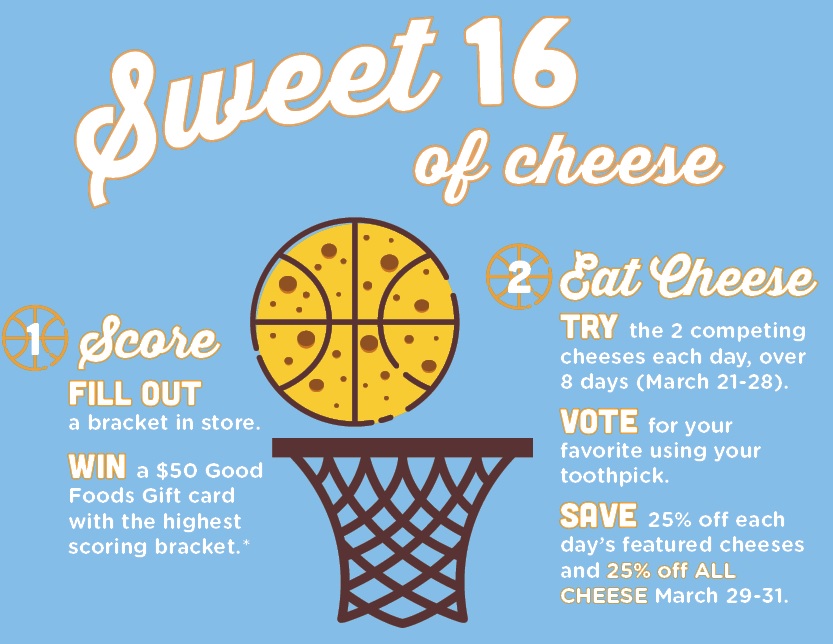 Pick your winners by filling out a "bracket" in-store starting Wednesday, March 20. The cheese choosin' starts Thursday, March 21 and continues through the following Thursday. Get your "bracket" in by Saturday, March 23 for your best shot at winning a $50 Good Foods gift card! The person with the highest-scoring bracket wins.*
To top it all off, 
each day's competing cheese will be 25% off
, plus we'll be offering
25% off ALL CHEESE
once the tournament is over. Check out the match-ups
HERE
.
*Contest runs through March 21 - March 28, 2019. If there is a tie for top-scoring bracket, there will be a random drawing among the top scorers for the gift card. Employees are not eligible to win. Brackets available in-store only and must be submitted in-store by March 23, 2019 at 10:00 pm.
March 27, 2019 @ 6:00 pm - March 27, 2019 @ 8:00 pm
Join us in our cafe starting at 6 pm on Wednesday, March 27. Feel free to purchase a meal and grab a seat at one of the tables. Members of our board will be present to help facilitate the conversation. By taking part in the discussion that ensues, you'll be part of an exciting, city-wide event happening at many locations to discuss not only what's great about our community, but also ways to make it even better — more sustainable, just, safer, stronger and vibrant.
On the Table
is an opportunity to gather around a table with friends, neighbors, colleagues and maybe even a few people we are meeting for the first time to talk about the issues, big and small, that impact our quality of life and that of the city. When we talk about our experiences in Lexington and listen to others, we connect and learn about what matters to all of us. On the Table invites Lexingtonians to come together to talk, collaborate, become more civically involved and be more committed to our community. The issues we face today don't often offer quick fixes. On the contrary, progress will only result when residents, organizations, businesses and government work together to make contributions that add up to a greater solution than we can achieve on our own. On the Table is a starting place for meaningful conversation. What happens next is up to you.
Sacral Chakra Workshop
Read More
April 3, 2019 @ 6:00 pm - April 3, 2019 @ 9:00 pm
The Sacral Chakra is associated with self-esteem, identity, true potential and personal boundaries. This class aims to help you honor yourself in order to achieve success in all areas of life. The goals are to help you release fear and negativity, realize potential, have fruitful relationships and be empowered. ABOUT THE INSTRUCTOR: Asheesh Gupta is a spiritual coach & holistic therapist who educates the public about the mantra of living, chakras and chakra meditations. He specializes in physical, mental and spiritual healing through counseling, Rudraksha & gemstones. Tickets are free, but required and can be reserved
here.
April 10, 2019 @ 6:30 pm - April 10, 2019 @ 8:00 pm
Join us for Laughter Yoga and discover the amazing medicine of laughter! No flexibility or sense of humor required!! Bring water and something to lay on (yoga mat, blanket, towel, etc) and wear loose comfortable clothing if you'd like to lay down. This class can be done sitting though; how you practice is up to you! Everyone is welcome, we accommodate all genders, ages, and abilities. Bring a friend and share the joy of laughter! You should leave feeling less stressed and more joyful, all while aiming to improve your overall health! Tickets are $7 for general admission and $5 for owners and can be purchased
here.
ABOUT THE INSTRUCTOR: Jaime Brown is a certified Laughter Yoga Leader and has taught for three years.
Carnegie at the Co-op – Eating Your Words
Read More
April 17, 2019 @ 6:00 pm - May 8, 2019 @ 8:00 pm
Using food as a central theme, we explore all manner of literary expression, from poetry to prose, personal essay to genre fiction, biography to pulp fiction. A sci-fi thriller about the theft of avocados? An ode to the oyster? A memoir of a noodle-slurping childhood? A monologue from the point of view of a poached egg? The possibilities are endless. And delicious. This is an all levels, four-part workshop taking place on consecutive Wednesday evenings (April 17, 24, May 1, 8) from 6-8 pm. Tickets are are $60 for general admission, $52 for Co-op Owners and can be purchased at the Hospitality Desk or on
Eventbrite
. ABOUT THE INSTRUCTOR Dan Wu is the owner and head dishwasher at Atomic Ramen. He juggles his nascent restaurant with community service, writing, podcasting, and cosplaying.
Drive Electric Earth Day with EVolveKY
Read More
April 20, 2019 @ 10:00 am - April 20, 2019 @ 5:00 pm
In honor of Earth Day and Earth Month,
EVolveKY
, Kentucky's all-volunteer association of electric vehicle owners, will be bringing their zero-emissions vehicles to the Good Foods Co-op parking lot to showcase the features, cost-savings and clean-air benefits of plug-in electric cars. Volunteers will allow shoppers to touch actual electric vehicles, ask questions and talk with electric vehicle owners about their experiences, hear the latest advances, and how to locate and use local EV charging stations. Check out their tent for even more information and free giveaways! Stop in the store for even more earth-friendly tips and sales surrounding zero waste shopping. EVolveKY is a non-profit group of electric car owners whose sole purpose is dedicated to educating the public on the
benefits of driving an electric car
and promoting greener transportation.
Owner Town Hall Meeting
Read More
April 20, 2019 @ 2:00 pm - April 20, 2019 @ 4:00 pm
Our spring Owner Town Hall Meeting will be taking place Saturday, April 20, 2-4 pm in the Community Room.
Members of our Board will be there to answer questions and lead discussions. Please join us and be part of the Co-op's democratic process!
April 26, 2019 @ 8:00 am - April 28, 2019 @ 10:00 pm