We may already be in a December-holidays mindset, but when it comes to eating seasonally, squash is still king.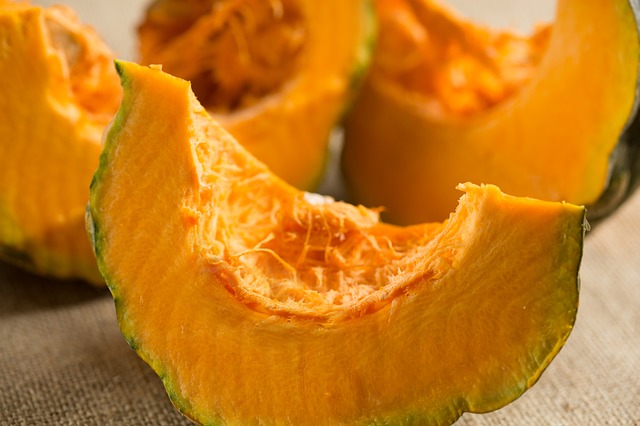 Winter squash are harvested late summer through fall, then cured or "hardened off" in open air to toughen their exterior. This process ensures the squash will keep for months without refrigeration. When selecting any variety of winter squash, the stem is the best indication of ripeness. Stems should be tan, dry and on some varieties, look fibrous, frayed or corky. Fresh green stems or those leaking sap signal that the squash was harvested before it was completely ripe. Ripe squash has a vivid, saturated color and a matte, rather than glossy, finish.
Not only can squash be appealing to our eyes and our palettes, it's also packed with nutrients. A note about why our bodies love squash so much from our produce manager, Rob Walker:
The seasons have changed and our diets need to do the same. Fall is the season and squash is the reason you will be healthier going into the winter.
According to organicfacts.net "Squash is one of the most versatile and delicious vegetables available throughout the world, and it packs a serious punch in terms of health and medicinal benefits. Different varieties of squash have the ability to improve your vision, aid in skin care, strengthen the immune system, prevent cancer, manage symptoms of diabetes, build strong bones, protect heart health, and reduce the symptoms of insomnia. It also helps to prevent inflammatory conditions, treat arthritis, eliminate ulcers, eliminate parasites and infections, improve prostate health, protect against birth defects, boost respiratory health, and reduce blood pressure."
Not only does squash pack numerous health benefits, it's full of flavor. My favorite is spaghetti squash which is a great pasta substitute for those watching carbs. Best of all, because it is the season we have several local organic varieties from Casey County Organics available now. I look forward to seeing you in the aisle!
Choosing a winter squash to prepare can be confounding— here are common varieties of squashes available at your Co-op.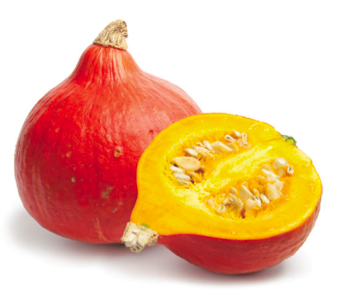 Red Kuri
Vivid orange, mildly sweet and smooth, dense squash with a delicious chestnut-like flavor. Makes a rich and velvety pureé.
Best uses: Thai curries, soups, pilafs and gratins, baked goods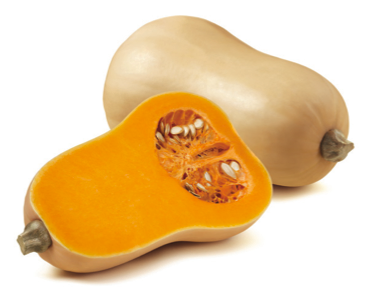 Butternut
Vivid orange flesh is sweet and slightly nutty with a smooth texture that falls apart as it cooks. Rind is edible but squash is usually peeled before use.
Best uses: soups, purees, recipes where smooth texture is highlighted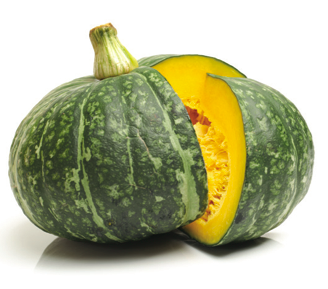 Kabocha (Green/Red)
Smooth, dense, intensely yellow flesh that is similar in sweetness and texture to sweet potato.
Best uses: curries, soups, battered and fried as Japanese tempura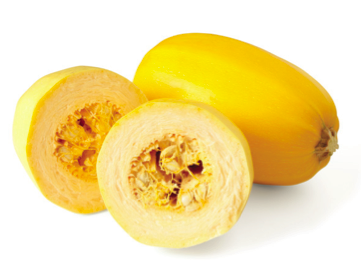 Spaghetti
Pale golden interior is stringy and dense – in a good way! Use a fork to pry apart cooked flesh which resembles spaghetti in texture and mild flavor.
Best uses: baked and separated, then dressed as you would pasta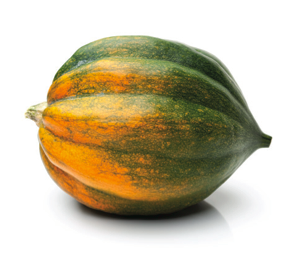 Acorn
Mild, versatile flavor and a tender-firm texture that holds up well when cooked. Hard rind helps squash hold its shape when baked.
Best uses: baked, stuffed, cubed and added to grain salads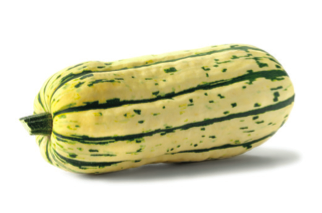 Delicata
Rich, sweet, flavorful yellow flesh tastes like a mix of chestnuts, corn and sweet potato. Quick-cooking with a thin, edible skin. Highly seasonal.
Best uses: sauteéd until caramelized, broiled, baked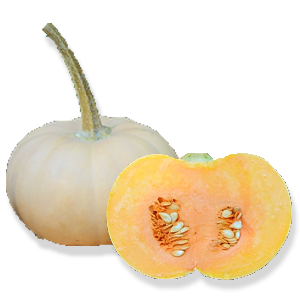 Butterkin
Buff-colored squash's interior reveals a thick layer of lush, smooth, dark orange meat. It offers the flavor of a butternut with a squat, pumpkin shape that makes it easy to cut into wedges for roasting.
Best uses: creamy delicious pies, soup and ravioli stuffing
Winter Squash Recipes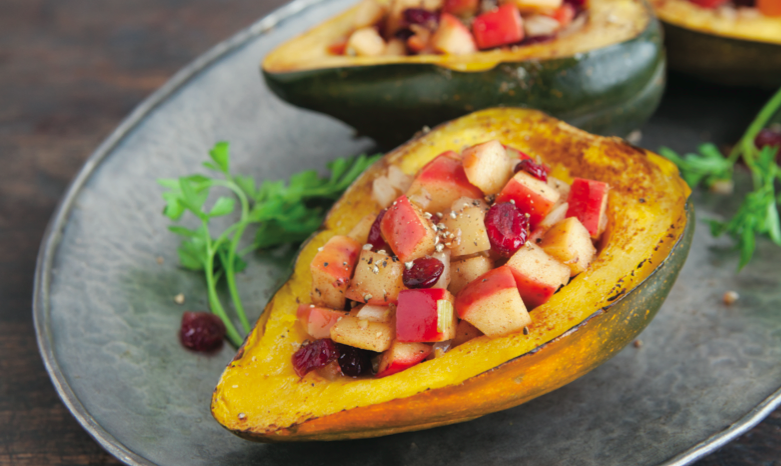 Cinnamon Apple Stuffed Squash
Serves 4-6. Total Time: 60 minutes.

2 acorn squash, cut in half, seeds removed
3 tablespoons unsalted butter
3 cups diced yellow onion 2 celery stalks, diced
3 cups diced apple, cored and seeds removed (about 2 large apples)
1⁄2 cup dried cranberries
2 tablespoons maple syrup
1⁄3 cup water
1⁄2 teaspoon cinnamon
Pinch each of salt and black pepper
1. Preheat oven to 375°F. Place acorn squash halves face down on a rimmed sheet pan or baking dish and add 1⁄2 inch of water to the pan. Bake squash for 40 minutes.
2. While the squash is baking, heat the butter in a saucepan over medium heat. Add the onion and celery and sauté for 5 to 10 minutes until soft. Add the apples, cranberries, maple syrup, water and cinnamon; stir well and cook another 5 to 10 minutes until the apples begin to soften. Season with salt and pepper. Remove from heat.
3. After the squash has baked for 40 minutes, remove from the oven, turn them cut side up and fill each with the apple stuffing. Place back into the oven and bake another 15 to 20 minutes until the squash is tender. Serve warm.
Serving suggestion: Slice the stuffed squash halves into wedges to serve as a side with ham, turkey or chicken, or serve each half as a vegetarian entrée.
Winter Squash and Apple Bake
Serves 8. Prep time: 1 hour 20 minutes; 20 minutes active. Use your choice of local apples and winter squash in this recipe.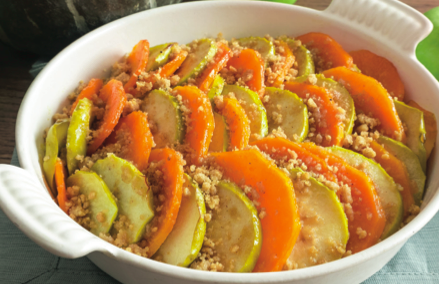 2 pounds winter squash, peeled, seeded and cut into 1⁄4-inch thick slices
2 Granny Smith apples, cored and cut into 1⁄4- to 1⁄2-inch thick slices
3 tablespoons maple syrup
3 tablespoons brown sugar
2 tablespoons flour
1⁄4 teaspoon ground cinnamon
1⁄4 teaspoon ground nutmeg
1⁄4 teaspoon ground allspice
Pinch of salt and black pepper
1⁄4 cup cold butter, cut into small pieces
1 tablespoon butter, melted
1. Preheat the oven to 375° F. Grease a 9 x 13 inch casserole dish with melted butter. Evenly layer the squash and apple slices in the casserole dish, alternating and slightly overlapping the squash slices with the apple slices, until all slices are gone. Drizzle the maple syrup over the squash and apples.
2. In a small bowl, mix together the brown sugar, flour, spices, salt and pepper. Mix the butter into the flour/sugar mix with your fingers to make a crumbly mixture. Sprinkle the mixture evenly over the top of the squash and apples. Cover the dish with foil and bake for about 40 minutes or until the squash and apples start to become tender. Remove the foil, and let casserole brown for another 15 minutes. Serve warm.
Squash, Cabbage and Kale Kimchi
Makes 4 cups. Prep time: 1.5 days; 30 minutes active. By Robin Asbell.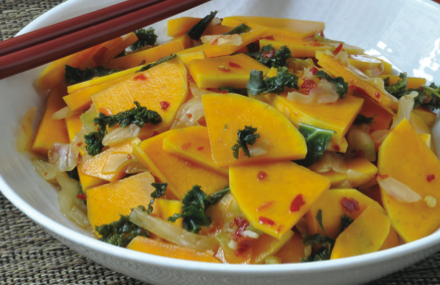 1 1⁄2 pounds butternut or other squash, peeled
4 cups water
2 tablespoons kosher salt
2 cups slivered cabbage
2 cups slivered kale
1 1⁄2 teaspoons kosher salt
1 tablespoon fish sauce or tamari
3 cloves garlic, chopped
2 tablespoons red pepper flakes
1 teaspoon sugar
1. Peel and thinly slice the squash, no thicker than 1⁄8 of an inch. In a large bowl, mix the water and 2 tablespoons kosher salt until the salt is dissolved. Add the squash slices and stir, then let stand for 2 hours to soften.
2. Drain the squash, reserving the brine. In a medium bowl, toss the cabbage and kale with 1 1⁄2 teaspoons salt and massage, squeezing, for a minute. Let stand for at least 15 minutes, then massage and squeeze again, the leaves give off liquids when squeezed. Rinse with cool water and wring out the shreds and put in a bowl with the drained squash slices.
3. In a cup, stir the fish sauce or tamari, garlic, red pepper flakes and sugar and pour over the squash mixture. Toss to mix well. Transfer to a large jar or glass storage tub and pour the reserved brine over just to a cover the lower half of the vegetables. Cover and let stand for a day at room temperature, then refrigerate and serve for up to a week.