Article provided by Alive Publishing Group. You can find more great articles anytime on alive Connect, or grab a copy of the latest printed issue of alive Magazine next time you're in Good Foods Co-op. It's free!
We all know we should eat more leafy greens, but if you find yourself in a dark green rut (we're looking at you, kale!), there's a world of ways to make greens delicious. These recipes will help you diversify your greens by showing off each at its best, with substitutions for just about any leafy option.
Roasted Black Cod or Turbot with Bok Choy, Maple, and Miso
Both black cod and turbot have incredibly tender, buttery texture and rich flavor that pairs perfectly with miso and maple.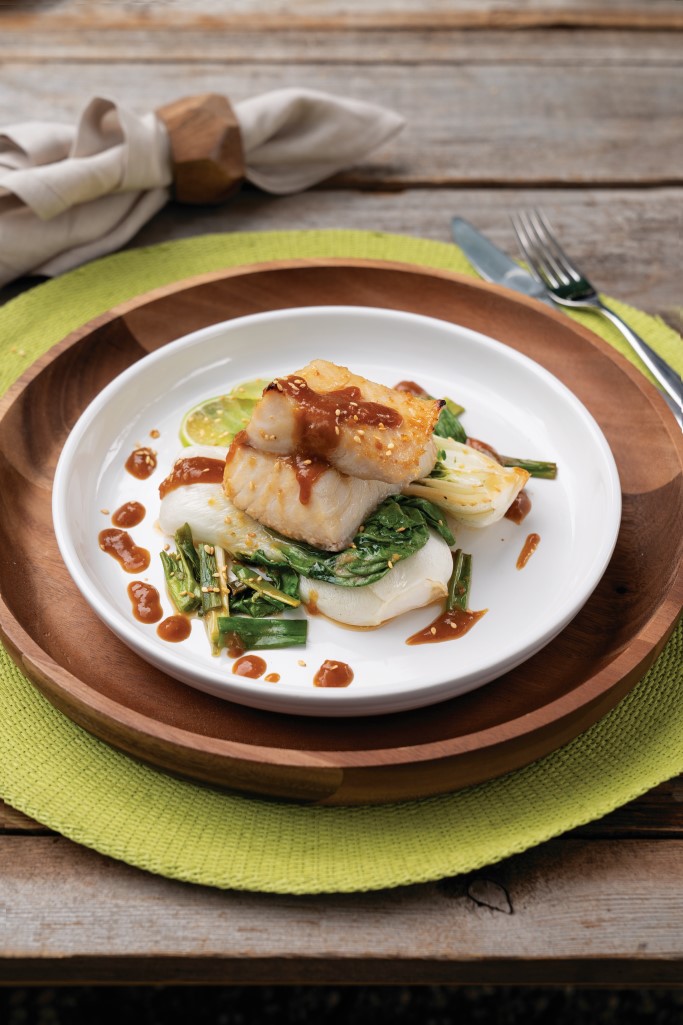 2 Tbsp (30 mL) miso paste
2 Tbsp (30 mL) water
1 Tbsp (15 mL) maple syrup
1 Tbsp (15 mL) rice wine vinegar
1 Tbsp (15 mL) soy sauce
3 tsp (15 mL) toasted sesame oil, divided
1 lb (450 g) skinless black cod or turbot, cut into 4 portions
4 green onions, bottoms trimmed, the rest cut into 2 in (5 cm) pieces
1 lb (450 g) mini bok choy, cut in half lengthwise
2 tsp (10 mL) lime juice
Preheat oven to 400 F (200 C).
In medium bowl, combine miso, water, maple syrup, vinegar, soy sauce, and 2 tsp (10 mL) sesame oil. Add fish and stir to coat. Refrigerate for 30 minutes.
Line 8 x 11 in (20 x 28 cm) baking or casserole dish with parchment paper. Spread with green onion pieces and bok choy, leaves turned inwards so they won't burn as easily. Top with lime juice and remaining 1 tsp (5 mL) sesame oil.
Roast in preheated oven for 10 minutes. Stir greens and roast for 10 minutes more. Remove from oven and top with marinated fish and leftover marinade. Roast for 8 minutes, or until fish is almost flaking.
Serves 4.
Each serving contains: 325 calories; 21 g protein; 21 g total fat (4.4 g sat. fat); 6 g total carbohydrates (4 g sugars, 1 g fiber); 278 mg sodium
Wraps with Thai Basil, Tempeh, and Peanut Sauce
These wraps are naturally gluten-free and can be extra crunchy, juicy, or savory depending on your wrapper choice.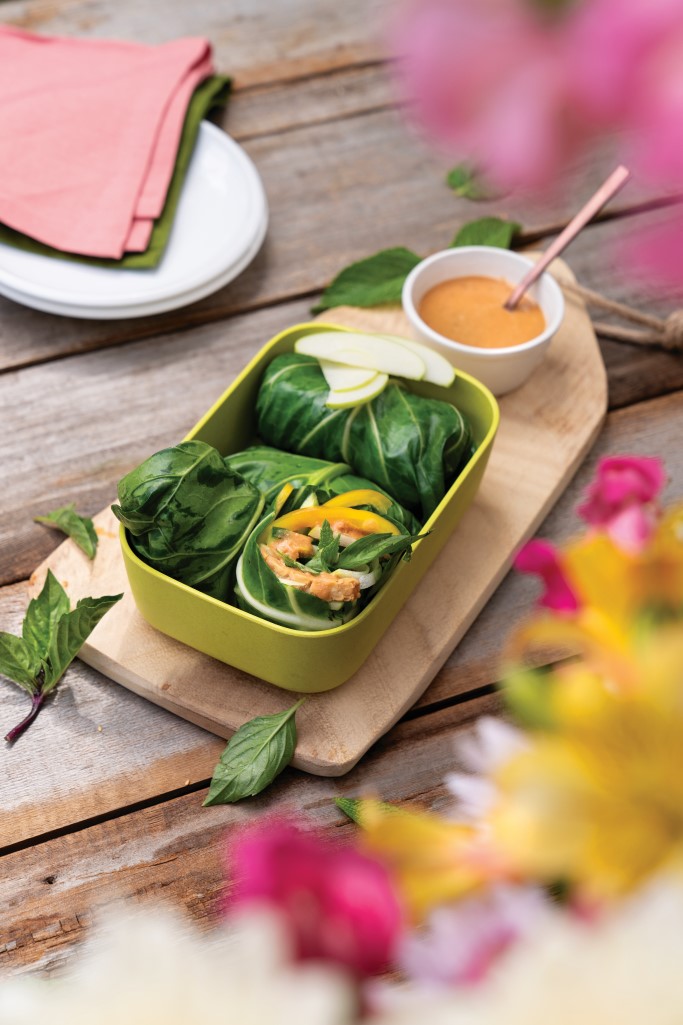 Peanut sauce
2 Tbsp (30 mL) soy sauce
2 Tbsp (30 mL) rice vinegar
1/4 cup (60 mL) water
1 tsp (5 mL) toasted sesame oil
1/2 in (1.25 cm) piece fresh gingerroot, grated
2 tsp (10 mL) maple syrup or organic palm sugar, to taste
1/4 cup (60 mL) unsweetened, plain peanut butter powder (substitution: regular, unsweetened peanut butter, and skip the sesame oil)
Wraps
8 oz (225 g) pkg tempeh, cut into 1/4 x 2 in (1 x 5 cm) pieces
1 bird's eye chili pepper, thinly sliced (optional)
1 red or yellow bell pepper, julienned
1 cup (250 mL) julienned cucumber or jicama
1/2 cup (125 mL) julienned (unpeeled) apple
1/2 cup (125 mL) Thai or holy basil leaves
1/2 cup (125 mL) fresh mint leaves
1 head lettuce or 1 bunch collard greens
In medium pot, bring soy sauce, vinegar, water, sesame oil, ginger, and maple syrup to a boil. Remove from heat. Pour half into medium bowl and stir in peanut butter powder.
Return pot with remaining marinade to stove and add tempeh pieces. Reduce heat to medium-low, cover, and simmer for 10 minutes, turning tempeh frequently to braise evenly. Remove lid and cook until no liquid remains.
To assemble, place small amounts of tempeh and fillings in lettuce or collard leaves. Tuck in sides of leaves and roll up to seal, or leave open like tacos. Serve with peanut sauce.
Serves 4 as an appetizer.
Each serving contains: 209 calories; 27 g protein; 8 g total fat (1 g sat. fat); 23 g total carbohydrates (5 g sugars, 8 g fiber); 417 mg sodium
Cilantro Rice with Chicken and Mint Sauce
Inspired by Peruvian arroz con pollo, this dish blends an entire bunch of cilantro and spinach into a pot of rice, tinting it green.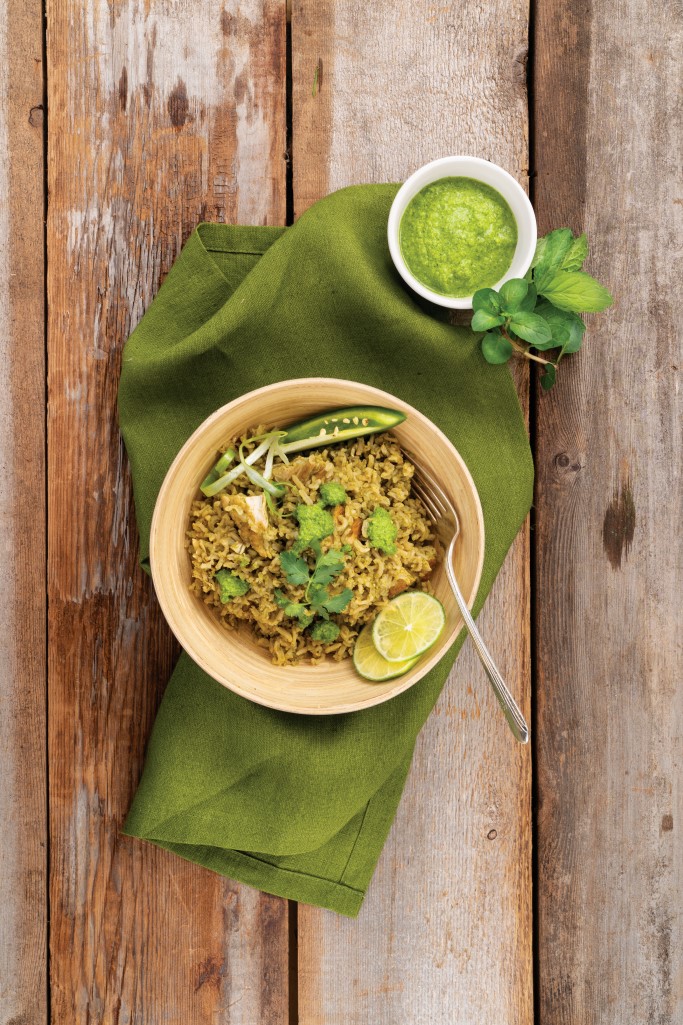 1/2 cup (125 mL) tightly packed cilantro leaves and stems, stems coarsely chopped
1 cup (250 mL) tightly packed spinach leaves
1 1/2 cups (350 mL) homemade or low-sodium chicken broth
1 1/4 cups (310 mL) almond, soy, or other plant-based milk, or cows' milk
1 tsp (5 mL) ground cumin
1 small hot green chili pepper (optional)
1 tsp (5 mL) salt, divided
1 tsp (5 mL) olive oil
1 lb (450 g) boneless, skinless chicken breasts or thighs
1 onion or 2 shallots, minced
1 garlic clove, minced
1 1/2 cups (350 mL) cooked long-grain brown rice, well rinsed and drained
Mint sauce
2 jalapenos, optionally seeded
1 cup (250 mL) tightly packed cilantro, stems and leaves, coarsely chopped
1 cup (250 mL) tightly packed mint leaves
1 Tbsp (15 mL) fresh lime juice
2 Tbsp (30 mL) olive oil
2 Tbsp (30 mL) tightly packed chopped green onion
1/4 tsp (1 mL) salt
In blender, blend 1/2 cup (125 mL) cilantro, spinach, broth, milk, cumin, chili pepper, and 1/2 tsp (2.5 mL) salt.
In wide-based saucepan or skillet with lid, heat olive oil over medium-high heat. Add chicken. Sprinkle with remaining 1/2 tsp (2.5 mL) salt. Cook for 2 to 3 minutes on each side, until browned. Remove to plate. When cool, cut into bite-sized pieces.
Add onion and garlic to pan. Cook for 3 minutes, stirring frequently. Add a little water to prevent sticking if necessary. Add rice and stir for 30 seconds to coat.
Add contents of blender along with reserved chicken. Stir and bring to boil. Cover, reduce heat to low, and cook for 20 minutes. Stir and cook for 5 minutes more if necessary. Remove from heat and leave covered, 10 minutes.
For mint sauce, in blender, blend all ingredients.
To serve, divide chicken and rice among plates and drizzle with mint sauce.
Serves 6.
Each serving contains: 319 calories; 22 g protein; 8 g total fat (1 g sat. fat); 39 g total carbohydrates (2 g sugars, 3 g fiber); 592 mg sodium
Sauteed Rapini with Spaghetti, Garlic, Toasted Walnuts, and Anchovies
This combination of fish and walnuts is inspired by pasta dishes from Italy's Amalfi Coast. (Don't be scared off by the anchovies! It disappears into a rich, silken sauce infused with garlic and a hint of spice.)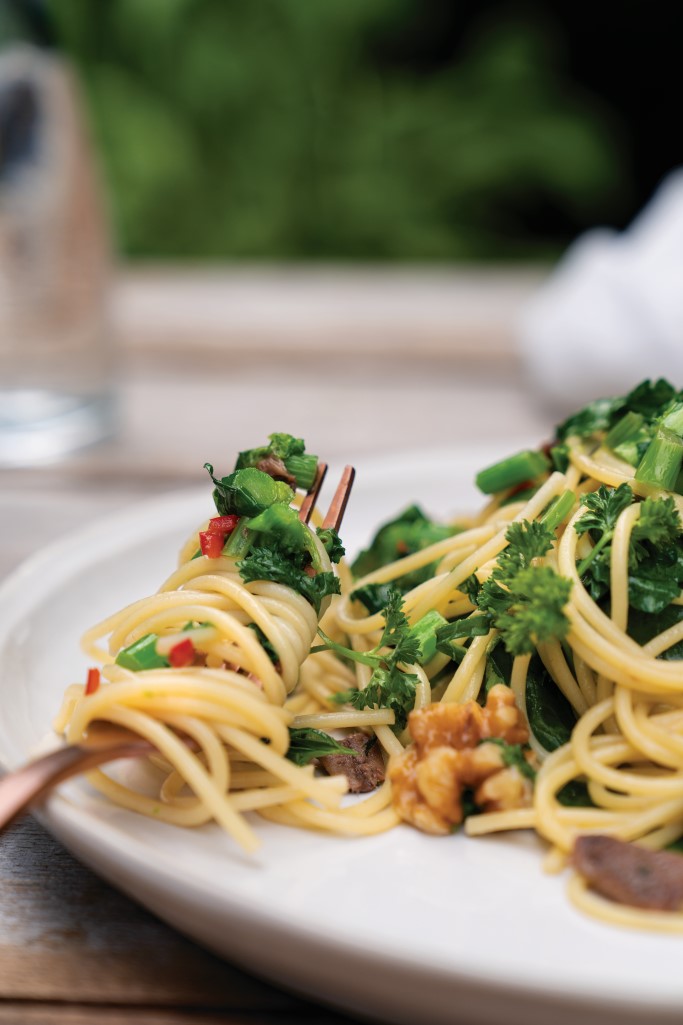 10 oz (280 g) spaghetti
2 Tbsp (30 mL) anchovy oil
1/2 fresh red chili pepper, finely chopped
4 garlic cloves, peeled but kept whole
1 bunch rapini, stems diced, leaves torn into small pieces
10 anchovy fillets in oil
1/4 cup (60 mL) walnut halves
1/4 cup (60 mL) finely chopped fresh parsley
1 Tbsp (15 mL) anchovy paste (optional)
In large pot of water, cook pasta according to package directions until al dente. Drain, reserving 1/4 cup (60 mL) cooking water.
While pasta cooks, in large skillet, heat oil over medium heat. Add chili pepper, garlic, and rapini stems. Cook for 1 minute. Add anchovy fillets, breaking them up so they melt into the sauce. Add walnuts, rapini leaves, half of parsley, and 1/4 cup (60 mL) pasta cooking water. Cook for 2 minutes, adding more pasta water if too dry.
Add drained pasta to sauce along with anchovy paste, if using, and stir to combine. Remove from heat and discard garlic (or eat it!) and garnish with remaining parsley.
Serves 4.
Each serving contains: 324 calories; 14 g protein; 9 g total fat (1 g sat. fat); 47 g total carbohydrates (1 g sugars, 5 g fiber); 260 mg sodium