Article provided by Alive Publishing Group. You can find more great articles anytime on alive Connect, or grab a copy of the latest printed issue of alive Magazine next time you're in Good Foods Co-op. It's free!
As a flavor, bitter often gets a bad rap. Evolutionarily, this is understandable: As a natural defense system, our taste buds adapted to detect bitterness since many poisons are, well, bitter. But while most people historically have been ardent avoiders of bitterness, foods such as arugula, frisée, rapini, and their respective bitter edges are increasing in popularity.
Why the surging interest? Bitterness adds complexity to dishes and can balance out other tastes in the flavor spectrum. Simply put: Without bitterness, cooking can lack harmony and dimension.
Creamy Curry Turnip Slaw
Toss the tempered bitterness of raw turnip with sweet-tart apple slices, crunchy sunflower seeds, fresh mint, and a dairy-free creamy curry dressing, and you'll have a slaw to take notice of.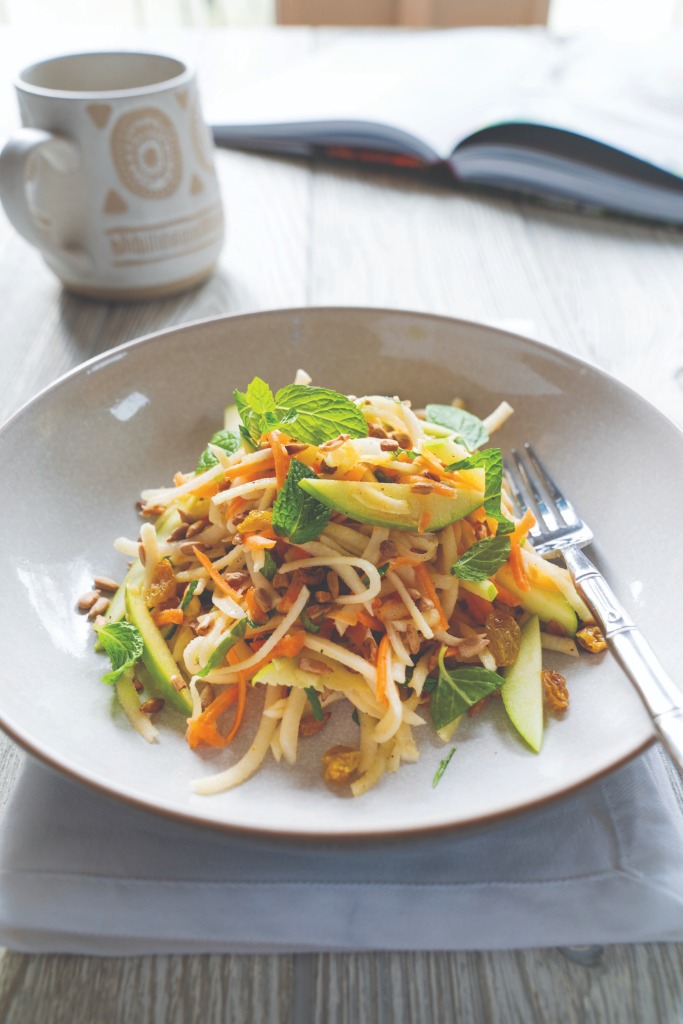 4 medium-sized turnips (1 lb/450 g), shredded
2 large carrots, shredded
1 large apple (unpeeled), julienned
1/2 cup (125 mL) sliced fresh mint
1/3 cup (80 mL) golden raisins
1/3 cup (80 mL) unsalted roasted sunflower seeds
1 – 10 oz (300 g) pkg silken soft tofu
2 tsp (10 mL) curry powder
2 Tbsp (30 mL) cider vinegar
2 garlic cloves, peeled and chopped
1/2 tsp (2 mL) salt
1/4 tsp (1 mL) pepper
In large bowl, toss together turnips, carrot, apple, mint, raisins, and sunflower seeds.
In small bowl, blend together tofu, curry powder, cider vinegar, garlic, salt, and pepper until smooth. Toss dressing with slaw and serve.
Serves 6.
Each serving contains: 154 calories; 5 g protein; 5 g total fat (1 g sat. fat, 0 g trans fat); 24 g total carbohydrates (16 g sugars, 5 g fiber); 269 mg sodium
Granola Yogurt with Chocolate Espresso Sauce
Time to use a hit of bitter to wake up your breakfast routine. This coffee-chocolate sauce adds a delicious touch to everything from creamy yogurt to pancakes to a bowl of vanilla ice cream.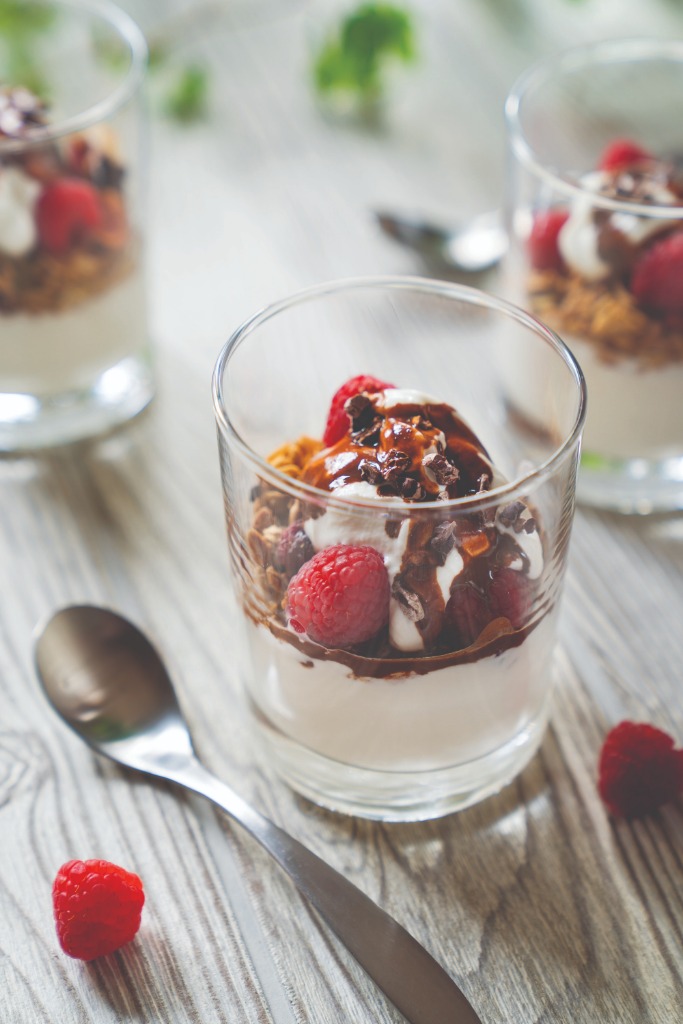 1 cup (250 mL) strong brewed coffee
2 Tbsp (30 mL) maple syrup
2 Tbsp (30 mL) cacao powder
1 tsp (5 mL) vanilla extract
1/2 tsp (2 mL) cinnamon
3 cups (750 mL) plain 2% Greek or Skyr yogurt
1/3 cups (330 mL) granola or muesli
2 cups (500 mL) raspberries
4 Tbsp (60 mL) cacao nibs (optional)
In small saucepan, place coffee and maple syrup. Bring to a boil, reduce heat to medium-high to maintain a strong boil, and heat, uncovered, until reduced to 1/3 cup (80 mL), about 15 minutes. Stir in cacao powder, vanilla, and cinnamon until smooth. Let cool. The sauce will thicken further.
To serve, divide yogurt among 4 serving bowls and drizzle on espresso sauce. Top with granola, raspberries, and cacao nibs, if using.
Serves 4.
Each serving contains: 301 calories; 20 g protein; 6 g total fat (3 g sat. fat, 0 g trans fat); 45 g total carbohydrates (23 g sugars, 7 g fiber); 152 mg sodium
Broccoli Rabe Lentil Ragu over Polenta
This elegant plant-based recipe proves that overcooked vegetables are sometimes a good thing.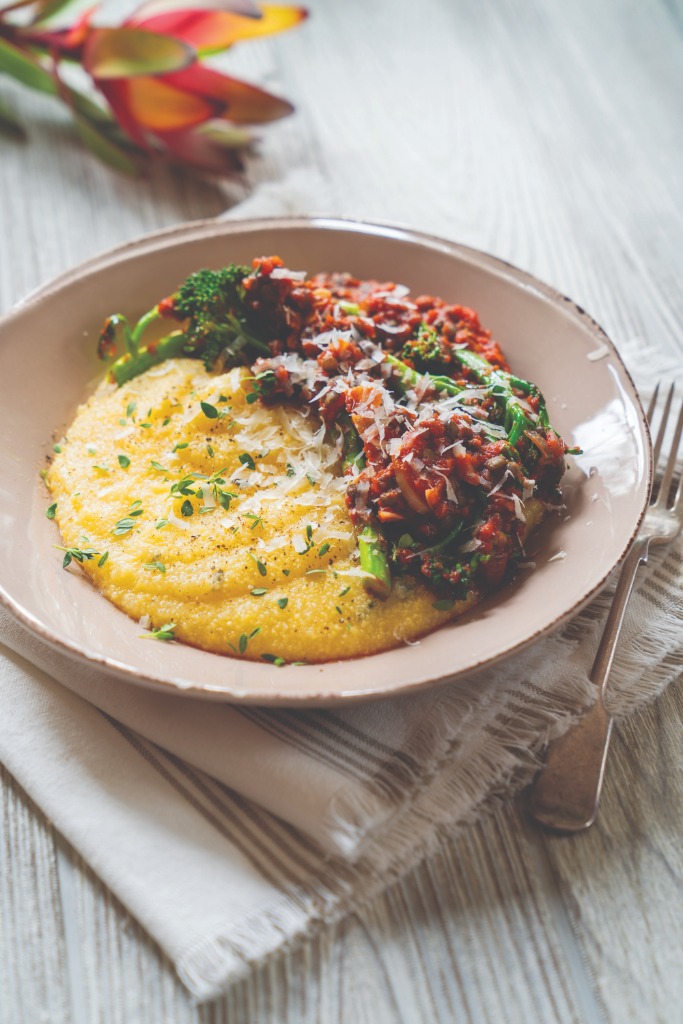 1 Tbsp (15 mL) olive oil
2 shallots, chopped
3 garlic cloves, peeled and thinly sliced
1/2 tsp (2 mL) dried red pepper flakes
3/4 tsp (4 mL) salt, divided
1/4 tsp (1 mL) pepper
1 lb (450 g) broccoli rabe, tough thick ends trimmed
1 1/2 cups (350 mL) canned no salt-added crushed tomatoes
2 Tbsp (30 mL) balsamic vinegar
2 cups (500 mL) cooked black (beluga) lentils or French green lentils
1 tsp (5 mL) dried thyme
1 cup (250 mL) medium-grain cornmeal
1/3 cup (80 mL) grated Parmesan cheese (optional)
In large skillet, heat oil over medium heat. Add shallots and garlic, and heat until garlic turns golden and shallots soften, about 2 minutes. Stir in red pepper flakes, 1/4 tsp (1 mL) salt, and pepper; heat for 30 seconds. Place broccoli rabe in pan and sauté for 3 minutes, stirring frequently. Pour in 3/4 cup (180 mL) water and bring to a simmer; heat over medium until rabe turns vibrant green and stems begin to soften, about 8 minutes, stirring occasionally. Add tomatoes to pan, bring to a simmer, and heat for 10 minutes. Stir in balsamic vinegar and lentils and heat through. Cover pan to keep warm while you prepare polenta.
In medium-sized saucepan, bring 4 cups (1 L) water to a boil. Add remaining 1/2 tsp (2 mL) salt and thyme to water and then slowly pour in cornmeal. Reduce heat to medium-low and cook, whisking frequently with wooden spoon to break up any clumps and to make sure cornmeal is not sticking to bottom of pan, until polenta is tender and creamy, about 15 minutes. If polenta becomes too thick too soon, loosen mixture by adding more water and continue cooking.
Divide polenta among shallow serving bowls and top with rabe ragu and Parmesan, if using.
Serves 4.
Each serving contains: 305 calories; 15 g protein; 5 g total fat (1 g sat. fat, 0 g trans fat); 53 g total carbohydrates (5 g sugars, 13 g fiber); 488 mg sodium