Article provided by Alive Publishing Group. You can find more great articles anytime on alive Connect, or grab a copy of the latest printed issue of alive Magazine next time you're in Good Foods Co-op. It's free!
You don't have to be a heat freak to enjoy eating chili peppers since their "spice" levels vary greatly—enough to suit all tastes. It's time to bring the heat into the kitchen—start with these recipes!
Grilled Chili Tofu Steaks with Quinoa
Treat yourself to a steak dinner, using tofu instead of meat. The tangy chili-spiked marinade does double-duty as a finishing sauce and transforms otherwise bland tofu into an exciting dish.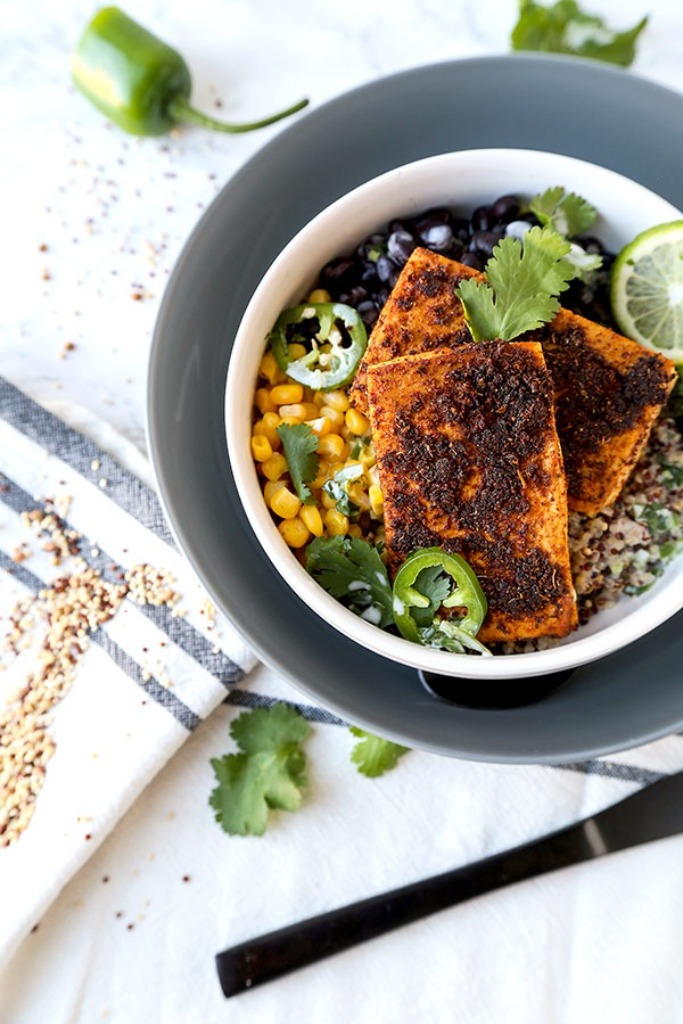 2 – 12 oz (350 g) pkgs extra-firm tofu
1 shallot, chopped
2 large garlic cloves, minced
1/4 cup (60 mL) minced fresh ginger root
1 habanero chili, minced
1 Tbsp (15 mL) fresh thyme
1/2 tsp (2 mL) salt
1/2 tsp (2 mL) ground allspice
1/4 tsp (1 mL) pepper
2 Tbsp (30 mL) olive oil
1 Tbsp (15 mL) maple syrup
Zest of 1 lemon
1 cup (250 mL) orange juice
1 cup (250 mL) quinoa
Line cutting board with a couple sheets of paper towel. Top with tofu and a couple more sheets of paper towel. Place another cutting board or other flat object on top and press gently to extract excess liquid from tofu. Turn tofu blocks on their sides and slice in half lengthwise.
In large shallow container, whisk together shallot, garlic, ginger root, habanero, thyme, salt, allspice, pepper, olive oil, maple syrup, lemon zest, and orange juice. Add tofu, and chill for at least 2 hours, or up to overnight, flipping once.
Into medium saucepan, place quinoa, a couple pinches of salt, and 1 3/4 cups (435 mL) water. Bring to a boil, reduce heat to maintain a light simmer, and cook, covered, until quinoa is tender and water has absorbed, about 12 minutes. Remove from heat and let pot sit, covered, for 5 minutes. Fluff quinoa with fork.
In charcoal grill, build a medium-hot fire, or heat gas grill to medium-high and grease grill grates. Remove tofu from marinade and reserve marinade. Grill tofu slabs until golden and grill marks appear, about 4 minutes per side. Giving tofu a 90-degree turn halfway through cooking each side will produce a nice cross-hatch pattern. Slice each grilled tofu piece into 2 triangles. Alternatively, in large skillet over medium-high, heat 1 Tbsp (15 mL) oil. Add tofu to pan and sear until golden and crispy, about 3 minutes. Flip and heat until golden and crispy on other side.
Into small saucepan, place marinade and bring to a gentle simmer and heat for 2 minutes.
Divide quinoa among serving plates and top with tofu pieces. Drizzle on habanero sauce.
Serves 4.
Each serving contains: 393 calories; 21 g protein; 17 g total fat (3 g sat. fat); 44 g total carbohydrates (10 g sugars, 5 g fiber); 324 mg sodium
Minty Chili Pea Soup
This brightly colored soup for chili lovers is the perfect way to welcome back warmer weather. Looking for a little less heat? Substitute serrano pepper with jalapeno.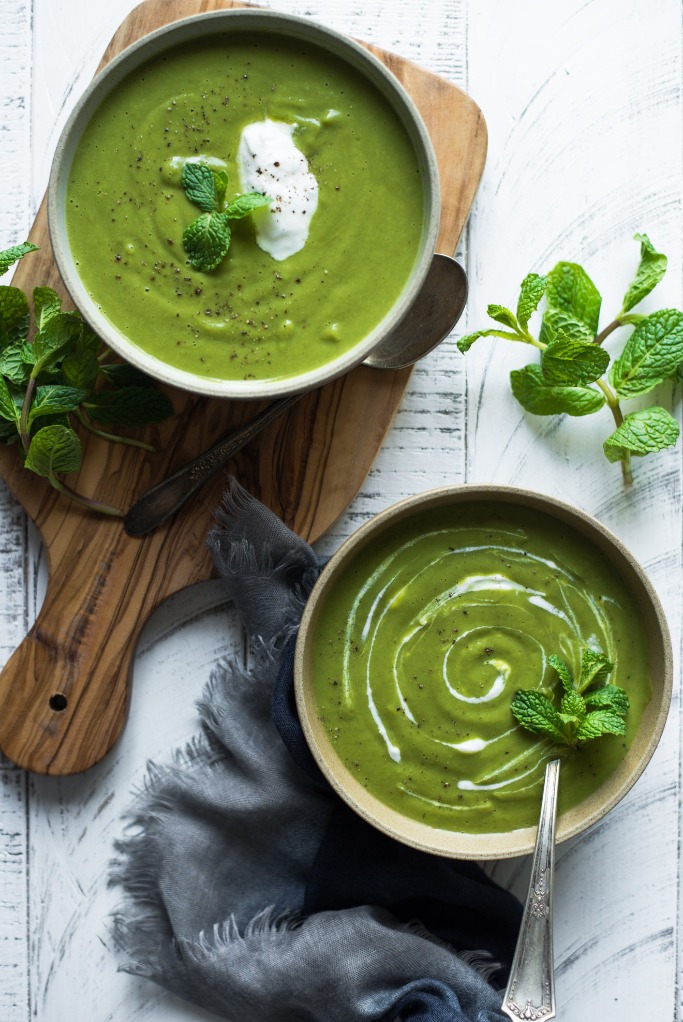 1 Tbsp (15 mL) grapeseed oil or sunflower oil
1 leek, white and light green part, thinly sliced
1/2 tsp (2 mL) salt
1/2 lb (225 g) new potatoes, quartered
2 garlic cloves, chopped
2 serrano chili peppers, seeded and chopped
3/4 tsp (4 mL) ground coriander
1/2 tsp (2 mL) pepper
4 cups (1 L) low-sodium vegetable broth
3 cups (750 mL) fresh shelled or frozen peas
1 cup (250 mL) fresh mint
Juice of 1/2 lemon
In large saucepan, heat oil over medium heat. Add leek and salt; cook until softened, about 5 minutes, stirring regularly. Add potatoes and garlic; heat for 3 minutes. Add serrano pepper, coriander, and pepper; heat for 1 minute.
Add broth to pan. Bring to a boil and simmer over medium-low, covered, until potato is tender, about 15 minutes. Add peas and continue heating until they are tender, about 5 minutes. Stir in mint and lemon juice. Using blender or food processor, puree soup in batches if necessary. Thin with additional broth or water, if needed. Ladle into each of 4 bowls.
Serves 4.
Each serving contains: 185 calories; 7 g protein; 4 g total fat (0 g sat. fat); 31 g total carbohydrates (8 g sugars, 8 g fiber); 447 mg sodium
Salmon Burgers with Mango-Thai Salsa
These Asian-inspired salmon burgers won't leave you missing the beef or the bun. Keep this fruity and fiery salsa in mind the next time you want to jazz up grilled chicken or taco night.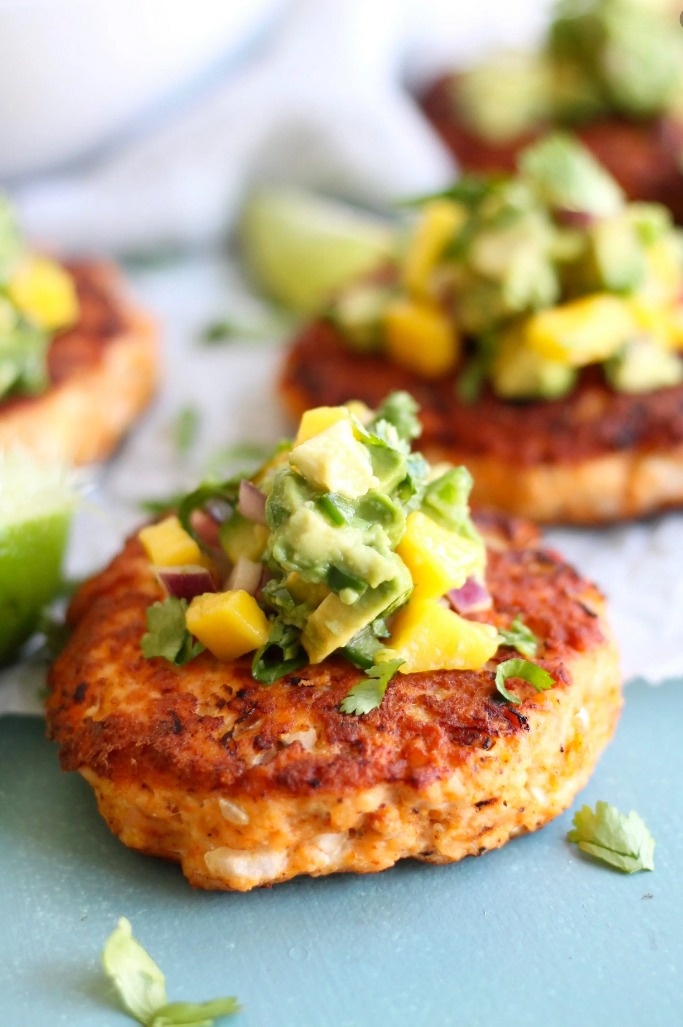 1 lb (450 g) skinless salmon
1 large egg
1/2 cup (125 mL) panko bread crumbs
2 garlic cloves, minced
1 Tbsp (15 mL) low-sodium soy sauce or tamari
1/3 cup (80 mL) basil
Zest of 1 lime
Juice of 1/2 lime
2 tsp (10 mL) fish sauce
1 tsp (5 mL) sesame oil
1 tsp (5 mL) coconut sugar (or regular sugar)
1 1/2 cups (350 mL) halved cherry tomatoes
1 cup (250 mL) cubed mango
2 green onions, sliced
1 bird's eye chili pepper, minced
1/3 cup (80 mL) chopped cilantro
1 Tbsp (15 mL) peanut oil or grapeseed oil
In food processor container, place salmon, egg, bread crumbs, garlic, soy sauce, basil, and lime zest, and pulse several times until you have a chunky mixture. Form into 4 patties.
In large bowl, whisk together lime juice, fish sauce, sesame oil, and sugar. Stir in tomatoes, mango, green onions, chili pepper, and cilantro.
In large skillet over medium-high, heat oil. Place salmon burgers in skillet and cook for 3 minutes on each side, or until crispy on the outside but just barely cooked through in middle, to an internal temperature of 145°F (63°C). Alternatively, you can prepare the burgers on an outdoor grill over medium heat, making sure grill grates are well greased.
Serve salmon burgers topped with salsa.
Serves 4.
Each serving contains: 345 calories; 26 g protein; 19 g total fat (3 g sat. fat); 18 g total carbohydrates (9 g sugars, 2 g fiber); 474 mg sodium