As coronavirus spreads across the country and across our communities, we are all navigating uncharted territory. If you're like me, you've been asking yourself questions like "what's the right thing to do?" or "is this putting myself or others at risk?" a lot these past couple weeks. Of course, getting groceries is a basic need we all need to take care of, so how do we get ourselves and our families the healthy food needed to support our immunity without putting our health at risk?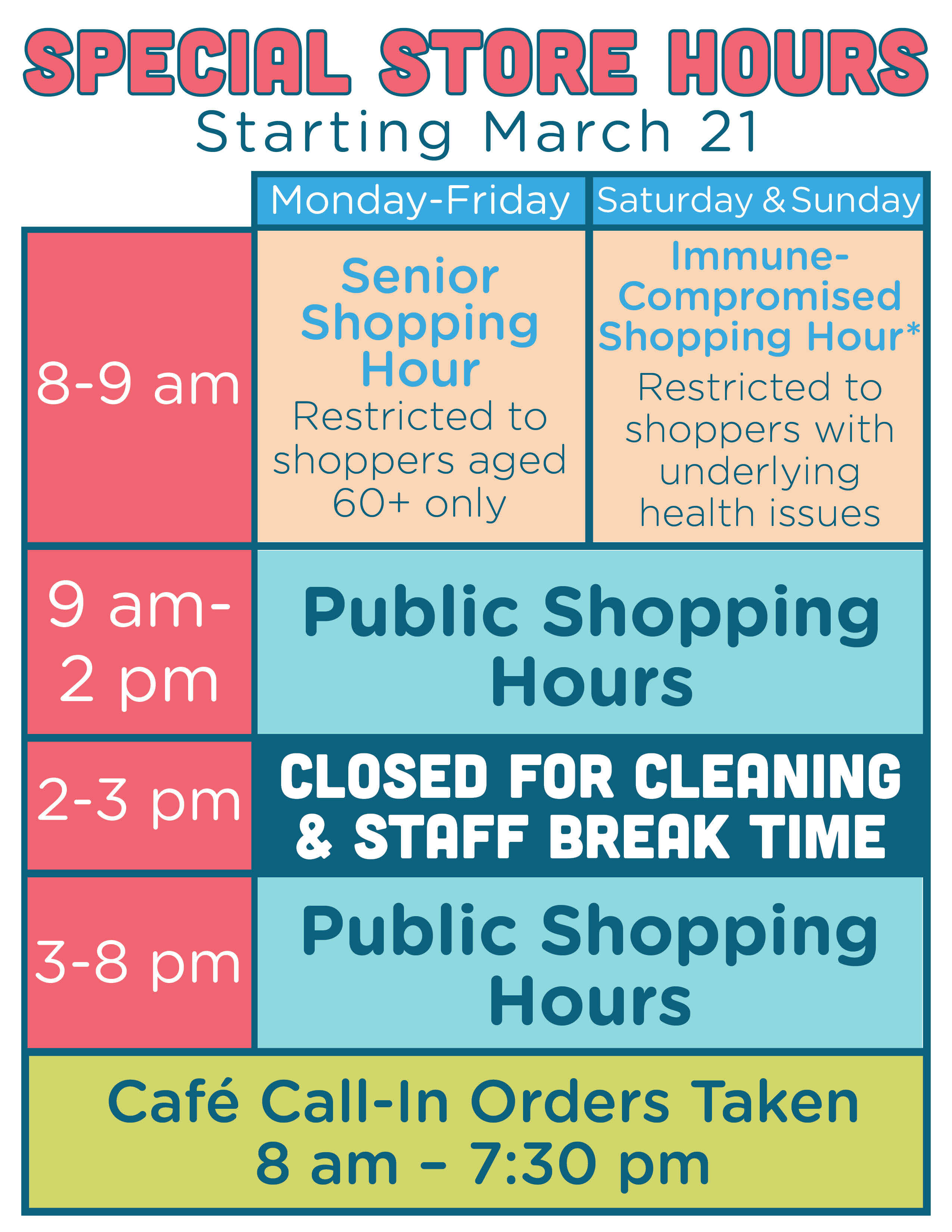 Reduce Your Exposure, Reduce Your Risk
At the heart of all recommendations coming from the CDC and local authorities seems to be this one mantra: reduce your exposure so you can reduce your risk. In a public space like a grocery store, how can you do that but still get all the things you need to ride out this pandemic? Shopping at a smaller store already has its advantages by limiting the number of touch-points and people, but we have a few recommendations that may help further.
There is no "best time" to shop
A few days ago I would have recommended coming early or coming late, but neither is true anymore. We have been busy round-the-clock lately, so just come at a time that is best for you. In order to keep some of our more vulnerable populations safe, we have just enacted a Senior Shopping Hour, Monday through Friday, 8 – 9 am, where shopping is limited just to our neighbors who are 60+ years of age only. And starting March 21 that same hour, 8 – 9 am on Saturdays and Sundays, is limited to shopping for our immune-compromised neighbors only.
In order to offer better staffing levels during peak hours, we will be closing earlier (at 8 pm), and will be closed 2-3 pm every day for store sanitization and staff break time.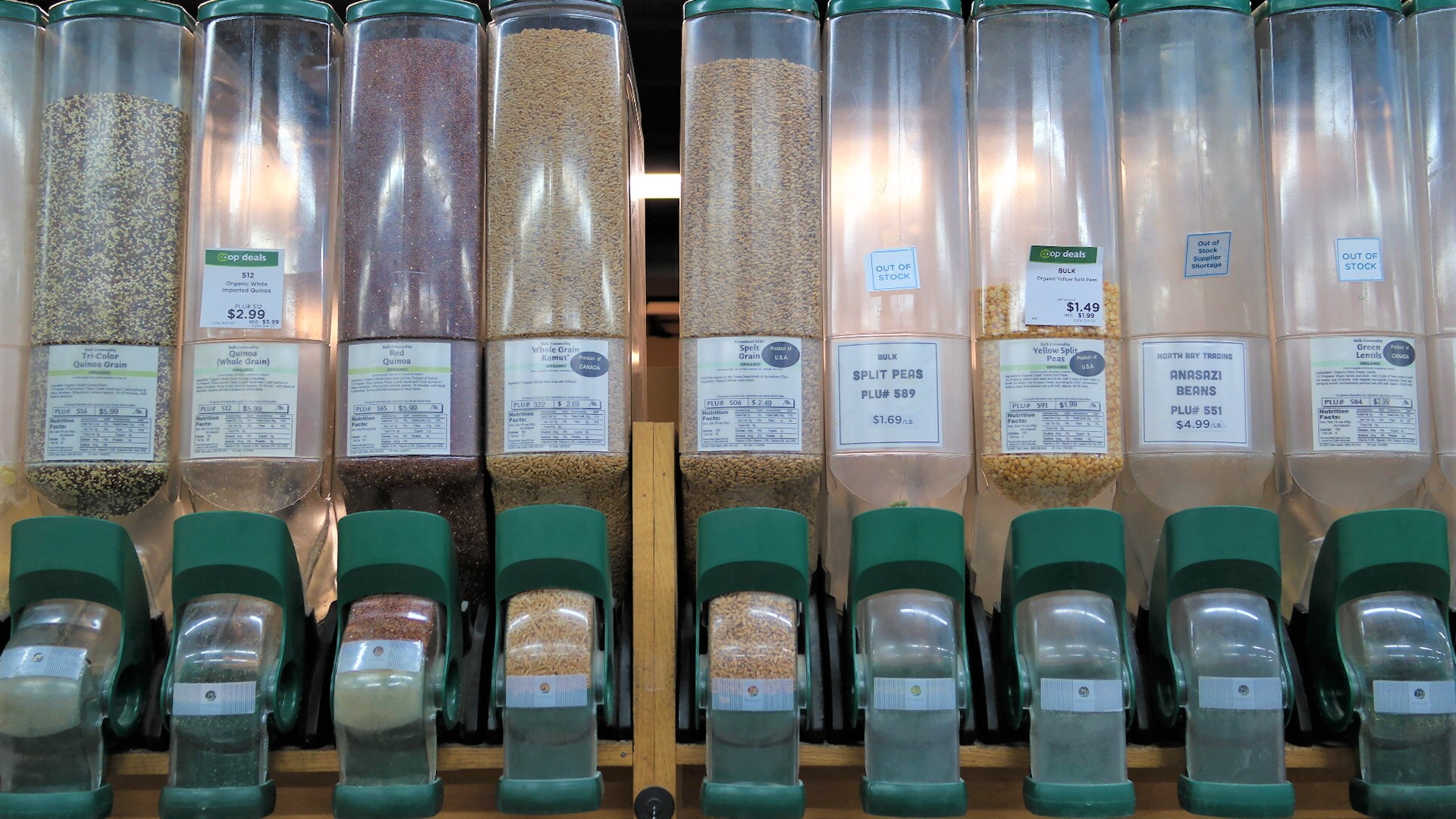 2. Be prepared for out-of-stocks
With the panic-buying we've seen in the wake of coronavirus, ALL retailers and suppliers are seeing shortages and out-of-stocks. Please know we are continuing to place orders for staples that simply do not arrive, and we're always looking for alternate products to bring in to bridge any gaps. Personally, I am taking a serious look at finally installing that bidet attachment I bought for my toilet years ago, just in case these out-of-stocks don't improve soon (I'm joking… kind of).
3. Shop only for what you need this week
With that panic-buying in mind, please only get what you need for a week or so. If you're shopping for your entire family, that's probably a big enough shop anyway. The more strategic we are with our purchases, the more chance our suppliers will have to get stocks back up to normal levels so there's enough food and supplies available to everyone, not just those who can afford to panic-buy.
In order to make this easier to follow, we've starting enforcing a limit on how many items from one category a person can buy in a day. A category is something like; canned tuna, canned beans, milk, pasta, vitamin C, etc. The general rule is no more than 4 on most products, but we've reduced that further on high-demand items like toilet paper, peanut butter and supplements.
4. Come with a list, and be ready to tweak it as you go
The last thing you want is to make the trip out to the Co-op only to get home and realize you forgot the tortillas for taco night. Since we're all trying to limit our exposure, and therefore the number of grocery trips we make, lists will be even more important now than before. The lists may also help you keep to a budget.
That said, get items that can easily be transitioned into something else in case you encounter an out-of-stock. For example, if it turns out you can't find tortillas for taco night, perhaps those ingredients can be used for chili instead, or maybe a Tex-Mex rice bake or taco salad.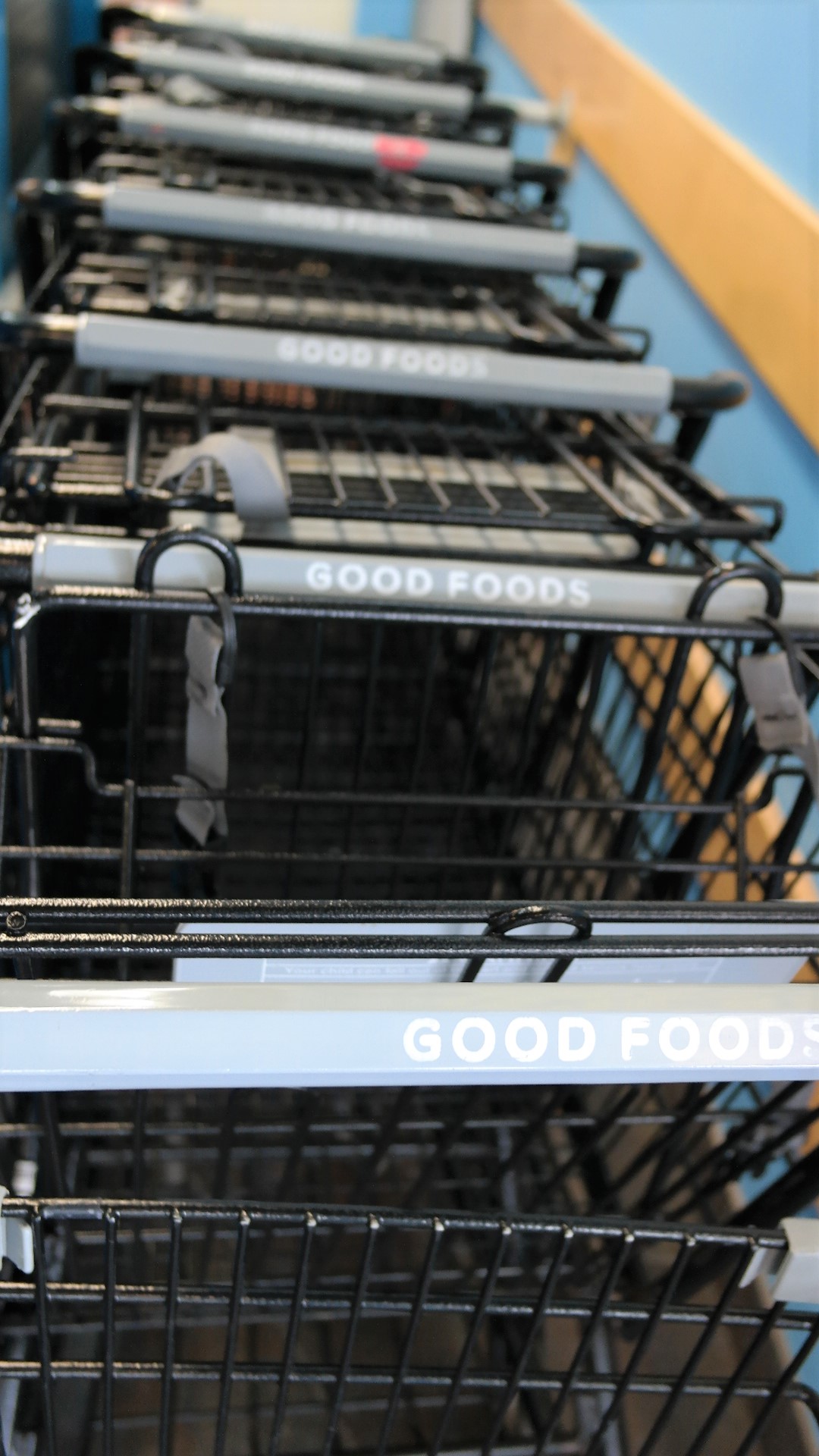 5. Come alone, if you can
One of the most helpful things we can all do as we limit our exposure is to do the shopping alone if we're able. With kids at home, obviously this can be a difficult task. One method that can help is to combine shopping trips with a neighbor or friend. You can do your shopping and theirs as they watch your kids, and next week you can switch roles.
If you're a collaborative shopper and like to go shopping with a family member or loved one, have them collaborate as you all make a shopping list before you leave home, or simply call them by phone or FaceTime for their input as you shop so you're not increasing the exposure risk for both parties.
6. Protect yourself
When you come in to shop, reducing your exposure and risk all comes down to how aware you are of your own behavior and surroundings. In a public space, it's especially important to keep your distance from people, keeping that 6-feet of social distancing as much as possible. Wiping down your cart with a disinfectant wipe is helpful, but it still doesn't give you free rein to go about your shopping as usual. Make sure you do not touch your face during your trip. If wearing regular gloves or a face mask helps you achieve this, do so (but please don't buy the disposable versions; our healthcare providers are in desperate need of these).
If you aren't feeling well, please stay home and have a neighbor, family member or friend do your shopping for you. This is important for your own health and especially for the health of our other shoppers.
Once you get home, wash your hands before unloading your groceries and once again after you're done. If you have reusable shopping bags, it may be a good idea to wipe them down or throw them in the wash after each shop, so you have clean bags to use each trip.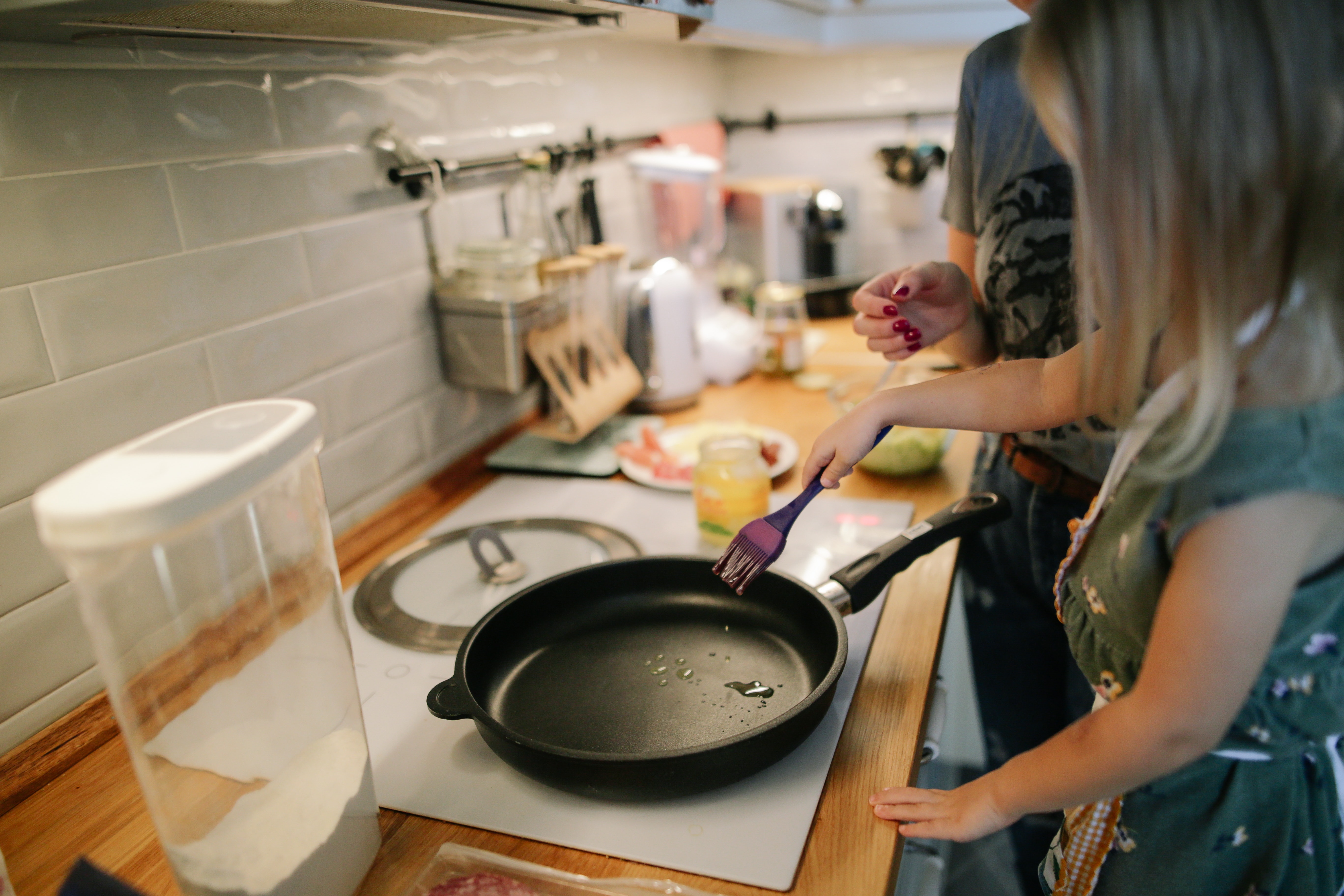 7. Enjoy the opportunity to cook something new
If circumstances require it or you're in a position to stay home and ride out this outbreak, why not enjoy this time by trying out some recipes you've had your eye on? Sauces and soups that simmer all day to develop deep flavors are a great place to start, plus you can make a big pot and freeze any leftovers to use in the weeks ahead.
Need some recipe inspiration? You can find plenty of options at Welcome to the Table. I also enjoy the sheer breadth of options at Food.com and AllRecipes.com that include plenty of ratings and comments to make sure the recipe works for you. If you really want to stretch your culinary muscle, Bon Appétit will help you enjoy some fine dining dishes as we take a hiatus from eating out as much.
8. The only constant is change
No doubt, within a few days some of the content in this post could be outdated. With how quickly we've needed to make changes, the best way to stay up to date is to make sure you're subscribed to our emails and checking our social media pages. We're on Facebook, Twitter and Instagram.
Stay safe, and if at all possible, stay home! Hang in there, folks. We'll get through this together!