This piece was originally published in our "Fresh Bites" Holiday 2021 Owner Newsletter. 
Holiday treats are something to be enjoyed and savored, but I find I'm often so inundated with candy, cookies and other traditional sweet treats this time of year, that I am left searching for something a little different. Gift these tasty treats to your friends and family, and give them something to enjoy that offers something more.
The "Short-Cut" Treat
Miss Jones Baking Co.
whole grain, 50% lower in sugar
Miss Jones Baking Co. Everyday Delicious baking mixes are made from responsibly sourced ingredients, 100% whole grains, contain no hydrogenated oils or artificial colors and are 50% lower in sugar than the leading brands. Just in time for all those holiday baking projects, we now carry five Miss Jones baking mixes (Chocolate Brownie, Monster Cookie, Chocolate Chip Cookie, Banana Muffin and Blueberry Muffin) and their Organic Vanilla Frosting.
Copycat Milk Bar Compost Cookies
Recipe & photo by missjones.co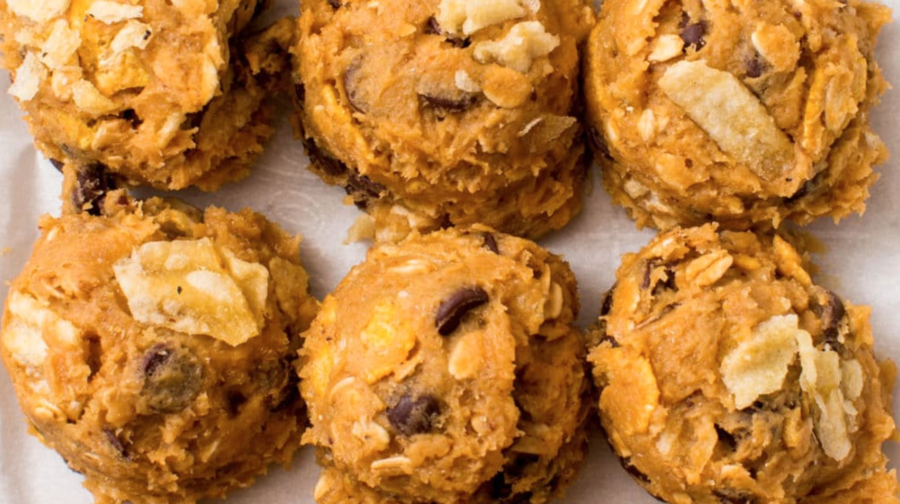 • 1 package Miss Jones Chocolate Chip Cookie Mix
• 8 tablespoon butter, softened
• 1 egg
• 1⁄2 teaspoon ground coffee
• 1 tablespoon dark brown sugar
• 1⁄4 cup corn flakes
• 1⁄4 cup oats, pulsed in a food processor
• 1⁄4 cup crushed sea salt potato chips
1. Preheat the oven to 350°F. Beat together butter and egg. Mix in coffee, brown sugar and cookie mix.
2. When dough starts to form, mix in corn flakes, oats and chips.
3. Scoop dough by the tablespoon onto a lined baking pan. Bake for 9-11 minutes.
The Breakfast Treat
Orange Ginger Granola
Adapted from Cookie + Kate
whole grain, gluten-free, vegan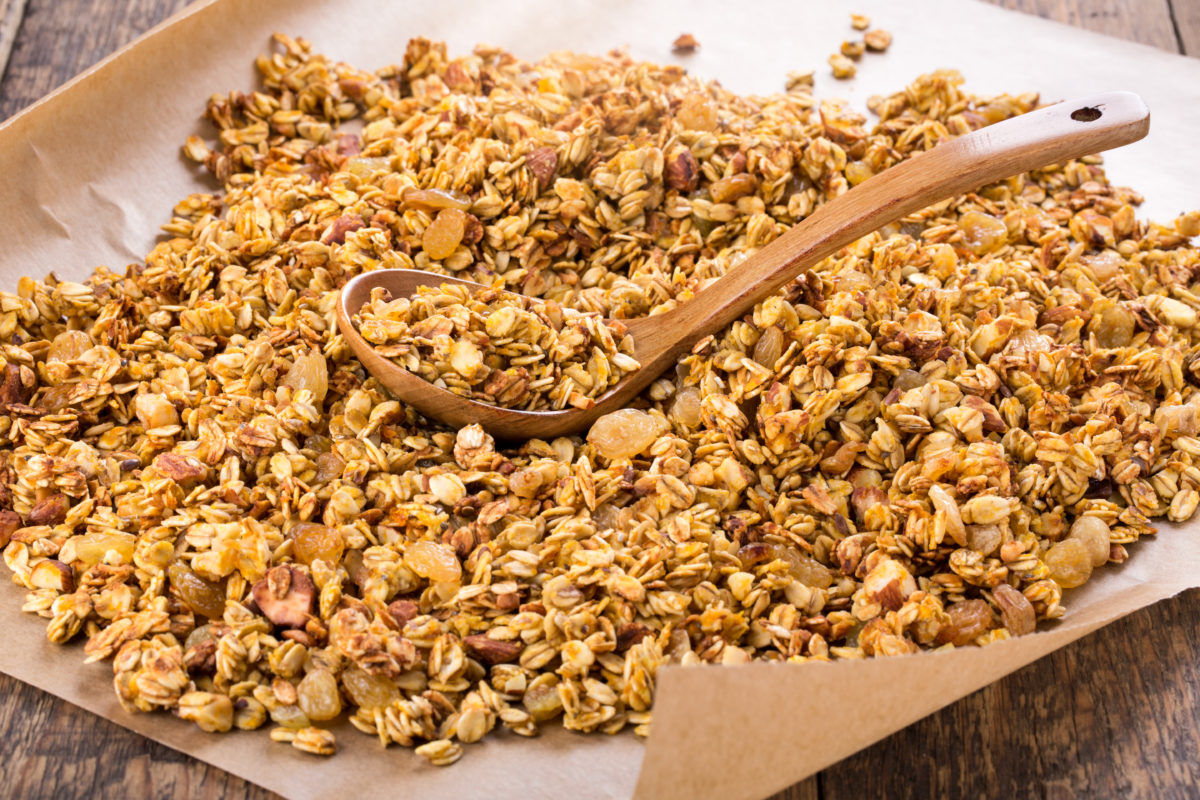 • Zest of 1 orange (preferably organic)
• 2 tablespoons sugar
• 4 cups old-fashioned rolled oats
• 1 1⁄2 cup sliced almonds
• 1 teaspoon kosher salt
• 1 teaspoon ground cinnamon
• 1⁄2 cup extra-virgin olive oil
• 1⁄2 cup maple syrup
• 1⁄2 tablespoon vanilla extract
• 1⁄4 teaspoon almond extract
• 3⁄4 cup golden raisins
• 3⁄4 cup chopped candied ginger
1. Preheat the oven to 350°F and line a large, rimmed baking sheet with parchment paper.
2. In a small bowl, combine the orange zest and sugar. Use your fingers to rub the zest into the sugar until it's bright orange and very fragrant.
3. In a large mixing bowl, combine the oats, sliced almonds, salt, cinnamon and orange sugar. Stir to combine. Pour in the oil, maple syrup, vanilla and almond extract. Mix well.
4. Pour granola onto your prepared baking sheet. Spread into an even layer. Bake for 19 to 23 minutes, stirring halfway until the granola is lightly golden in color. Press the warm granola with the back of a spatula to encourage chunks.
5. Let granola cool before stirring in the raisins and breaking up into chunks as necessary. Store in an airtight container at room temperature for 1-2 weeks, or keep it in the freezer for longer shelf life.
The Jarred Treat
Chai-Spiced Apple Butter
Adapted from One Girl. One Kitchen.
gluten-free, vegan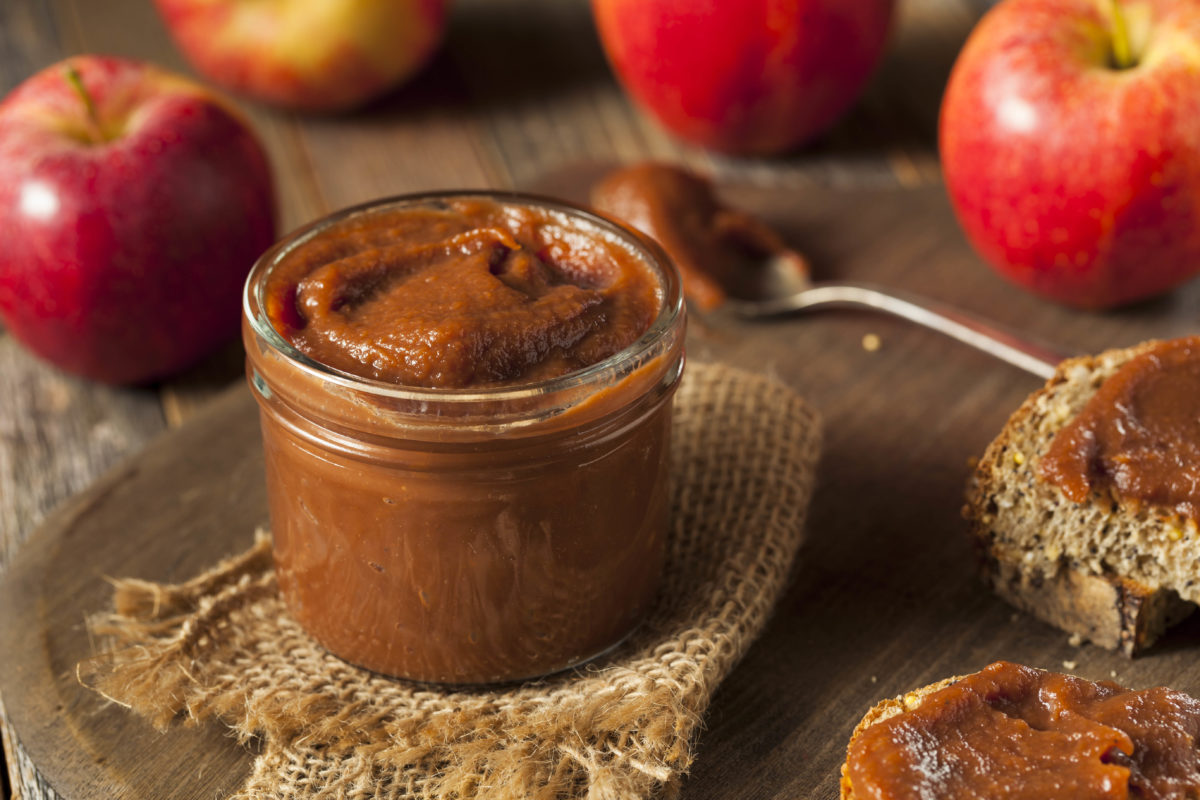 • 3 cups apple cider
• 3 cinnamon sticks
• 30 cardamom pods
• 30 cloves
• 6 black tea bags
• 6 lbs apples, peeled and chopped
• 6 tablespoons brown sugar
1. Combine cider and whole spices in a large saucepan. Bring to a boil and then reduce to a simmer for 10 minutes. Add tea bags, turn off the heat, cover and let steep for 5 minutes.
2. Remove tea bags and spices from cider with either a strainer or spoon.
3. Turn heat to medium, and add apples and sugar to spiced cider.
4. Let everything simmer together for 1 hour, stirring every 20 minutes. Taste and adjust sweetness, if necessary.
5. Using an immersion or regular blender, (carefully!) puree until smooth.
6. Recipe fills approximately six 4 oz Ball mason jars. Store in the refrigerator.
Chocolate-Covered Treats
Spicy Chocolate Bark with Mango & Pepitas
gluten-free, dairy free, low sugar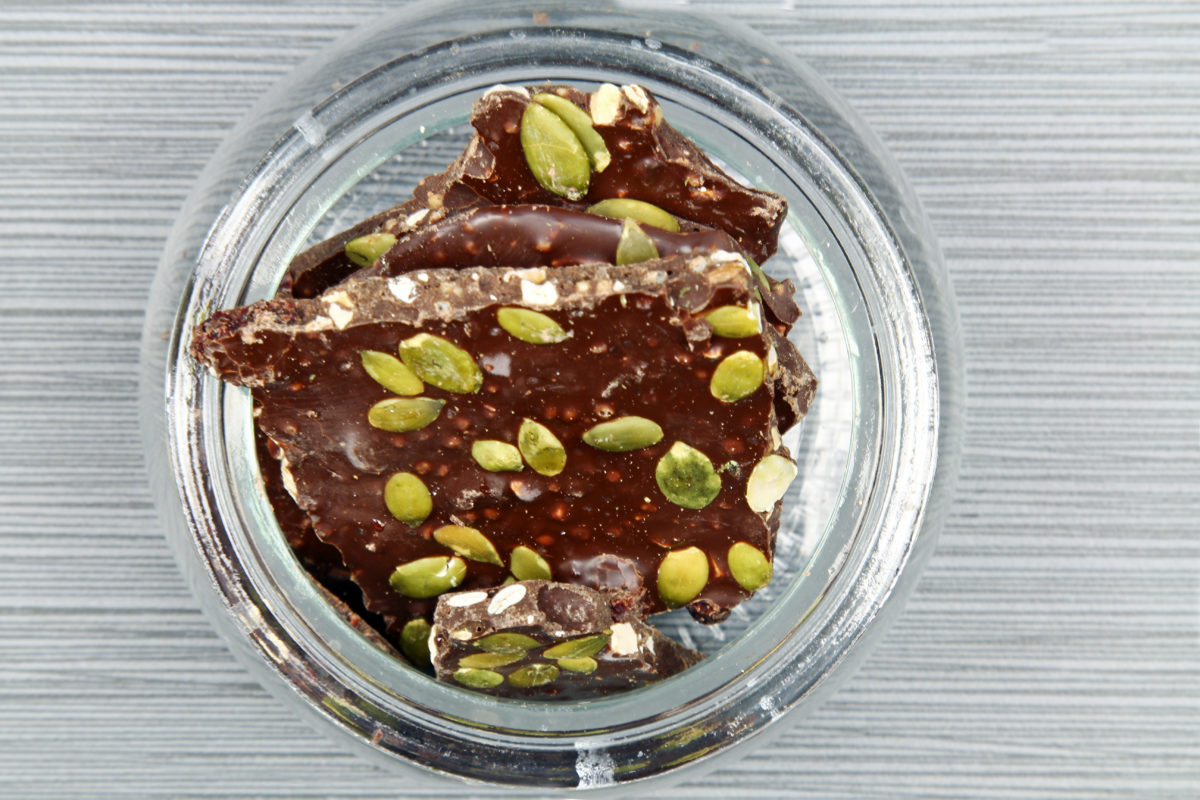 • 24 ounces dark chocolate, coarsely chopped
• 1 cup no sugar added dried mango, diced small
• 1 cup toasted pepitas, divided
• 1 1⁄2 teaspoon cinnamon
• 1⁄2 teaspoon cayenne pepper
• 1 1⁄2 teaspoon ancho chile powder, plus more for a light dusting
• 1⁄2 teaspoon Maldon salt (or more to taste)
1. Toast the pepitas in a skillet over medium-low heat until lightly browned, taking care not to let them burn. Set aside to cool.
2. Melt chocolate over a double-boiler until smooth. Stir in spices.
3. Combine 3⁄4 of the pepitas with the mango and spread out evenly on a parchment-lined half sheet baking tray.
4. Pour melted chocolate over seeds and dried fruit, smoothing out evenly with a rubber spatula.
5. Sprinkle the top with Maldon salt, more ancho chile powder and the remaining pepitas.
6. Chill until hardened, breaking into pieces before serving or packaging. Chocolate bark should be stored in the refrigerator or freezer.
Dark Chocolate Covered Nut Butter Stuffed Dates
Adapted from Half-Baked Harvest
gluten-free, dairy free, low sugar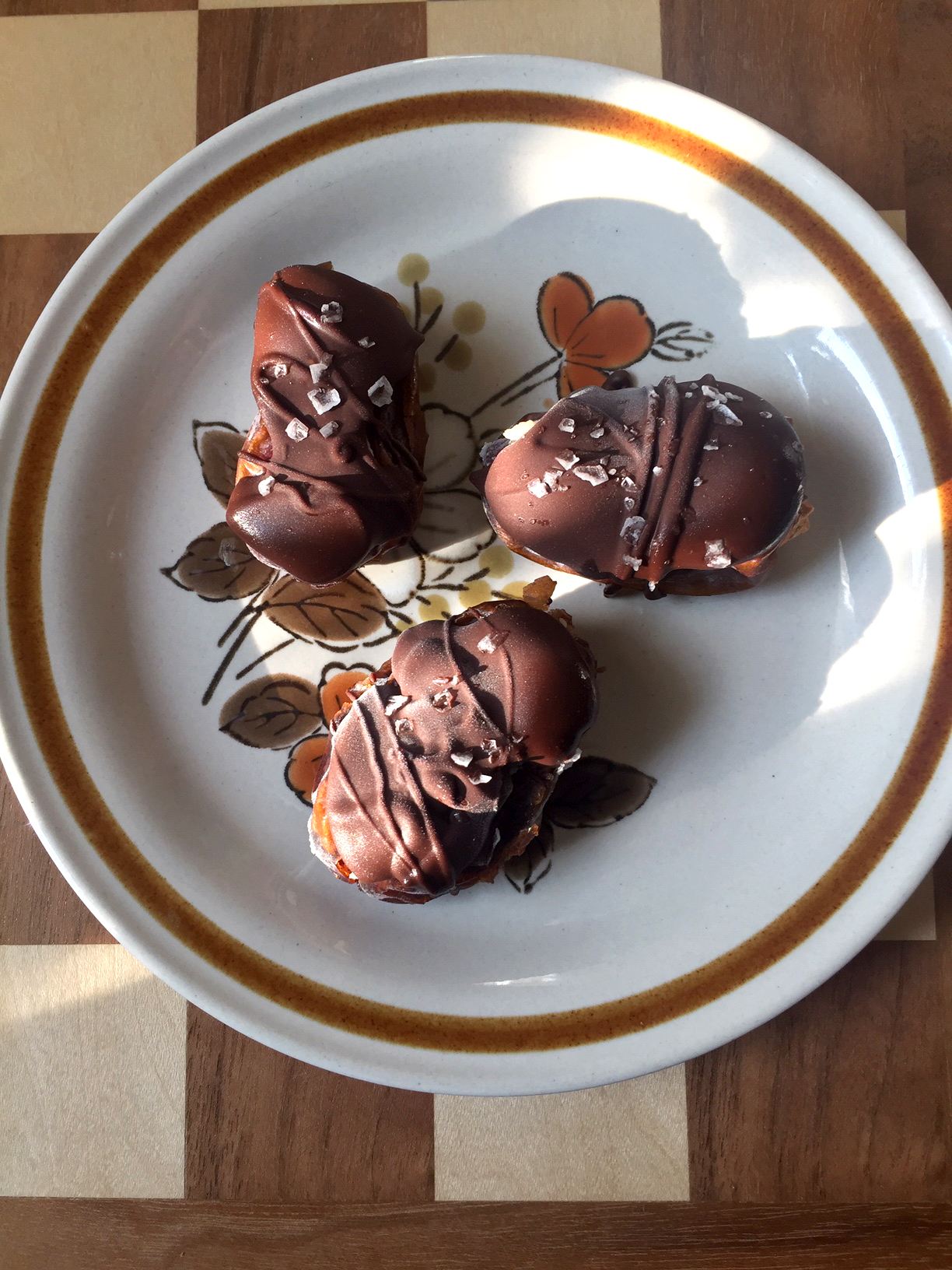 • 20 Medjool dates
• 1 1⁄4 cups nut butter of choice
• 12 ounces dark chocolate, coarsely chopped
• 1 tablespoon coconut oil
• Maldon salt and/or coconut flakes for topping
1. Carefully slice each date lengthwise along one side and remove pits (do not cut completely through).
2. Fill each date with approximately 1 tablespoon nut butter and place on a parchment-lined baking sheet. Once filled, freeze the sheet of dates for 15 minutes.
3. While dates are chilling, melt the chocolate and coconut oil together in a double-boiler.
4. Remove dates from the freezer and, using a fork, dip each date into melted chocolate and return to sheet tray. Sprinkle with desired toppings and place back in freezer until chocolate is set.
5. Store in an air-tight container in the fridge or freezer until ready to eat or package for gifts.