This piece was originally published in our "Fresh Bites" Holiday 2021 Owner Newsletter. Published by permission from grocery.coop. Find recipes, plus information about your food and where it comes from at grocery.coop.
Why are sweet potatoes at the heart of so many beloved family recipes? Is it the warm color palette? The subtle, sweet flavors? Or a versatility that lends well to being roasted, mashed or candied in dishes that are perennial favorites of the holiday season? Well, yes! Besides being delicious, sweet potatoes are practical: They're affordable, they store well after harvest and they're quite nutritious, offering a good source of vitamins A and C, potassium and fiber.
Sweet potato or yam—which is it?
Though the terms "sweet potato" and "yam" are often used interchangeably, they are actually two different vegetables. Related to the morning glory, sweet potatoes have thin, smooth skin and moist flesh. Yams, with their drier, starchy flesh and rougher skin, are tubers related to the lily that grow in tropical regions, primarily West Africa, the Caribbean and Asia. You're less likely to see true yams in U.S. grocery stores—in fact, the "yams" you find in the produce aisle may be sweet potatoes, such as the Garnet yam.
To complicate matters, there are white-fleshed or firm sweet potatoes that are nuttier and less sugary. But the more common varieties—including Garnet, Jewel and Beauregard—are soft and intensely sweet, with vibrant orange flesh.
Candied Sweet Potatoes
Folks have been turning humble sweet potatoes into a caramelly celebration for much longer than we have been making chips out of them. These butter-soft, sweet treats will melt in your mouth.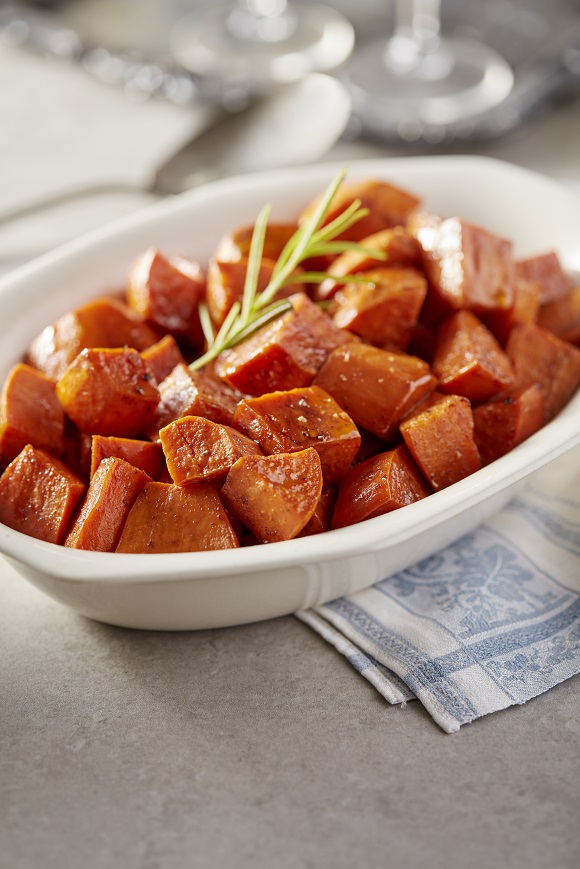 Serves: 6. Prep time: 1 hour, 20 minutes; 20 minutes active.
• 3 pounds sweet potatoes, peeled
• 4 tablespoons unsalted butter
• 1⁄2 cup light brown sugar
• 1 teaspoon vanilla
• 1 teaspoon cinnamon
• 1⁄2 teaspoon ground ginger
• 1⁄2 teaspoon salt
1. Preheat the oven to 375°F. Cut the sweet potatoes into 1 1⁄2-inch chunks, placing in a 2-quart baking dish as you cut.
2. In a small pan, melt the butter over low heat, then stir in the brown sugar, vanilla, cinnamon, ginger and salt.
3. Pour the butter mixture over the sweet potatoes in the baking dish, and stir and turn the pieces to coat.
4. Cover the pan with foil and bake for 1 hour, or until the potatoes are very tender when pierced with a knife. Let cool slightly before serving warm.
Sweet Potato and Parsnip Latkes
Latkes are crispy, fried potato pancakes often prepared as part of the Jewish holiday Hanukkah. This tasty variation calls for a duo of sweet root vegetables.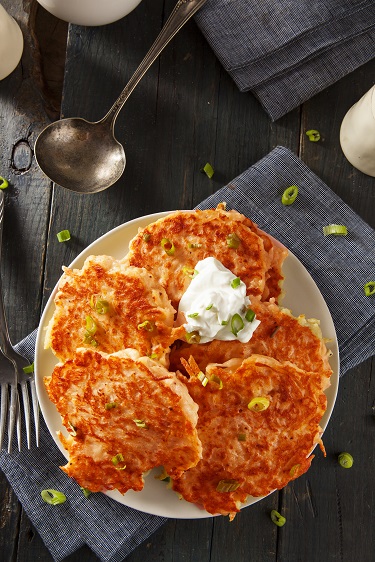 Serves: 12 (12 latkes). Total time: 30 to 40 minutes.
• 2 cups shredded sweet potatoes
• 1 cup shredded parsnips
• 3 scallions, sliced
• 2 eggs, beaten
• 1⁄3 cup flour
• 1⁄2 teaspoon salt
• 1⁄4 teaspoon black pepper
• Vegetable oil for frying
Topping
• 1⁄2 cup light sour cream
• 1 cup apple, peeled and minced
1. Peel the sweet potato and parsnip and shred using a grater or food processor. Wrap the shredded sweet potato and parsnip in a few paper towels and squeeze to remove excess liquid.
2. In a large bowl, mix the sweet potato and parsnip with the scallions, eggs, flour, salt and pepper.
3. Heat a large iron skillet over medium-high heat. Add enough vegetable oil to cover the bottom and come up the sides at least a quarter of an inch. When the oil is hot, scoop about 1⁄4 cup of latke mixture into the pan and slightly flatten. Repeat until the pan is full but not crowded. Brown the latkes on each side 3 to 4 minutes. Set aside on a plate lined with paper towels when done. While the latkes are cooking, stir together the sour cream and minced apple. Serve the apple sour cream on top of the warm latkes.
Spiced Sweet Potato Pie
The perfect finale to a holiday feast! Fans of pumpkin pie will love this Southern favorite made with sweet potatoes and garnished with pecans.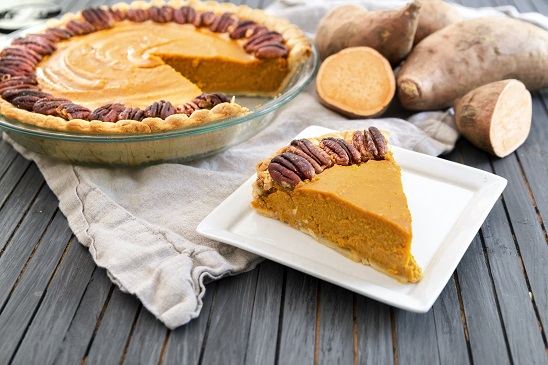 Serves: 8. Total time: 1 hour, 50 minutes.
• 1 1⁄2 pounds sweet potatoes
• 3⁄4 cup half and half
• 2 eggs
• 1⁄2 cup maple syrup
• 1⁄2 cup light brown sugar
• 1 teaspoon cinnamon
• 1⁄2 teaspoon allspice
• 1⁄2 teaspoon ginger
• 1⁄4 teaspoon nutmeg
• 1⁄4 teaspoon salt
• 1 pie shell, unbaked
• Roasted pecans for garnish (optional)
1. Preheat oven to 425°F. Bake the sweet potatoes, skin on, for 30 minutes. Remove the skin and purée. Measure 2 cups to use in the pie, reserving any leftover for another use.
2. Return the purée to the food processor and add the half and half, eggs, maple syrup, brown sugar, cinnamon, allspice, ginger, nutmeg and salt, and process until smooth.
3. Pour the sweet potato mixture into the pie shell and bake for 15 minutes, then reduce the heat to 350°F and bake for about 45 minutes longer. When the center of the pie is puffed and a paring knife inserted in the center of the pie comes out with no wet batter, remove it from the oven.
4. Cool the pie on a rack for at least 30 minutes before slicing.
Sweet Potato Maafe
A popular West African dish, maafe is a rich, hearty stew that you might serve during the celebration of Kwanzaa. This vegetarian version features the satisfying flavors of sweet potato in a spicy peanut and tomato sauce.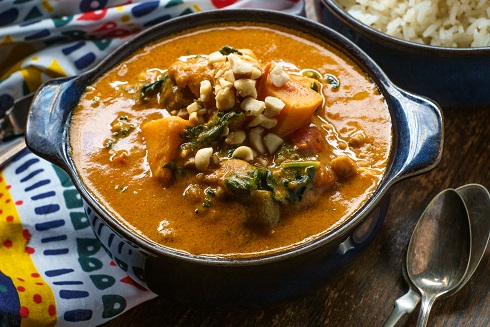 Serves: 6. Total time: 30 minutes.
• 1 tablespoon vegetable oil
• 1 large yellow onion, diced
• 3 cloves garlic, minced
• 1 to 2 teaspoons fresh ginger, minced (optional)
• 1⁄4 cup tomato paste
• 1 pound sweet potato, peeled and cubed
• 2 carrots, peeled and chopped
• 2 turnips (or other root vegetable), peeled and chopped
• 1⁄4 to 1⁄2 teaspoon red pepper flakes
• 2 cups vegetable stock or chicken stock
• 1⁄3 cup smooth, natural peanut butter
• 2 cups green cabbage, chopped
• Salt and pepper to taste
1. Heat the oil in a large pot over medium-high heat. Add the onion and sauté until it begins to soften, about 5 minutes. Stir in the minced garlic and
ginger, if using, and sauté for 1 to 2 minutes more. Stir in the tomato paste and cook for 1 to 2 minutes. Add sweet potato, carrot, turnip, stock and red pepper flakes and bring to a boil. Lower heat and simmer until the sweet potato, carrots and turnip begin to soften, about 10 minutes.
2. In a small bowl, whisk together the peanut butter with a little hot broth from the pot. Add the peanut butter mixture to the pot along with cabbage and stir to combine. Simmer for 5 minutes more or just until the cabbage has wilted and the other vegetables are cooked through. Add salt and pepper to taste, if needed, and serve hot.