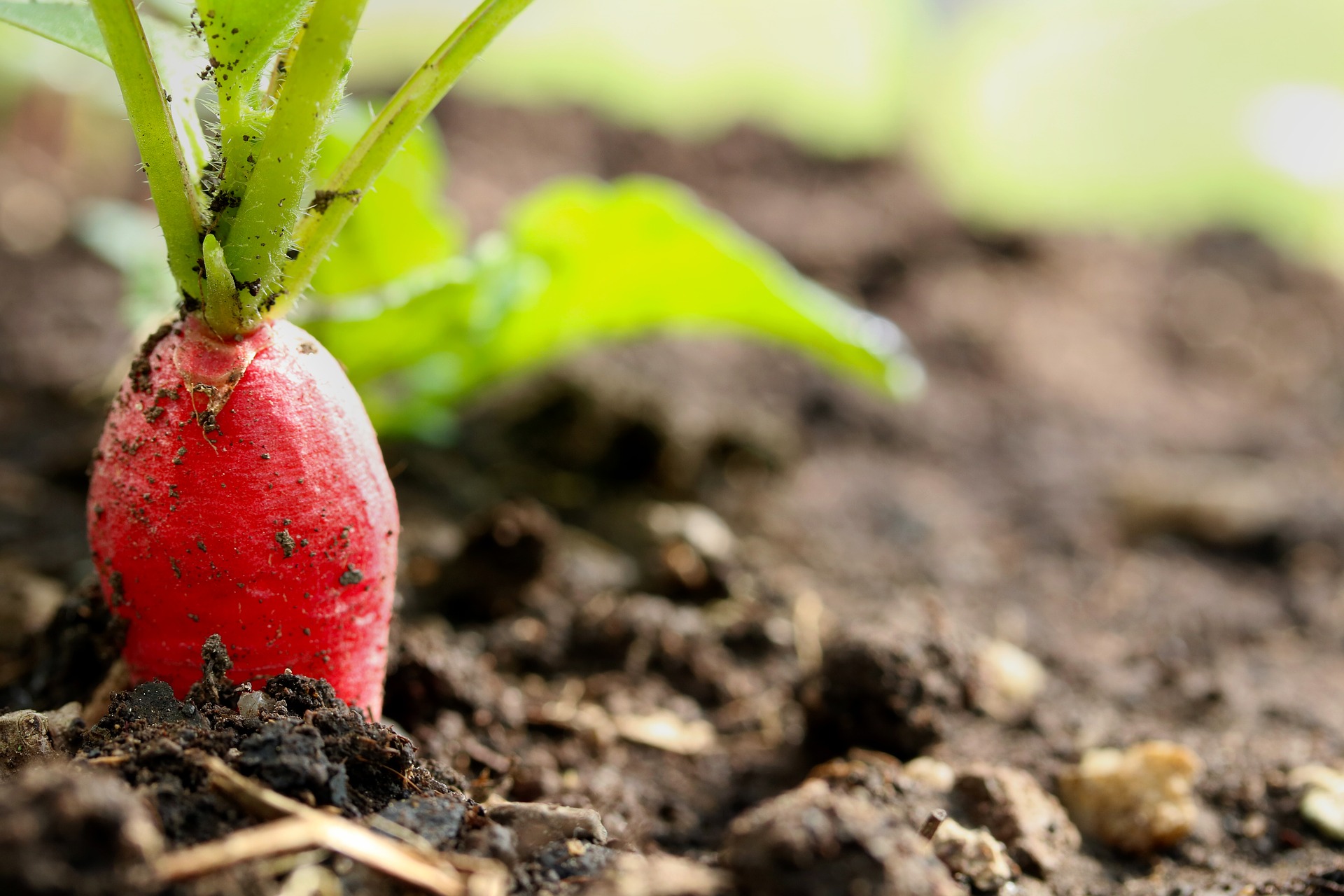 In Kentucky, we are just starting to see the first fruits of the local spring growing season. This time of year we have greens, asparagus, strawberries (soon) and one oft-overlooked and under-utilized vegetable, the radish.
Radishes offer a satisfying crunch when raw and a depth of flavor when cooked. They're a good source of vitamin C and fiber, contain folate and potassium, and also have anti-fungal properties.
When you think of radishes, you likely picture the small, spherical root vegetable with the ruby-colored skin and bright white center. This popular variety, the Cherry Belle, is what you commonly find in produce departments, on crudite trays, and sliced in salads and slaws. But there are many other types that can help your mission of putting the "rad" in radish including: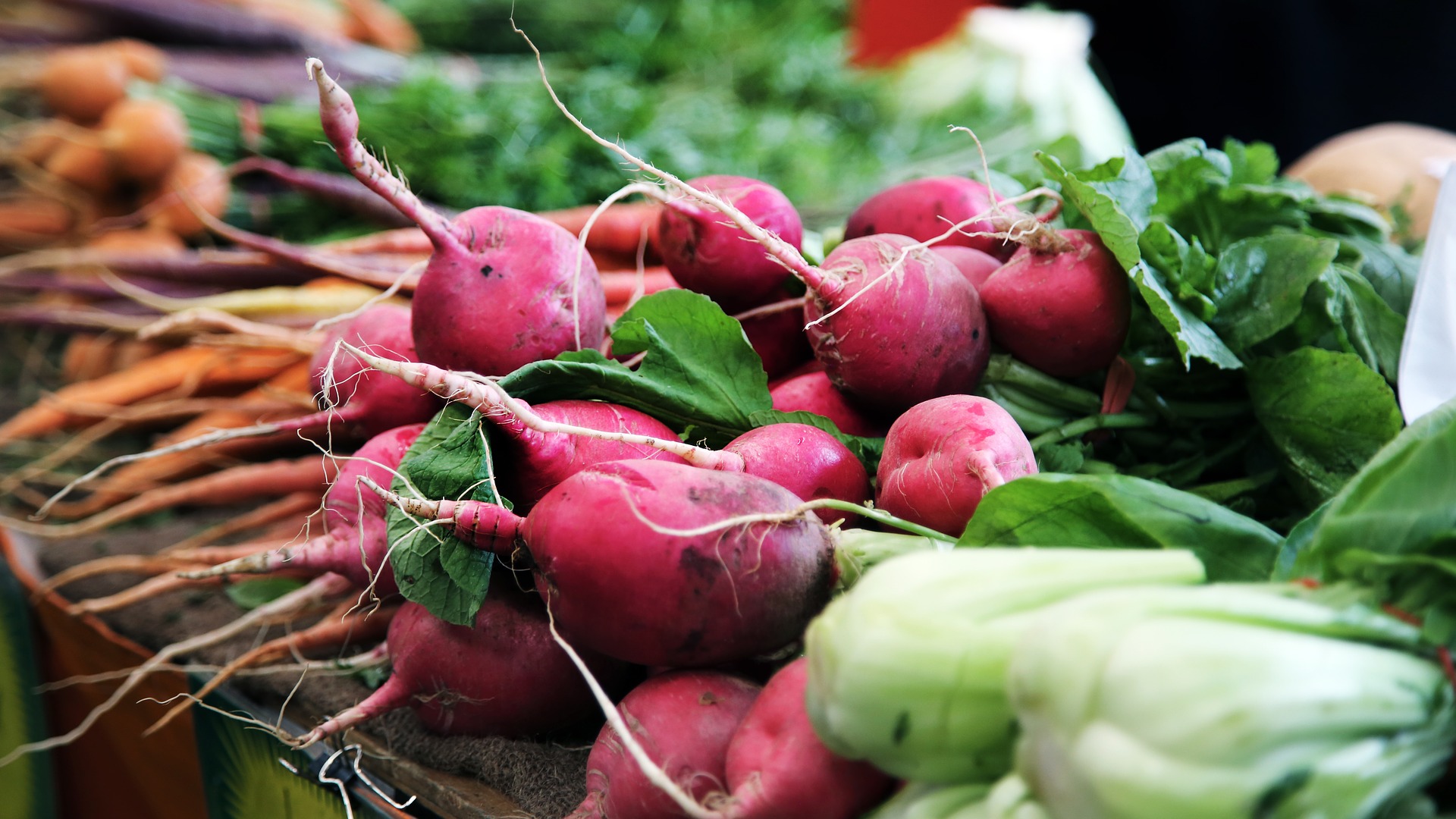 Watermelon – Adorable, aptly named for the way it resembles the summer fruit
Easter Egg – Various shapes and colors (purple, pink, red)
Daikon – Chinese radish, long and white, often cooked
French Breakfast – Smaller and oblong, mild, enjoyed raw or cooked
Black Spanish – Larger in size, black exterior, white flesh (1)
Despite their ubiquity, I've never quite known how to enjoy radishes beyond topping salads or as a vehicle for hummus. So I endeavored to experiment with this common vegetable and try some new-to-me preparations in the hopes I'd discover some new ways to enjoy this spring vegetable.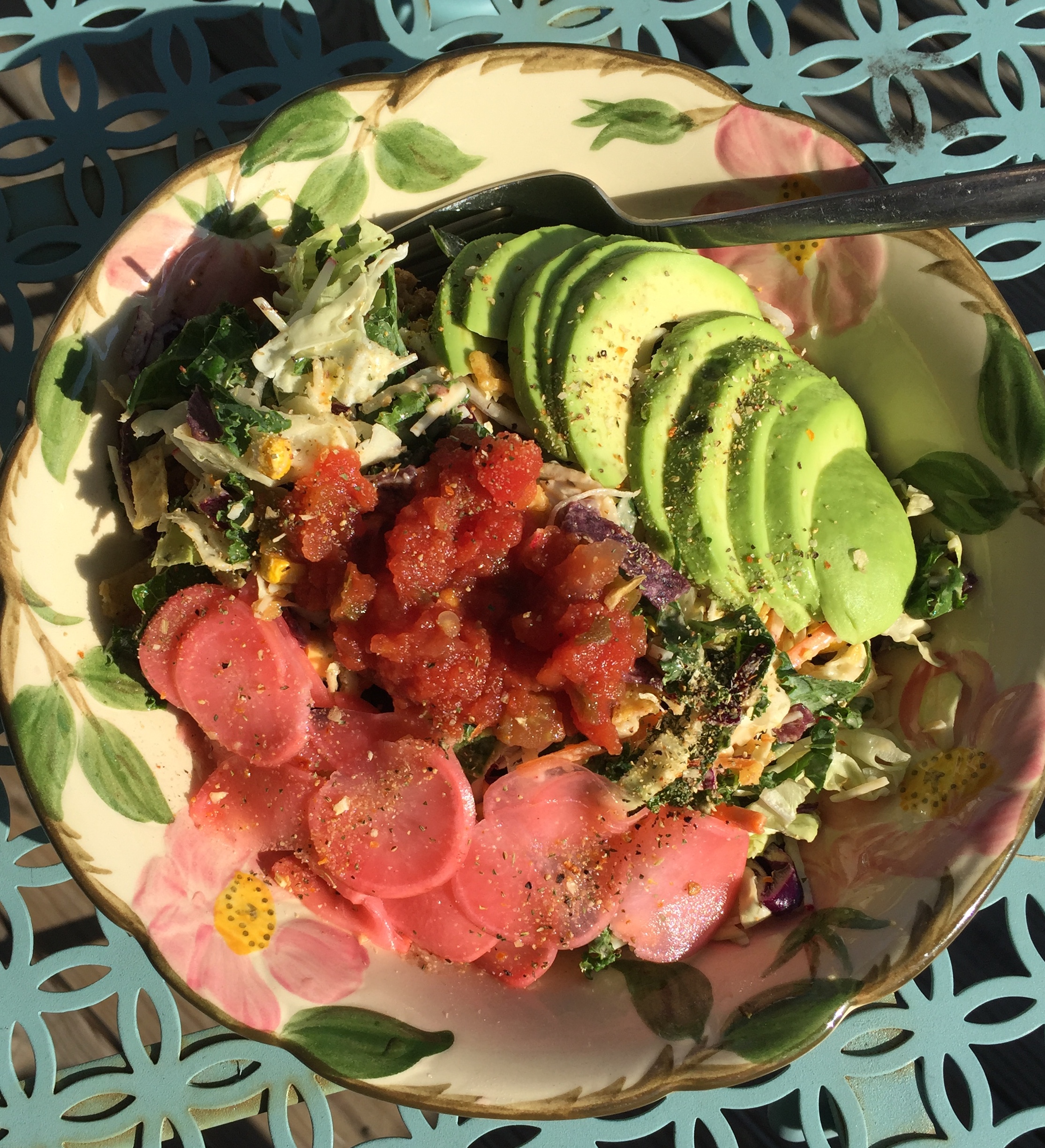 I love just about anything pickled, so putting the "rad" in radish with this recipe appealed to me right away. I thinly sliced several Cherry Belle radishes (6-7), enough to fill a half pint jar. I also added ¼ teaspoon mustard seed and a pinch of red pepper flake to amp up the flavors. I brought ½ cup white wine vinegar, ½ cup water, ½ teaspoon honey, and ½ teaspoon salt to a boil in a small saucepan. I poured the vinegar solution over my radishes and sealed the jar and allowed it to come to room temperature before refrigerating.
I tried the radishes along with the burrito bowl I made for dinner. I found the pickling process mellowed the sharpness of the radish out quite a bit, but brought out the more pungent radish flavors and actually the final product had a pretty funky aroma. But I'd read this was to be expected, so I was not alarmed. This preparation provided a really nice acid complement to my dish.
Roasted Black Radish
When in doubt, roast it, right? This is my usual approach to vegetables I am less familiar with and it works most of the time. This recipe actually turned out to be surprisingly delicious.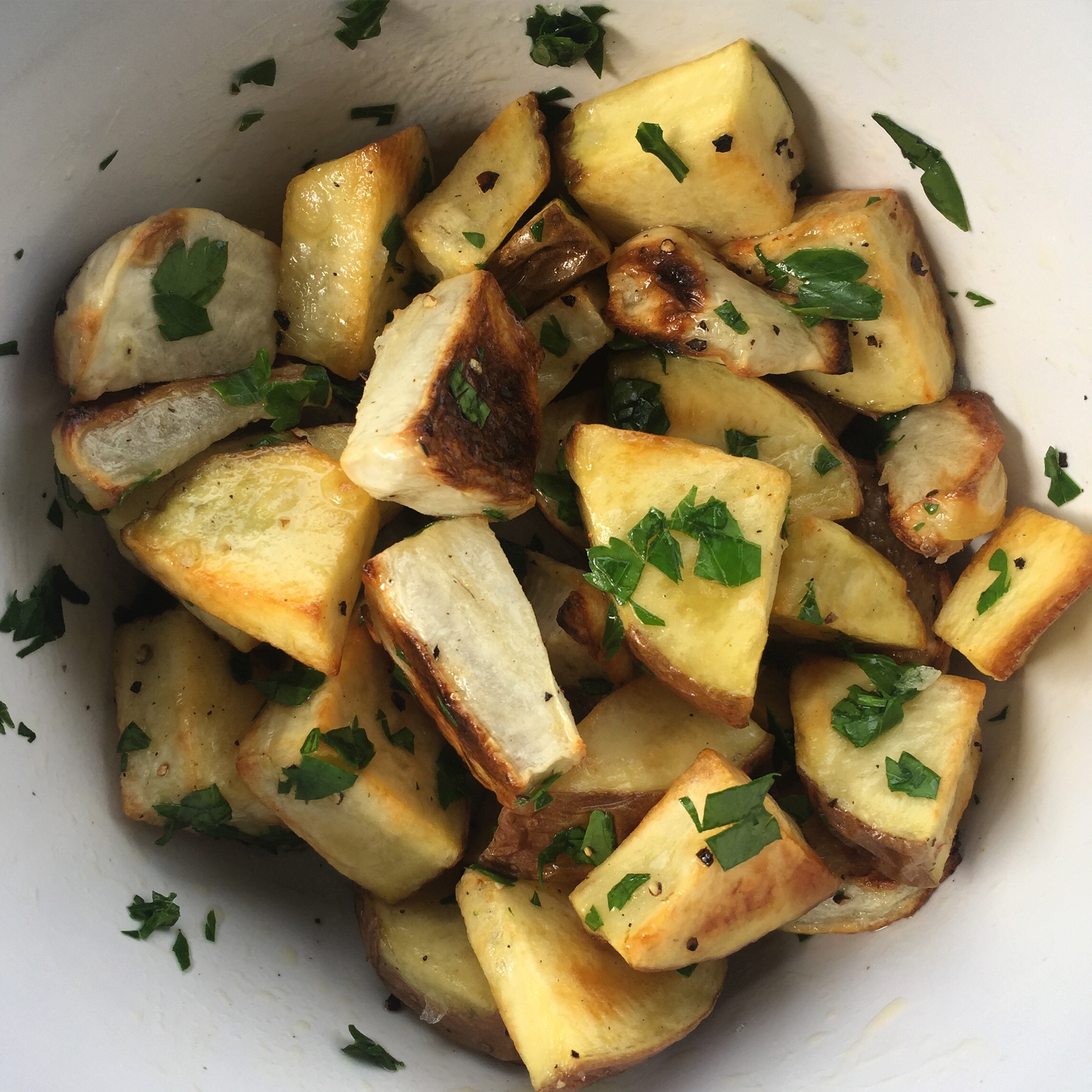 I peeled and cubed two Black Radishes and one large red-skinned potato and tossed with ½ tablespoon olive oil on a parchment-lined baking sheet. The skin of the radishes was pretty tough and not as easy to peel as I expected. I used my knife to skin the radishes, as the peeler was not doing the job. I roasted the vegetables for 25 minutes at 450 degrees, tossing halfway through.
They were nicely browned when I retrieved from the oven and I couldn't wait to try one of the radishes. Like when pickled, the radishes mellow a lot when cooked and their sweetness really comes to the forefront when roasted. They were much less starchy than the potato and even juicy when I took that first bite. I think next time I'll roast alone (no potato) and a bit longer, maybe 30-35 minutes. I finished the radishes with a pat of butter, a dash of vinegar, a sprinkle of fresh parsley, and a little flaky salt. Despite the fact that I used one of my go-to recipes, I'm glad to know that it could help me with putting the "rad" in radish.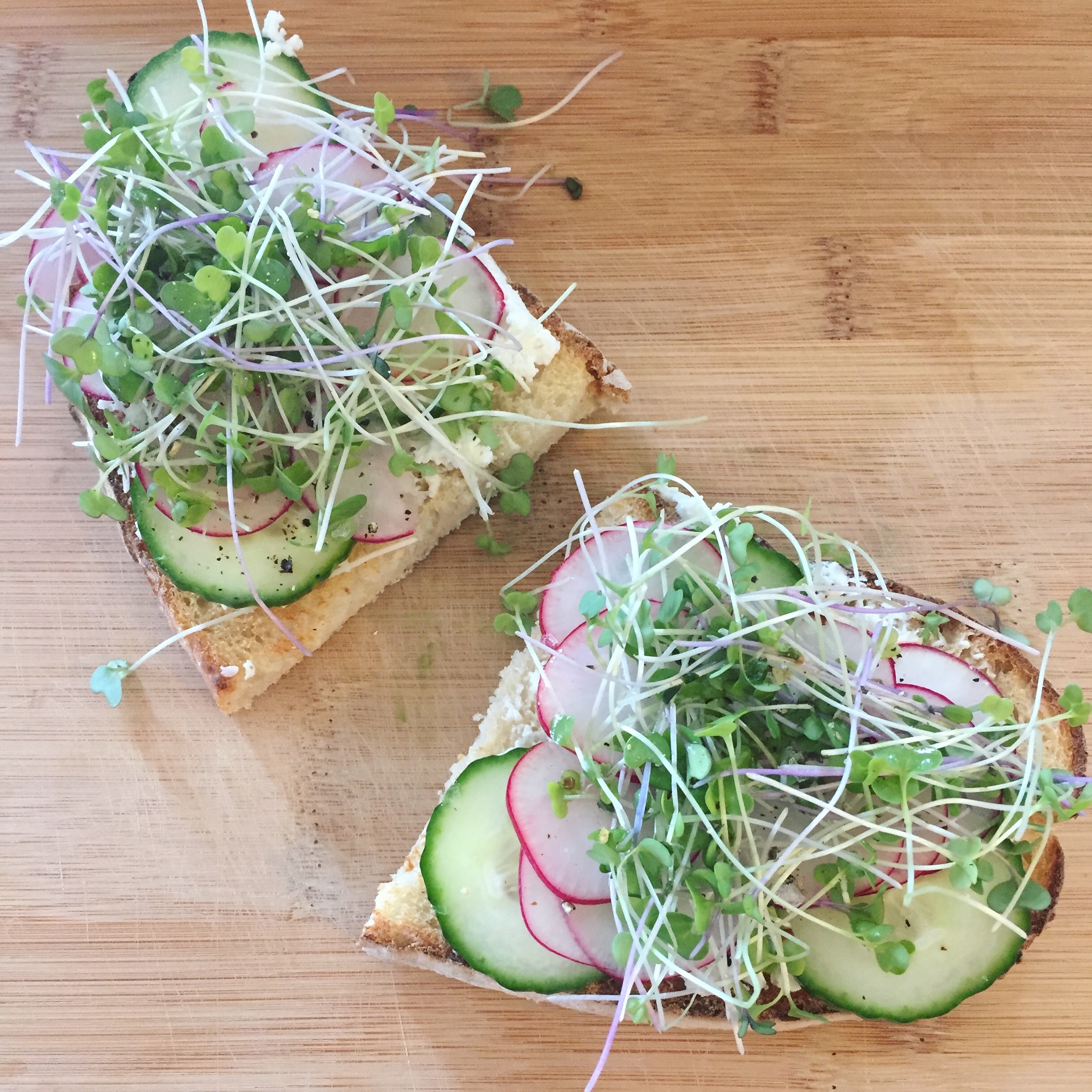 This recipe is just pretty and feels like something you'd order at a fancy brunch place. There is not a whole lot to it – you're basically arranging your fresh ingredients onto toast. Because it's simple and most of the components are raw, you'll want to make sure the freshness and quality are there.
I toasted a large slice of Sunrise Bakery sourdough under my broiler until golden. I smeared a soft goat cheese on top, added a few slices of cucumber and lots of thinly sliced radish. I arranged a nice little mound of Everae Gardens Micro Salad Mix atop the sliced vegetables and seasoned the whole shebang with cracked pepper, flaky salt, and a tiny squeeze of lemon.
The flavors together were complex, but balanced. If you aren't a fan of goat cheese, cream cheese or ricotta might also work nicely here.
I enjoyed taking time to experiment with a vegetable I hadn't really given a fair shake in the past, and now feel accomplished in my goal of putting the "rad" in radish. I encourage you, too, to try something new this spring and into the summer season where delicious and local fruits and vegetables abound.
1 Dyer MH. Varieties Of Radish: Guide To Different Types Of Radishes. Gardening Know How. https://www.gardeningknowhow.com/edible/vegetables/radish/types-of-radishes.htm. Accessed April 30, 2019.