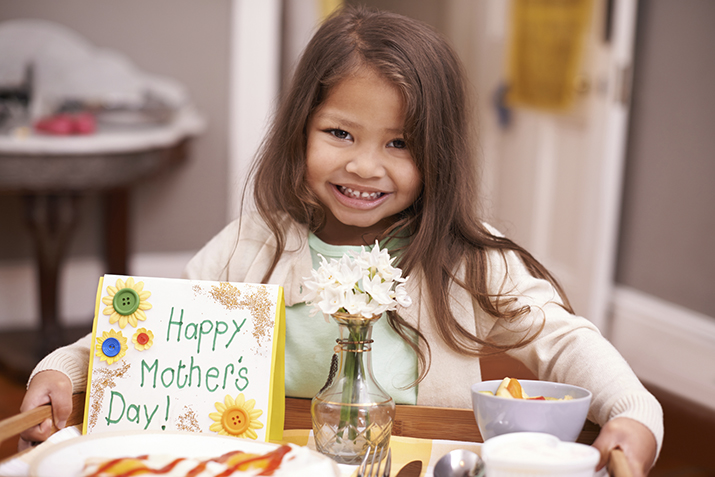 A favorite tradition for many families on Mother's Day involves the kids helping to make breakfast in bed for mom. From carefully-buttered toast to specially-shaped pancakes, it's the extra touches from the kids that make mom melt.
If you've done the same menu with the kids for years, perhaps it's time to teach them some new culinary skills and surprise mom with an elevated breakfast in bed. Here are some top recipes from StrongerTogether.coop that take your typical Mother's Day dishes to the next level.
Fancier French Toast: Apple Maple French Toast Bake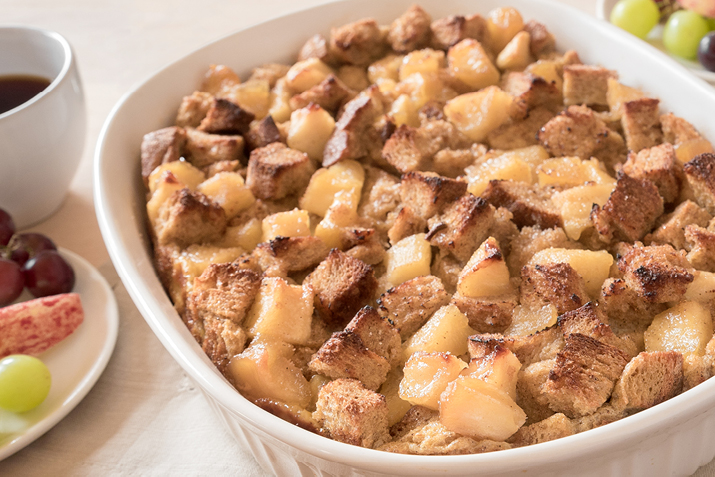 Total Time: 1 hour, 5 minutes; 20 minutes active
Servings: 8
This scrumptious, aromatic French toast bake is sure to delight. Assemble the night before, keep in the fridge overnight and bake off in the morning for a breakfast in bed you won't need to get up at dawn to make.
Ingredients
1 1/2 cups milk
5 eggs, beaten
1 teaspoon cinnamon, divided
1/4 teaspoon ground ginger
1/4 cup brown sugar
5 to 6 cups cubed whole grain bread
2 tablespoons butter
4 apples, peeled, cored and sliced
1/4 to 1/2 inch thick
1/4 cup maple syrup
Preparation
Heat the oven to 375°F. Oil or butter an 8 x 8 inch baking dish.
In a large mixing bowl, whisk together the milk, eggs, 1/2 teaspoon cinnamon, ginger and brown sugar. Add the bread and toss well. Set aside while you cook the apples, stirring once or twice to ensure the liquid soaks into the bread. Heat the butter in a skillet over medium heat. Add the apples and sauté for 5 to 7 minutes until they begin to soften. Sprinkle with remaining cinnamon and stir in maple syrup. Cook another few minutes, allowing the maple syrup to caramelize and coat the apples. Remove from the heat and allow to cool.
Gently stir the apples into the bread mixture and pour into the prepared baking dish. Bake for about 45 minutes until firm throughout. Serve warm with additional maple syrup if desired.
Serving Suggestion
This hearty breakfast bake is a great way to use up day-old bread. Avoiding gluten? Just substitute gluten-free bread. Maple-glazed pears or bananas are delicious instead of apples, too!
Nutritional Information
300 calories, 9 g. fat, 145 mg. cholesterol, 310 mg. sodium, 44 g. carbohydrate, 3 g. fiber, 11 g. protein
Prim & Proper: Swedish Pancakes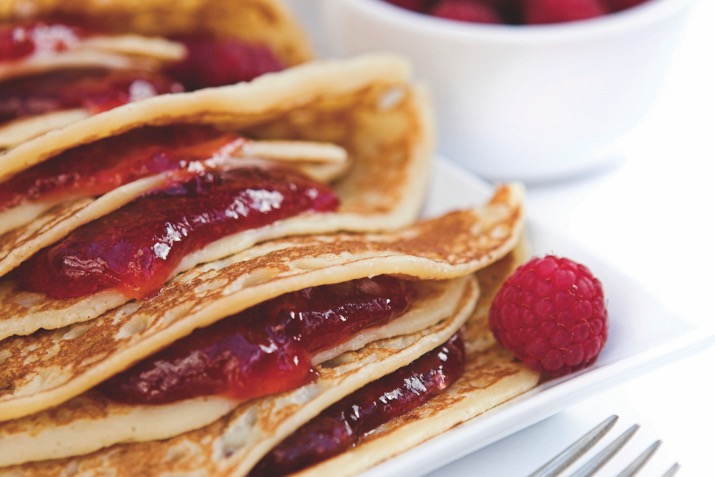 Total Time: 30 minutes
Servings: 12 pancakes
Top these scrumptious crepe-like pancakes with jam or whipped cream and chocolate shavings for a sweet breakfast in bed.
Ingredients
1/2 cup all-purpose flour
1/4 cup whole wheat flour
2 tablespoons sugar
1 teaspoon ground cardamom
Pinch of salt
1 cup milk
3 large eggs
5 tablespoons unsalted butter
1 14.5-ounce jar of fruit jam or preserves (lingonberry, raspberry or strawberry)
Preparation
Preheat oven to 200°F. Place a sheet pan in the oven so you can keep the finished pancakes warm as you prepare them.
In a food processor or blender, blend the flours, sugar, cardamom, salt, milk, eggs and 3 tablespoons of melted butter together until smooth. Set aside.
To prepare the pancakes, heat a griddle or skillet over medium heat. When it is hot, coat lightly with a half-teaspoon of butter, then add about 3 tablespoons of batter and spread it very thin to create a pancake about 6 inches in diameter. Cook the pancake for 1 minute or until lightly browned, then flip with a spatula and cook on the other side for another minute. Gently place the finished pancake on the sheet pan in the oven to keep it warm, and repeat the steps to cook the remaining pancakes. Spread each pancake with about 2 teaspoons of jam, then fold or roll it up and serve warm.
Serving Suggestion
These crepe-like pancakes are often eaten as a dessert and are so easy to customize! Top them with Chantilly whipped cream or a sprinkle of chocolate shavings and powdered sugar. Nearly any seasonal fresh fruit makes a fantastic filling, too; try sliced bananas with chocolate sauce.
Nutritional Information
329 calories, 11 g. fat, 129 mg. cholesterol, 105 mg. sodium, 45 g. carbohydrate, 1 g. fiber, 7 g. protein
Extra Special Eggs: Broccoli Cheddar Frittata
By: Robin Asbell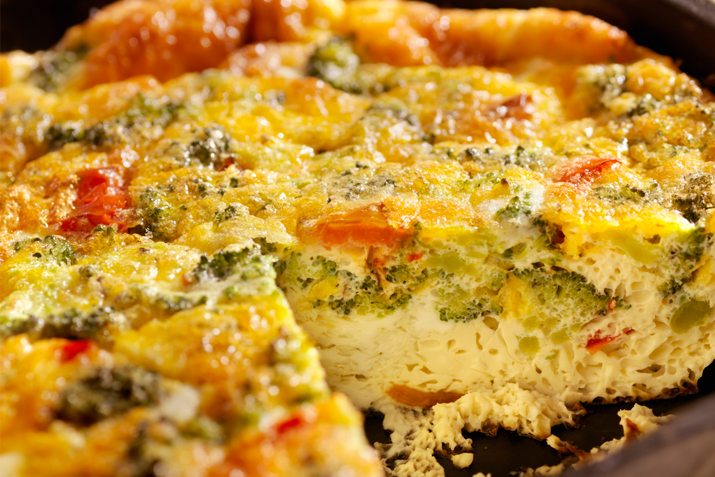 Total Time: 50 minutes total; 20 minutes active
Servings: 7
There is nothing quite as easy and versatile as a frittata, which is delicious for breakfast, lunch, or dinner, served hot or cold. It's a great make-ahead dish, too, slices are easy to pack in a lunch, or reheat in the microwave. Breakfast in bed with plenty of leftovers?! Bonus!
Ingredients
1 tablespoon extra virgin olive oil
3/4 cup chopped onion
2 cups broccoli florets, packed
1/2 cup red bell pepper, chopped
1/2 teaspoon dried thyme
1/2 teaspoon salt
1/2 teaspoon hot sauce
9 large eggs, lightly beaten
2 ounces sharp cheddar cheese, grated
Preparation
Preheat oven to 375 degrees F. Coat a pie pan with a teaspoon of the oil, then pour the remaining oil in a large sauté pan. Put the pan over high heat. Add onion and bell pepper, and when it sizzles, reduce heat to medium. Sauté until tender, then add the broccoli. Stir and cook for just a minute, the broccoli will be crisp-tender. Add the thyme, salt and hot sauce and stir. Remove from heat, and set aside.
In a medium bowl, whisk the eggs. Stir in the sautéed mixture, and half the grated cheese and transfer to the pie pan. Top with the remaining cheese. Bake for 30 minutes, or until golden and puffed. Serve warm, or chilled.
Nutritional Information
188 Calories, 12 g. fat, 280 mg. cholesterol, 347 mg. sodium, 8 g. carbohydrate, 2 g. fiber, 13 g. protein
Carb-Conscious: Eggs Baked in Avocado with Bacon
By: Robin Asbell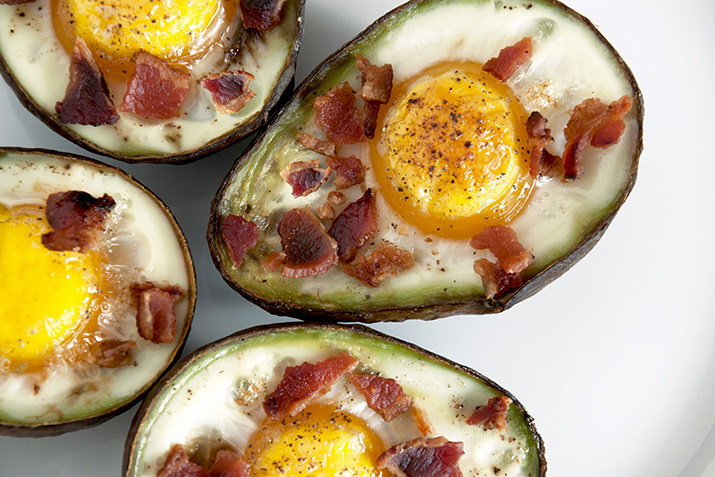 Total Time: 40 minutes; 15 minutes active
Servings: 4
Looking for a low-carb breakfast in bed for mom? Even Paleo moms will like this one. Vegetarians can skip the bacon, or use a meatless bacon to add a little smoky crunch. A baked avocado is a lovely surprise, creamy and warm, and a delicious complement to the egg. It's also great scooped up with toast!
Ingredients
1 slice bacon, cooked and crumbled
2 large avocados
4 large eggs
Salt and pepper
aluminum foil for the pan
Preparation
Preheat the oven to 400 F. Cook the bacon and reserve. In a loaf pan or a small casserole pan, use crumpled foil to create a stable base for the avocado halves. Slice the avocado and remove the pit, then spoon out about 2 tablespoons of the avocado flesh where the pit was to make the hollow large enough for the egg. Then skim a thin layer off the surface up to the rim formed by the skin.
Set the avocado halves in the pan on the aluminum foil, scrunching the foil to hold them level. Crack each egg and carefully slip into the avocado half. Sprinkle with salt and pepper, then bake for 25-30 minutes, until the whites are completely cooked and the yolk is at the desired level of firmness. Transfer to serving plates and sprinkle with crumbled bacon.
Serve immediately.