Co-written and developed by Bambu Allgaier and Kathryn Dickens, RDN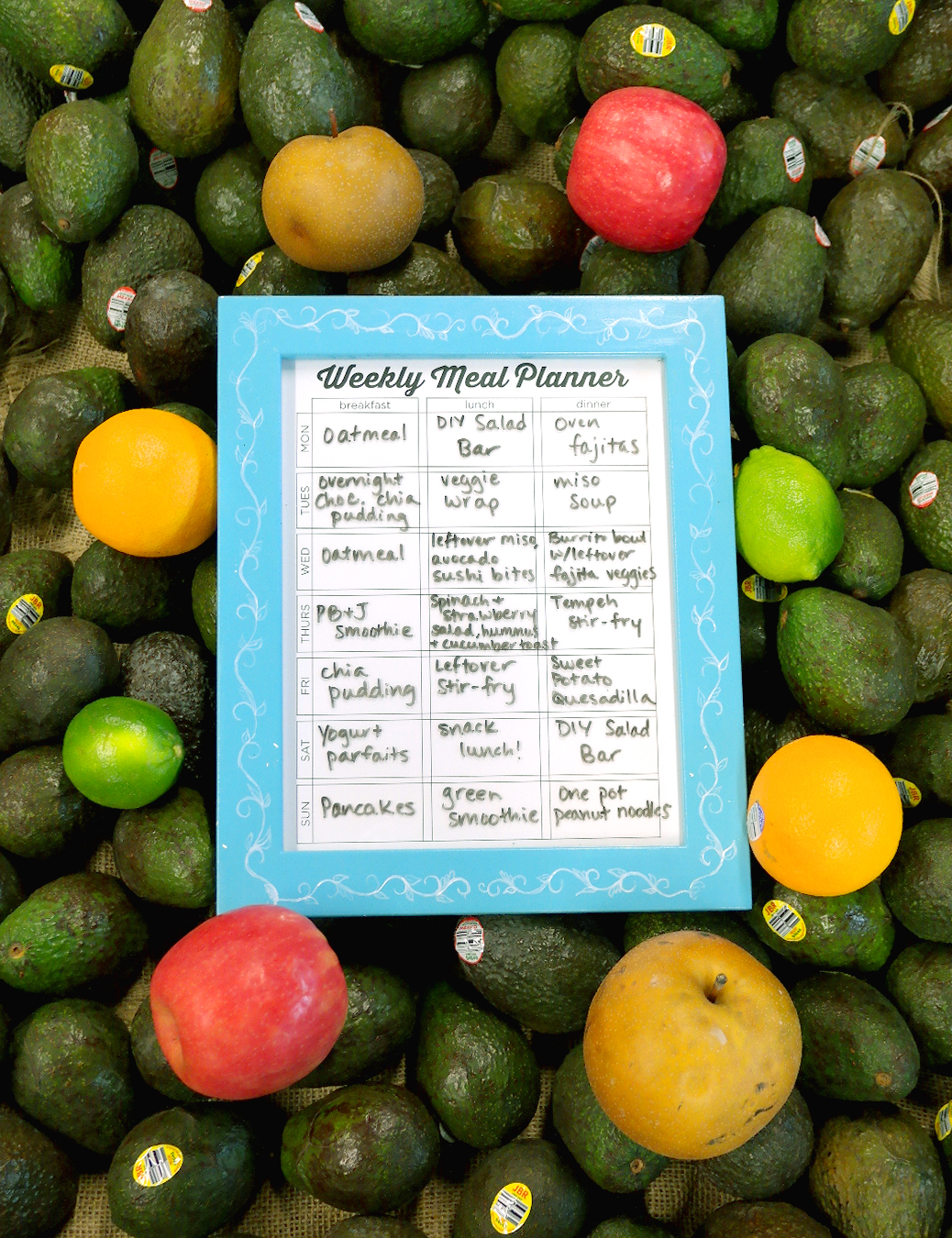 Have you ever felt that deciding what to cook for dinner is often more difficult than actually preparing the meal itself? Let us bear some of the mental load of meal planning for you this week! We have developed a plant-based meal plan with 21 easy meal suggestions, complete with a grocery list and instructions to help save you some time and effort.
This meal plan can be followed exactly or approached in whatever way makes sense to your preferences and needs. And if you're the crafty type, you can also make this DIY reusable meal planning guide. I promise, it's easier than you might think!
This meal planning DIY project is easy, customizable, cheap, reusable, cute and eco-friendly (I'm trying to see just how many adjectives I can fit in). Also, no more hunting down random scrap pieces of paper to write a grocery list on. Or is that just me? First up, you'll need a picture frame, preferably with a glass insert. Save yourself some moolah, and head over to ReStore for a frame. I snagged one for $1!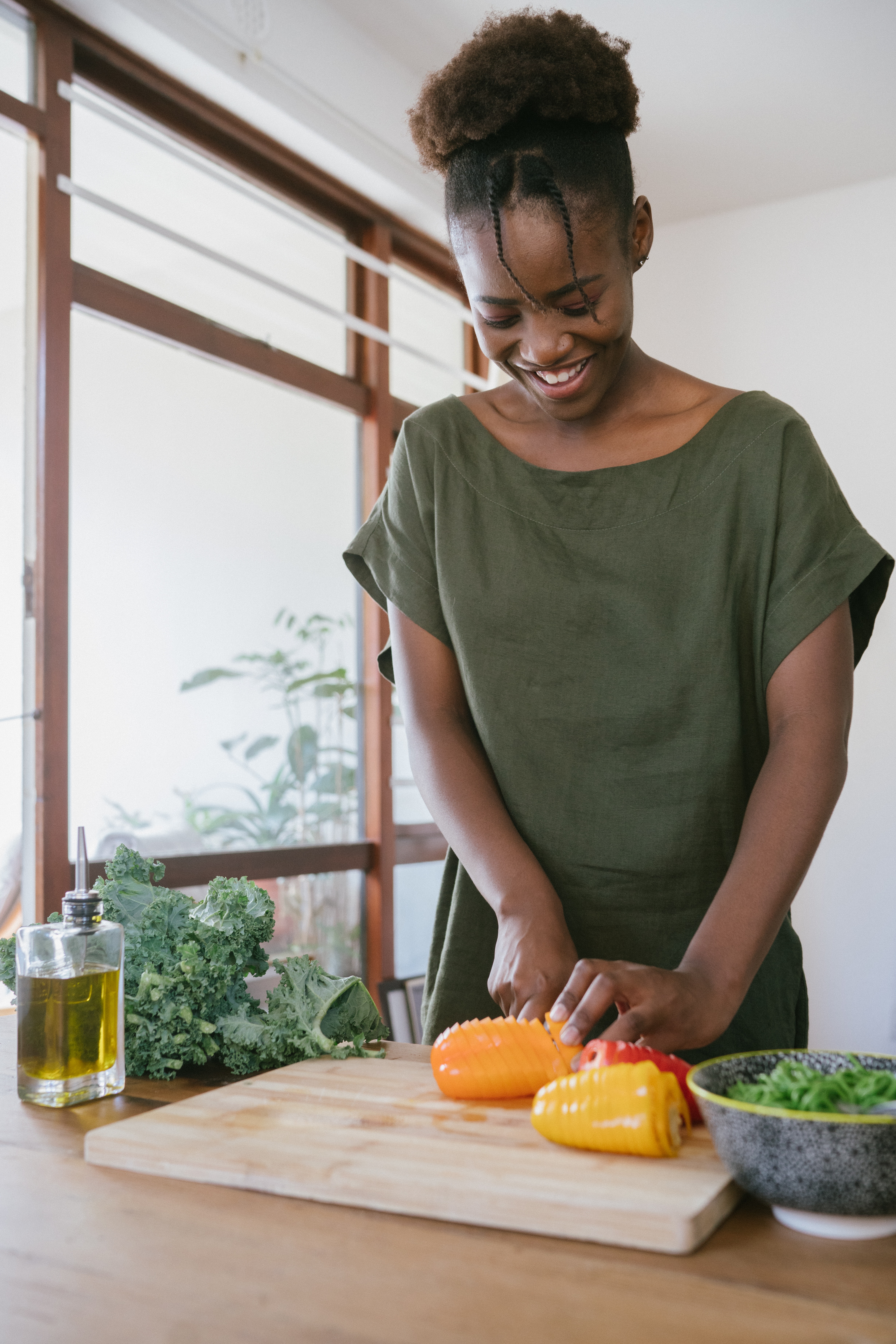 Next, decide how you would like to decorate it. You could leave the frame as is, of course, but then you'll miss out on the cool DIY factor! Give your frame a base coat, then start on your design.  It can be simple swirls, or more time-consuming winter squash, or even a variety of buttons glued on… whatever you want! Finish it off with a layer or two of Modge Podge to help protect the paint, and prevent scratches. Then print out the blank meal planning template of choice (vertical or horizontal), pop it in your frame and you are ready to go. A permanent or dry erase marker will work on a glass frame. The permanent marker can be wiped away with some cleaner, and is less likely to smudge. Voila, you're done!
Good Foods Tip: Don't want to take up precious counter space? Glue some magnets on the back of the frame, and keep it on the fridge.
Now it's time to do the shopping for the week. We have the shopping list broken down by department so that you can just wander and grab. The full-week meal planner shopping list might look a bit daunting at first glance, but remember, this is for breakfast, lunch and dinner, and you may already have several of the pantry items in stock at home. Need help shopping for your list? Pop in on a Wednesday and I (Kathryn) will show you the way! Reach me at 278-1813 ext. 232 to set up a time. 
Good Foods Co-op Plant-Based Meal Planning
(1 Week)
Breakfasts: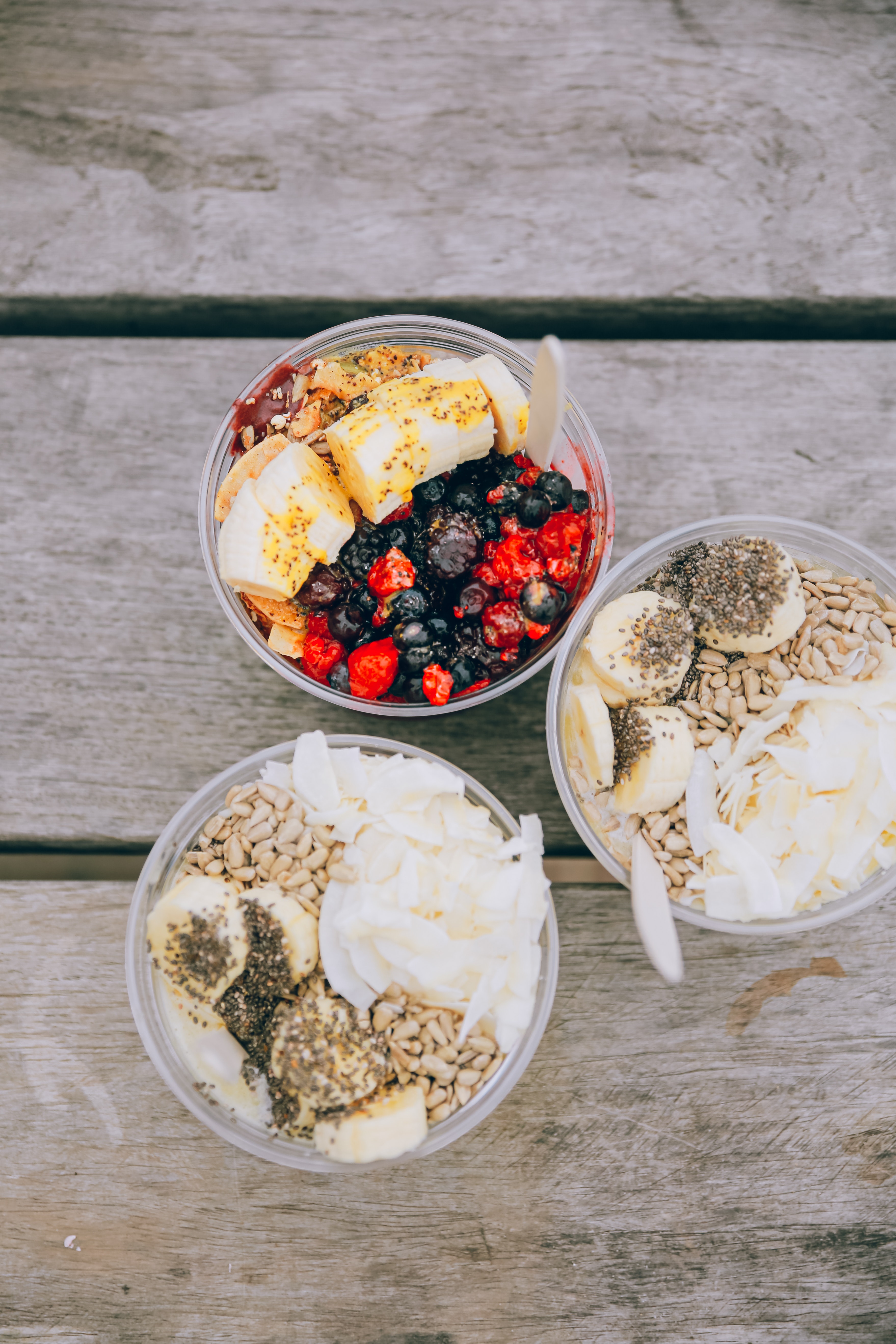 Oatmeal (Serves 2): 1 c rolled oats, 1 c milk of choice, 1 c water, ⅛ t salt, ¼ t cinnamon. In a medium saucepan, bring all ingredients to a steady simmer and cook until liquid is mostly absorbed. Divide in half and serve. Optional toppings: sliced banana, maple syrup, nut butter, fresh or dried fruit, seeds, nuts. 
Chocolate Chia Pudding from Minimalist Baker (Serves 4)
PB&J Smoothie (Serves 1-2): In a blender, combine 1 sliced, frozen banana, 4-5 strawberries, 1-2 dates (soaked overnight), 2 T peanut butter, ¾-1 c milk of choice.
Good Foods Tip: Blend the dates with ½ cup milk before adding the rest of the ingredients. 
Yogurt Parfaits (Serves 1): Layer unsweetened yogurt with fresh berries, seeds, shredded coconut, maple syrup or honey.
Good Foods Tip: Want a little extra sweetness, without adding maple syrup or honey? Mash up ¼ of a banana and mix it into your yogurt! 
Vegan Pancakes from Ambitious Kitchen (Serves 2-3)
Lunches: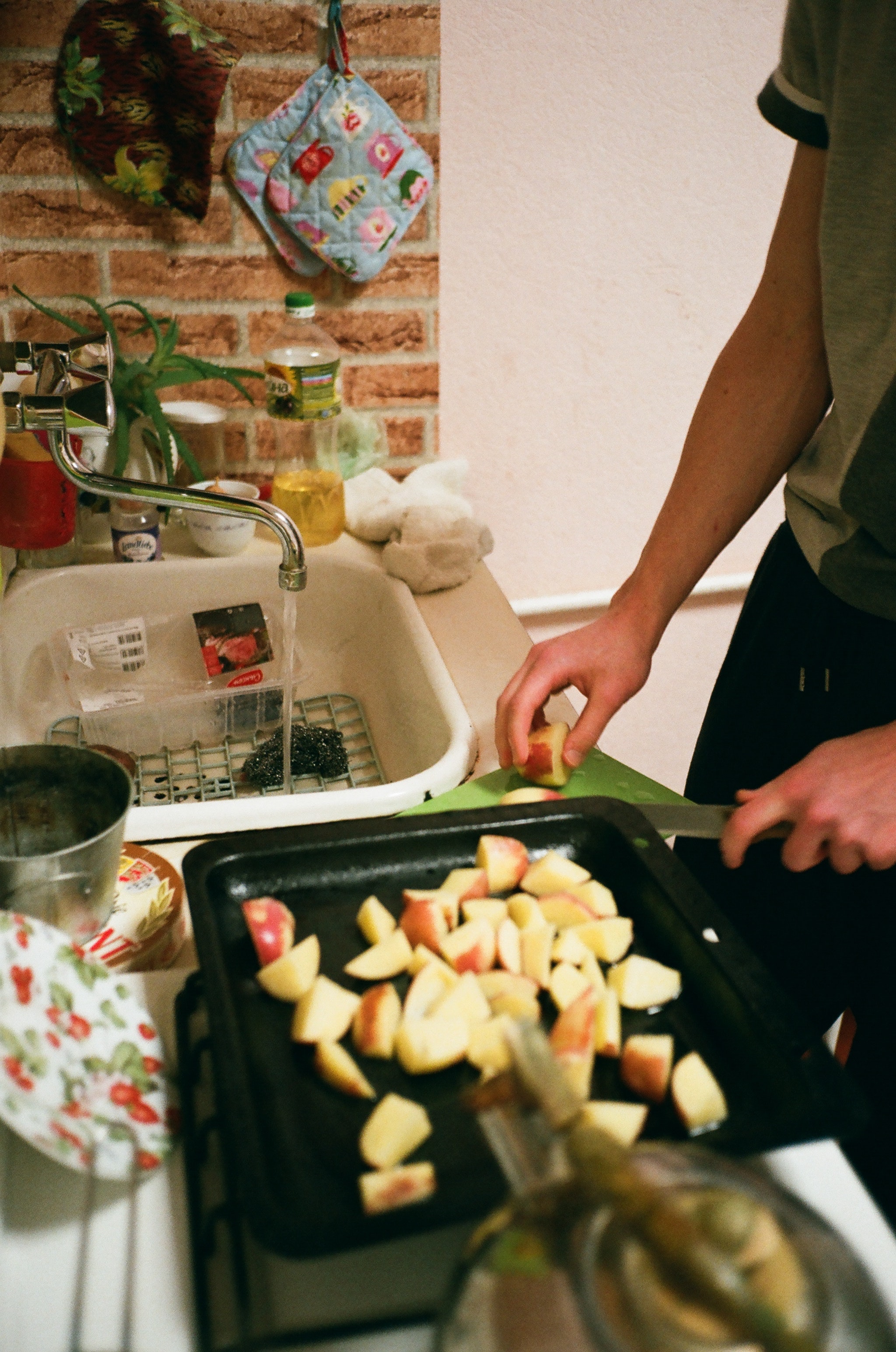 DIY Salad Bar (Serves 2): Combine romaine and spinach (chopped), 1 carrot (grated or thinly sliced), 1 rib celery (chopped), ½ can kidney or black beans (drained and rinsed), raisins, seeds of choice (sunflower, chia, sesame, hemp hearts), sliced almonds (toasted – optional), dressing of choice. Optional toppings: radishes, pickled beets, hard-boiled egg, olives, crumbled tofu, chopped cucumber. Dressing recommendation: Peanut Miso from Pinch of Yum
Roasted Veggie Sandwich (1 sandwich): Preheat oven to 400 F. Halve 1 zucchini crosswise and slice into 1-inch sticks, toss with olive oil, salt + pepper, and roast with sliced onion rings for 20-25 min. Spread 2 T hummus on toasted bread, layer on spinach leaves, roasted squash and onion, feta cheese and drizzle with balsamic vinegar. Add another slice of toasted bread, spread with hummus, on top.
Good Foods Tip: If you have a panini press, try grilling your veggies on it! No oil needed!
Avocado Sushi Bites from Shutterbean
Strawberry and Spinach Salad (Serves 1): Combine 2 c packed spinach, 4-5 sliced strawberries, sliced almonds, and balsamic vinaigrette*. Optional toppings: Chia seeds or sunflower seeds 
Hummus and Cucumber Toast (Serves 1): Top toasted whole grain bread with 1-2 T prepared hummus of choice, thinly sliced cucumber, toasted sesame seeds, light drizzle of sesame oil, and a sprinkle of coarse salt
Snack Lunch: Cheese and crackers, fresh veggies and hummus, fresh fruit, olives, pickled vegetables, roasted nuts. Choose your adventure!
Green Smoothie (Serves 1-2): In a blender, combine 1 cup milk of choice, ½ cup yogurt, half frozen banana, ½ cup frozen berries, 1-2 soaked dates, small handful fresh spinach, ½ T chia seeds.
Dinners:
Oven Fajitas adapted from Cookie and Kate (Serves 4) 
Miso Soup (Serves 4): Add 6 cups water and 1 large, cubed sweet potato to a pot. Bring to boil and let potatoes soften for approximately 10 minutes. Add sliced leeks, ½ bunch kale leaves, 1 can rinsed chickpeas, 1 package soba or udon noodles, splash liquid aminos, salt and pepper to pot. Simmer for 6-8 minutes until noodles are done. Remove from heat and add in 3-4 T miso or to taste.
Good Foods Tip: Throw the kale bunch in the freezer in a bag, it's super easy to pull the leaves off the stem when frozen. The leaves crumble up, negating the need to chop. Also a great way to store kale for smoothies!
Burrito Bowl (Serves 1): Layer cooked rice, kidney or black beans (from dry or canned – drained and rinsed), chopped romaine lettuce, leftover fajita veggies, salsa, avocado, and a squeeze of fresh lime in a small bowl or on a dinner plate. Optional toppings: radishes, cheese, sour cream, hot sauce.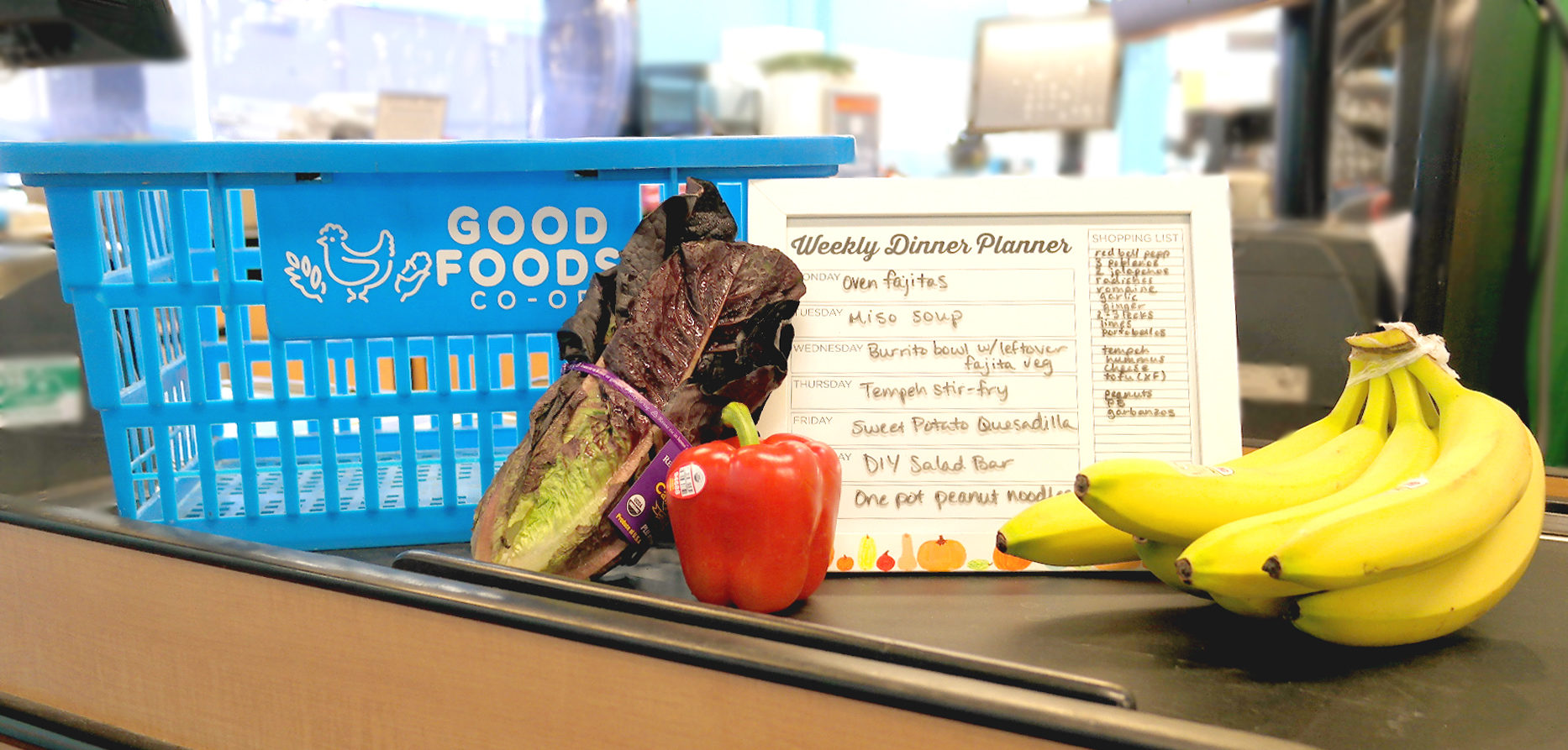 Tempeh Stir-Fry (Serves 2): Prepare your starch of choice (rice/quinoa/noodles). Heat 2 T olive oil over medium heat, add 1 package cubed tempeh, 1 sliced onion to pan on medium-high heat. Saute 4-5 minutes, until tempeh and onions are golden in color. Grate 1-inch knob fresh ginger over pan and add 4-5 cloves minced garlic. Saute for another 2 minutes. Add cayenne (to taste), 1 T sesame oil, 2 T liquid aminos and ½ bunch chopped kale leaves. Saute 4-5 minutes, until kale starts to wilt. Add 2 cups water and 1 T cornstarch. Turn heat down to medium-low and saute for another 5 minutes until sauce is slightly thickened. Serve over prepared rice, quinoa, or noodles. 
Sweet Potato Quesadilla from Don't Go Bacon My Heart (Serves 1-2)
One Pot Peanut Noodles from Vegan Richa (Serves 2) 
Weekly meal planning Shopping List
Produce
Pantry
Chill

2 apples

1 cup almonds, sliced (bulk)

Hummus, prepared

2 avocados

Apple cider vinegar (bulk)

Cheese of choice or nondairy sub

1 bunch ripe bananas (5-6)

Balsamic vinegar or dressing 

½ gallon milk of choice or substitute

5 whole carrots

2 cans black or kidney beans

1 container miso

1 bunch celery

1 can garbanzo beans (chickpeas)

Olives or other pickled vegetables (bulk)

1 English cucumber

1 loaf bread, whole grain

1 container salsa

1 bulb garlic

Chocolate chips

1 package tempeh

2 inch knob fresh ginger

Cocoa powder (bulk)

1 block extra firm tofu

1 bunch fresh kale

Coconut, shredded or flaked (bulk)

Yogurt (dairy or alt), unsweetened

3 limes

Cranberries or raisins, dried (bulk)

2-3 leeks

1 box crackers of choice

2 portobello mushrooms

Dates, small container (bulk)

Herbs and Spices

2 yellow onions, 1 red onion, 1 bunch green onions

Liquid aminos

Baking powder

2 jalapeno peppers

8 oz maple syrup (bulk)

Cayenne

3 poblano peppers

1 cup oats, rolled (bulk)

Chile powder

1 red bell pepper

1 cup peanuts (bulk)

Cinnamon

Small package radishes

8 oz peanut (or almond) butter (bulk)

Coriander (dried and 1 bunch fresh [cilantro])

1 large head romaine

1 cup brown rice or quinoa (bulk)

Cornstarch

3 large sweet potatoes

2 packs seaweed snack sheets

Cumin

6 cups baby spinach

1 cup seeds of choice (sunflower, pumpkin, hemp); a

t least ½ c chia ¼ c sesame (bulk)

Hot sauce of choice

1 quart fresh strawberries

Sesame oil (toasted)

Paprika

2 medium zucchini

1 package soba or udon noodles

Vanilla extract

1 package tortillas, whole wheat or corn