Article provided by Alive Publishing Group. You can find more great articles anytime on alive Connect, or grab a copy of the latest printed issue of alive Magazine next time you're in Good Foods Co-op. It's free!
Let's get back to basics: how's your pantry looking? A well-stocked pantry can be your best friend and maybe even the spark you need to inspire your meal prep during the cold winter months. In 2021, we're focusing on shelf-stable, essential dried ingredients for healthy meals such as these.
Spicy Chickpea and Cauliflower Soup
SERVES 6
This is arguably one of the most comforting winter soups to savor. It's simple to make and full of flavor—practically a meal in a bowl.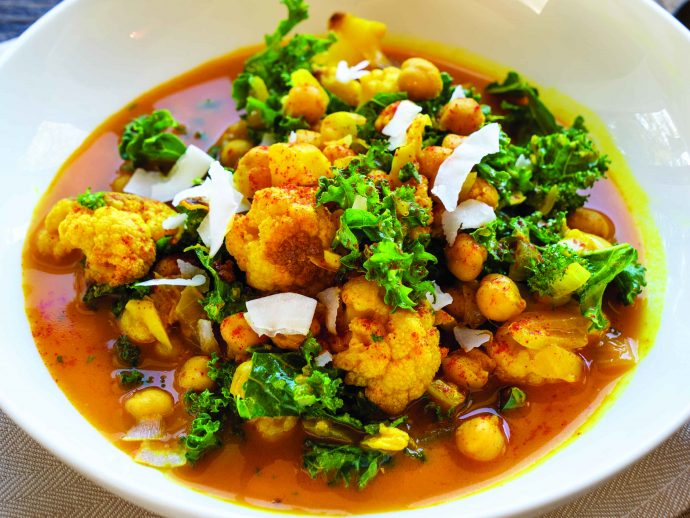 Ingredients
2 cups (500 mL) bite-sized cauliflower florets
3 Tbsp (45 mL) melted coconut oil, divided
3 in (8 cm) cinnamon stick
1 Tbsp (15 mL) ground turmeric
2 tsp (10 mL) grated gingerroot
1 tsp (5 mL) smoked paprika, plus extra
1/4 tsp (1 mL) freshly grated nutmeg
1 large sweet onion, peeled and finely diced
2 garlic cloves, smashed and minced
1/2 tsp (2 mL) kosher salt
2 cups (500 mL) vegetable stock or water
14 oz (398 mL) can full-fat coconut milk
19 oz (540 mL) can chickpeas, rinsed and drained
2 cups (500 mL) slivered Swiss chard or kale
1/4 cup (60 mL) toasted pepitas (pumpkin seeds) or flaked coconut (optional)
Method
Preheat oven to 400° F (200 C). Place baking sheet in oven to preheat. Toss cauliflower florets with 1 Tbsp (15 mL) coconut oil. Tumble onto preheated baking sheet and roast in oven for 25 to 30 minutes, until cauliflower is tender and golden tinged on edges. Remove baking sheet with roasted cauliflower to a rack and set aside.
Meanwhile, in large, heavy stockpot, heat 2 Tbsp (30 mL) coconut oil. Add cinnamon stick and seasonings. Stir to blend and cook over medium heat for 1 to 2 minutes, or until fragrant. Add onion, garlic, and salt. Stir to coat. Cook over medium heat until onion begins to slightly caramelize. Add a splash of water if pot becomes dry.
Add vegetable stock or water, coconut milk, and chickpeas. Bring to a boil. Reduce heat and simmer, covered, for 10 to 15 minutes for flavors to blend. Remove cinnamon stick and discard. Stir in roasted cauliflower, reserving a few pieces for garnish. Heat through.
For a creamy broth, use a stick blender and, leaving some whole chickpeas and cauliflower florets aside, pulse soup a few times. Stir in Swiss chard until wilted. Add more seasonings to taste, if you wish.
Ladle soup into bowls and scatter with remaining roasted cauliflower and chickpeas. Sprinkle with a little extra smoked paprika, and serve.
Each serving contains: 349 calories; 9 g protein; 26 g total fat (20 g sat. fat, 0 g trans fat); 24 g total carbohydrates (9 g sugars, 5 g fiber); 603 mg sodium
Warm Apple and Walnut Couscous Bowl with Miso Dressing
SERVES 6
This salad is amazingly versatile—and delicious.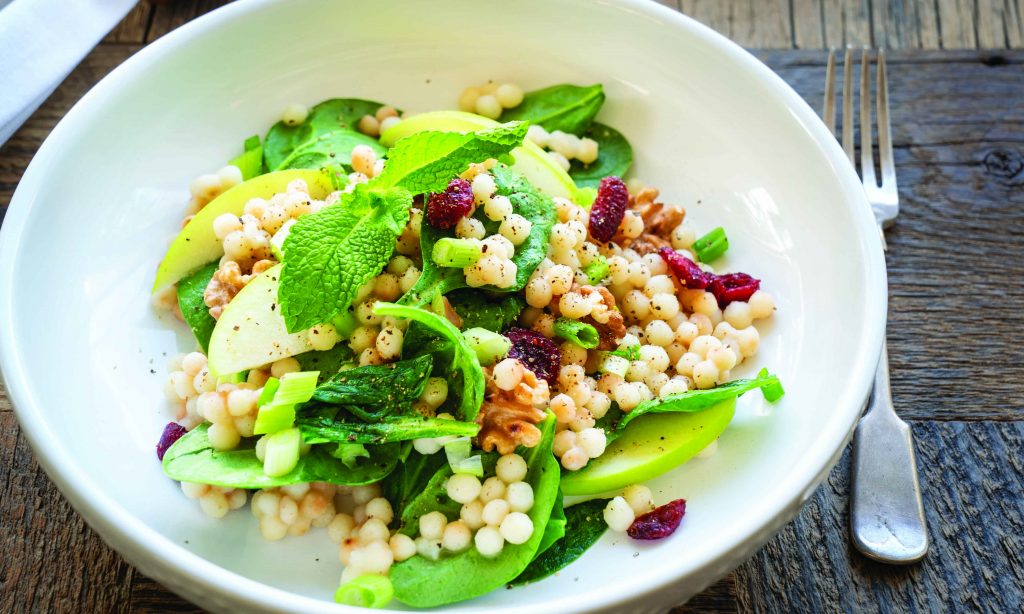 Ingredients
4 Tbsp (60 mL) olive oil, divided
1 1/3 cups (330 mL) pearl couscous
2 cups (500 mL) water
2 cups (500 mL) packed baby spinach, coarsely chopped
2 Tbsp (30 mL) apple cider vinegar
2 tsp (10 mL) maple syrup
1 tsp (5 mL) blonde miso paste
1/4 tsp (1 mL) salt
2 Granny Smith apples, unpeeled, cored, and thinly sliced into wedges
1/4 cup (60 mL) dried cranberries
1/3 cup (80 mL) walnut halves, lightly toasted
4 whole green onions, thinly sliced
Generous sprigs of fresh mint, thinly sliced
Method
In medium saucepan, heat 1 Tbsp (15 mL) oil over medium-high heat. Add couscous and stir until golden, about 4 to 5 minutes. Add water and a pinch of salt, being careful as it will splatter. Bring to a boil, then reduce heat to simmer. Cover and gently cook on low heat until couscous is just tender and liquid is absorbed, about 9 or 10 minutes. Remove from heat. Fold in spinach, stirring until wilted. Set aside, uncovered.
In blender, combine remaining 3 Tbsp (45 mL) oil, vinegar, maple syrup, miso, and salt. Whirl until creamy. Whirl in a little water until dressing is pourable to your liking.
To serve, place a scoop of couscous and spinach in bowl. Arrange apple slices, cranberries, and walnut halves on top. Drizzle with dressing and scatter with green onions and mint.
Each serving contains: 298 calories; 6 g protein; 13 g total fat (2 g sat. fat, 0 g trans fat); 39 g total carbohydrates (7 g sugars, 4 g fiber); 146 mg sodium
Delicious Mini Zesty Date Cakes
MAKES 12 LITTLE CAKES
The beauty of this sweet little treat is that it's a recipe you can make from a well-stocked pantry.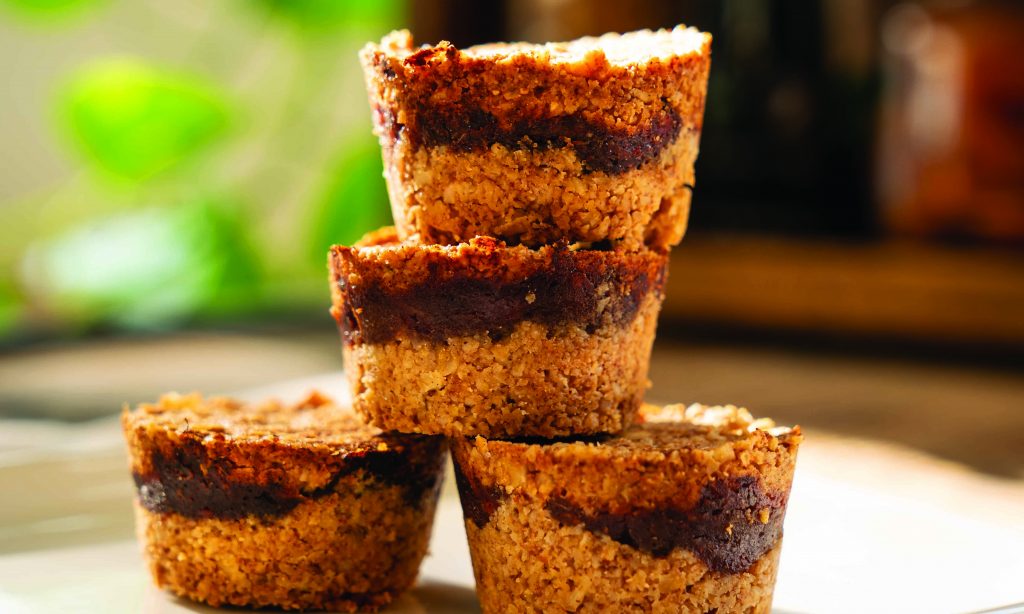 Ingredients
Zesty date filling:
1 cup (250 mL) pitted Medjool dates
1/3 cup (80 mL) water
1/2 tsp (2 mL) finely grated orange zest
Generous pinch of salt (optional)
Cookie crumble:
3/4 cup (180 mL) almond flour
3/4 cup (180 mL) oats
1 1/2 Tbsp (22 mL) coconut or raw sugar
1/2 tsp (2 mL) baking powder
1/2 tsp (2 mL) ground cinnamon
1/4 tsp (1 mL) salt
3 Tbsp (45 mL) coconut oil
3 Tbsp (45 mL) almond butter
Method
In small saucepan, combine dates and water. Cover and bring to a boil. Remove lid and reduce heat to low. Mash dates with fork or potato masher. Add 1 Tbsp (15 mL) more water if needed. Continue to mash and stir until very thick and spreadable paste forms, about 5 to 10 minutes. You should have about 3/4 cup (180 mL). Remove pan from heat, stir in orange zest and pinch of salt, if using. Set aside to cool.
Preheat oven to 350° F (180 C). Lightly grease 12-cup silicone mini muffin pan. Place pan on sturdy baking sheet.
In food processor fitted with metal blade, combine almond flour, oats, sugar, baking powder, cinnamon, and salt. Pulse until crumbly. Add coconut oil and almond butter. Pulse until mixture begins to hold together. If too crumbly, add 1 Tbsp (15 mL) water and continue whirling. Mixture should be like a dense cookie dough. You should have about 1 1/4 cups (310 mL).
Taking half the cookie crumble dough, press equal amounts into bottom of each muffin cup. Gently press down to firmly pack. Divide date paste equally among cups and smooth out to evenly cover bottom layer of dough. Divide remaining dough among cups, evenly covering date paste. Gently pat down.
Place baking sheet with silicone muffin pan in center of preheated oven. Bake for 18 to 20 minutes, or until tops of cakes are relatively crisp. Remove tray and place on rack to cool. Cool silicone muffin pan completely before attempting to remove date cakes.
Each serving contains: 159 calories; 4 g protein; 7 g total fat (1 g sat. fat, 0 g trans fat); 23 g total carbohydrates (15 g sugars, 2 g fiber); 64 mg sodium