Fresh, homemade breads not only warm up your home with their enticing aromas, they also surely soothe the soul as only carbs can. Making your own bread at home allows you to customize the ingredients and flavors to your tastes while also leaving the stabilizers and preservatives often necessary for shelf-stable loaves out of the mix. You can even recruit the kids to help while learning some kitchen skills! So while the weather is still chilly, enjoy the comfort of these homemade breads with a pot of soup, or simply fresh-out-of-the-oven with a little European butter—nothing is better!
The following recipes are from Co+op: Welcome to the Table. Find plenty more recipes and meal inspiration at welcometothetable.coop.
Slow-Cooker Whole Wheat Bread
Servings: 10 slices (1 loaf). Prep time: 3 hours, 30 minutes; 20 minutes active.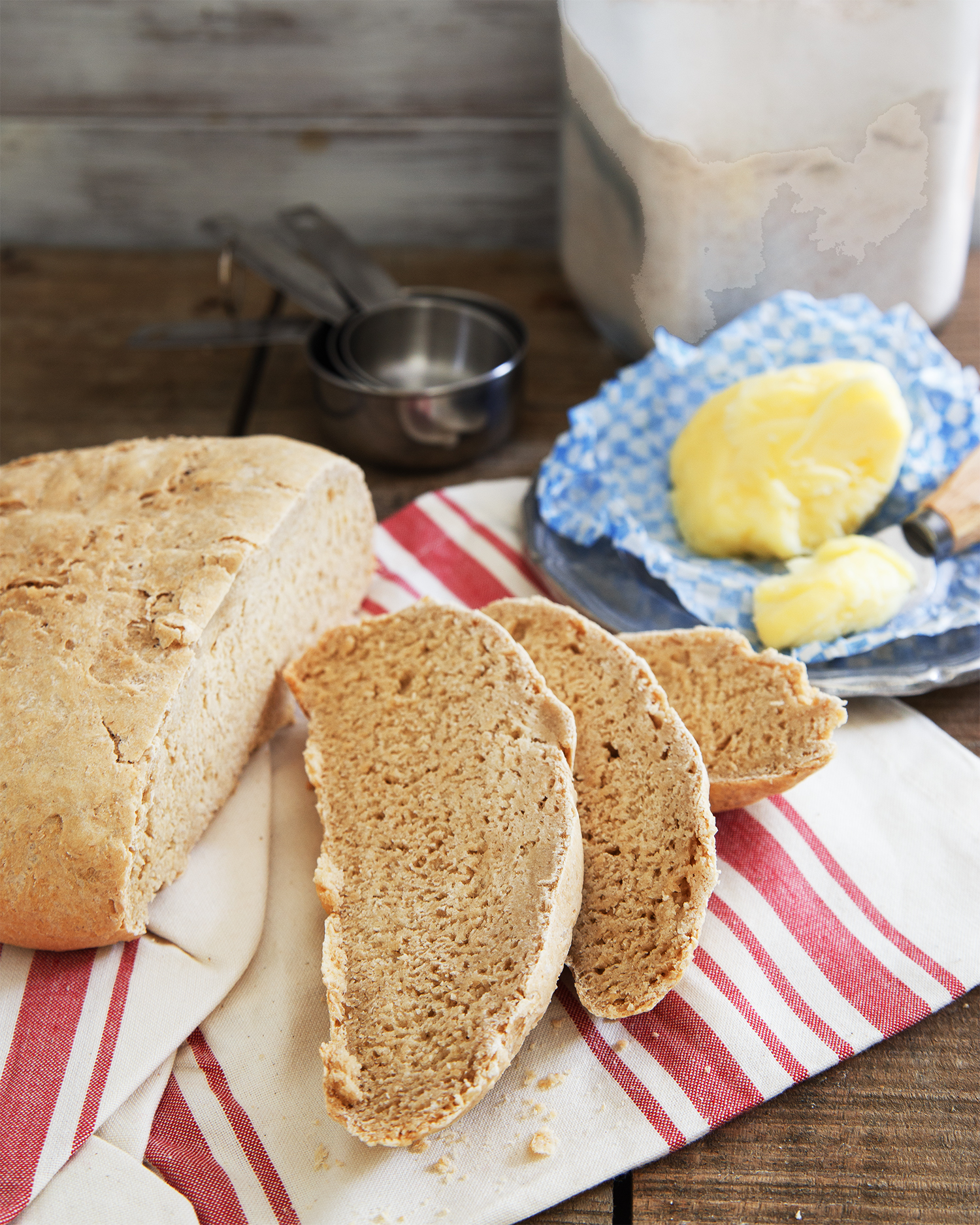 Ingredients
1 1 ⁄2 cups lukewarm water
1 ⁄2 teaspoon instant dry yeast
1 tablespoon honey
2 cups whole wheat flour
2 cups unbleached flour
1 teaspoon salt

Method
1. Place a piece of parchment paper in the cooker, covering the bottom and at least part way up the sides.
2. In a large bowl, stir the water, yeast and honey. Let the yeast bubble a bit; it should be foamy in about 5 minutes. Add the flours and salt and stir with a wooden spoon until the dough is stiff, then switch to kneading with your hand. In the bowl or on a lightly floured counter, knead the dough for about 5 minutes.
3. Form the dough into a round ball and place in the slow cooker on the parchment paper. Cover and let stand for 1 hour to rise.
4. Turn the cooker on high and cook for 2 hours. Use an instant-read thermometer to test the temperature of the middle of the loaf; it is baked through at 180-200°F. If the loaf has not reached that temperature, cover and cook for another 15 minutes, until it reaches 180°F.
5. Use the parchment to lift the finished loaf out of the cooker, and cool on a rack.
Irish Soda Bread
Servings: 12 slices (1 loaf). Prep time: 1 hour; 20 minutes active.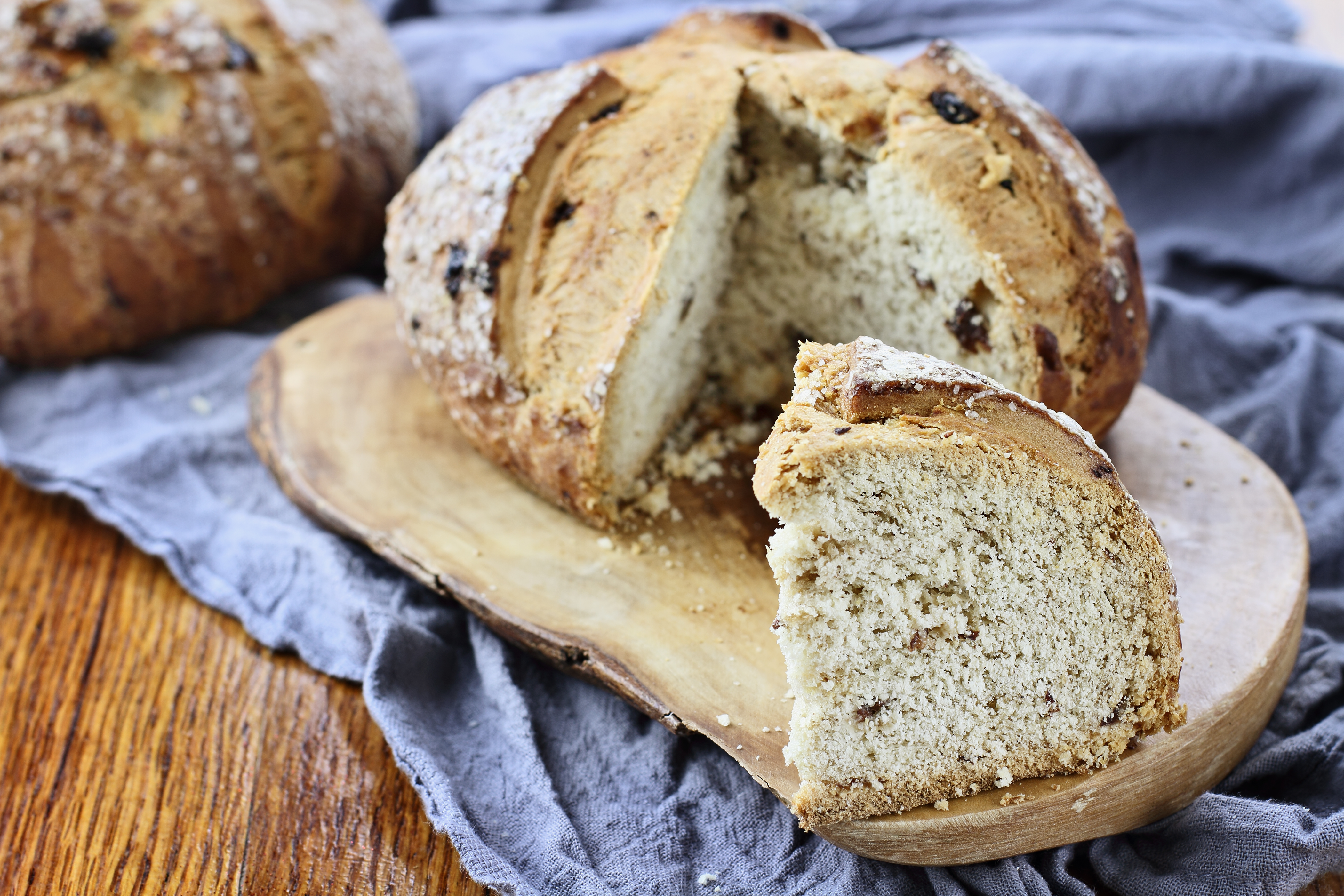 Ingredients

1 1⁄2 cups all-purpose flour
1 cup whole wheat pastry flour
1 teaspoon baking soda
1⁄2 teaspoon salt
1 tablespoon caraway seeds
6 tablespoons cold butter
3⁄4 cup buttermilk, plus 2 tablespoons for
brushing the top
1⁄4 cup honey
1⁄2 cup raisins or currants
Method
1. Heat oven to 375°F. Mix flour, baking soda, salt and caraway seeds in large bowl. Use the large holes of a grater to grate the cold butter into the dry mixture, then toss until it resembles coarse crumbs.
2. Add 3⁄4 cup buttermilk and honey to flour mixture; stir to make soft dough. Press the dough together; it will be dense like biscuit dough. If some of the mixture is too dry to incorporate into the dough, sprinkle in an extra tablespoon or so of buttermilk just to moisten loose flour. Stir in raisins.
3. Shape into rounded disk about 8 inches across and place on greased cookie sheet. Brush top with the reserved buttermilk. If desired, cut an "X" in the top with a sharp knife. Bake for 40 to 50 minutes, until golden brown and crusty. Keeps tightly wrapped at room temperature for three or four days.
Honey Whole Wheat Bread
Servings: 12 slices (1 loaf). Prep time: 2 hours; 20 minutes active.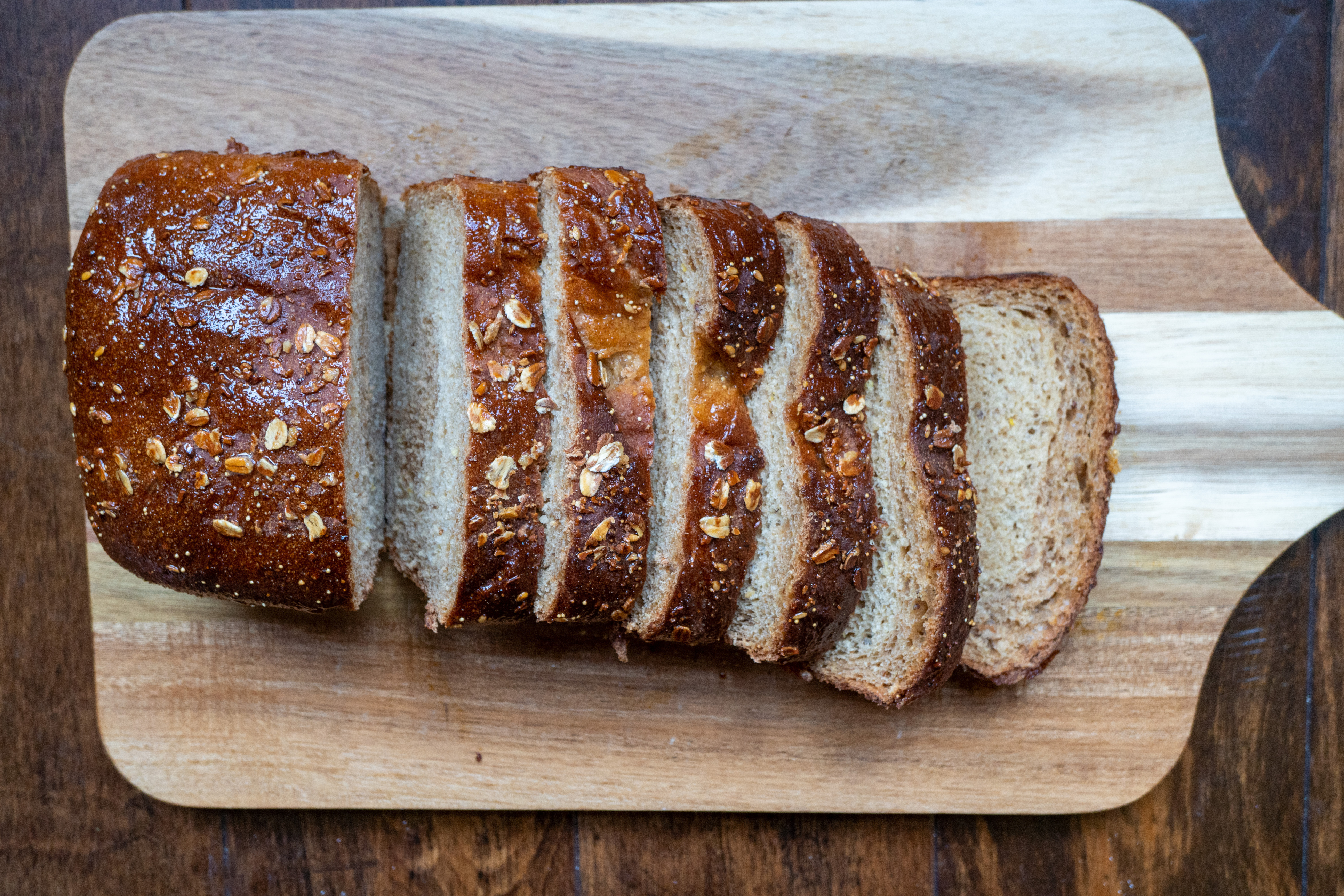 Ingredients

1 ⁄4 cup lukewarm water
2 teaspoons active dry yeast
3 ⁄4 cup low-fat (2%) milk or other milk
3 tablespoons honey
1 egg, lightly beaten
2 tablespoons extra virgin olive oil
1 cup unbleached flour, divided
2 cups whole wheat flour (not pastry flour), plus up to 1 ⁄4 cup more if needed
1 teaspoon salt
Method

1. In a large bowl or a stand mixer, stir the lukewarm water and yeast to dissolve. In a small saucepan over low heat, heat the milk and honey just to dissolve and bring the milk to lukewarm temperature; if it's too hot it will kill the yeast. Add the milk mixture to the yeast mixture and stir. Let stand for 10 minutes; the mixture should be bubbly.
2. Stir in egg and olive oil and blend well. Mix in the flour and salt to make soft dough that begins to come away from sides of bowl and can be handled. Knead by hand or with the dough hook until smooth and elastic, about 5 to 8 minutes. Lightly oil a large bowl and put the dough in the bowl, turn the ball of dough to coat with oil. Cover and let rise in a warm spot or near the oven until dough doubles in size, about 45 minutes to an hour. Heat the oven to 350°F.
3. On a lightly floured counter, pat the dough to a 12 × 8-inch rectangle. Roll up from short side. Pinch seam and ends to seal. Place seam side down in greased 9 × 5-inch loaf pan. Cover; let rise in warm, draft-free place until doubled in size, about 45 to 60 minutes. It should rise to the top of the pan. Bake for 35 to 40 minutes or until golden brown, and it sounds hollow when tapped. Remove from pan to wire rack to cool.
No-boil Whole-grain Bagels
Servings: 8 bagels. Prep time: 2 hours; 15 minutes active.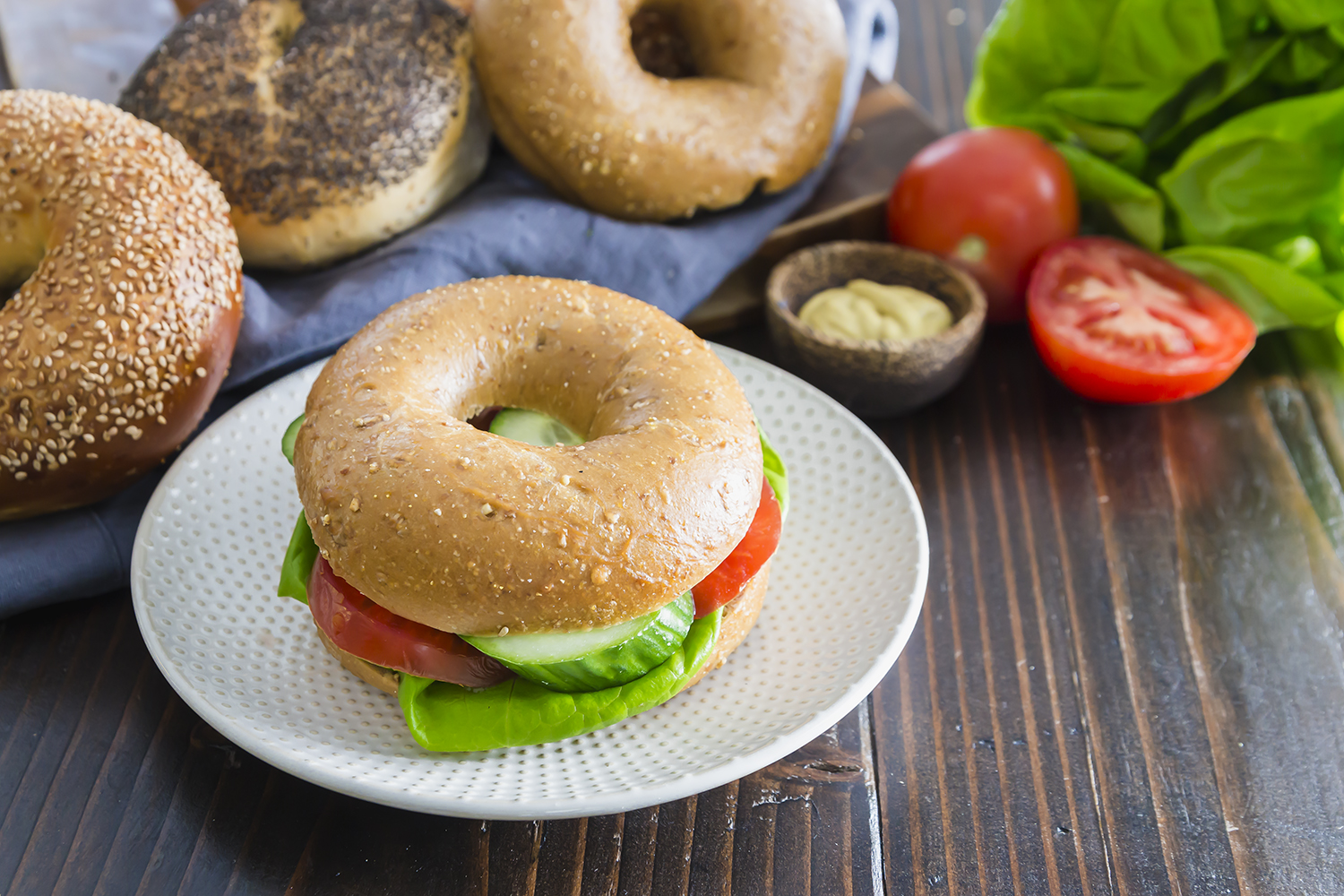 Ingredients

1 cup water
2 tablespoons vegetable oil
¼ teaspoon rice vinegar
1½ cups whole wheat bread flour
1 cup all-purpose flour
1 tablespoon sugar
2 teaspoons quick-rise yeast
1 teaspoon salt
1 large egg
Optional toppings: 2 tablespoons poppy seeds, sesame seeds or everything spice
Method

1. Heat water in a small pot over high heat until it starts to bubble. Measure the temperature with an instant-read thermometer, adding cool water until the temperature drops to 130°F. Pour 1 cup of the water into a measuring cup and add the vegetable oil and vinegar.
2. In a large bowl, mix the whole wheat flour, all-purpose flour, sugar, yeast and salt. Stir in the warm water mixture until it becomes a shaggy mass (lumpy yet well-mixed), then switch to kneading with your hands. Knead until it forms a soft dough.
3. Oil a large mixing bowl and scrape the dough into the bowl. Cover tightly with plastic wrap and let rise in a warm place for at least 45 minutes or until dough has doubled in size.
4. Line two sheet pans with parchment paper. Heat the oven to 375°F. Divide the dough into 8 even portions.
5. To form bagels, roll each portion under your palm on the counter to make a 6-inch long rope. Coil the rope around two of your fingers and press the ends together to seal, then roll between your fingers to make a smooth circle where the joint is sealed. Place each on the prepared sheet pan, leaving 2 inches between the bagels. Cover lightly with a damp kitchen towel and let rise in a warm spot for at least 30 minutes or until the dough has again doubled in size.
6. Just before baking, whisk the egg with 1 teaspoon of water and brush the bagels with egg, then sprinkle the bagels with any desired toppings. Bake for 15 minutes at 375°F. Slide the bagels off the pan onto a rack to cool.