This piece was originally published in our "Fresh Bites" Spring 2021 Owner Newsletter, and was published by permission from Co+op, welcome to the table. Find recipes and information about your food and where it comes from at www.welcometothetable.coop.
An ordinary egg offers delicious versatility for breakfast, lunch or dinner.
Shakshuka with Spinach
Shakshuka is a dish popular across North Africa and the Middle East. Enjoy the spiced tomato sauce over warm pita wedges.

Servings: 6. Prep time: 30 minutes.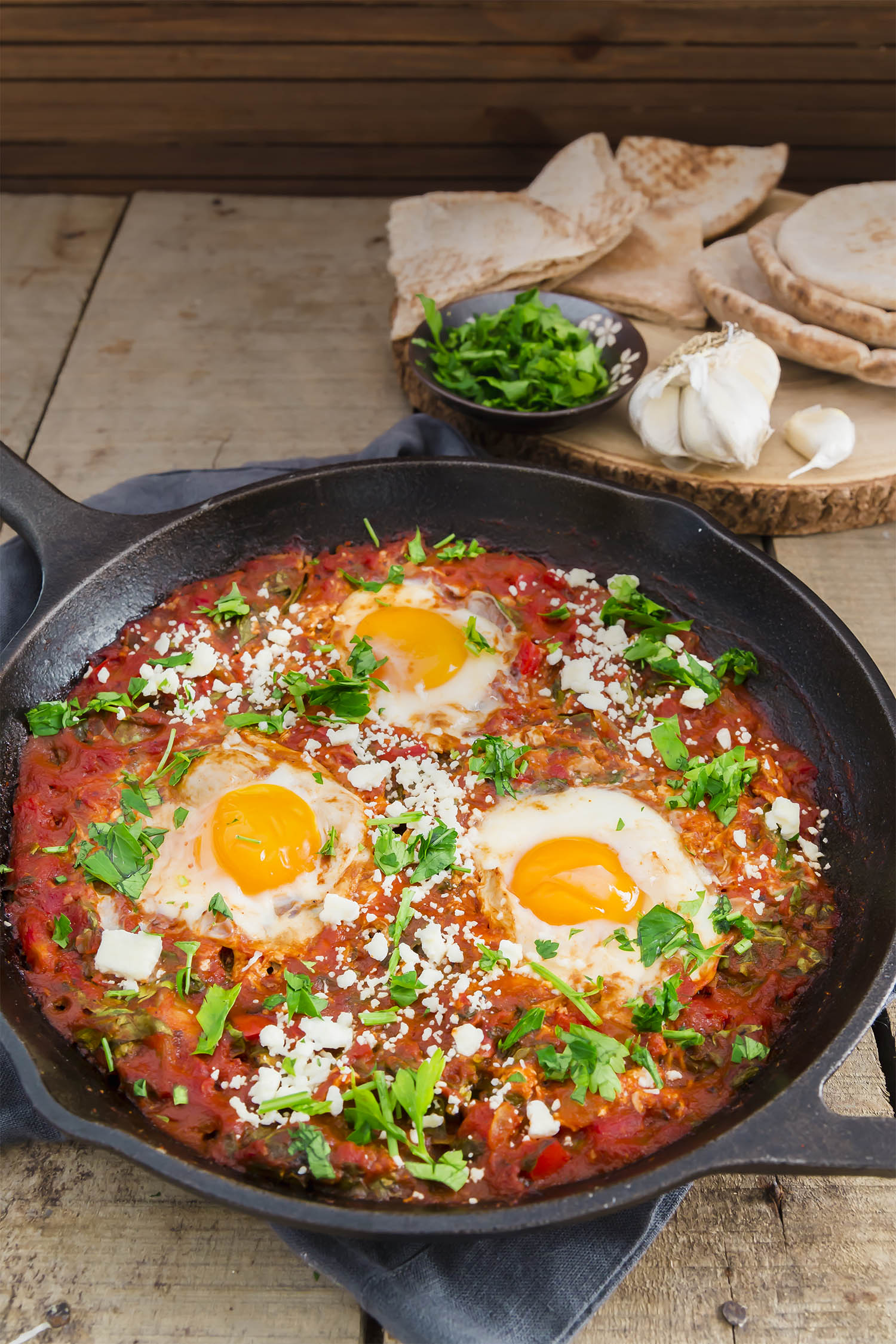 2 tablespoons extra virgin olive oil
1 large onion, chopped
3 cloves garlic, chopped
1 red bell pepper, chopped
1 teaspoon smoked paprika
1 teaspoon cumin, ground
1 teaspoon coriander, ground
1⁄4 teaspoon red pepper flakes
1 teaspoon salt
1 teaspoon honey
1 15-oz. can crushed tomatoes
4 cups salad spinach, chopped
6 large eggs
1⁄2 cup parsley, chopped
2 oz. feta cheese (optional)
Drizzle the olive oil in a 12-inch skillet and place the pan over medium-high heat. Heat for a few seconds, then add the onions and stir until they start to sizzle. Reduce the heat to medium-low and sauté for about 5 minutes. Add the garlic and peppers and sauté for 5 minutes longer to soften the peppers. Add the paprika, cumin, coriander, red pepper flakes, salt and honey and stir, then stir in the crushed tomatoes. Raise the heat to bring to a boil, then reduce to a simmer and cook until thick, about 5 minutes. Stir in the spinach and cook until just wilted and dark green.
Use the back of a spoon to make 6 indentations in the sauce for the eggs. Crack each egg into a cup and then pour carefully into the indentations. Cover the pan and cook for about 8 minutes, until the whites of the eggs are set. Test by poking the whites with a paring knife. If you like your egg yolks firmer, cook longer.
When eggs are done to your liking, sprinkle with parsley and feta, if desired.
Serve 1 egg, with about a cup of the vegetable mixture, on each plate.
Spicy Avocado Egg Salad
Servings: 4-6. Prep time: 25 minutes; 10 minutes active.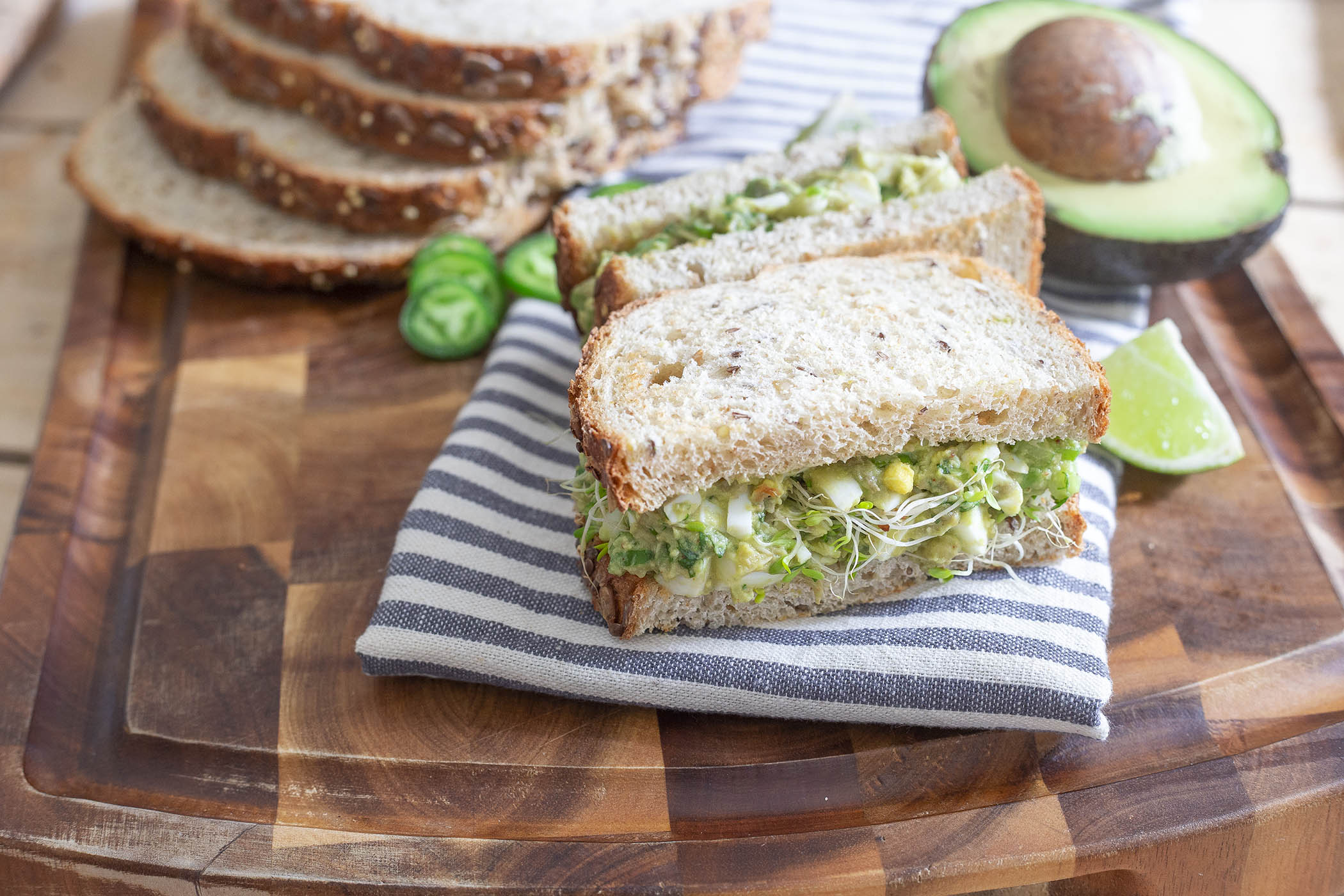 6 large eggs
1 large avocado, divided
2 tablespoons fresh lime juice
1⁄2 teaspoon salt
1⁄2 teaspoon chipotle powder
2 medium scallions, chopped
1 rib celery, chopped
1 large jalapeño, chopped
1⁄4 cup fresh cilantro, coarsely chopped
Place the eggs in a medium pot, and add cold water to cover them by an inch. Place over high heat and bring to a boil. As soon as the water comes to a full rolling boil, remove from the heat, cover and let stand for 14 minutes.
Drain the eggs, rinse with cold water, then place the cooked eggs in the refrigerator to chill completely. When cold, peel, rinse and chop the eggs. Place in a medium bowl.
Halve the avocado and remove pit, then scoop half of the flesh into a large bowl. Mash thoroughly, then stir in the lime, salt and chipotle powder.
Add the scallions, celery, jalapeño, cilantro and chopped egg, and stir. Using the tip of a paring knife, cut the remaining avocado half into cubes in the shell, then use a spoon to scoop the cubes out into the salad. Fold into the egg salad, and serve.
Breakfast Quesadillas
The satisfying scrambled eggs and greens in these quesadillas will energize you all morning long.
Servings: 4. Prep time: 20 minutes.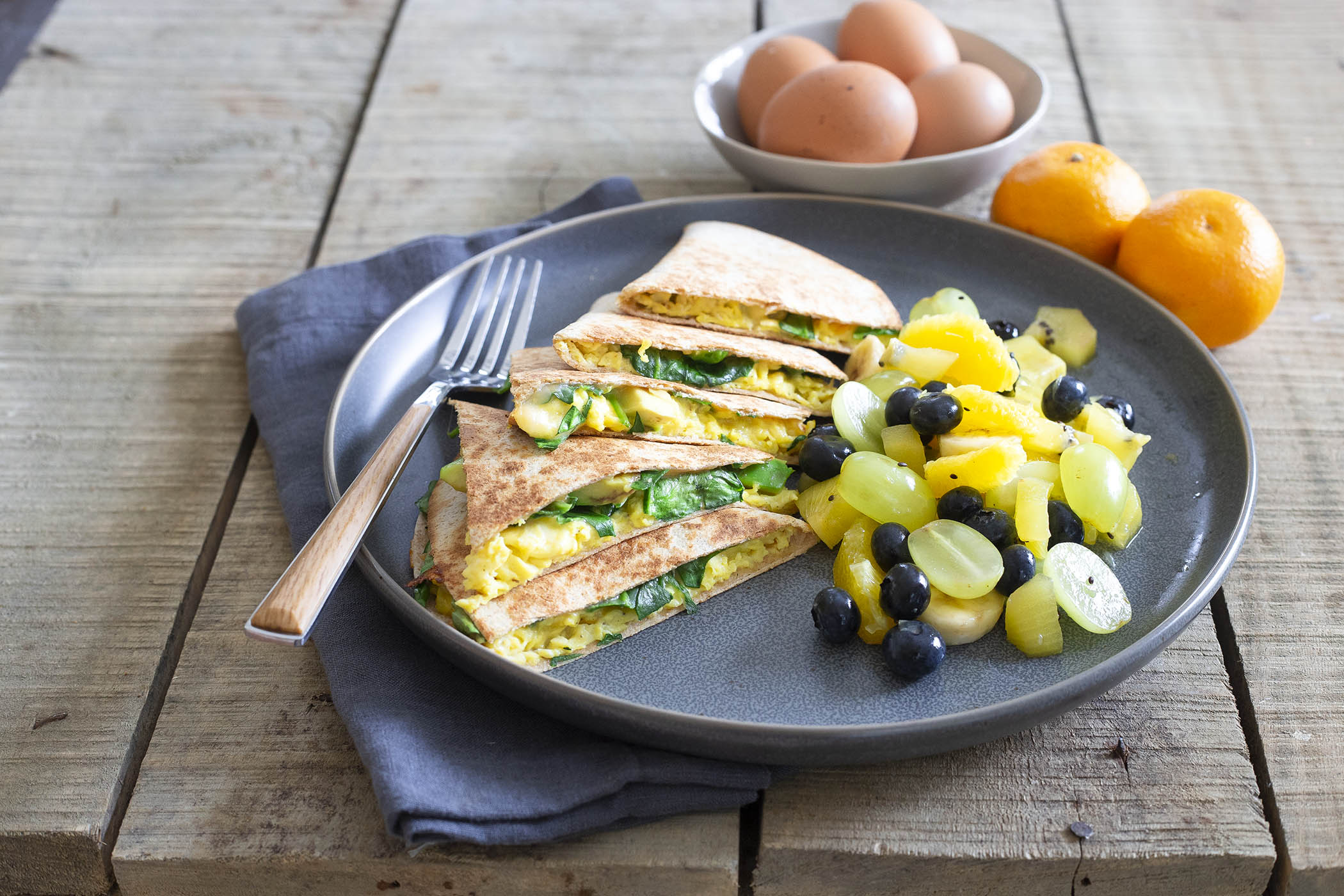 6 large eggs, lightly beaten
1⁄2 teaspoon salt
1⁄2 teaspoon pepper
Olive oil for the pan
1 cup shredded pepper jack cheese
4 8-inch whole wheat tortillas
1 cup arugula or spinach, chopped
1 medium avocado, cubed
Salsa
Heat oven to 200°F, if you need to keep the quesadillas warm until you serve them. Whisk the eggs in a medium bowl with salt and pepper, and set aside. Place a medium cast iron or nonstick pan over medium heat and oil or spray lightly with olive oil. Pour the eggs into the pan and cook, stirring occasionally, until they are softly scrambled and still moist. Transfer to a medium bowl and stir in the pepper jack cheese. Divide the egg mixture into four portions.
Place a large skillet over medium-high heat for a few seconds. Carefully place a tortilla in the pan, then spoon one portion of the eggs onto half of the tortilla; sprinkle with a quarter of the arugula or spinach and a quarter of the avocado. Fold the tortilla over to cover the filling, place another tortilla on the empty side of the pan, and assemble the second quesadilla in the same way. Press lightly to seal the ingredients inside the tortillas. Using a spatula, turn the first quesadilla after about 2 minutes, being careful not to spill the filling. The tortilla should be browned and crisp. Repeat with the remaining tortillas and filling. Turn the heat down to medium if the tortillas are browning too quickly. Transfer the finished quesadillas to plates, cut each quesadilla in three wedges and serve with salsa.
Crustless Quiche Lorraine
Pair this classic quiche with a colorful fruit salad or mixed greens tossed with a light vinaigrette.
Servings: 6. Prep time: 1 hour, 10 minutes; 25 minutes active.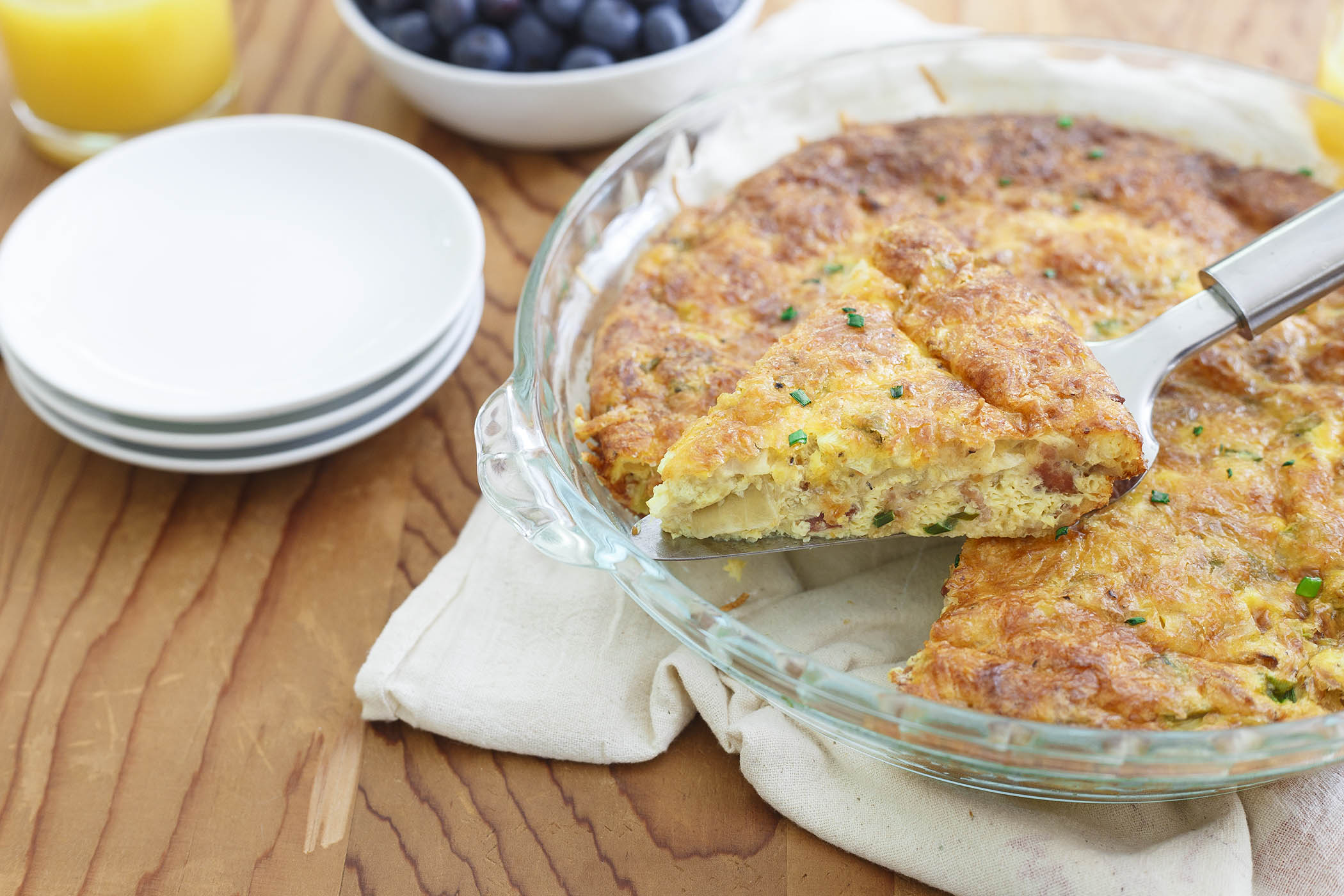 8 ounces bacon, chopped
1 cup chopped onion
6 large eggs, whisked
1 cup milk
1 cup shredded Swiss cheese, divided
1⁄2 teaspoon salt
1⁄2 teaspoon pepper
2 large scallions, chopped
Heat the oven to 350°F. Lightly oil a 9-inch pie pan.
Place the chopped bacon in a large skillet over medium heat. Stir occasionally, until bacon is crisp and brown, about 4 minutes. Transfer to a large bowl, and pour off all but a tablespoon of bacon fat (you can save for another use, or discard.) Add the onions to the pan and cook over medium heat until soft and golden, about 5 minutes. Transfer to the bowl with the bacon. Add the eggs and milk to the bowl and whisk to combine, then stir in all but 1⁄4 cup of the Swiss cheese, the salt, pepper and scallions. Pour into the prepared pan and top with reserved cheese.
Bake for about 45 minutes, until the quiche is puffed and golden. Let cool on a rack for 5 minutes before cutting. Keeps for 4 days, tightly covered, in the refrigerator.