Article provided by Alive Publishing Group. You can find more great articles anytime on alive Connect, or grab a copy of the latest printed issue of alive Magazine next time you're in Good Foods Co-op. It's free!
It's patio season! Try these three swoon-worthy elevated dishes…
Kick your favorite outdoor dishes up a gastronomic notch! These make-ahead sumptuous dishes are a step up from dips and hamburgers. Get ready for the perfect Insta post.
Roasted Olive Oil Tomatoes
Sun-kissed tomatoes are roasted to ultra-sweet perfection in this appetizer. Be sure to serve with chunks of good quality crusty bread.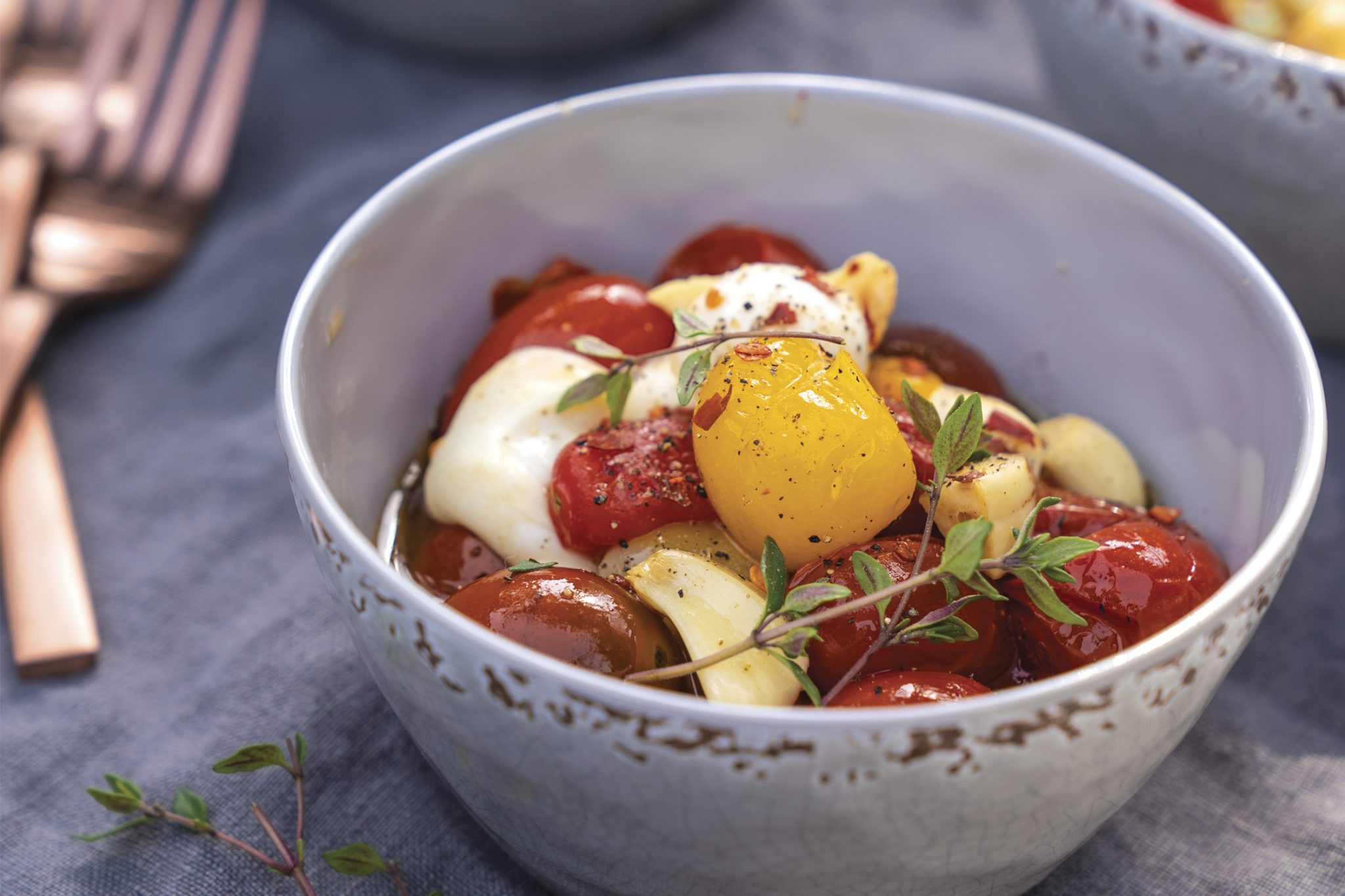 4 cups (1 L) cherry tomatoes, preferably multicolored
4 thyme sprigs
1/2 tsp (2 mL) coriander seeds
1/2 tsp (2 mL) salt
1/2 tsp (2 mL) crushed red pepper flakes
1/2 head of garlic
1/4 cup (60 mL) olive oil or camelina oil
1 Tbsp (15 mL) red wine vinegar
1 cup (250 mL) bocconcini mini mozzarella pearls
Freshly cracked black pepper
Preheat oven to 350 F (180 C). In casserole-style baking dish, place cherry tomatoes, thyme sprigs, coriander seeds, salt, and chili flakes. Snuggle in halved garlic bulb, cut side down. Pour in olive oil.
Roast tomatoes, tossing once, until very tender, about 45 minutes. Let cool slightly, then gently stir in red wine vinegar and bocconcini. Season with pepper.
Serves 8.
Each serving contains: 111 calories; 2 g protein; 10 g total fat (3 g sat. fat, 0 g trans fat); 4 g total carbohydrates (2 g sugars, 1 g fiber); 151 mg sodium
Grilled Ratatouille Lentil Salad
This riff on a classic Provençal dish of simmered vegetables gets an upgrade by imparting the veggies with a slightly smoky flavor from the grill and then tossing them into a salad with nutritious lentils and a refreshing minty dressing.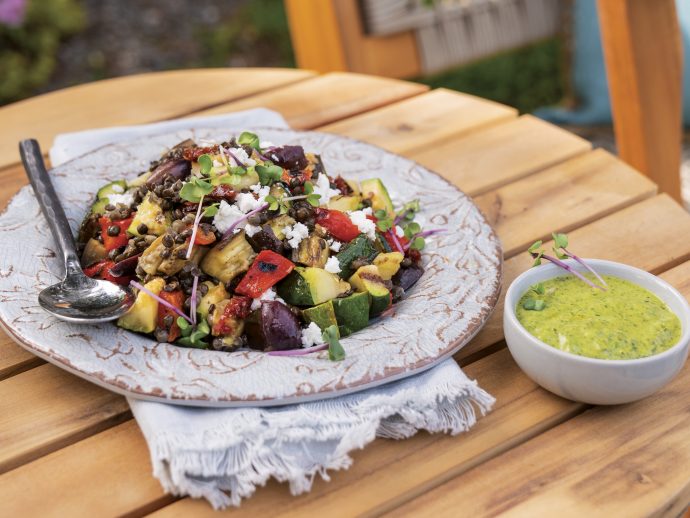 1 cup (250 mL) black (beluga) or green lentils
2 medium or 1 large eggplant, halved lengthwise
2 medium zucchini, halved lengthwise
2 red bell peppers, quartered
1 medium red onion, quartered
1 cup (250 mL) crumbled feta
1/2 cup (125 mL) sliced sun-dried tomatoes
1/2 cup (125 mL) sliced Kalamata olives (optional)
1/3 cup (80 mL) olive oil or camelina oil
2 Tbsp (30 mL) red wine vinegar or white wine vinegar
1 cup (250 mL) fresh mint
1/2 cup (125 mL) fresh basil
2 garlic cloves, chopped
2 tsp (10 mL) honey
1 Tbsp (15 mL) Dijon mustard
1/2 tsp (2 mL) salt
1/2 tsp (2 mL) black pepper, plus extra for grilling vegetables
Place lentils, a couple pinches of salt, and 4 cups (1 L) water in medium saucepan. Bring to a boil, reduce heat to medium-low, and simmer covered until lentils are tender but not too soft, about 15 to 20 minutes. Drain well.
Lightly sprinkle cut sides of eggplant with salt and let sit for 15 minutes (you will see beads of water form on the surface). Pat dry with paper towel.
Heat grill to medium-high. Lightly brush vegetables with oil and season lightly with salt. Grill vegetables, in batches if there is not enough grill space, until charred in a few spots and tender, flipping once. Remove vegetables from grill as they finish cooking.
Once cool enough to handle, chop vegetables into 1/2 in (1.25 cm) pieces, place in large bowl, and let sit for 10 minutes. Drain any liquid that has pooled in the bottom of bowl and then toss vegetables with lentils, feta, sun-dried tomatoes, and olives, if using.
To make dressing, in blender or food processor container, place 1/3 cup (80 mL) oil, vinegar, mint, basil, garlic, honey, mustard, salt, and black pepper, and blend until smooth. Gently toss dressing with salad.
Serves 6.
Each serving contains: 383 calories; 16 g protein; 20 g total fat (6 g sat. fat, 0 g trans fat); 40 g total carbohydrates (11 g sugars, 18 g fiber); 682 mg sodium
Almond Cookie Tart with Raspberry Fool
Consider this swoon-worthy dessert hybrid of cookie and tart your secret weapon for entertaining, since it easily feeds a crowd.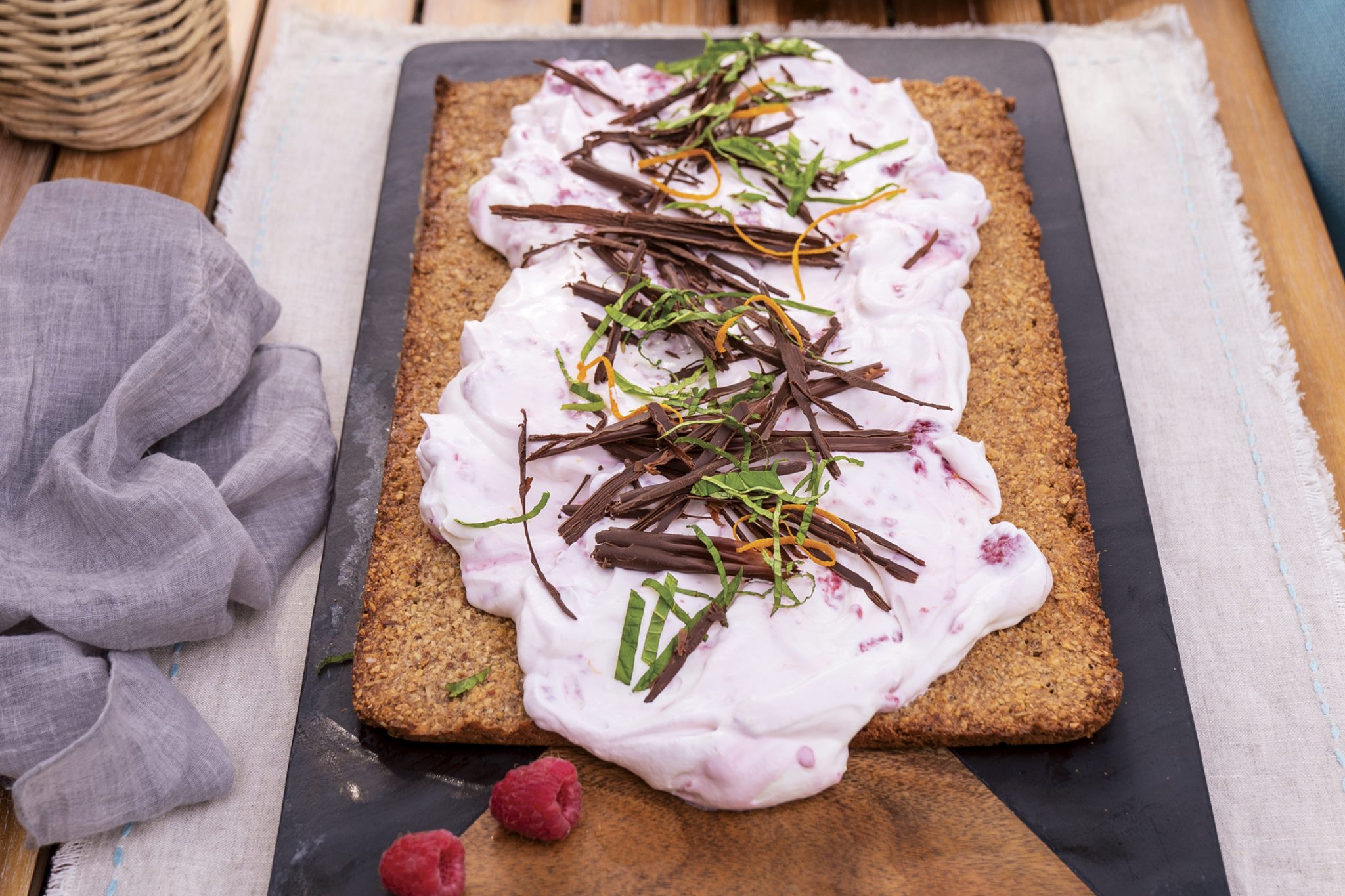 2 1/2 cups (625 mL) rolled oats
1 1/2 cups (350 mL) unsalted almonds
1/2 cup (125 mL) maple syrup
1 1/2 tsp (7 mL) cinnamon
1/2 tsp (2 mL) salt
1/2 cup (125 mL) cold unsalted butter, cubed
1 egg, beaten
2 1/2 cups (625 mL) raspberries
2 Tbsp (30 mL) raw cane sugar or coconut sugar
2 tsp (10 mL) fresh lemon juice
1/3 cup (80 mL) heavy whipping cream
1 1/2 cups (350 mL) plain Greek 2% yogurt
Zest of 1 medium orange
1 tsp (5 ml) vanilla extract
3 oz (85 g) dark chocolate, chopped
1/3 cup (80 mL) sliced mint
Preheat oven to 350 F (180 C). Line a 9 x 13 in (23 x 33 cm) baking sheet with parchment paper, allowing for extra to extend beyond the edge of pan and lightly grease paper.
In food processor, blend oats and almonds until they resemble the texture of sand. Add maple syrup, cinnamon, and salt to container, and then distribute butter evenly overtop. Pulse until mixture is moist and clumps together. Place dough onto prepared baking sheet, and with damp hands, gently press into pan, pressing dough to edges. Pierce crust all over with fork and then brush with egg.
Bake until crust is golden brown on edges and slightly soft to the touch in center, rotating pan from back to front halfway through, about 22 to 25 minutes. Let cool on pan for 10 minutes, then carefully transfer it to cutting board.
To make fool, place raspberries and sugar in small saucepan. Cook over medium-low heat, stirring occasionally, until raspberries have begun to break down, about 5 minutes. Remove from heat, stir in lemon juice, and cool completely before using.
In small bowl, place whipping cream and whip to soft peaks with electric mixer or hand-held metal whisk. Gently fold in yogurt, orange zest, vanilla, and chilled raspberries.
Just before serving, spread fool over tart crust and garnish with dark chocolate and mint. Slice into 12 pieces.
Serves 12.
Each serving contains: 369 calories; 10 g protein; 23 g total fat (9 g sat. fat, 0 g trans fat); 34 g total carbohydrates (14 g sugars, 7 g fiber); 109 mg sodium