Three months ago when I went to the doctor to try and figure out what the heck was going on with my hormones, they offered me artificial ones. The same type of prescriptions I'd recently come off of in order to try and get my migraines under control. I felt lost and failed by modern medicine. Then my favorite physician's assistant pulled me aside and recommended I read a book and follow its 30-day diet protocol to try and reset my hormones and fight inflammation.
I picked up the book from the library and started planning the 30-day diet it recommends to fight inflammation and get it under control—basically an elimination diet. A daunting one at that. I had to completely remove all glutens and grains, added sugars, soy, dairy, caffeine, alcohol and inflammatory fats. DO YOU KNOW HOW MANY FOODS HAVE SUGAR AND SOY IN THEM? Even organic ones. They are snuck in everywhere! I was going to have to cook basically everything from scratch and really reassess how I should eat, what I should eat and what recipes and ingredients could get me there.
As someone who eats mostly vegetarian/pescatarian, I decided I would incorporate some pasture-raised, grass-fed, sustainable and clean meats into my diet for the 30 days, just so I could have some variety. So many plant-based proteins I relied on had soy, and I have had a sneaking suspicion for a while that my body may not jive so well with soy, so it—along with sugar and bread and so many other favorite foods—went sayonara.
Getting started, I needed to switch away from coffee and make the transition to caffeine-free herbal teas. That was relatively easy to do after the first couple of days of feeling like my body and brain were operating in slow motion. Fruits would replace sweets, salads from the Co-op's salad bar and select offerings on the hot bar would take care of lunch. RxBars would get me through a long day away from work or home, and thinking about meals and food prep at least 2-3 days in advance helped me save time in the kitchen. Here are some of the key recipes that have helped me fight inflammation and not feel deprived over the course of this protocol, in case you are also trying to remove foods that are often the culprits of inflammation.
Meat Dishes

Rich & Complex Traditional Bolognese Sauce
By the Just a Little Bit of Bacon blog
This was one of the first recipes I made on my diet. It's a good one to make on the weekend and then eat all week. I had to make a few ingredient tweaks to make it work within the diet (noted below), but it still turned out very flavorful. My partner (who lovingly agreed to follow the same rules I was following) and I ate it with spaghetti squash, zoodles and Miracle Noodles. I liked this recipe since it made the meat stretch further, as we were still trying to keep our meat consumption to a minimum. I used a mixture of local Jared's 100% grass-fed ground beef and pasture-raised ground pork since clean meats and fats help fight inflammation.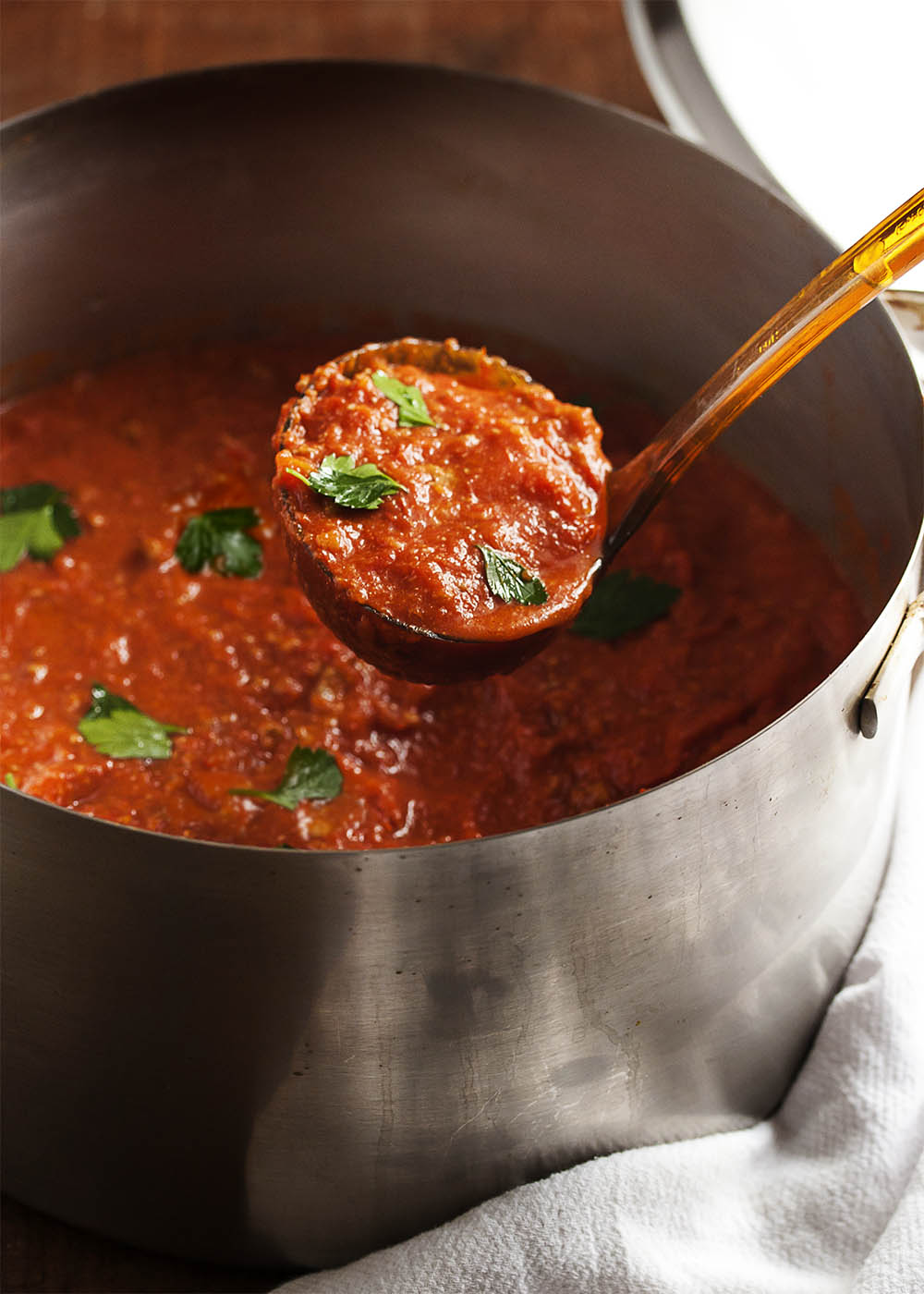 INGREDIENTS
1 tbsp unsalted butter (I used olive oil)
1 tsp kosher salt
1/2 cup minced white onion
1/2 cup minced carrots
6 cloves garlic minced
1 1/2 lb ground meat either all beef or a mix
1 tsp dried oregano
2 cups whole milk (can substitute plant milk or broth)
2 cups white wine (can substitute with broth)
2-28 oz can crushed tomatoes
1-28 oz can whole tomatoes pureed in the blender
INSTRUCTIONS
Heat the butter or oil in a large pot over medium-low heat. Add the salt, onion, and carrots. Saute for 5 minutes, or until just starting to get soft and golden. Add the garlic and saute for 30 seconds. Add the meat and oregano. Cook the meat, breaking it up as you go into small pieces until there is almost no red left, about 10 minutes.
Add the milk. Increase the heat to medium-high and bring it to boil, then reduce the heat so that it maintains a gentle boil (the milk should be bubbling but in no danger of burning or boiling over). Cook the milk down for 20-30 minutes.
Add the wine. Again increase the heat to bring it to a boil and then lower the heat to maintain a gentle boil. Cook the wine down for 20-30 minutes.
Add the pureed whole tomatoes and crushed tomatoes. Bring to a simmer and then lower the heat so that the sauce is just occasionally bubbling. At this point you can leave it on the stove on very low heat (I usually move it to a small burner on low) or put it in the oven at 325F. Either way, the pot should be uncovered so the sauce will cook down. Simmer the sauce for 4 to 5 hours, stirring occasionally.
Serve with a wide pasta such as pappardelle or fettuccine and top with parmesan cheese or a dairy-free substitute, basil, and parsley.
One-Skillet Pork Chops With Cabbage and Apples
I loved braised anything and this recipe has delicious deep flavors. No need for sugar-filled apple juice; broth did just fine and it was still super tasty! I made lots of the braised cabbage and apples and got relatively small local Stone Cross Farm pork chops to once again keep the meat consumption lower. This recipe is so full of flavor, you won't even know it's meant to fight inflammation!
INGREDIENTS
2 Tbsp extra virgin olive oil or avocado oil
3-4 Stone Cross Farm pork chops
1 Tbsp homemade Cajun seasoning (many pre-made seasonings have sugar or MSG, so I made my own using this recipe)
1 medium sweet onion sliced
2 apples, diced (use your favorite variety)
1/2 tsp fennel seed, crushed
1 small head green cabbage, roughly chopped
1 tsp garlic salt
1 tsp red pepper flakes or to taste
1 1/2 cup homemade bone broth
2 tsp dried thyme
INSTRUCTIONS
Start by rubbing your chops with your homemade Cajun seasoning, making sure to get all sides, and let the chops rest until they reach room temperature (about an hour).
Use a large, heavy-bottomed skillet to bring 1 Tbsp of the oil up to medium-high heat. Add the chops and get them browned well on each side (they will still be raw in the middle). Remove the chops and allow to rest.
Next add your onions, apple and fennel seed to the pan and cook in the drippings over medium-high heat until beginning to brown, add 1 Tbsp more oil, if needed. Add the cabbage to the skillet next and allow to wilt, about 2 minutes. Add the remaining dried seasonings and mix in. Return the pork chops to the pan and wiggle them down into the cooked mixture. Pour broth over the top, lower your heat to low, cover the skillet and let simmer for 20 minutes or until chops are cooked through and tender.
Move chops and apple/onion/cabbage mixture to serving platter, reserving the liquid in the pan. Reduce the liquid on high heat until it's about one-quarter of its original volume and slightly thickened.
Serve sauce over the pork chops and cabbage mixture.
Chicken Lettuce Wraps
One of the time-saving hacks I've adopted during this 30-day protocol was roasting a whole chicken—which is more than we could eat for one dinner—so that we'd have leftovers to make something like these. When I first made this and plated it, I thought for sure I'd be hungry again in an hour. I was not. The chicken combined with lots of mushrooms and water chestnuts made a very satisfying and filling dish! Sub the soy-based and sugary sauces with fish sauce (careful: it's much saltier so you'll need to use less) and you're golden. Also, once you've used all that chicken meat, save the bones. I made a bone broth out of my inedible leftovers to use in all my recipes throughout this diet.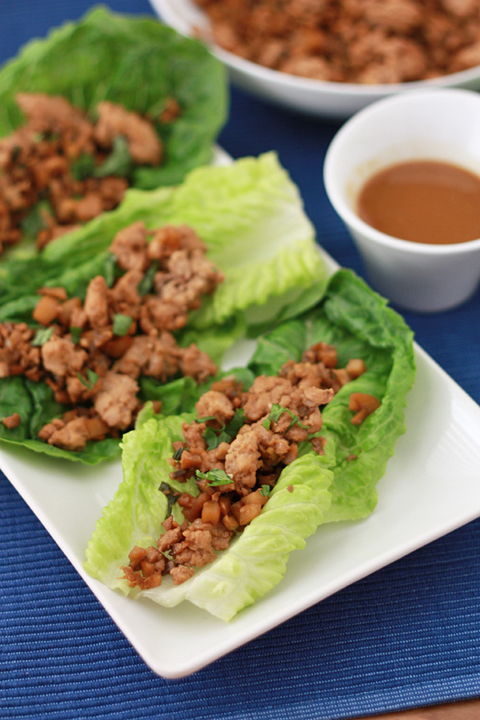 INGREDIENTS
For the filling:
1 lb ground chicken (we ground raw chicken thighs or chicken breast in our food processor)
6–8oz button or baby bella mushrooms, finely minced
1 (8oz) can water chestnuts, drained and minced
2 green onions, sliced
2 tsp fresh ginger, minced
1 clove garlic, minced
1 Tbsp avocado oil (olive or coconut oil would work well too)
1/4–1/3 cup coconut aminos, tamari, or soy sauce (I subbed smaller amounts of fish sauce to avoid soy)
To serve:
Lettuce leaves (romaine hearts or iceberg lettuce work well)
Cilantro
INSTRUCTIONS
Prepare the filling by heating the oil in a medium sauté pan over medium heat. Add chicken and cook until lightly browned and cooked all the way through.
Add mushrooms, water chestnuts, green onions, ginger, and garlic. Cook until fragrant and cooked through. Add 4 Tbsp coconut aminos, tamari or fish sauce and stir to coat chicken mixture.
Add additional sauce as desired (remember you don't want it too wet, or it will make eating your lettuce wraps a very messy, soggy experience).
Scoop mixture onto lettuce leaves. Top with cilantro, if desired, and your favorite dipping sauce.
Fish Dishes

Herb Crusted Cod
I love fish and have been enjoying sustainable seafood at least a couple of times a week for years. This cod recipe has SO MUCH flavor, and really any veggie that lends well to a quick roast would work great for this one-pan meal.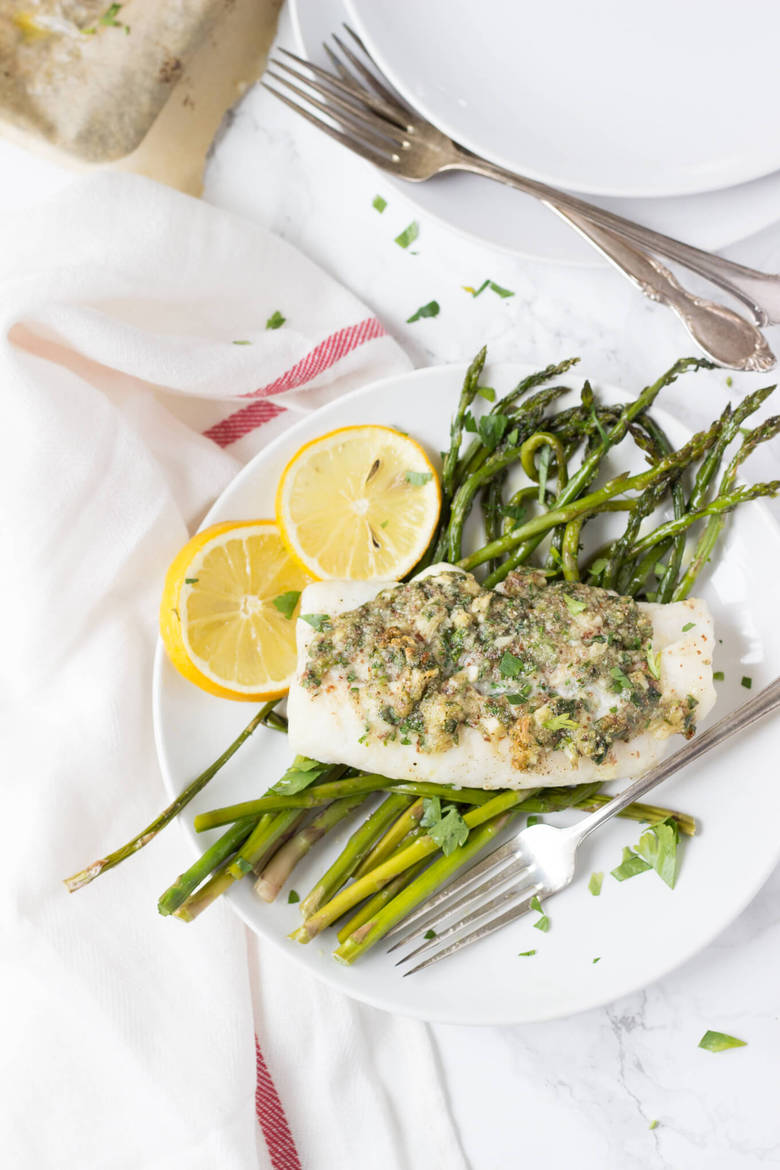 INGREDIENTS
1 lb cod
2 tablespoons ghee or grass-fed butter (I subbed coconut oil & Miyako's "butter")
2 tablespoons fresh parsley
2 tablespoons almond meal
3 cloves garlic minced
1/2 teaspoon sea salt
1/2 lb asparagus or any other vegetable you want
1 tablespoon olive oil
1 lemon thinly sliced
Salt and pepper to taste
INSTRUCTIONS
Preheat oven to 400° F. Line a baking sheet with parchment paper. Place the cod and the vegetables on the baking sheet. Drizzle the vegetables with the olive oil and sprinkle with salt and pepper.
In a small bowl, mix the ghee, garlic, parsley, 1/2 teaspoon salt, and almond meal. Sprinkle the cod with pepper and top with the ghee mixture. Arrange lemon slices around cod.
Bake for 15 minutes or until the internal temperature of the cod reaches 130° F.
Turmeric Salmon with Coconut Crisp
This recipe came to me by way of my #1 recipe-sharing foodie friend, Kathryn, who also happens to be our Store Dietitian. While I make salmon quite often, this recipe was totally different than my usual preparation. Filled with flavor and amazing nutrition, this was a surprisingly simple gourmet meal with lots of great ingredients that fight inflammation.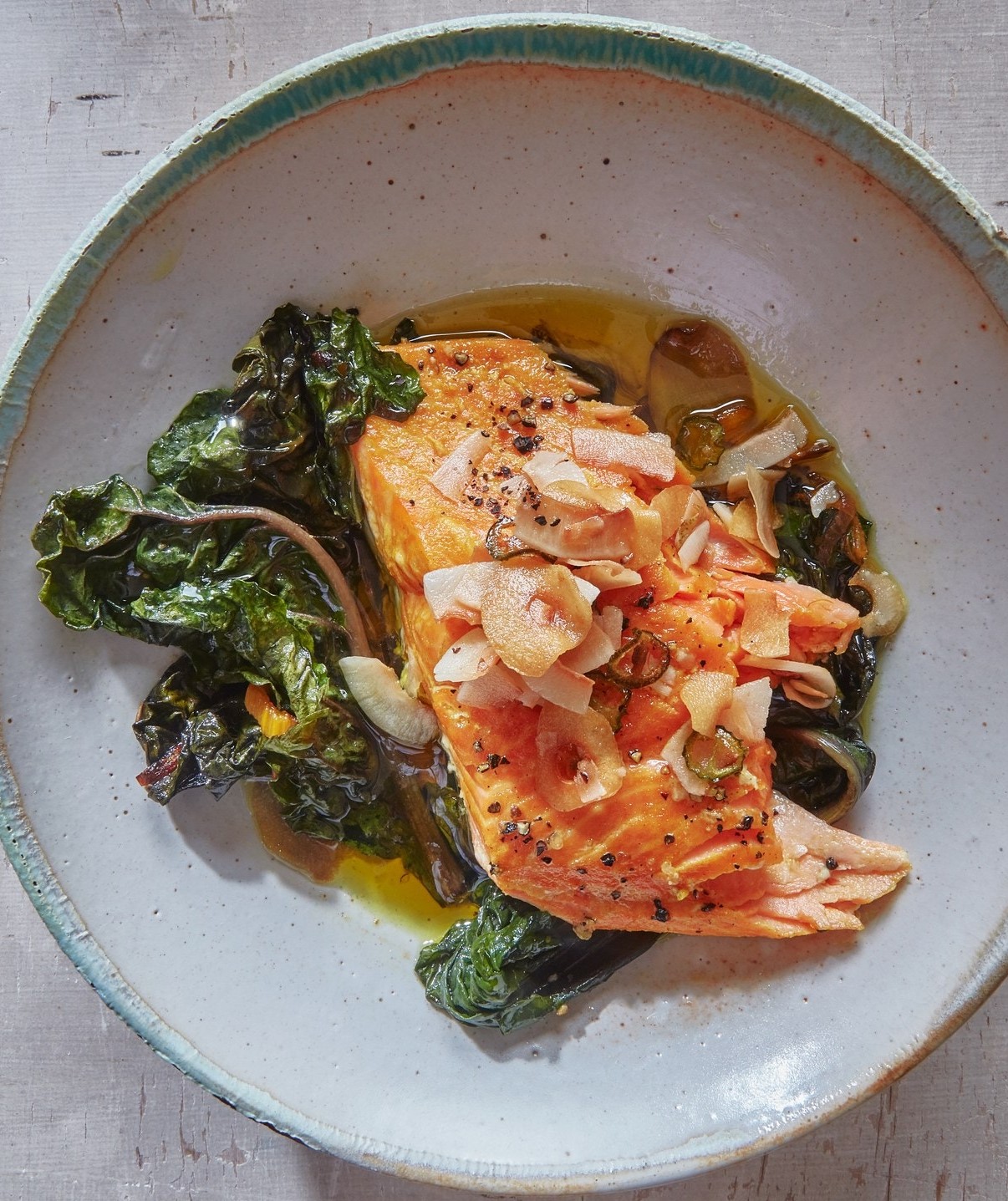 INGREDIENTS
5 Tbsp. extra-virgin olive oil, divided
2 bunches Swiss chard, ribs and stems removed and finely chopped, leaves coarsely chopped (keep separate)
1 large shallot, thinly sliced
1 3″ piece ginger, peeled, thinly sliced lengthwise
Kosher salt
½ tsp. ground turmeric
1 1½-lb. skinless salmon fillet, preferably center-cut
3 garlic cloves, thinly sliced
½ serrano chile, thinly sliced
½ cup unsweetened coconut flakes
Freshly ground black pepper
INSTRUCTIONS
Preheat oven to 300°. Heat 2 Tbsp. oil in a large ovenproof skillet over medium-high. Add Swiss chard ribs and stems, shallot and ginger. Cook, stirring occasionally until shallot is softened but not browned; about 3 minutes. Add Swiss chard leaves and cook, stirring, until partly wilted; about 3 minutes. Remove from heat and season with salt.
Combine 2 Tbsp. oil and turmeric in a small bowl. Place salmon, flat side down, on top of greens in skillet. Season salmon with salt and coat with turmeric oil. Transfer to oven and bake until fillet is just opaque in the center and flakes easily and greens are tender, 25–30 minutes.
Meanwhile, heat remaining 1 Tbsp. oil in a small skillet over medium. Add garlic, chili, and coconut flakes and cook, stirring often, until garlic and coconut turn golden, about 5 minutes. Transfer coconut crisp to a small bowl and season lightly with salt.
Season fish and greens with pepper; serve with coconut crisp for topping.
"Cheat" Day

Crispy Baked Buffalo Chicken Wings
By the Paleo Running Momma blog
In our pre-protocol life, we had "meat day holidays" and would limit our meat consumption to only special occasions. During this time, chicken wings were our frequent go-to choice. Skip the ghee and Frank's in this recipe and go with Primal Kitchen's unsweetened classic barbeque sauce. You can bump up the heat with your favorite non-inflammatory-ingredient-containing hot sauce (I like Cholula). The arrowroot starch created such a nice crust in this recipe, I recommend waiting until the end of the cooking process to quickly toss in sauce and serve, as opposed to baking, then saucing, then baking some more. I think you lose some crispness. They were still incredibly tasty, and once we resume our usual eating habits we may not be heading out to a wing joint for our "meat day holidays" anymore.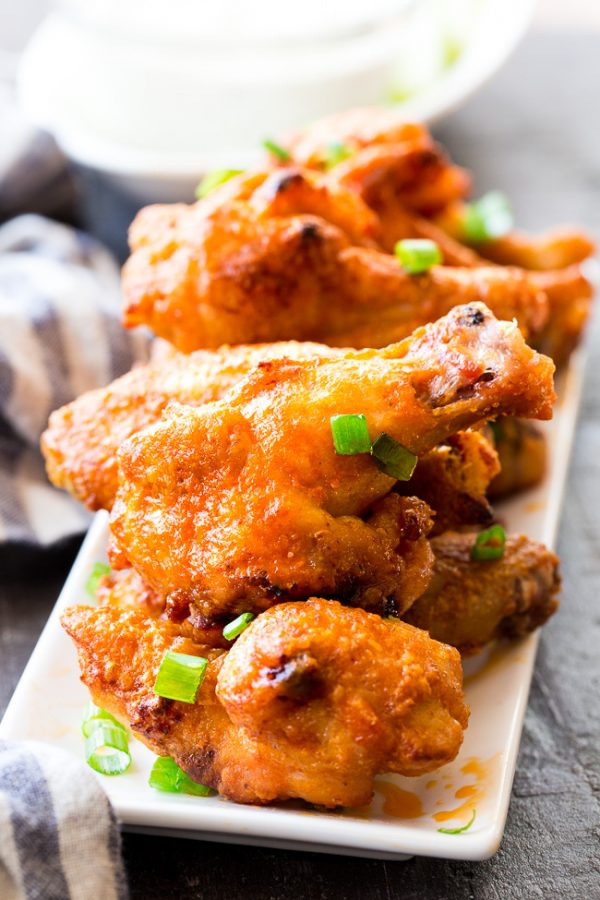 INGREDIENTS
For the wings:
2 lbs chicken wings
2 tbsp arrowroot starch*
1/2 tsp garlic powder
1/2 tsp onion powder
1/4 tsp sea salt
1/4 tsp red cayenne pepper
1/3 cup ghee melted
1/3 cup + 2 Tbsp Whole 30 compliant hot sauce like Frank's original
For the ranch dip:
1/2 cup homemade mayo or purchased paleo mayo
3 Tbsp coconut cream (this is the thick part from a can of coconut milk, or you can purchase it separately)
1/2 tsp garlic powder
1/2 tsp onion powder
2 tsp dried chives
1/4 tsp dried dill
3/4 tsp fresh lemon juice
1/8-1/4 tsp salt or to taste
INSTRUCTIONS
Preheat your oven to 425 degrees. Line a large baking sheet with aluminum foil, then place a wire rack over the baking sheet.
Pat wings dry with a paper towel to absorb excess water, then place in a large bowl. Sprinkle all over with the arrowroot, garlic and onion powder, salt and red pepper – toss to evenly coat.
Arrange wings on a wire rack (I had about 12 in my 2 lb package) and place it in the middle rack of the preheated oven.
Bake at 425 degrees for 35 mins, then dip in the sauce (see instructions below) and raise the heat to 450 degrees.
Continue to bake for 10 mins at 450, remove from oven and drizzle remaining sauce over the top. Bake 5 more minutes at 450 degrees, then remove and serve hot, with celery, thinly sliced scallions and ranch dressing!
For wing sauce:
Once the wings have been baking for 30 mins, whisk together the melted ghee and hot sauce. Remove wings from the oven after baking 35 mins, and, using tongs, dip each one in sauce and place back on a wire rack to bake again, this time at 450 degrees.
For ranch dip:
Whisk together mayo, coconut cream, lemon juice, onion and garlic powder, chives and dill until smooth. Serve alongside wings as a dip, with celery or other veggies. Enjoy!
Must. Have. Carbs!

Healthy Birthday Cake
Weekends are made for carbs. I didn't realize I had unwittingly been living this mantra until my first full weekend without any bread, pancakes or bagels. I felt so deprived. This recipe here saved me. It offered a subtle sweetness thanks to the dates (I even halved them from the recommended amount), and the texture was exactly like cake! I swapped out almond extract for the vanilla, and I loved the results. I may have made this four times already. Also, it definitely doesn't need any sort of "frosting".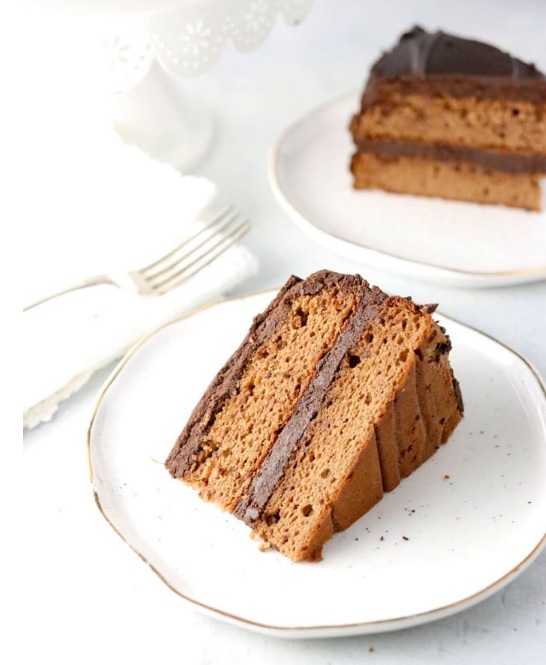 INGREDIENTS
1 cup Medjool dates, pitted
1/2 cup water
3 eggs
1 cup almond butter (or nut butter of choice)
1 teaspoon vanilla extract
3/4 teaspoon baking soda
1/4 teaspoon salt
INSTRUCTIONS
Preheat oven to 350ºF and grease two 8-inch round pans with coconut oil. (I like to line them with parchment paper, too, to guarantee easy removal later.)
In a blender or food processor, combine the dates and water and blend until smooth. (If using the food processor, I like to start with only 1/4 cup of the water because it can splash so much. Add the rest of the water after the dates have broken down more.)
Add in the eggs, almond butter, vanilla, baking soda, and salt and blend again until a smooth batter is formed.
Pour the batter into the two prepared pans, and smooth the top with a spatula. Bake until lightly golden, about 25 minutes.
Cool completely before removing the cake from the pan, then frost with your favorite frosting and serve. This cake can be served and stored at room temperature for at least 2 days, but for best shelf life I recommend storing it in the fridge, tightly covered, for up to a week.
Are you ready to fight inflammation?
As I write this I only have 9 days left in my 30-day effort to fight inflammation with diet. Overall, I feel pretty good. I'm impressed by how well I can get by without caffeine and how my sugar cravings have diminished significantly. I also feel like I'm more focused. My partner has noticed a big difference in the quality of his sleep and his ability to manage stress. The true test of this whole experiment will be the reintroduction phase, where we spend a day eating foods from the banned categories one by one and then monitor our reactions to them for a few days before reintroducing the next. I'm really interested to see how this goes.
If doing 30 days of eating like this scares you, and you live with inflammatory diseases like arthritis or psoriasis, you may want to try eliminating one category at a time and then reintroducing after 30 days. Of course, if you're trying to optimize your diet for any health issues, please reach out to our Store Dietitian, Kathryn Dickens. She has been a major help to me, and she'd love to look up recipes and solutions for you too! You can contact her at kathrynd@goodfoods.coop or (859) 278-1813 ext. 232.