Reprinted by permission from welcometothetable.coop. Find recipes, plus information about your food and where it comes from at welcometothetable.coop. You can also find printed versions of this recipe in our Holiday 2020 edition of "Fresh Bites".
Looking for a simple, thoughtful gift idea? These irresistible holiday treats are sure to delight. Line a gift box or cookie tin with tissue paper and arrange the baked goods inside. Tie a colorful ribbon or bakers twine around the outside for a festive flourish.
Peanut Butter Snickerdoodles
Servings: 32 cookies. Prep time: 25 minutes; 15 minutes active.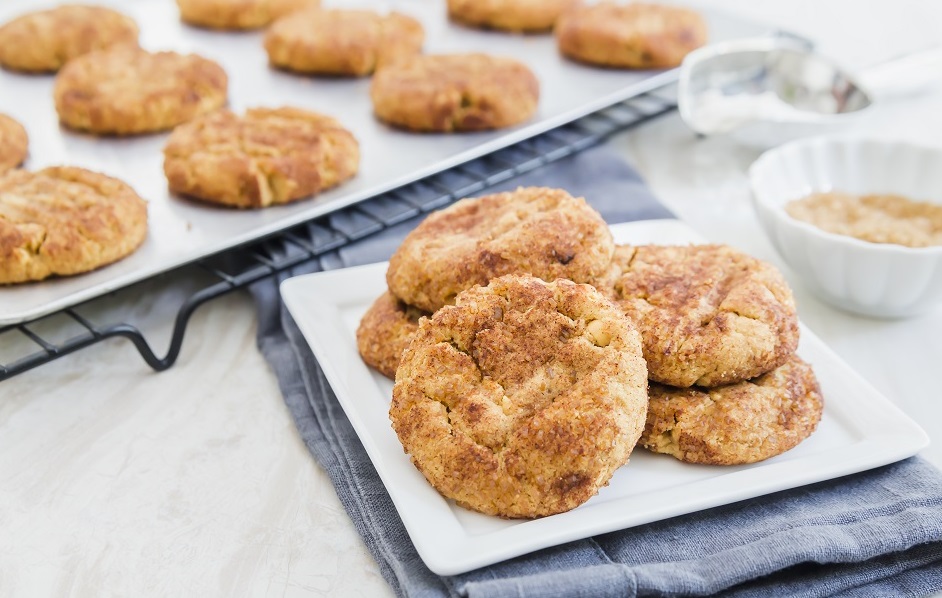 Ingredients

1 stick butter, softened
1¼ cups light brown sugar
1 cup crunchy peanut butter
1 teaspoon vanilla
1 large egg
1 cup flour
½ teaspoon salt
½ teaspoon baking soda
½ cup sugar, preferably turbinado (raw) sugar
1 tablespoon cinnamon
Method
Preheat the oven to 375 F. Line two sheet pans with parchment paper and reserve.
In a stand mixer fitted with the batter paddle, or in a large bowl using an electric mixer, cream the butter. When soft and light, add the brown sugar and beat until fluffy, about 2 minutes. Add the peanut butter and beat to mix; scrape the bowl. Add the vanilla and egg and beat until smooth.
In a medium bowl, stir the flour, salt and baking soda. Then, with the mixer on low speed, stir into the butter mixture. Scrape the bowl and continue until well mixed.
In a medium bowl, mix the sugar and cinnamon and reserve.
Portion rounded tablespoon-sized scoops of dough, roll between your palms to make a ball, then drop each one in the cinnamon sugar and roll to coat. Place each dough round on the sheet pan, with 2 inches of space between. When all the balls are on the pan, use a fork to gently flatten each one, making a fork mark across the top.
Bake for 9 to 10 minutes, just until puffed and lightly golden. Cool on racks before storing. Stored in an airtight container, the cookies keep for a week at room temperature.
Strawberry Thumbprints
Servings: 36 cookies. Prep time: 2 hours; 1 hour active.
By Robin Asbell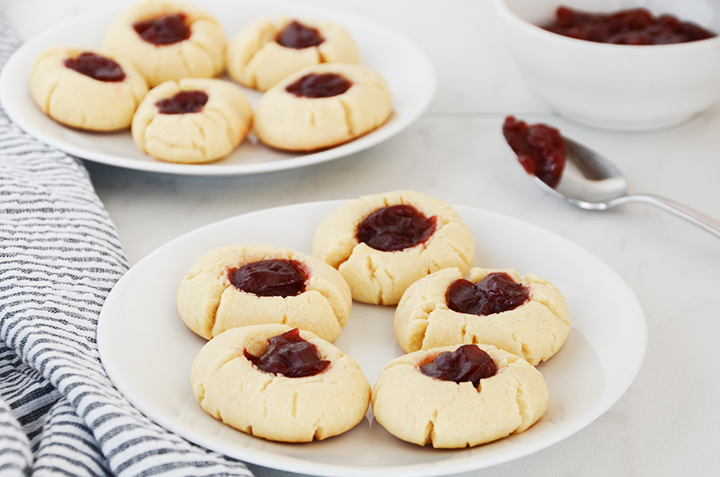 Ingredients

1 1⁄2 cups all-purpose flour
1⁄2 teaspoon baking powder
1⁄2 teaspoon salt
1 stick unsalted butter
1⁄2 cup sugar
1 large egg yolk
1 teaspoon pure vanilla extract
1⁄4 cup strawberry jam
Method
Line two baking sheets with parchment paper. In a large bowl, whisk together flour, baking powder and salt. In a separate bowl, beat butter and sugar with a mixer on medium-high speed until light and fluffy. Beat in egg yolk and vanilla. Reduce speed to low. Add flour mixture, and mix until combined.
Roll dough in 1-inch balls, and place 2 inches apart on parchment-lined baking sheets. Press an indentation in each cookie with your thumb. If the edges crack a little, just press them gently back together. Chill the pans for 30 minutes. While the cookies chill, preheat the oven to 350 F.
Use a teaspoon to fill the indentations with jam. Bake for 8 minutes, then switch the position of the pans between upper and lower racks and bake for about 8 to 9 minutes more, until the cookies are lightly golden on top.
Place the pans on racks and allow the cookies to cool for 5 minutes, then transfer the cookies onto the racks to cool completely. Store in an airtight container for up to one week.
Salted Toffee Chocolate Bars
Servings: 24 bars. Prep time: 25 minutes; 15 minutes active.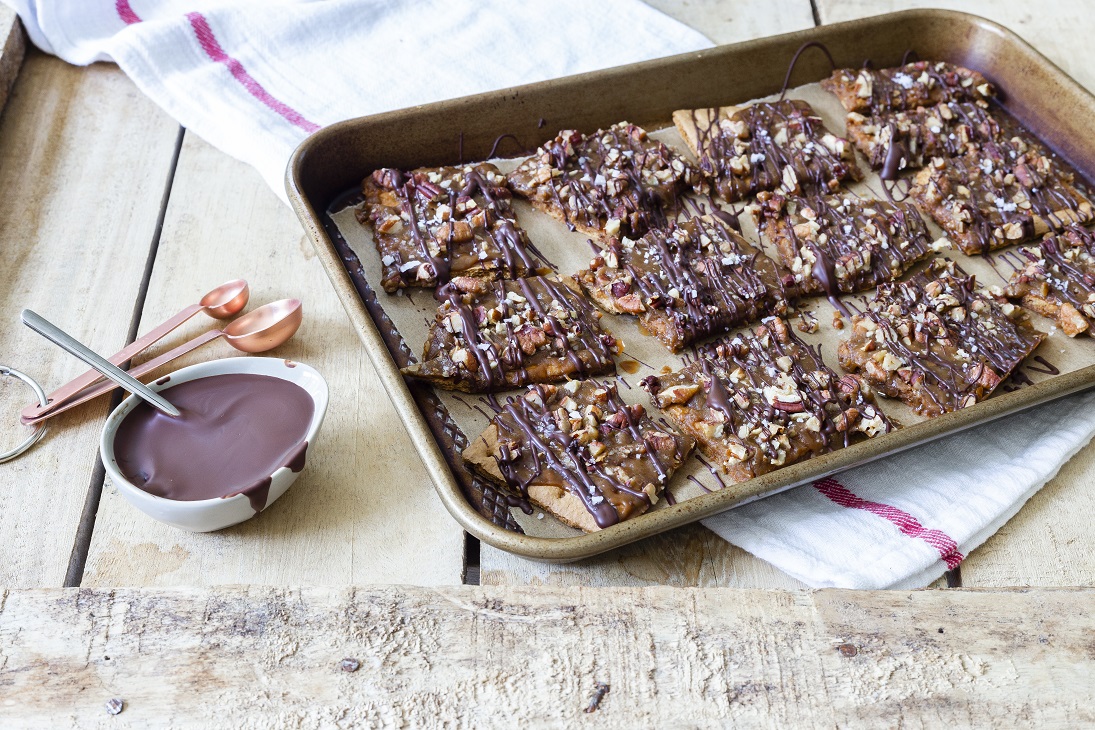 Ingredients
12 graham crackers broken into 24 squares
2 sticks butter
1 cup brown sugar
3⁄4 cup chopped pecans
1⁄2 teaspoon coarse salt
3⁄4 cup bittersweet chocolate chips
Method
Preheat the oven to 350 F. Line a cookie sheet with aluminum foil. Place the crackers on the foil-lined sheet, with their edges touching. In a small saucepan, melt the butter over low heat, then stir in the brown sugar. Turn the heat to medium high, bring the mixture to a boil, then reduce heat to simmer, stirring occasionally, and cook for 10 minutes until the sugar has melted. Pour the sugar mixture over the graham crackers, and spread with a spatula to cover evenly.
Sprinkle with pecans and bake for 10 minutes, until bubbly. Place pan on a cooling rack and use the tip of a spatula to nudge the crackers apart. Sprinkle with coarse salt. When the pan has cooled, melt the chocolate and drizzle it over the crackers. Let cool until firm; remove from the pan, and break into pieces. Store, tightly covered, at room temperature for up to a week.