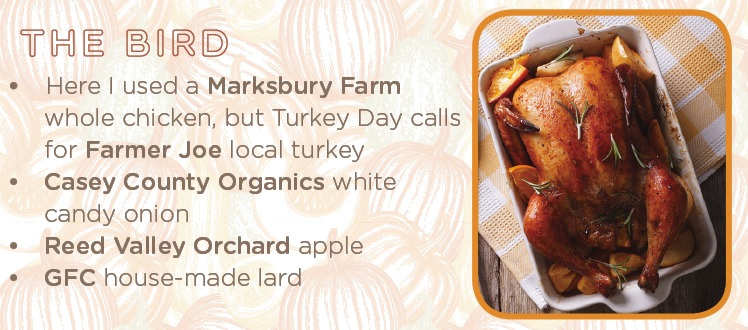 Inspired by all of the gorgeous local produce we are getting in, and by the work of some amazing local organizations like UK's Food Connection and FoodChain, I've been doing a lot more local cooking these days. As the weather changed and my thoughts turned toward one of my favorite foodie holidays, I couldn't help but wonder if I could put on a totally local Thanksgiving. For several years now I've become a die-hard Farmer Joe turkey kind of gal, but could I really pull off the whole show relying exclusively on local products? Never one to pass up an excuse to cook a big meal, my Local Thanksgiving Challenge was born!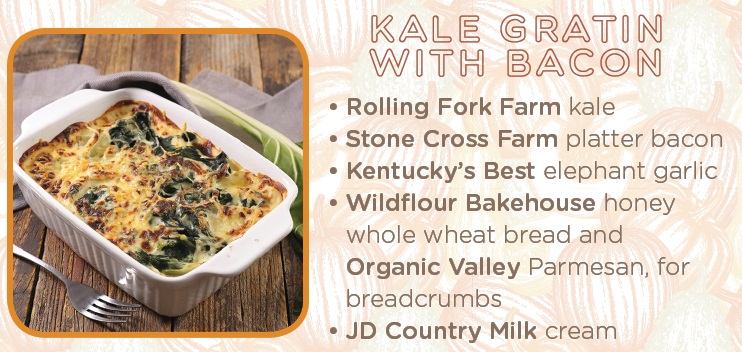 The challenge: create a traditional Thanksgiving menu exclusively out of local products – the only exceptions I made were for spices (it's hard to source locally grown cinnamon, after all) and a small bit of my dairy (butter and parmesan). But for those dairy items I was able to go with products from Organic Valley, which is a co-op business that does source from some local dairy farms, so it's not a complete fail!
I set out in early October to create my menu and do a test run of the meal. Who doesn't love an excuse to cook all the family favorites and enjoy a mini-feast?! After a weekend full of cooking and eating, I am happy to report that the challenge was a SUCCESS! My family enjoyed a delicious, traditional, Thanksgiving-style dinner sourced almost entirely from the awesome selection of Kentucky Proud items available at the Co-op!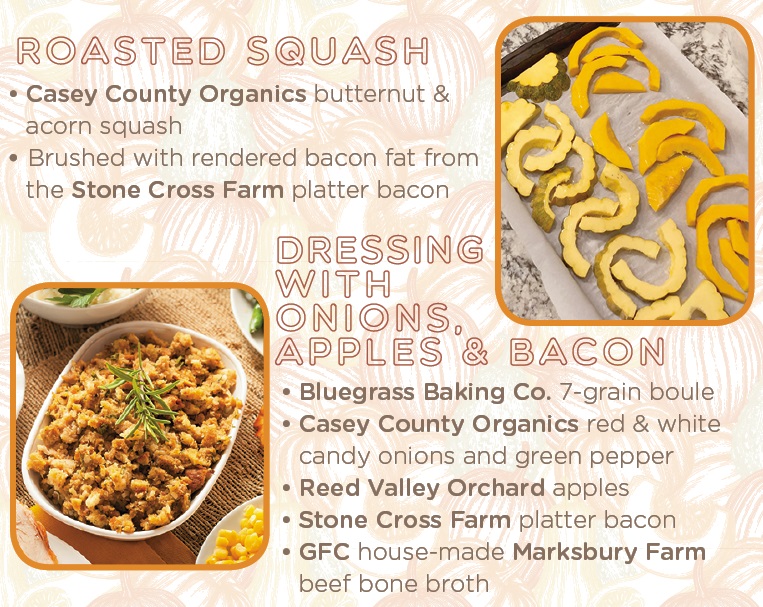 As one who is usually a "semi-homemade" sort of cook, I also really enjoyed learning how to make things from scratch. I never even knew I could make my own sweetened condensed milk, let alone that it would be as easy, albeit time-consuming, as it was. And Gramma's pumpkin pie may never be the same after this foray into DIY pureed pumpkin. My proudest moment by far was my first successful attempt at homemade yeast rolls, thanks to the delicious and easy Silver Springs Farm sweet potato yeast roll mix and a YouTube video or two.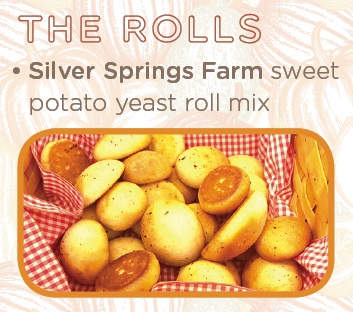 But, out of nowhere, the real hit of the day was the kale gratin. The fresh kale, awesome flavor of the bacon and richness of the JD Country Milk cream made this a big hit, even with my 8- and 10-year-old!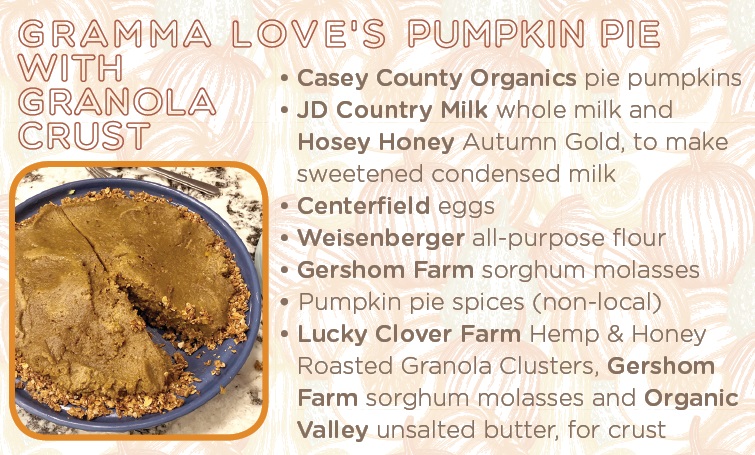 This year I'm thankful for the amazing farmers and producers that supply central Kentucky with such an abundance of delicious, healthy food and for our amazing Co-op that helps them share that bounty with all of us. I'll say "thank you" by continuing to shop local this Thanksgiving and beyond, and I look forward to sharing that experience with so many of you who do the same!
Happy Holidays!