There are many folks out there who celebrate the arrival of "pumpkin spice" season. I am not one of them. I find the flavor combination overwhelming, and I can only stomach maybe two pumpkin pie-inspired experiences a year. I have become a fan, however, of pumpkin as an ingredient in a host of savory pumpkin recipes, and maybe a sweet one or two.
Pumpkin recipes pack in all the nutritional power of this super squash, including tons of antioxidants, fiber, potassium and Vitamin A, to name a few. Pureed pumpkin, whether in a can or made at home (think how much better the nutrition and flavor will be with locally-grown pie pumpkins!), offers a subtle sweetness and full-bodied creaminess to so many dishes. Why aren't we using it in everything?!
To celebrate this seasonal delight without all the "basic" applications you are already bombarded with, here are five pumpkin recipes to try out the more subtle flavors of pumpkin!
Pumpkin Parmesan Savory Scones
By: Co+op, stronger together
Total Time: 35 minutes; 15 minutes active
Servings: 8
This savory scone is the perfect accompaniment to a steaming bowl of minestrone or a crisp glass of dry cider or chilled white wine.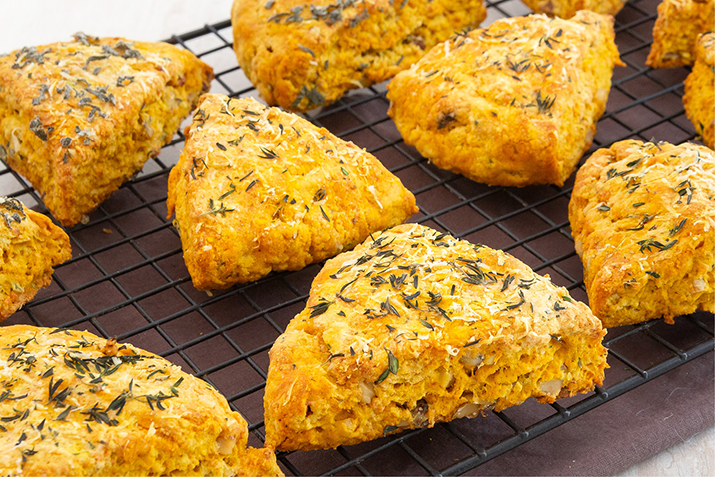 Ingredients
1 cup whole wheat pastry flour
1 cup unbleached flour
2 tablespoons sugar
2 teaspoons dried thyme
1 tablespoon baking powder
1/2 teaspoon baking soda
1/2 teaspoon salt
1/2 cup unsalted butter, cold
3/4 cup shredded Parmesan cheese, divided
1 cup pumpkin puree
1/4 cup cream
1/2 cup walnuts, chopped
2 tablespoons fresh thyme, chopped
Preparation
Heat the oven to 400°F. Line a baking sheet with parchment paper or lightly oil it. In a large bowl, combine the flours, sugar, dried thyme, baking powder, baking soda and salt. Grate the butter into the flour, tossing to coat. Add 1/2 cup of the Parmesan and toss to mix.
In a medium bowl, whisk together the pumpkin and cream. Stir into the dry mixture just until mixed, then add walnuts. Spread a little flour on the counter, then scrape the dough out onto the flour. Form into a round, and flatten to about an inch thick. Sprinkle with chopped thyme, top with remaining Parmesan, and pat down with your palms. Using a knife, divide the round into 8 wedges. Transfer to the baking sheet, leaving a couple of inches between the scones.
Bake for about 18–20 minutes, until the scones are golden around the edges and firm to the touch. Cool on racks before storing in a tightly covered container or bag.
Serving Suggestion
A warming, savory scone featuring the flavors of fall is the perfect accompaniment to a steaming bowl of minestrone soup or enjoyed with a crisp glass of dry cider or chilled white wine.
Nutritional Information
330 calories, 21 g. fat, 45 mg. cholesterol, 460 mg. sodium, 29 g. carbohydrate, 3 g. fiber, 9 g. protein
Whole Wheat Penne Pasta with Pumpkin Sauce
By: Co+op, stronger together
Total Time: 30 minutes
Servings: 6
Sometimes, a creamy, herb-laced pasta sauce is perfect for a fall night. This quick weeknight version uses smooth pumpkin and Greek yogurt, along with whole wheat penne for a satisfying, seasonal meal.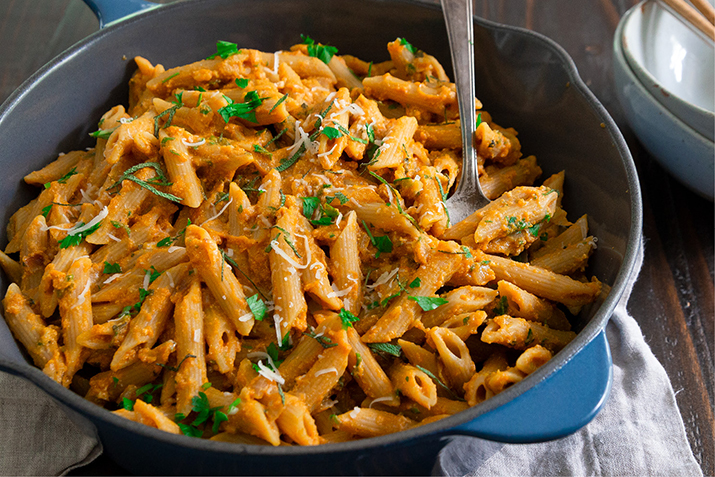 Ingredients
1 lb. whole wheat penne pasta
1 tablespoon olive oil
1/2 cup chopped onion
2 cloves garlic, chopped
1 tablespoon fresh sage, chopped, plus more for garnish
3/4 cup canned pumpkin
1/2 cup vegetable stock
1/4 cup dry white wine
1/2 teaspoon salt
1/2 teaspoon freshly ground black pepper
1/4 cup whole milk Greek yogurt
3/4 cup grated Parmesan cheese
1/2 cup fresh parsley, chopped
Preparation
Place a large pot of salted water on the stove for the pasta and begin heating to a boil. In a large skillet, heat the olive oil over medium-high heat and add the onion. Sauté, stirring until the onions sizzle, then reduce heat to medium-low. Cook for at least 10 minutes. When the onions are soft and golden, add the garlic and sage, and stir for a few seconds, until fragrant.
Stir in the pumpkin, vegetable stock, wine, salt and pepper and whisk to mix. Turn the heat to medium-high and bring to a boil, then reduce to medium and simmer vigorously, stirring frequently, about 5 minutes or until thickened. While the mixture is still hot, whisk in the yogurt and Parmesan cheese, then remove from heat. Cook the pasta according to package directions. Drain and toss with the sauce and parsley. Serve hot.
Nutritional Information
340 calories, 8 g. fat, 10 mg. cholesterol, 460 mg. sodium, 53 g. carbohydrate, 9 g. fiber, 15 g. protein
Chocolate Pumpkin Truffles
By: Co+op, stronger together
Total Time: 40 minutes; 20 minutes active
Servings: 48 truffles
OK, I promised pumpkin recipes without the spice, but these do have just a touch of cinnamon—not at all overwhelming to the overall flavor! These chocolate indulgences are surprisingly easy to make. Perfect for the holidays or any special occasion.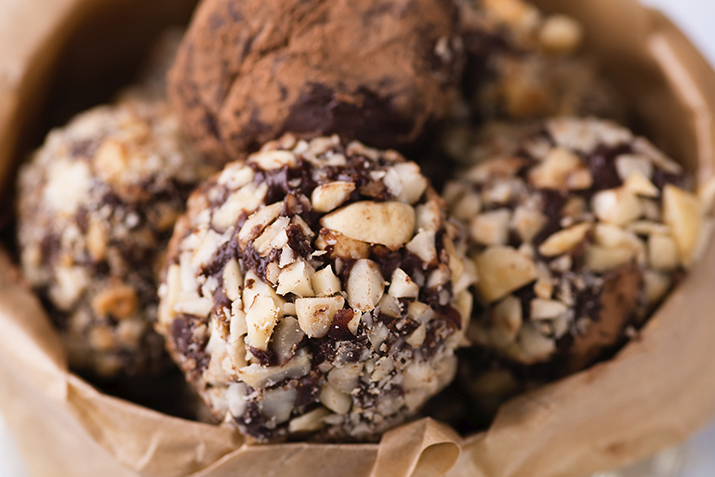 Ingredients
2 1/2 cups crushed vanilla wafers (about 12 ounces)
1 cup toasted almonds, ground
2 teaspoons ground cinnamon
1/2 cup powdered sugar, sifted
1 cup (6-ounce package) semisweet chocolate chips, melted
1/2 cup pumpkin puree
1/4 cup coffee liqueur
1/2 cup toasted almonds, chopped
Preparation
In a medium bowl, combine crushed vanilla wafers, ground almonds, cinnamon, and powdered sugar. With a rubber spatula, mix in melted chocolate, pumpkin, and coffee liqueur. Let stand 10 minutes to firm up. Shape mixture into 1-inch balls, place on a wax paper-lined plate, and refrigerate until firm, about 20 minutes. Garnish with chopped toasted almonds just before serving.
Nutritional Information
Calories: 47, Fat: 16 g, Cholesterol: 0 mg, Sodium: 16 mg, Carbohydrate: 7 g, Dietary Fiber: 0 g, Protein: 1 g
Spicy Pumpkin Soup
By: Co+op, stronger together
Total Time: 30 minutes
Servings: 6
A list of pumpkin recipes wouldn't be complete without a soup option! Creamy pumpkin soup is spiced up with jalapenos and a refreshing dollop of chipotle sour cream.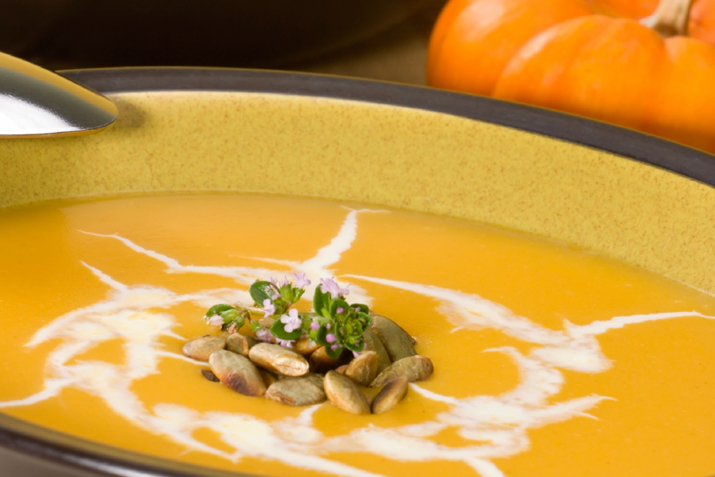 Ingredients
Soup
2 tablespoons vegetable oil
1 1/2 cups diced onion
1/2 cup diced celery
1/2 cup diced carrots
1 1/2 tablespoons minced jalapeño, seeds removed
1 1/2 teaspoons ground cumin
1 teaspoon garlic powder
3 cups pumpkin purée (canned or fresh cooked)
2 cups vegetable broth
1 1/2 cups milk
Salt and pepper to taste
Chipotle Sour Cream
8 tablespoons sour cream
1 teaspoon finely minced chipotle pepper in adobo sauce (see Note)
1 tablespoon minced cilantro
Preparation
Heat 2 tablespoons of vegetable oil in a large stock pot over medium heat. Sauté the onion, celery, carrots and jalapeño peppers, stirring frequently, for about 10-15 minutes. Add the cumin, garlic powder, pumpkin purée, broth and milk. Bring to a simmer for another 5-10 minutes. Season to taste with salt and pepper.
While the soup is cooking, blend the sour cream ingredients together in a small bowl. Place a dollop of the sour cream on each soup serving.
Serving Suggestion
Served with mulled apple cider and hearty bread, this soup goes equally well with roast pork or a spinach salad.
Tips & Notes
Chipotle peppers in adobo sauce are smoked jalapanos in a tangy, slightly sweet sauce. Look for them in a small can with other Mexican condiments. They can be refrigerated for up to 2 weeks or frozen for up to 6 months.
Nutritional Information
190 calories, 10 g. fat, 14 mg. cholesterol, 408 mg. sodium, 22 g. carbohydrate, 2 g. fiber, 6 g. protein
Savory Stuffed Pumpkin
By: Co+op, stronger together
Total Time: 45 minutes; 25 minutes active
Servings: 4-6
This is the only one of our pumpkin recipes that features the full fruit! Celebrate fall with a savory mix of sautéed apples, garlic and sausage stuffed in pie pumpkin.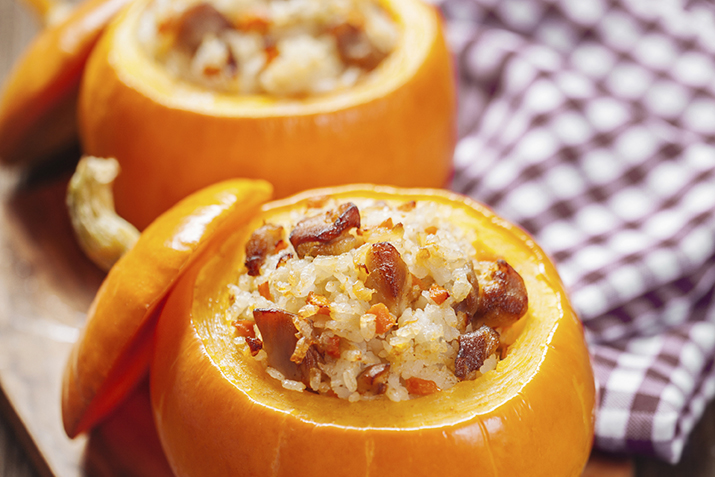 Ingredients
2 small pie pumpkins
Pinch each of salt and black pepper
1 tablespoon unsalted butter
1/2 cup chopped onion
8 ounces vegetarian or regular sausage, crumbled
1 clove garlic, minced
1/2 cup chopped Granny Smith apples
1 6-ounce package stuffing mix
1/2 cup shredded Swiss cheese (optional)
1 cup vegetable broth
Preparation
Preheat oven to 350ºF. Use a sharp knife to remove the tops from each pumpkin (like a jacko'-lantern). Scrape out the seeds and filaments and discard. Season the inside of the pumpkins with salt and pepper.
Melt butter in a large skillet over medium heat. Add the onion and sauté for 5 minutes or until limp. Add sausage and cook until lightly browned, then add the garlic and apples and cook 2 minutes more. Remove from heat.
In a medium bowl, combine the onion and sausage mixture with the stuffing mix, cheese and broth and mix together until combined and slightly moistened. Divide and lightly pack the stuffing into the pumpkins until completely full. Replace the tops on the pumpkins, place them on a lined or lightly-oiled baking sheet or dish and into the oven. Depending on the size of the pumpkin and amount of flesh, the pumpkins should take about an hour to bake. Check after 30 minutes and, when nearly cooked, remove the tops and bake until the filling is browned. The pumpkins are done when easily pierced with a knife. Use two metal spatulas to move them from the baking dish onto the serving platter, to help keep the pumpkins intact. To serve, slice pumpkins into wedges or halves.
Serving Suggestion
Slice the pumpkins into wedges or halves to serve and enjoy a scoop of pumpkin with each bite of stuffing. This dish makes an impressive vegetarian entrée or a hearty side dish when served in smaller portions. Change the stuffing to suit your tastes; try adding kale, spinach or sautéed mushrooms, or use shallots instead of onion, or cream instead of broth.
Nutritional Information
541 calories, 18 g. fat, 21 mg. cholesterol, 835 mg. sodium, 64 g. carbohydrate, 13 g. fiber, 30 g. protein